Research article

Open Access
The predicted σ54-dependent regulator EtpR is essential for expression of genes for anaerobic p-ethylphenol and p-hydroxyacetophenone degradation in "Aromatoleum aromaticum" EbN1
BMC Microbiology
2015
15:251
Received: 25 June 2015
Accepted: 15 October 2015
Published: 2 November 2015
Abstract
Background
The denitrifying betaproteobacterium "Aromatoleum aromaticum" EbN1 anaerobically utilizes a multitude of aromatic compounds via specific peripheral degradation routes. Compound-specific formation of these catabolic modules is assumed to be mediated by specific transcriptional activators. In case of the recently elucidated p-ethylphenol/p-hydroxyacetophenone pathway, the highly substrate-specific regulation was implicated to involve the predicted σ54-dependent, NtrC-type regulator EbA324. The latter was suggested to control the expression of the two neighboring gene clusters encoding the catabolic enzymes as well as a corresponding putative solvent efflux system. In the present study, a molecular genetic approach was used to study the predicted function of EbA324.
Results
An unmarked in frame ΔebA324 (here renamed as ΔetpR; p-ethylphenol regulator) deletion mutation was generated. The ΔetpR mutant was unable to grow anaerobically with either p-ethylphenol or p-hydroxyacetophenone. Growth similar to the wild type was restored in the ΔetpR mutant background by in trans expression of plasmid-born etpR. Furthermore, expression of the "p-ethylphenol" gene clusters as well as corresponding protein formation was shown to depend on the presence of both, EtpR and either p-ethylphenol or p-hydroxyacetophenone. In the wild type, the etpR gene appears to be constitutively expressed and its expression level not to be modulated upon effector presence. Comparison with the regulatory domains of known phenol- and alkylbenzene-responsive NtrC-type regulators of Pseudomonas spp. and Thauera aromatica allowed identifying >60 amino acid residues in the regulatory domain (in particular positions 149 to 192 of EtpR) that may contribute to the effector specificity viz. presumptively restricted effector spectrum of EtpR.
Conclusions
This study provides experimental evidence for the genome predicted σ54-dependent regulator EtpR (formerly EbA324) of "A. aromaticum" EbN1 to be responsive to p-ethylphenol, as well as its degradation intermediate p-hydroxyacetophenone, and to control the expression of genes involved in the anaerobic degradation of these two aromatic growth substrates. Overall, the presented results advance our understanding on the regulation of anaerobic aromatic compound catabolism, foremost based on the sensory discrimination of structurally similar substrates.
Keywords
σ54-Dependent regulator
Aromatic compounds
p-Ethylphenol
p-Hydroxyacetophenone
Anaerobic degradation
"Aromatoleum aromaticum" EbN1
In frame deletion mutation
Proteomics
Gene expression
Sequence comparison
Background
The "Aromatoleum"/Thauera/Azoarcus cluster within Betaproteobacteria comprises most of the currently known denitrifiers capable of anaerobic degradation of aromatic compounds [1, 2]. "Aromatoleum aromaticum" EbN1 is a metabolically versatile and the first genome-sequenced representative of this cluster, completely oxidizing >20 different aromatic compounds under anoxic conditions. These include the alkylbenzenes toluene and ethylbenzene, phenol, as well as the alkylphenols p-cresol and p-ethylphenol [3–5]. The multiple sensory/regulatory proteins predicted from the genome were suggested to constitute a fine-tuned regulatory network [6]. Subsequent experimental studies indeed implicated the latter in substrate-specific formation of catabolic modules [4, 5, 7, 8], as well as in the adaptation to substrate-limiting [9] and stress conditions [10]. Synthesis of the hitherto accomplished physiological-proteomic insights qualifies "A. aromaticum" EbN1 as a promising systems biology model [11].
The anaerobic degradation of the growth substrates
p
-ethylphenol and
p
-hydroxyacetophenone by "
A. aromaticum
" EbN1 was recently shown to be analogous to the ethylbenzene pathway [
5
]. Initial oxygen-independent hydroxylation to 1-(4-hydroxyphenyl)-ethanol and subsequent dehydrogenation to
p
-hydroxyacetophenone is followed by decarboxylation and thiolytic cleavage yielding
p
-hydroxybenzoyl-CoA. Proteins involved in this degradation pathway and a presumptively associated efflux system are encoded in a 15 kbp "catabolic" and a 6.5 kbp "efflux" gene cluster located in direct neighborhood on the chromosome of "
A. aromaticum
" EbN1. The specific transcriptional induction of these two "
p
-ethylphenol" gene clusters in the presence of
p
-ethylphenol as well as
p
-hydroxyacetophenone was previously inferred from the highly similar abundance profiles of respective transcripts and proteins [
5
]. This substrate-specific regulation was suggested to be mediated by the predicted σ
54
-dependent regulator EbA324 (here renamed as EtpR for
p
-ethylphenol regulator) that is encoded in between the "catabolic" and "efflux" gene clusters (Fig.
1a
). Typically, σ
54
-dependent regulators consist of (i) an N-terminal regulatory, (ii) a central ATP-hydrolyzing (activating) and (iii) a C-terminal DNA-binding domain [
12
,
13
]. Upon effector-binding, such regulators oligomerize and bind to distinct DNA-enhancer sequences upstream of the transcriptional start site [
14
]. In the process of transcription initiation, σ
54
binds to a highly conserved −12/−24 consensus sequence (5'-TGGC-N
7
-TTGCA-3') and recruits RNA polymerase and the σ
54
-dependent regulator; the now formed RNA polymerase holoenzyme is activated by ATP-hydrolysis at the central domain of the regulator [
15
]. In accord, the promotor regions of the
p
-ethylphenol-related "catabolic" and "efflux" gene clusters in "
A. aromaticum
" EbN1 contain conserved σ
54
-DNA-binding motifs [
5
]. Regulation of aerobic aromatic compound degradation by σ
54
-dependent regulators has been well-studied in
Pseudomonas
spp. The NtrC-type regulators XylR and DmpR induce transcription of gene clusters for aerobic toluene/xylene [
16
] and phenolic compound degradation [
17
], respectively. In both cases, direct binding of the aromatic substrates or structurally related compounds to the regulatory domain relieves the repression of the ATPase activity of the central domain, allowing ATP-hydrolysis and subsequent transcription initiation [
18
,
19
].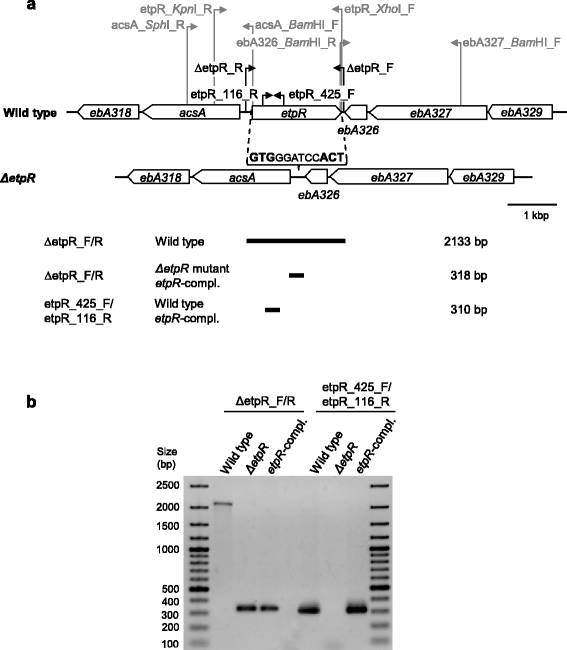 In the present study, an unmarked ∆etpR in frame deletion mutation was generated to verify the predicted regulatory function of EtpR. The ∆etpR mutant and the in trans etpR-complemented mutant were characterized by means of physiological experiments as well as on the molecular level.
Conclusions
Aerobic aromatic compound degradation pathways of Pseudomonas spp. may accommodate several, structurally related aromatic substrates, e.g., toluene, m- and p-xylene as well as 1,2,4-trimethylbenzene in case of P. putida [21]. This substrate promiscuity of single pathways is also reflected in rather broad effector spectra of the involved transcriptional regulators [16, 25]. In contrast, the substrate ranges of the individual anaerobic pathways in "A. aromaticum" EbN1 appear to be more restricted and the substrate-specific expression of their genes is assumed to be individually controlled by corresponding one- or two-component regulatory systems [11]. The observed highly p-ethylphenol/p-hydroxyacetophenone-specific induction of the anaerobic p-ethylphenol degradation pathway by EtpR can be attributed to a concurrence of unique sets of amino acids accumulating in the ESR (accounting for 36.8 %), in particular between position 149 and 192. Since they are most specific for EtpR as compared to the other regulators, they possibly specify the sensing of phenolic-, ketonic- and/or alkylbenzylic-moieties, and determine the observed narrow effector spectrum of EtpR. This further supports a general role of ESRs in mediating sensory recognition of aromatic compounds as previously reported for DmpR and XylR of Pseudomonas spp. [35]. The apparent constitutive, low level expression of etpR in the wild type allows for a full level formation of catabolic proteins that may be only reached faster at higher regulator abundance as observed for the etpR-complemented mutant. Hence, the extent of "p-ethylphenol" gene cluster expression should depend on the presence of the substrates/effectors p-ethylphenol and p-hydroxyacetophenone rather than on the abundance of the regulator itself (EtpR). Overall, the present study demonstrates EtpR (EbA324) to serve as transcriptional regulator in the p-ethylphenol catabolism, and represents to our knowledge the first molecular genetic study on a σ54-dependent regulator in an anaerobic aromatic compound degrader.
Methods
Bacterial strains and cultivation
"
A. aromaticum
" EbN1 and
E. coli
S17-1 were cultivated as described previously [
3
,
38
]. Strains used and generated in this study are summarized in Table
2
.
Table 2
Strains and plasmids used in this study
| | Genotype and/or characteristics | Reference |
| --- | --- | --- |
| Strains | | |
|  "Aromatoleum aromaticum" EbN1 | Wild type | [3] |
|  EbN1-RR001 (ΔetpR mutant) | ΔetpR | This study |
|  EbN1-RR002 (etpR-complemented mutant) | ΔetpR, pBBR1MCS-2 ΩetpR | This study |
|  EbN1-RR003 (Wild type containing pBBR1MCS-2) | Wild type, pBBR1MCS-2 | This study |
|  EbN1-RR004 (ΔetpR mutant containing pBBR1MCS-2) | ΔetpR, pBBR1MCS-2 | This study |
|  Escherichia coli S17-1 | Pro, thi, hsdR, Tra +, recA−, Trr, Smr, ΩRP4-TE::Mu-Kn::Tn7 | [45] |
| Plasmids | | |
|  pK19mobsacB | KmR, sacB modified from B. subtilis, lacZα | [46] |
|  pK19 ΩacsA | KmR, sacB modified from B. subtilis, lacZα, acsA from "A. aromaticum" EbN1 | This study |
|  pK19 ΩacsAebA326/7 | KmR, sacB modified from B. subtilis, lacZα; acsA, ebA326 and part of ebA327 from "A. aromaticum" EbN1 | This study |
|  pBBR1MCS-2 | KmR, mob, lacZα | [40] |
|  pBBR1MCS-2 ΩetpR | KmR, mob, lacZα, etpR from "A. aromaticum" EbN1 | This study |
Generation of the in frame ∆etpR deletion mutation
Genomic DNA and plasmids were isolated according to standard methods [
39
]. Oligonucleotide primers were designed using the Lasergene software (version 7.0; DNASTAR, Madison, WI, USA) and purchased from Biomers GmbH (Ulm, Germany). Nucleotide sequences of applied primers and primer details are provided in Table
3
.
Table 3
Oligonucleotide primers applied in this study
Primera

Target gene

Nucleotide sequence (5' → 3')b

Product length (bp)

Gene specific primer pairs

bcrC_108_F

bcrC

CAAGTGGTGGCAACGATGTGT

191

bcrC_299_R

GAAGGTCTGGCGATACTGGATGC

pchF_1336_F

pchF

GGCCGGCAACGTCATCATC

273

pchF_1099_R

CCATCCGGGAGCACCACT

hped_153_F

hped

TGATCGAAGGCAAGGGCGGAAAAG

331

hped _473_R

GCGGCGGTGTAGGGCGTGATG

acsA_1373_F

acsA

GCCGCGGTGAGGTT

306

acsA_1068_R

CGGGGTGAATGTCCA

etpR_425_F

etpR

AATTGGCCGCTCTTCTG

310

etpR_116_R

TTTCGGCATGTTTGTCA

etpR_1717_Fc

etpR

TGGCGACGGCATTCTC

219

etpR_1499_Rc

TGCCGCATCTGTTCACC

ebA326_41_F

ebA326

TGGCTGGATCTCTGCTC

275

ebA326_315_R

TTCCCGTGCGACCTG

ebA327_1070_F

ebA327

GCTTCGCGGTCCTGA

375

ebA327_1480_R

TGTCGCGGTTGTAGC

ebA329_212_F

ebA329

TGCGGCCCCTGATG

316

ebA329_537_R

ACGATGCCGCTGTGG

ebA332_488_F

ebA332

CCGGCGTGGAGGTAG

285

ebA332_772_R

GGCGCGGGGTTTT

ebA335_1092_F

ebA335

GCTGGGGGAGACGAA

253

ebA335_1344_R

CGCCGCCTTGTTGT

Generation of Δ etpR deletion mutation

acsA_BamHI_F

acsA

AAGGATCCCACGAAATGTCTCCTGAACCCTGC

1300

acsA_SphI_R

ACCGGGCATGCGCCCACCAGC

ebA327_BamHI_F

ebA326/ebA327

GATCAGGATCCACGTCACCG

2350

ebA326_BamHI_R

AAGGATCCTGACCGTCGGAGGACCGGATAGATC

Identification of Δ etpR genotype

ΔetpR _F

3'-IR-etpR f

TGGGCGTAGCGTAGT

2133d/ 318e

ΔetpR _R

5'-IR-etpR f

TGGATTGTTCTGTAT

Generation of in trans complementation of etpR

etpR_XhoI_F

etpR

AACTCGAGCCCACTCCAAGCGTCGAAACACCGGC

2436

etpR_KpnI_R

AAAGGTACCGCTTCGCTCCGGGAAACCAGTGTGCGC
For unmarked knockout of the etpR (ebA324) gene, a knockout vector based on the suicide vector pK19mobsacB [38] was constructed in an E. coli S17-1 background, containing 2.4 kbp of the 5'-region and 1.3 kbp of the 3'-region of etpR. Initially, the 5'-region containing parts of the acsA gene were cloned into pK19mobsacB using SphI and BamHI restriction sites as reported [38], yielding the plasmid pK19 ΩacsA. Subsequently, the 3'-region, containing ebA326 and parts of the ebA327 gene, was cloned into plasmid pK19 ΩacsA using the BamHI restriction site, resulting in the pK19 ΩacsAebA326/7 knockout vector (Table 2). In the final vector construct, the start and stop codons of etpR were maintained, separated by a 6 bp BamHI restriction site ("GTGGGATCCACT" blow up in Fig. 1a). Homologous regions were amplified by PCR from genomic DNA of "A. aromaticum" EbN1 using a high fidelity polymerase (Phusion®; ThermoFisher Scientific, Dreieich, Germany; Table 3). The correctness of nucleotide sequences was verified by sequence analysis as described before [38] and pK19 ΩacsAebA326/7 was transferred by conjugation from the E. coli S17-1 donor strain to "A. aromaticum" EbN1 according to the protocol described previously [38]. Integration of the knockout vector (single-cross over) gave rise to kanamycin resistant colonies and was verified by PCR using a primer pair (∆etpR_F/R) targeting the up- and downstream intergenic regions of etpR, yielding two amplicons of 318 bp and 2.13 kbp, respectively (Table 3; Fig. 1). The second cross-over (i.e., removal of the plasmid) was induced by several transfers of the single cross-over mutant in liquid medium without kanamycin. Colonies capable of growing on sucrose-containing medium were screened using the same primer pair as described above to identify a ∆etpR genotype in the deletion mutant strain EbN1-RR001 (Fig. 1). The genotype was verified by sequencing.
Complementation of etpR in trans into the ∆etpR deletion mutant
A complementation vector for in trans expression of etpR was generated in an E. coli S17-1 background, based on the broad-host range vector pBBR1MCS-2 [40]. A 2.4 kbp nucleotide sequence was amplified by PCR, containing etpR as well as 300 bp upstream of the etpR start codon to also include the ribosomal binding site (Table 3; Fig. 1). This amplicon was cloned into the pBBR1MCS-2 vector using KpnI and XhoI restriction sites and verified by sequencing. The vector was transferred via conjugation to the ∆etpR mutant yielding the etpR-complemented mutant strain EbN1-RR002 (genotype: ΔetpR, pBBR1MCS-2 ΩetpR) (Table 2; Fig. 1). Conjugation via agar-plate mating, identification for positive clones on selective media and PCR-based verification were carried out as previously described [38]. For control experiments, the pBBR1MCS-2 vector without etpR was conjugationally transferred to the wild type strain and the ΔetpR mutant yielding strain EbN1-RR003 (genotype: wild type, pBBR1MCS-2) and strain EbN1-RR004 (genotype: ΔetpR, pBBR1MCS-2), respectively (Table 2).
Growth experiments
Growth experiments with the wild type, the ∆etpR mutant and the etpR-complemented mutant were carried out to characterize the phenotype of the generated ∆etpR deletion mutation. All three strains were adapted to anaerobic growth with benzoate for at least five passages. Anaerobic cultivation was conducted under nitrate-limited conditions with 400 ml medium in 500 ml flat bottles, sealed with rubber stoppers. Pre-cultures were provided with 4 mM benzoate as growth substrate and cells transferred at half-maximal optical density (½ ODmax) to fresh medium supplemented with either of the following substrates: (i) p-ethylphenol (0.5 % (w/v) in 14 ml of the inert carrier phase 2,2,4,4,6,8,8-heptamethylnonane (HMN)), (ii) p-hydroxyacetophenone (2 mM), (iii) benzoate (4 mM) and (iv) a binary mixture of benzoate (4 mM) and either p-hydroxyacetophenone (2 mM) or p-ethylphenol (0.5 % (w/v) in 10 ml HMN). In case of cultures with benzoate or a binary substrate mixture, the medium contained 10 mM nitrate to achieve higher cell densities; while with p-ethylphenol and p-hydroxyacetophenone provided as single substrate only 7 mM nitrate were added to the medium.
Growth until depletion of the electron acceptor nitrate was monitored by measuring the optical density at 660 nm (UV–vis Spectrometer 1240; Shimadzu, Duisburg, Germany) and analysing the substrate concentrations in the culture supernatants with an UltiMate 3000 RSLC system (ThermoFisher Scientific, Germering, Germany). The supernatants were diluted and acidified (pH 2.0, 6 % acetonitrile) prior to analysis. Separation of analytes was achieved with a Dionex Acclaim 120 reversed-phase separation column (250 mm length, 2.1 mm inner diameter, 5 μm bead size; ThermoFisher Scientific). The column was temperature controlled at 25 °C and operated with a non-linear gradient of acetonitrile (5–90 % (v/v), pH 2.8) as eluent at a flow rate of 0.5 ml min−1: 2 min at 5 %, 5 to 14 % in 1 min, 14 to 39 % in 10.5 min, 39 to 90 % in 3 min, and 3 min at 90 %. Retention times (compound-specific wavelengths in parentheses) were the following: p-ethylphenol, 16.6 min (220 nm); p-hydroxyacetophenone, 9.4 min (270 nm); and benzoate, 11.8 min (236 nm).
For selected samples nitrate concentrations were determined by means of an ICS 1100 ion chromatography system (ThermoFisher Scientific). Nitrite and nitrate were separated using an IonPac™ AG9-HC separation column (250 mm length, 4 mm inner diameter, 9 μm bead size; ThermoFisher Scientific) and detected at a wavelength of 210 nm. Separation was achieved with sodium carbonate (9 mM) as the eluent administered at a flow rate of 1 ml min−1. The retention times (detection limits in parentheses) were as follows: nitrite, 9.1 min (1 μM); nitrate, 13.3 min (1 μM).
To assess the possibility of a passive depletion of p-ethylphenol from the medium, benzoate-adapted cells of the wild type were pre-grown with benzoate and transferred to anoxic medium with p-ethylphenol as described before. After 15 h, growth was inhibited by the addition of 50 μg ml−1 kanamycin. The concentration of p-ethylphenol in the cultures was analyzed by the RSLC system as given above.
Cultivation for transcript and proteomic analysis
For profiling of compound-specific transcripts and proteome signatures, substrate-adapted wild type, the ∆etpR mutant and the etpR-complemented mutant were grown anaerobically with either (i) p-hydroxyacetophenone, (ii) benzoate or (iii) a binary mixture of benzoate and p-hydroxyacetophenone as sole organic substrate(s). Cells were cultivated in 250 ml flat bottles with 200 ml medium and harvested during linear growth at ½ ODmax as described by Champion et al. [41]. For each strain and growth condition, three replicate cultures were harvested for transcript and proteomic analyses, respectively (in total 6 replicate cultures each). Cell pellets for transcript analysis were treated with RNAprotect® Bacteria Reagent (Qiagen GmbH, Hilden, Germany) according to the manufacturer's instructions.
Preparation of mRNA and reverse transcription (RT)-PCR
Preparation of total RNA was performed according to the protocol of Oelmüller et al. (22) using cells treated with RNAprotect® Bacteria Reagent. Complete removal of DNA from the RNA preparation was verified by PCR. The quality (i.e., integrity) of the isolated RNA was analysed with MOPS-gels according to standard protocols [39]. cDNA was generated from two independent RNA preparations per strain and substrate condition, respectively, using the antisense primer of the target genes (Table 3). Reverse transcription was performed with 2.5 μg RNA applying the RevertAid H Minus Reverse Transcriptase (ThermoFisher Scientific) according to the manufacturer's instructions. cDNA was amplified by PCR using the PCR MasterMix (Promega, Mannheim, Germany). Depending on the PCR efficiency of the gene-specific primer pairs, 1.0 or 2.0 μl of cDNA preparation were used as template per 20 μl PCR experiment comprising 20 or 39 PCR cycles.
To exclude polar effects resulting from the in frame ΔetpR deletion mutation and to qualitatively study gene expression of the two "p-ethylphenol" gene clusters located up and downstream of etpR, transcripts representative of both of them (Fig. 3) were analysed. Target genes were chosen such that both the first and last genes as well as the middle of each of the two gene clusters were covered, i.e., acsA, hped and pchF for the "catabolic" gene cluster, and ebA335, ebA327 and ebA326 for the "efflux" gene cluster.
Real-time RT-PCR
Relative expression levels of etpR in the wild type and the eptR-complemented mutant were determined by real-time RT-PCR. BcrC (encoding the catalytic γ-subunit of benzoyl-CoA reductase) was selected as reference gene since benzoyl-CoA is a common intermediate in anaerobic degradation of benzoate as well as p-hydroxyacetophenone, and since bcrC expression is not regulated under the two investigated substrate conditions [5]. cDNA was generated from three individual RNA preparations per strain and growth condition as described above. Real-time PCR was carried out as reported by Kühner et al. [7] using an iQ5 real-time PCR detection system (Bio-Rad, Munich, Germany) and a qPCR MasterMix Plus for SyBR green I with fluorescin (Eurogentec, Cologne, Germany). The correctness of obtained PCR products was verified by sequencing. Determination of PCR efficiencies was performed as described by Ramakers et al. [42] and relative expression levels were calculated according to Pfaffl et al. [43]. At least three replicates of each individual cDNA preparation were analysed (in total 18 qPCR experiments). The wild type grown with p-hydroxyacetophenone served as reference state for calculation of relative gene expression levels (Fig. 4).
Proteomic analysis
Whole cell shotgun analysis of substrate-adapted cells was performed as described recently [44]. Essentially, tryptic peptides were separated by a nanoLC system (UltiMate3000 nanoRSLC; ThermoFisher Scientific) operated in a trap-column mode and equipped with a 25 cm separation column (C18, 2 μm bead size, 75 μm inner diameter; ThermoFisher Scientific), applying a 280 min linear acetonitrile gradient. The nanoLC eluent was continuously analyzed by an online-coupled ion-trap mass spectrometer (amaZon speed ETD; Bruker Daltonik GmbH, Bremen, Germany) using a captive spray ion source (Bruker Daltonik GmbH). Per full scan MS (mass range 400–1400 m/z), 20 MS/MS spectra of the most intense doubly (or more highly) charged ions were acquired applying subsequent precursor exclusion for 0.2 min. Protein identification was performed using the ProteinScape platform (version 3.1; Bruker Daltonik GmbH) on an in-house Mascot server (version 2.3; Matrix Science Ltd, London, UK) based on the genome sequence of "A. aromaticum" EbN1 [6] and applying a target-decoy strategy as described [44]. Search results of the three biological replicates per test state were compiled and only proteins identified by at least 2 peptides were considered.
Declarations
Acknowledgements
We are grateful to D. Thies (Bremen) and C. Hinrichs (Oldenburg) for technical assistance. This study was supported by the FOL program of the Carl von Ossietzky University Oldenburg and the Deutsche Forschungsgemeinschaft (GRK 1885 "Molecular basis of sensory biology").
Open AccessThis article is distributed under the terms of the Creative Commons Attribution 4.0 International License (http://creativecommons.org/licenses/by/4.0/), which permits unrestricted use, distribution, and reproduction in any medium, provided you give appropriate credit to the original author(s) and the source, provide a link to the Creative Commons license, and indicate if changes were made. The Creative Commons Public Domain Dedication waiver (http://creativecommons.org/publicdomain/zero/1.0/) applies to the data made available in this article, unless otherwise stated.
Authors' Affiliations
(1)
Institute for Chemistry and Biology of the Marine Environment (ICBM), Carl von Ossietzky University Oldenburg, Oldenburg, Germany
(2)
Max Planck Institute for Marine Microbiology, Bremen, Germany