Research article

Open Access
Integration of regulatory signals through involvement of multiple global regulators: control of the Escherichia coli gltBDF operon by Lrp, IHF, Crp, and ArgR
Received: 22 September 2006
Accepted: 18 January 2007
Published: 18 January 2007
Abstract
Background
The glutamate synthase operon (gltBDF) contributes to one of the two main pathways of ammonia assimilation in Escherichia coli. Of the seven most-global regulators, together affecting expression of about half of all E. coli genes, two were previously shown to exert direct, positive control on gltBDF transcription: Lrp and IHF. The involvement of Lrp is unusual in two respects: first, it is insensitive to the usual coregulator leucine, and second, Lrp binds more than 150 bp upstream of the transcription starting point. There was indirect evidence for involvement of a third global regulator, Crp. Given the physiological importance of gltBDF, and the potential opportunity to learn about integration of global regulatory signals, a combination of in vivo and in vitro approaches was used to investigate the involvement of additional regulatory proteins, and to determine their relative binding positions and potential interactions with one another and with RNA polymerase (RNAP).
Results
Crp and a more local regulator, ArgR, directly control gltBDF transcription, both acting negatively. Crp-cAMP binds a sequence centered at -65.5 relative to the transcript start. Mutation of conserved nucleotides in the Crp binding site abolishes the Crp-dependent repression. ArgR also binds to the gltBDF promoter region, upstream of the Lrp binding sites, and decreases transcription. RNAP only yields a defined DNAse I footprint under two tested conditions: in the presence of both Lrp and IHF, or in the presence of Crp-cAMP. The DNAse I footprint of RNAP in the presence of Lrp and IHF is altered by ArgR.
Conclusion
The involvement of nearly half of E. coli's most-global regulatory proteins in the control of gltBDF transcription is striking, but seems consistent with the central metabolic role of this operon. Determining the mechanisms of activation and repression for gltBDF was beyond the scope of this study. However the results are consistent with a model in which IHF bends the DNA to allow stabilizing contacts between Lrp and RNAP, ArgR interferes with such contacts, and Crp introduces an interfering bend in the DNA and/or stabilizes RNAP in a poised but inactive state.
Keywords
Orotate Phosphoribosyltransferase
Protection Pattern
RNAP Binding
Mobility Shift Experiment
argR Gene
Background
A small number of global regulatory proteins appear to play a central role in integrating the regulatory architecture of Escherichia coli, so as to promote coherent transcriptional responses to environmental changes. Just seven proteins (ArcA, Crp, FIS, Fnr, IHF, Lrp, and NarL) directly control expression of about half of all genes in E. coli [1]. We report here direct evidence that three of these seven proteins, plus a more specific regulator, cooperate to control an operon critical to nitrogen metabolism.
There are two main pathways for assimilating ammonia into glutamate in Escherichia coli [
2
] (see Fig.
1
). In the presence of high ammonia concentrations and limited carbon/energy, glutamate dehydrogenase (GdhA) produces glutamate from ammonia, α-ketoglutarate, and NADPH [equation 1, and left side of Fig.
1
].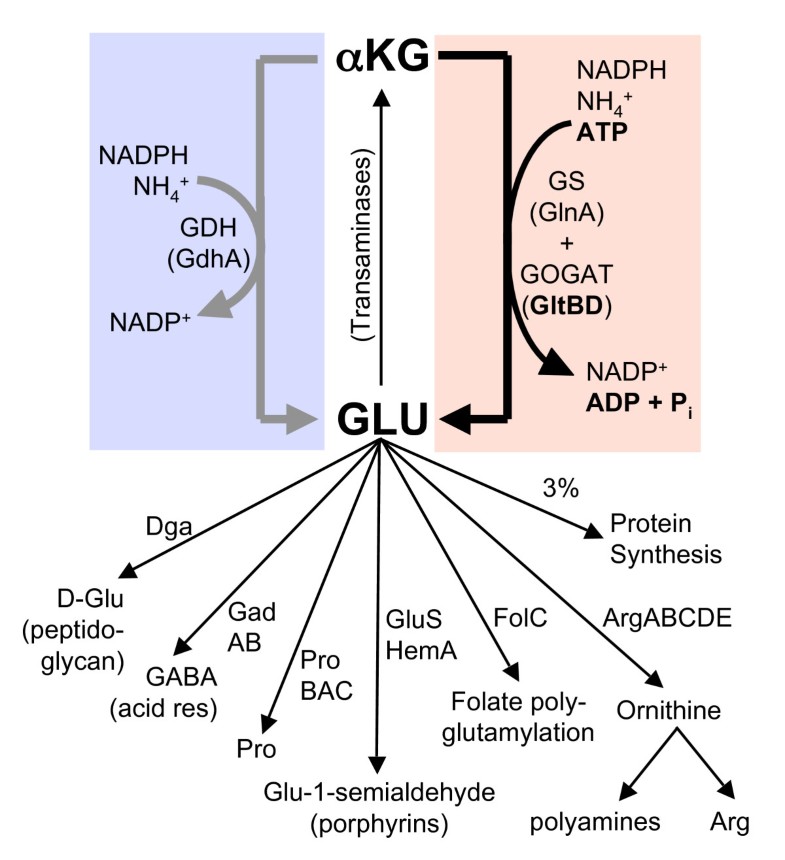 NH4+ + α-Ketoglutarate + NADPH → Glutamate + NADP+ [1]
At low ammonia concentrations, a two-enzyme cycle is used instead. First, glutamine synthetase (GlnA) produces glutamine from ammonia, glutamate and ATP [equation 2]. Then glutamate synthase (GltBD) produces two molecules of glutamate from glutamine, α-ketoglutarate, and NADPH [equation 3], with one of the glutamate molecules going back into the cycle and the other representing net ammonia incorporation [equation 4, and right side of Fig. 1]. The only difference between equations [1] and [4] is the involvement of ATP.
NH4+ + Glutamate + ATP → Glutamine + ADP + Pi [2]
Glutamine + α-Ketoglutarate + NADPH → 2 Glutamate + NADP+ [3]
NH4+ + α-Ketoglutarate + NADPH + ATP → Glutamate + NADP+ + ADP + Pi [4]
In the presence of high ammonia levels, GltBD activity would waste ATP as a result of unnecessary glutamine turnover. The pathway represented by equation 4 is estimated to account for a remarkable 15% of total ATP turnover during growth in glucose minimal medium [2], so the ATP wastage would be substantial. However, insufficient GltBD activity in the face of dropping ammonia levels would lead to cessation of growth [3, 4] and a competitive disadvantage. Clearly the level of GltBD must be very carefully controlled so as to anticipate the probable near-term needs of the cell.
Our interest in gltBDF, the operon that includes structural genes for GltBD, stems from its membership in the regulon controlled by Lrp (leucine-responsive regulatory protein) [5]. There is no obvious single role for Lrp, but three broad themes stand out. First, Lrp appears to sense the shift between two major E. coli environments, "the gut and the gutter" [6], activating many amino acid biosynthetic operons (such as gltBDF) and repressing many catabolic ones. Second, and partially overlapping the first, Lrp plays an important role in regulating nitrogen metabolism [2, 5, 7]. Third, Lrp appears to play an important role in preparing the cell for stationary phase [6, 8–13].
In the
gltBDF
operon, IHF binds the region from -75 to -113, while the three Lrp binding sites are centered at nucleotides -152, -215 and -246 relative to the transcription start site [
5
,
14
] (Fig.
2A
). This arrangement leaves space for other proteins to bind, and it seemed likely that additional regulators would be involved in controlling a pathway that can account for 15% of the cell's ATP flux. There is some evidence for effects (direct or indirect) of other regulators on
gltBDF
expression, including Crp [
15
], Fnr [
16
], Nac [
17
], and GadE [
18
] (see information on the
gltBDF
operon at EcoCyc.org [
19
]). We report here that
gltBDF
is directly and negatively controlled by Crp and ArgR, in addition to the direct positive control by Lrp and IHF. We also show that RNAP binds stably to the
gltBDF
promoter in the presence of Lrp and IHF, or in the presence of Crp-cAMP.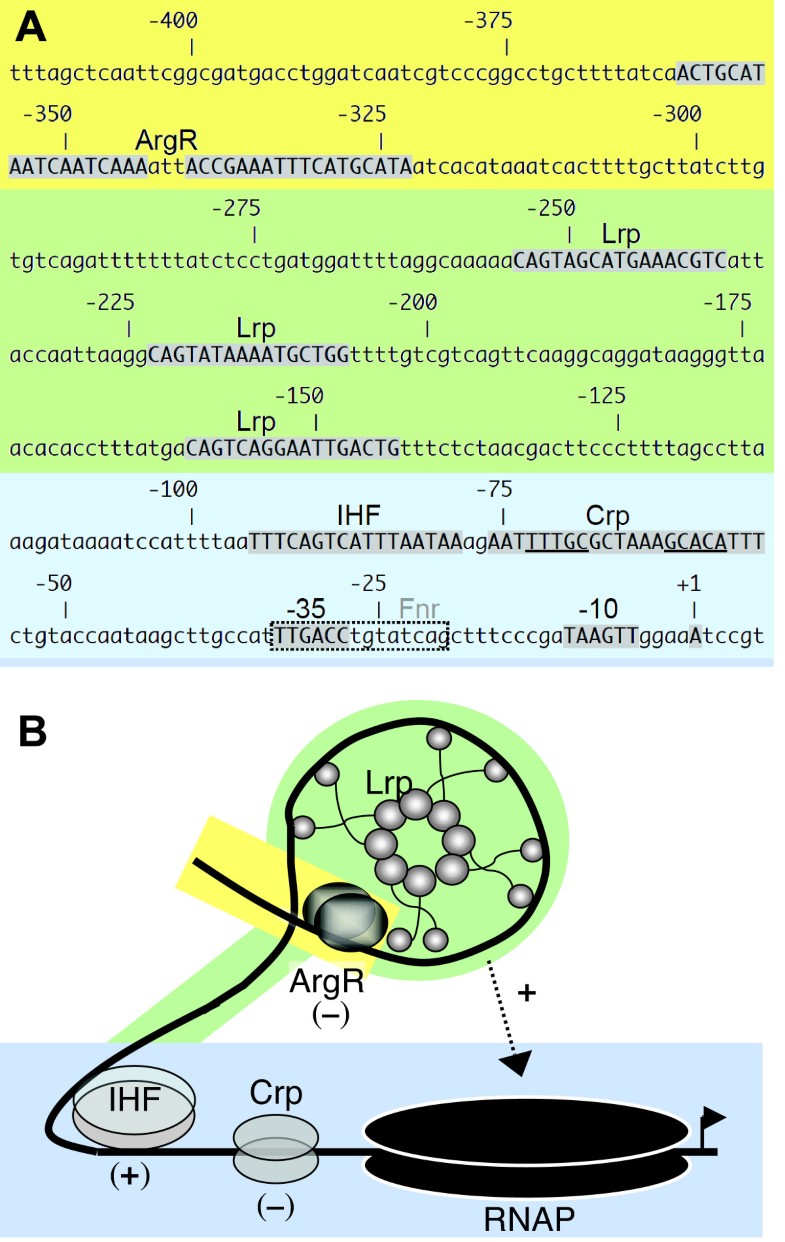 Conclusion
Results from this study demonstrate that the physiologically-important gltBDF operon of E. coli is subject to negative as well as positive control, and involves a third member of the group of seven most-global transcriptional regulatory proteins. In addition to the previously-demonstrated direct positive roles of Lrp and IHF, there are direct negative roles for Crp and ArgR. Lrp and IHF appear to stabilize RNAP binding to the promoter, as no RNAP-dependent footprint appears unless both Lrp and IHF are present. Crp-cAMP can replace Lrp + IHF in potentiating footprint formation by RNAP, though the resulting protection patterns are distinct. ArgR alters, but does not prevent, footprint formation by RNAP + Lrp + IHF. It does not appear that either repressor, Crp or ArgR, acts by interfering with binding of the activators or of RNAP. This study does not explore the specific mechanisms of activation or repression at gltBDF, but the results are consistent with the possibility that Crp and ArgR inhibit transcription in such a way as to leave the RNAP poised for rapid transcription initiation when conditions require it. Given the central importance of the regulation of glutamate biosynthesis, reflected by the involvement of Lrp and two other E. coli global regulatory proteins, it would be instructive to know whether this regulatory mechanism is broadly conserved among related bacterial species adapted to different nutritional environments.
Methods
Bacterial strains, plasmids and culture conditions
The strains, plasmids and PCR primers used in this study are listed in Table 2. All strains were derivatives of E. coli K- 12 W3110 or LP2002 (in which the rph mutation of W3110 was corrected; see below). For β-galactosidase assays, strains were grown in glucose minimal MOPS medium [50, 51] containing ampicillin (20 μg/ml for chromosomal and 80 μg/ml for plasmid-borne resistance) or 7.5 mM L-arginine HCl (Sigma) where indicated. Cultures grown to test the effects of Crp-binding site mutations were grown in MOPS defined-rich medium (Teknova, Hollister, CA) containing 100 μg ampicillin per ml and 1 mM isopropyl-β-D-thiogalactoside (IPTG), in the presence or absence of 10 μM dibutyryl-cAMP (BioMol Research Labs, Plymouth Meeting, PA). Plates for most genetic work used agar containing "LB" medium [52].
Construction of the rph+ strain LP2002 and its derivatives
The widely used E. coli K- 12 strain W3110 contains a frameshift mutation in rph associated with decreased levels of the pyrE product orotate phosphoribosyltransferase [29]. This frameshift was corrected as follows. A 790 bp fragment of rph and downstream sequence was amplified from W3110 chromosomal DNA using the polymerase chain reaction (PCR) and the overlap extension procedure [53]. The primers used were rph1-4 (Table 2). Primers rph2 and rph3 contain the additional base pair required to correct the frame shift in the rph gene (underlined italic in Table 2). The PCR product was cloned into E. coli strain XL-1Blue (Stratagene) using the pGEMT-easy vector (Promega). The insert was then excised with NotI and ligated into NotI-digested suicide vector pKO3 [54]. Electrocompetent W3110 cells were transformed with pKO3 carrying the modified rph gene, and integrants were selected at 43°C. Cells that had lost the plasmid were isolated by plating on LB agar containing 5% sucrose, which selects against the plasmid sacB gene [54]. Colonies from LB-sucrose plates were replica plated onto unsupplemented LB and LB-chloramphenicol (20 μg/ml). Colonies that grew on LB plates but not on LB-chloramphenicol were screened for correction of the frame shift in the rph gene by amplifying the rph region by PCR and sequencing the product. The resulting rph+ strain was designated LP2002.
The lac operon was deleted from strain LP2002 using the overlap extension protocol [53] with primers lac6-9 (Table 2). The lac6 primer corresponds to nucleotides 814 to 842 within the coding region of lacI; the lac7 primer is complementary to the 5' region of primer lac8; the 3' end of lac8 bridges the deletion region (see below), and lac9 corresponds to nucleotides 1019 to 1044 of the coding region of cynX gene downstream of the lacZYA operon. The final amplified product has a deletion starting immediately upstream of the -10 region of the lacZYA operon and extending to the 3' end of the lacA gene, leaving the last 19 codons of lacA intact. This product was introduced into the chromosome of LP2002 using the suicide vector pKO3 [54]. The ΔlacZYA recombinants were identified as white colonies on LB-Xgal plates, and the deletion was verified by amplifying the chromosomal lac region and sequencing the fragment. The resultant strain was designated LP2010. The gltB-lacZ transcriptional fusion from LP1000 [14, 55] was introduced into LP2010 via P1 transduction [55] and designated LP2020.
Construction of ΔargR strains
A portion of argR was deleted from strains LP1000 and LP2020 as follows. The argR gene from strain PS2209 (W3110 Δlac-169 from F. C. Neidhardt) was amplified from chromosomal DNA by PCR, using the primers arg1 and arg2 (Table 2). The amplified product was ligated into the pGEMTeasy vector (Promega). The argR fragment was excised from the vector with NotI, and the region of argR coding for amino acids 15–90 were deleted in-frame by removing a DraI/EcoRV fragment from the argR gene and religating the blunt ends. This fragment was ligated into suicide vector pKO3 [54] and introduced into strains LP1000 and LP2020. Prospective mutants were screened by amplifying the argR region from their genomic DNA; the amplified fragment was shorter in the deletion mutants. The ΔargR strains were designated LP1050 (LP1000 derivative) and LP2023 (LP2020 derivative).
CipherGen ProteinChip™ assays
Surface-enhanced laser desorption and ionization (SELDI) ProteinChip technology (Ciphergen Biosystems, currently distributed by BioRad, Hercules, CA) was used to identify proteins binding to the upstream region of the gltBDF operon. In this approach, biotin-labeled gltB DNA (from -406 to +246) was attached to streptavidin-coated chips and incubated with centrifugally-cleared whole-cell extracts. The masses of proteins that bound to the DNA fragments were determined using SELDI mass spectroscopy. This binding experiment was carried out under nonstringent conditions so as to detect relatively weak binding interactions. E. coli cells (strain W3110) were grown in glucose minimal MOPS medium and opened using glass beads in a BeadBeater (BioSpec Products, Bartlesville, OK). PS-1 (carbonyl diimidazole) ProteinChips were coated with streptavidin (Pierce, Immunopure™) at 0.2 microgram/spot, washed, and the unbound sites were blocked with 1 M ethanolamine (pH 8.0). The DNA, generated by PCR using biotinylated primers, was first bound to the streptavidin on the chip, and then incubated with cell extract in 20 mM Tris-acetate (pH 8.0), 0.1 mM EDTA, 0.1 mM dithiothreitol, 250 mM NaCl, 4 mM Mg acetate, 12.5% glycerol (v:v), and 200 μg/ml of salmon sperm DNA (Amersham Pharmacia Biotech, N.J.). The chips were washed with 20 mM Tris-acetate containing 0.1% Triton X-100. The matrix EAM-1 (Ciphergen) was added to the chip prior to SELDI mass analysis.
Expression and purification of Lrp, ArgR, Crp and IHF
In all cases, protein purity was assessed from single (or, in the case of IHF, double) Coomassie-stained bands when μg amounts were loaded onto SDS polyacrylamide gels. Lrp was purified from strain JWD3 and isolated as previously described [28]. The genes argR, crp, himA and himD (the latter two coding for IHF subunits) were amplified from strain W3110 chromosomal DNA. The argR gene was amplified using primers arg3 and arg4 (Table 2), cloned into the expression vector pET23b (Novagen) at the Nde I/Xho I sites creating pLP1060, and introduced into the expression host BL21(DE3) (Novagen) which carries an inducible gene for T7 RNAP. The protein was purified from the resulting strain LP1060, as described by Sunnerhagen et al. [56].
The crp gene was amplified using primers crp5 and crp6 (Table 2), ligated into the Nde I/Xho I sites of expression vector pET29a (Novagen) to create pLP1070, and introduced into strain BL21(DE3) resulting in strain LP1070. The overexpressed protein was purified using a nickel affinity column (Pharmacia) since the wild type Crp (without a his-tag) binds nickel columns with moderate affinity [57].
The genes himA and himD were amplified from W3110 chromosomal DNA using primers himA1 and himA2 and primers himD1 and himD2 (Table 2). The amplified products were ligated in tandem into the expression vector pET28a (Novagen) at the Nco I/Bam HI sites to create pLP1080, and introduced into strain BL21(DE3). The strain was designated LP1080. IHF with an N-terminal histidine tag on HimA was purified using a 3 ml Hi-Trap Heparin Sepharose column from Pharmacia [58].
Construction of PgltB-lacZ fusion and variant with altered Crp-binding site
The promoter region upstream of gltB was amplified from E. coli chromosomal DNA using primers gltP1-2 (Table 2), and the resulting PCR product was digested with BamHI and SalI. This product was ligated into pBH403, a derivative of pKK232-8 with a promoterless lacZ gene between two bidirectional transcription terminators, to generate pPM2005 (Table 2). This process was repeated with a mutagenic primer pair (gltcrp1-2, Table 2) to generate pPM2006, which has alterations within the Crp-binding site in the glt promoter. Plasmids were sequence confirmed and used to transform the ΔlacZ W3110 derivative PS2209.
β-galactosidase assays
Cultures were grown to exponential phase in the indicated media. Samples were taken at 30-min intervals throughout the growth period. Levels of β-galactosidase were determined by o-nitrophenyl-β-D-galactoside (ONPG) hydrolysis as described by Platko et al. [59]. β-galactosidase levels were plotted against culture absorbance, and points were fitted via linear regression. The resulting slope yields the β-galactosidase acitivity.
Mobility shift and DNase I protection assays
RNA polymerase holoenzyme was purchased from Epicentre Biotechnologies (Madison, WI). Assays were carried out as described in Paul et al. [14] except where indicated. In electrophoretic mobility shift experiments involving ArgR, the reaction mixture and the polyacrylamide gel both contained 5 mM L-arginine, and the running buffer (1 × TBE [90 mM Tris borate, pH 8.3, 0.2 mM EDTA]) contained 1 mM L-arginine. Crp-DNA binding was carried out in a buffer modified from Seoh and Tai [60] containing 10 mM Tris-HCl (pH 8.0), 50 mM KCl, 1.0 mM EDTA, 0.1 mM DTT, 50 μg/ml BSA, 10 μg/ml poly (dI-dC):poly(dI-dC) from Pharmacia and 12.5% glycerol. cAMP (20 mM, Sigma) was added to the reaction buffer, the gel and the running buffer (0.5 × TBE). The buffer for DNase I protection assays (10 mM Tris-HCl, pH 8.0, 5 mM MgCl2, 1 mM CaCl2, 2 mM dithiothreitol, 50 mg of bovine serum albumin/ml and 2 μg of poly(dI-dC):poly(dI-dC)/ml) contained 5 mM L-arginine or 20 mM cAMP for reactions involving ArgR and Crp respectively.
Declarations
Acknowledgements
The authors thank George M. Church of Harvard University, Cambridge, MA, for the plasmid pKO3, Ruth Van Bogelen of Pfizer Inc., Ann Arbor, MI, for help with the SELDI analysis, and the anonymous reviewers for helpful comments. This project was supported in part by a grant from the U.S. National Science Foundation to RGM and RMB (MCB-9807237), and by a grant to RMB from the U.S. National Institutes of Health (AI054716).
Authors' Affiliations
(1)
Life Sciences Institute, University of Michigan, Ann Arbor, USA
(2)
Department of Medical Microbiology and Immunology, University of Toledo Health Science Campus, Toledo, USA
(3)
Program in Bioinformatics and Proteomics/Genomics, University of Toledo Health Science Campus, Toledo, USA
(4)
Biophysics Research Division, University of Michigan, Ann Arbor, USA
(5)
Department of Biological Chemistry, University of Michigan, Ann Arbor, USA
(6)
Vitamin Metabolism and Aging Laboratory, Jean Mayer USDA Human Nutrition Research Center on Aging, Tufts University, Boston, USA
Copyright
© Paul et al; licensee BioMed Central Ltd. 2007
This article is published under license to BioMed Central Ltd. This is an Open Access article distributed under the terms of the Creative Commons Attribution License (http://creativecommons.org/licenses/by/2.0), which permits unrestricted use, distribution, and reproduction in any medium, provided the original work is properly cited.