Research article

Open Access
Comparative genomics of transport proteins in developmental bacteria: Myxococcus xanthus and Streptomyces coelicolor
BMC Microbiology
2013
13:279
Received: 19 July 2013
Accepted: 20 November 2013
Published: 5 December 2013
Abstract
Background
Two of the largest fully sequenced prokaryotic genomes are those of the actinobacterium, Streptomyces coelicolor (Sco), and the δ-proteobacterium, Myxococcus xanthus (Mxa), both differentiating, sporulating, antibiotic producing, soil microbes. Although the genomes of Sco and Mxa are the same size (~9 Mbp), Sco has 10% more genes that are on average 10% smaller than those in Mxa.
Results
Surprisingly, Sco has 93% more identifiable transport proteins than Mxa. This is because Sco has amplified several specific types of its transport protein genes, while Mxa has done so to a much lesser extent. Amplification is substrate- and family-specific. For example, Sco but not Mxa has amplified its voltage-gated ion channels but not its aquaporins and mechano-sensitive channels. Sco but not Mxa has also amplified drug efflux pumps of the DHA2 Family of the Major Facilitator Superfamily (MFS) (49 versus 6), amino acid transporters of the APC Family (17 versus 2), ABC-type sugar transport proteins (85 versus 6), and organic anion transporters of several families. Sco has not amplified most other types of transporters. Mxa has selectively amplified one family of macrolid exporters relative to Sco (16 versus 1), consistent with the observation that Mxa makes more macrolids than does Sco.
Conclusions
Except for electron transport carriers, there is a poor correlation between the types of transporters found in these two organisms, suggesting that their solutions to differentiative and metabolic needs evolved independently. A number of unexpected and surprising observations are presented, and predictions are made regarding the physiological functions of recognizable transporters as well as the existence of yet to be discovered transport systems in these two important model organisms and their relatives. The results provide insight into the evolutionary processes by which two dissimilar prokaryotes evolved complexity, particularly through selective chromosomal gene amplification.
Keywords
Transport proteins Streptomyces Myxococcus Genome analyses
Background
Spore formation is common within the prokaryotic world. Endospores can be found in a variety of Gram-positive bacteria, including species of Bacillus, Clostridium, Metabacterium and Thermoactinomyces[1]. Aerial exospore formation is common among species of Streptomyces[2]. Dermatophilus form zoospores [3], while Azotobacter form resting cysts [4]. Myxospores are common among the Myxobacteria, including species of Myxococcus and Stigmatella[5]. Other resting cell types can be found in cyanobacteria such as Anabaena[6]. The best characterized of the sporulation processes is endospore formation in Bacillus subtilis[7]. However, aerial mycelial exospores in actinobacteria and fruiting body bearing myxospores in myxobacteria provide alternatives for understanding the molecular bases of complex multicellular prokaryotic differentiation.
The two organisms that serve as model systems to represent these two phyla are Streptomyces coelicolor (Sco) and Myxococcus xanthus (Mxa). Both organisms interact and produce antibiotics and a variety of other secondary metabolites, rendering them important for medical and biotechnological purposes [8–10]. Some gene families such as regulatory gene families are amplified; for example, Sco has 44 ser/thr protein kinases and Mxa has 97, although most bacteria have only 0–3. The genomes of these two organisms have been fully sequenced, and they prove to be among the largest prokaryotic genomes currently available for analysis, both being about 9 million base pairs (Mbp) in size [11, 12]. Because of the unique features of these two organisms, we have conducted a thorough investigation of the transport proteins encoded within their genomes.
Transport proteins serve as important mediators of communication between the cell cytoplasm and the extracellular environment [13]. They frequently allow transmission of signals that determine transcription patterns and progression into programs of differentiation [14]. They also determine whether or not secondary metabolites such as antibiotics will be synthesized, exported, or imported [15]. We have therefore initiated a study to determine what transporters are likely to be important for these processes and whether or not these two complex organisms share these systems.
In this paper, we analyze the genomes of Sco and Mxa for all integral membrane transport proteins that correspond to currently recognized transporters included within the Transporter Classification Database TCDB; http://www.tcdb.org; [16–18]. These systems fall into several classes, including (1) channels/pores, (2) secondary carriers, (3) primary active transporters, (4) group translocators, (5) transmembrane electron flow carriers, (8) auxiliary transport proteins, and (9) transporters of unknown mechanism of action. The identified proteins are analyzed by class, topology and substrate specificity, and the results are compared.
Our analyses reveal that these two organisms use fundamentally different systems to transport various substrates, suggestive of independent evolution. While Sco has amplified the numbers of transporters in certain families specific for certain types of substrates (e.g. sugars, amino acids, organic anions), Mxa has not. Moreover, they use very different types of transporters for the purpose of extruding antimicrobial agents. The results lead to the conclusion that Sco and Mxa have used very different strategies to create programs of differentiation and solve metabolic problems created by the development of multiple cell types.
Results
Streptomyces coelicolor (Sco) Transporters
For the purpose of genome analyses, we classify transport systems according to the IUBMB-approved Transporter Classification (TC) System. Transporters fall into five well-defined categories (Classes 1 to 5) and two poorly defined categories (Classes 8 and 9) as mentioned above, (see TCDB;
http://www.tcdb.org
; [
13
,
18
–
20
]). Additional file
1
: Table S1 and Figure
1
present an overall summary of the classes and subclasses of transporters found in
Streptomyces coelicolor
(Sco). Only integral membrane transport proteins, mostly those that provide the transmembrane pathway for solute translocation, are reported. We identified 658 such proteins encoded in the Sco genome. The entire genome is 9.05 million base pairs and is reported to encode 7825 proteins [
11
]. Thus, 8.1% of the proteins encoded within the genome of Sco are recognized integral membrane transport proteins. Functionally characterized and partially characterized transporters reported in the literature are tabulated and discussed below (see section entitled "Transporters of experimentally verified function in Sco and Mxa").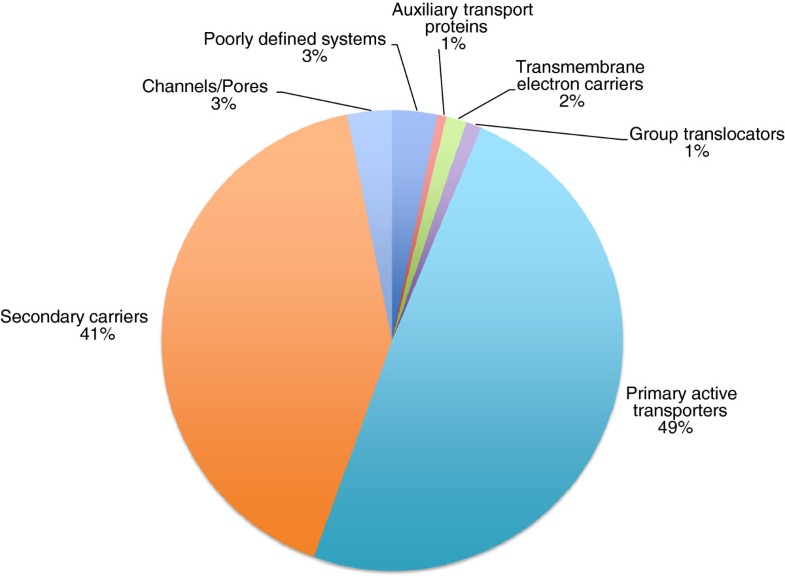 Myxococcus xanthus Transporters
Additional file
3
: Table S3 and Figure
4
present an overall summary of the classes and subclasses of transporters found in
Myxococcus xanthus
(Mxa) according to TC number. We identified 355 integral membrane transport proteins encoded in the Mxa genome. The entire genome is 9.14 million base pairs and encodes 7,316 proteins. Thus, 4.8% of the proteins encoded within the genome of Mxa are recognized transmembrane transport proteins. This value does not include transport accessory proteins such as cytoplasmic ATPases and extracytoplasmic receptors.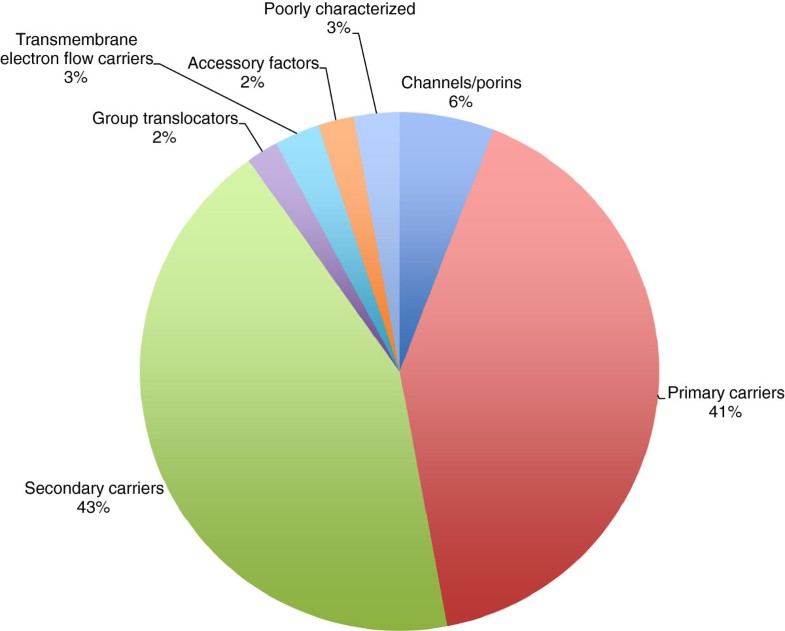 Comparison of Streptomyces coelicolor (Sco) with Myxococcus xanthus (Mxa)
As noted above, the genomes of Sco and Mxa are nearly the same size (~9 Mbps), but the numbers of reported proteins in the proteomes differ substantially (8153 versus 7316 proteins, respectively; about 10% less for Mxa) [11, 12, 36]; See Discussion for an explanation. Moreover, using the same setting (cut-off of 0.001 representing values giving fairly reliably related homologues) for G-BLAST searches of the two genomes, the numbers of integral membrane transport protein hits were dramatically different (658 for Sco versus 355 for Mxa). It is possible that some of these differences reflect the criteria used for protein identification used by the annotators of the genome sequences of these two organisms. However, as noted below, these differences, particularly with respect to the numbers of transporters reported in Tables 1 and 4, are likely to reflect fundamental differences between the two organisms. It is also possible, although unlikely, that these differences, in part, represent greater sequence divergence of Mxa transporters compared to Sco transporters relative to the existing proteins in TCDB at the time when these analyses were conducted. As a result, we could have missed transporters too divergent in sequence to be detected with the selected cut-off value. Because analyses of distant transport homologues of Sco and Mxa were performed, this possibility seems unlikely. Instead, Sco appears to have greatly amplified the numbers of certain types of transporters. The following comparisons and descriptions are pertinent to homologues obtained with scores smaller than (better than) the 0.001 threshold.
Channel proteins
The largest superfamily of channel proteins found in nature is the Voltage-gated Ion Channel (VIC) Superfamily (TC# 1.A.1-5 and 10) [37, 38]. While Sco has six VIC family (1.A.1) members, Mxa has only one, and neither organism shows representation in the other families of the VIC Superfamily see superfamily hyperlink in TCDB; [39].
All of the hits in both organisms gave values sufficient to establish homology, but no two VIC family homologues in these two dissimilar organisms proved most similar to the same TC entry. Thus, in Sco, one protein most resembles the well-characterized 2 TMS KcsA K+ channel of S. lividans[40], but no such homologue was identified in Mxa. Instead, the one VIC family member in Mxa is a 6 TMS K+ channel resembling bacterial 6 TMS homologues (TC 1.A.1.24). Other VIC family members in Sco include 2 and 4 TMS VIC family homologues, sometimes with extra C-terminal TrkA-N Rossman NAD-binding domains that presumably function in regulation of channel activity. These novel proteins have been entered into TCDB.
Both Sco and Mxa have two MIP family aquaporins/glycerol facilitators [41]. These four proteins hit different TC entries with good scores (≤e-34), demonstrating that they are indeed members of the MIP family. They probably allow the passive flow of water and small neutral molecules such as glycerol across the bacterial plasma membranes. Sco also has a simple anion channel of the CLC Family (1.A.11) that is lacking in Mxa.
Mechanosensitive channels include MscL and MscS proteins, both involved in osmotic adaptation, acting as emergency release valves [42]. Only Sco has an MscL channel (1.A.22), but both organisms have four MscS proteins, some of which are similar between the two organisms. For example, Sco Q9S2Y1 and Mxa Q1D0J8 are 39% identical throughout most of their lengths and have therefore been assigned TC#s 1.A.23.7.1 and 1.A.23.7.2, respectively. Moreover, both Sco Q86576 and Sco Q9L1X9 show >33% identity throughout major portions of their sequences with Mxa Q1DEP9.
Mxa has eight proteins belonging to the multicomponent Mot-Exb Family (1.A.30) of H+ or Na+ channel chemiosmotic energizers used for motility and/or outer membrane transport. Sco, being a Gram-positive organism, lacks these homologues. Since it lacks flagellar motility, Mxa lacks MotA/MotB as expected, but it has several TolQ/TolR energizers for transport across the outer membrane [43]. In most cases, both TolQ and TolR were identified, although only TolQ homologues are listed in Table 2. These protein pairs have been entered into TCDB under TC#s 1.A.30.2.3 - 1.A.30.2.7.
Two other systems specific to Gram-negative bacteria but lacking in Gram-positive bacteria are the Outer Membrane Protein Insertion Porin (Bam or OmpIP) Family (1.B.33) [44, 45] and the Outer Membrane Lipopolysaccharide Export Porin (LPS-EP) Family (1.B.42) [46, 47]. As expected, constituents of these two systems were identified in Mxa, but not Sco. Although only some of these constituents are listed in Table 4, homologues of the E. coli constituents were identified, sometimes in multiple copies. Outer membrane porins of Mxa have been examined by Bhat et al., [33] and were therefore not considered further here. Several of these sequence divergent proteins have been included in TCDB.
Secondary carriers (TC Sub-class 2.A)
Primary active transporters
ABC porters
ABC transporters consist of one or two multispanning integral membrane protein(s) (homo- or heterodimers), one or two cytoplasmic ATPase(s) (also homo- or heterodimers), and for most uptake (but not efflux) systems, one or more extracytoplasmic receptor(s), each with a single N-terminal signal sequence. An examination of the integral membrane constituents of ABC transporters revealed that Sco has nearly three times as many ABC membrane proteins as does Mxa (202 versus 72). This difference, as well as the nearly four-fold greater number of MFS carriers in Sco, provides the majority of differences in the numbers of membrane transport proteins found within these two organisms.
Table
9
lists the families, numbers per family, and probable substrates of the ABC uptake proteins found in these two organisms. ABC porters include 3 independently evolving protein types, ABC1, ABC2 and ABC3, and all three types are represented in both Sco and Mxa [
28
]. The most striking difference between Sco and Mxa is the large number of sugar porters in Sco (85) as compared with Mxa (6). However, Sco has 12 amino acid and 17 peptide ABC transport proteins while Mxa has only 4 and 3, respectively. It seems that while Mxa primarily uses secondary carriers of the OPT family for peptide uptake, Sco primarily uses transporters of the ABC superfamily.
Table 9
ABC uptake porters in Sco and Mxa
| ABC Family | | | Sco | Mxa |
| --- | --- | --- | --- | --- |
| 1 | Carbohydrate Uptake Transporter-1 (CUT1) Family | Carbohydrates | 75 | 4 |
| 2 | Carbohydrate Uptake Transporter-2 (CUT2) Family | Carbohydrates | 10 | 2 |
| 3 | Polar Amino Acid Uptake Transporter (PAAT) Family | Polar amino acids | 5 | 1 |
| 4 | Hydrophobic Amino Acid Uptake Transporter (HAAT) Family | Non-polar amino acids | 6 | 2 |
| 5 | Peptide/Opine/Nickel Uptake Transporter (PepT) Family | Peptides, oligosaccharides | 17 | 3 |
| 6 | Sulfate/Tungstate Uptake Transporter (SulT) Family | Sulfate | 1 | 1 |
| 7 | Phosphate Uptake Transporter (PhoT) Family | Phosphate | 3 | 2 |
| 8 | Molybdate Uptake Transporter (MolT) Family | Molybdate | 1 | 1 |
| 10 | Ferric Iron Uptake Transporter (FeT) Family | Iron | | 2 |
| 11 | Polyamine/Opine/Phosphonate Uptake Transporter (POPT) Family | Polyamines/opines/phosphonates | 3 | |
| 12 | Quaternary Amine Uptake Transporter (QAT) Family | Quaternary/amines | 6 | 2 |
| 14 | Iron Chelate Uptake Transporter (FeCT) Family | Iron chelates | 8 | 4 |
| 15 | Manganese/Zinc/Iron Chelate Uptake Transporter (MZT) Family | Mn2+/Zn2+/Fe2+ chelates | 2 | 1 |
| 17 | Taurine Uptake Transporter (TauT) Family | Taurine | 2 | 2 |
| 18 | Cobalt Uptake Transporter (CoT) Family | Cobalt (Co2+) | 2 | |
| 20 | Brachyspira Iron Transporter (BIT) Family | Iron | 1 | |
| 21 | Siderophore-Fe3+ Uptake Transporter (SIUT) Family | Siderophore-iron | 2 | 2 |
| 23 | Nickel/Cobalt Uptake Transporter (NiCoT) Family | Nickel; cobalt | 2 | |
| 24 | Methionine Uptake Transporter (MUT) Family | Methionine | 1 | 1 |
| 27 | γ-Hexachlorocyclohexane (HCH) Family | γ-hexachlorohexane/cholesterol | 2 | 4 |
| 32 | Cobalamin Precursor (B12-P) Family | Vitamin B12 precursors | 2 | |
These two organisms have similar low numbers of systems for inorganic anions, sulfate, phosphate, molybdate and phosphonates, but neither has an ABC nitrate/nitrite uptake system. Instead, they both have MFS-type nitrate/nitrite transporters (see above). Sco has about 4 times as many ABC amine transport proteins as does Mxa. These two organisms have similar numbers of ABC iron uptake proteins (11 and 8, respectively). ABC uptake systems for inorganic cations are rare in both bacteria. Vitamin transporters are also scarce.
ABC-type export systems are less numerous than uptake systems in both organisms. However, some families are well represented in one or the other organism. Both have at least one putative LPS precursor export system (Family 103), several lipid exporters (Family 106), and several lipoprotein exporters (Family 125) (Table
10
). ABC-type drug exporters are prevalent but with striking differences between the two organisms. Sco has ten DrugE1 export proteins (Family 105) while Mxa has only one. Both have a single DrugE2 exporter (Family 117), but while Sco has only one DrugE3 export protein (Family 119), Mxa has six. Most strikingly, while Sco has only one macrolid export protein (Family 122), Mxa has 16. They both have MDR pumps belonging to other ABC export families, including eukaryotic-type systems. In Mxa, two of these belong to the MDR Family (Family 201), while in Sco, 1 belongs to the EPP Family (Family 204). Protein and peptide exporters can also be found, but no family predominates in either organism, and representation of one family in one of these bacteria does not correlate with representation in the other (Table
10
). It seems clear that these two organisms have solved the problems of macromolecular and drug export using very different transport systems and mechanisms. This fact probably reflects the independent evolution of the two sporulating organisms' lifestyles, as well as the production and secretion of different types of molecules. Thus, in spite of their striking physiological similarities (see Discussion), Sco and Mxa have used very different types of transport systems to satisfy their metabolic and developmental needs.
Table 10
ABC export porters in Sco and Mxa
| TC # | Family name | Known substrate range | ABC Type | Sco | Mxa |
| --- | --- | --- | --- | --- | --- |
| 3.A.1.103 | Lipopolysaccharide Exporter (LPSE) | LPS | 2 | 2 | 1 |
| 3.A.1.105 | Drug Exporter-1 (DrugE1) | Drugs | 2 | 10 | 1 |
| 3.A.1.106 | Lipid Exporter (LipidE) | PL, LPS, Lipid A, Drugs, Peptides | 1 | 6 | 3 |
| 3.A.1.107 | Putative Heme Exporter (HemeE) | Heme, Cytochrome c | 2 | | 1 |
| 3.A.1.109 | Protein-1 Exporter (Prot1E) | Proteins | 1 | | 1 |
| 3.A.1.110 | Protein-2 Exporter (Prot2E) | Proteins | 1 | | 1 |
| 3.A.1.111 | Peptide-1 Exporter (Pep1E) | Bacteriocin, Peptides | 1 | 2 | 1 |
| 3.A.1.112 | Peptide-2 Exporter (Pep2E) | Other Peptides | 1 | 1 | |
| 3.A.1.115 | Na+ Exporter (NatE) | Sodium | 2 | | 1 |
| 3.A.1.117 | Drug Exporter-2 (DrugE2) | Drugs, Lipids, Dyes | 1 | 1 | |
| 3.A.1.119 | Drug/Siderophore Exporter-3 (DrugE3) | Drugs, Siderophores | 1 | 6 | |
| 3.A.1.122 | Macrolide Exporter (MacB) | Macrolides, Heme | 3 | 1 | 16 |
| 3.A.1.123 | Peptide-4 Exporter (Pep4E) | Drugs, Peptides | 1 | 1 | |
| 3.A.1.125 | Lipoprotein Translocase (LPT) | O.M. Lipoproteins | 3 | 7 | 3 |
| 3.A.1.127 | AmfS Peptide Exporter (AmfS-E) | Peptides, Morphogens | 2 | 2 | |
| 3.A.1.129 | CydDC Cysteine Exporter (CydDC-E) | Cysteine | 1 | 1 | |
| 3.A.1.132 | Gliding Motility ABC Transporter (Gld) | Polysaccharides, Copper Ions | 2 | | 2 |
| 3.A.1.134 | Peptide-7 Exporter (Pep7E) | Peptides, Bacteriocins | 3 | 1 | |
| 3.A.1.135 | Drug Exporter-4 (DrugE4) | Drugs | 1 | 2 | |
| 3.A.1.140 | FtsX/FtsE Septation (FtsX/FtsE) | Septation | | 1 | 1 |
| 3.A.1.141 | Ethyl Viologen Exporter (EVE) | Ethylviologen | | 2 | 2 |
| 3.A.1.201 | Multidrug Resistance Exporter (MDR) | Drugs, Fatty Acids, Lipids | 1 | | 2 |
| 3.A.1.204 | Eye Pigment Precursor Transporter (EPP) | Pigments, Drugs, Hemes | 2 | 1 | |
| 3.A.1.210 | Heavy Metal Transporter (HMT) | Drugs, Metal Conjugates, Heme | 1 | 1 | 1 |
ATPases in Sco and Mxa
Both Sco and Mxa have a single F-type ATPase as indicated by the 3 integral membrane constituents listed in Additional file 1: Table S1 and Additional file 2: Table S2. These enzymes function to interconvert chemiosmotic energy (the proton motive force, pmf) with chemical energy (ATP). They both also have an H+-translocating pyrophosphatase complex. P-type ATPases in general appear to function in mediating stress responses in prokaryotes, and their occurrence by family in numerous organismal types has been defined [90, 91]. Sco has eight such enzymes while Mxa has seven. While only Mxa has a Ca2+-ATPase (Family 2) and only Sco has a heavy metal ATPase (Family 6), both have the three components of Kdp-type K+ uptake ATPases as well as three distinct copper ATPases. Remaining P-type ATPases in these organisms are functionally uncharacterized. Sco has two members of Family 23 and one member of Family 25 while Mxa has one member each of Families 27 and 32. While Family 23 members are of the type 2 ATPases with 10 TMSs, Families 25, 27 and 32 have the basic type 1 topology of 6 TMSs plus or minus one or two extra N-terminal TMSs [91]. One member of Family 27 has been shown to function in the insertion of copper into copper-dependent oxidases, such as cytochrome oxidase, but not in copper tolerance [92]. This is probably the function of the enzyme in Mxa. Since both organisms have complete cytochrome oxidase systems, it may be that Sco uses an alternative mechanism to insert copper during the biogenesis of this enzyme complex. Possibly, it uses one of its three copper ATPases.
Protein secretion
As expected, both organisms have the general secretory pathway for protein export (TC# 3.A.5) as well as the Twin arginine targeting (Tat) protein secretion system (TC# 2.A.64) and the DNA translocase (DNA-T). Sco, but not Mxa, appears to have a type IV protein/DNA secretion system (found in both Gram-negative and Gram-positive bacteria). However, only Mxa has components of type II (MTB) and type III protein secretion systems, both present in certain Gram-negative bacteria but lacking in Gram-positive bacteria [93, 94].
Group translocation via the phosphoenolpyruvate-dependent sugar-transporting phosphotransferase system (PTS)
Both Sco and Mxa have proteins of the PTS. However, while Mxa has only one sugar transporting system of the mannose family, Sco has five systems, one probably specific for glucose and maltose, two specific for N-acetyl glucosamine and related sugars, a fourth specific for fructose, and a fifth that may transport L-ascorbate [95–98]. A link between N-acetyl glucosamine metabolism and the control of development in Sco has been reported [99, 100], possibly explaining why two such systems are present. Thus, in agreement with observations previously discussed in this article, Sco apparently relies more heavily on sugars for carbon and energy than does Mxa, and the published data implies that it uses availability of these sugars (or at least N-acetyl glucosamine) to control development.
Oxidative metabolism
Both organisms have homologues of the putative fatty acid transporters of the FAT Family, DsbD homologues for the transfer of electrons across the cytoplasmic membrane for periplasmic sulfhydryl oxidoreduction, members of the Prokaryotic Molybdopterin-containing Oxidoreductase (PMO) Family, and a succinate dehydrogenase. The striking similarities between the proton-pumping electron transfer complexes of the TC 3.D subclass are particularly noteworthy. Apparently, Sco and Mxa have quantitatively similar complements of electron transfer carriers of all types, the most striking parallels we have observed for these two organisms.
Transporters of unknown mechanisms of action
It is interesting that both Sco and Mxa have members of the TerC and HCC families although in different numbers. While Mxa has two of each, Sco has 5 TerC homologues and 9 HCC proteins. Although one TerC protein has been implicated in tellurium resistance, functions of its many homologues are probably diverse. HCC homologues, some or all of which are likely to be Mg2+ transporters, consist of three domains, an N-terminal 4 TMS DUF21 domain, a central nucleotide-binding CBS domain, and a C-terminal HlyC/CorC domain. Only proteins within this family that possess the DUF21 domain are likely to be divalent cation transporters. All of the homologues in Sco and Mxa have the DUF21 domain, suggesting that they serve this function. Why Sco would need nine such proteins is a mystery, as most bacteria have only one or two, or lack them altogether. It can be proposed that they function in the regulation of differentiation where Mg2+ may play crucial roles in regulating the many ATP-dependent kinases, including, but not limited to, the 44 ser/thr kinases (see Discussion).
Observed differences in gene size and number
We downloaded Sco A3(2) and Mxa DK 1622 from Ensembl Bacteria (http://bacteria.ensembl.org/index.html). In Sco, there were 8,154 sequences and in Mxa 7,331. The average protein size was 326 in Sco and 379 in Mxa. The genome size of Sco is 8.7 million bps and of Mxa, 9.1 million bps. We used Glimmer 3 (microbial Genscan) [101] against Sco (NC_003888) and Mxa (CP000113) and found 8,213 gene predictions for Sco. The average length (nt) was 939. For Mxa, there were 7,656 gene predictions, with an average length (nt) of 1075. These data are consistent with the concept that Sco has more and smaller genes, than Mxa.
Transporters of experimentally verified function in Sco and Mxa
We have screened the published literature for articles that provide experimental information about transporters in Sco and Mxa. A summary of the findings are presented in Table
11
which gives the protein designations, the Sco or Mxan genome numbers and the references in column 1, the UniProt accession numbers in column 2, the TC#s of the transport systems in column 3, and the probable functions plus additional information if available in column 4. Of these proteins, only one system (AreABCD) of Sco was not included in our initial G-blast screen. It was missed because these sequences were too distant to anything then in TCDB to give a score better than our cutoff value of 0.001. The AreABCD export system has been assigned TC# 3.A.1.146.1 and represents a new family within the ABC superfamily.
Table 11
Functionally characterized Sco and Mxa proteins
Protein designation; Sco# or Mxan#, and reference1

UniProt Acc#

TC#

Probable or established function

S. coelicolor

MscL; Sco3190 [102]

Q9KYV5

1.A.22.1.10

MscL, osmotic adaptation channel that influences sporulation and secondary metabolite production.

GlcP1/2; Sco7153; Sco5578 [103]

Q7BEC4

2.A.1.1.35

MFS major glucose uptake porters (two identical sequences at the AA level, and having a single substitution on the NT level).

MdrA; Sco4007 [104]

Q9ADP8

2.A.1.36.4

Putative MDR transporter; may export hydrophobic cationic compounds.

PitH1 and 2; Sco4138 and Sco1845 [105]

Q9KZW3, Q9RJ23

2.A.20.1.5 and 6

Two putative low-affinity inorganic phosphate (Pi) uptake porters.

DasABC: Sco5232-4 (R, M, M). MsiK: Sco4240 (C) [106]

Q9K489-91,Q9L0Q1

3.A.1.1.33

DasABC/MsiK; system for the uptake of chitin-degradation products.

Agl3EFG porter (R, M, M; Sco7167-Sco7165 [107]; Agl3K (C; unknown)

Q9FBS7-5

3.A.1.1.43

Sugar uptake porter; induced by trehalose and melibiose using a GntR transcription factor. May use the MsiK ATPase [106].

MalEFG; Sco2231-Sco2229 (R, M, M) [108]; MalK (C) unknown.

Q7AKP1, Q9KZ07-8

3.A.1.1.44

Sugar uptake porter; involved in maltose and maltodextrin uptake. May use the MsiK ATPase [106].

XylFGH.

O50503-5

3.A.1.2.24

Xylose uptake porter; transcriptionally regulated by a GntR-type protein, ROK7B7.

XylF, Sco6009 (R; 1 N-terminal TMS);

XylG, Sco6010 (C; ATP-binding, no TMSs);

XylH, Sco6011 (M; 12 TMSs); [109]

Probable ABC peptide uptake porter; Sco5476-80 (M, R, M, C, C) [110]

O86571-5

3.A.1.5.34

Probably takes up a peptide involved in the regulation of sporulation and secondary metabolite production.

Sco5117-Sco5121 (R, M, M, C, C) [111]

Q9F353-49

3.A.1.5.35

Probable oligopeptide uptake porter.

BldKA-D and Sco5116; Sco5112-6 (M, R, M, C, C) [112]

Q93IU3-0; Q8CJS2

3.A.1.5.36

BldKA-D and Sco5116; peptide uptake porter induced by S-adenosylmethionine.

DesABC; Sco7499-8, Sco7400 (R, M-M, C) [113]

Q9L177-9

3.A.1.14.12

Desferrioxamine B uptake porter.

CchCDEF; Sco0497-4 (M, M, C, R) [113]

Q9RK09-12

3.A.1.14.13

Ferric iron-coelichelin uptake porter.

DesEFGH; Sco2780 (R), Sco1785-7 (C, M, M) [113]

Q9L07; Q9S215-3

3.A.1.14.22

Putative ferric iron-desferrioxamine E uptake porter.

SclAB; Sco4359-60 (C, M) [114]

Q9F2Y8-7

3.A.1.105.13

SclAB transporter; confers acyl depsipeptide (ADEP) resistance. ADEP has antibiotic activity.

RagAB; Sco4075-4 (C, M) [115]

Q7AKK4-5

3.A.1.105.14

RagAB exporter; involved in both aerial hyphae formation and sporulation.

SoxR regulon ABC exporter; Sco7008 (M, C) [116]

Q9KZE5

3.A.1.106.9

Putative SoxR-regulated drug exporter; SoxR responds to extracellular redox-active compounds such as actinorhodin.

AreABCD; Sco3956-9 (C, M, C', M') [117]

Q9ZBX6-3

3.A.1.146.1

Putative drug exporter; possibly specific for actinorhodin (ACT) and undecylprodigiosin (RED).

H+-PPase; Sco3547 [118]

Q6BCL0

3.A.10.2.2

H+-translocating inorganic pyrophosphatase.

M. xanthus

MmrA; MXAN_5906 [119]

Q1CZY0

2.A.1.2.83

Homologous to drug exporter; possibly involved in amino acid uptake and antimicrobial export.

TatABC; MXAN_2960, MXAN_5905-4, [120]

Q1D854, Q1CZY1-2

2.A.64.1.2

Twin arginine targeting protein translocase.

RfbAB; MXAN_4623-2 (M, C) [121]

Q1D3I2-3

3.A.1.103.4

Putative lipopolysaccharide exporter.

AbcA; MXAN_1286 (M-C) [122]

Q1DCT0

3.A.1.106.10

AbcA; involved in molecular export; required for the autochemotactic process.

PilGHI; MXAN_5782-0 (R, C, M) [123]

O30384-6

3.A.1.144.5

Necessary for social motility, pilus assembly and pilus subunit (PilA) export.
The systems listed in Table 11 will not be discussed individually as the information provided in the table is self-explanatory. However, some entries are worthy of elaboration. For example, MdrA (Sco4007, [104]), is a putative MFS multi-drug exporter, based on the specificity of the regulatory protein that controls expression of its structural gene.
Three systems (DasABC, AglEFG and MalEFG; TC#s 3.A.1.1.33, 3.A.1.1.43 and 3.A.1.1.44) were each encoded within operons that encoded a receptor (R) and two membrane (M) proteins but no cytoplasmic ATPase (C). In the case of the DasABC system, the separately encoded MsiK (multiple sugar import-K) ATPase protein has been shown to serve as the energy-coupling constituent of the system [106]. We infer that the same is true for the AglEFG and MalEFG systems because: (1) each of these sets of proteins are encoded in an operon that lacks a cytoplasmic ATPase, and (2) all three systems belong to the same TC family (CUT1; TC#3.A.1.1) in which interchangeability of ATPases has been documented [106], and (3) an msiK null mutant has been shown to be unable to utilize several disaccharides including maltose [106].
Two ABC ferric iron-hydroxamate uptake porters of Sco have been characterized [113]. The CchCDEF system has been assigned TC# 3.A.1.14.13 while the DesABC system has been assigned TC# 3.A.1.14.12. Additionally, a putative ABC receptor, DesE, has been characterized, but its cognate transport proteins have not been identified [113]. Because the complete transport system was not recognized, this receptor was not entered into TCDB, and because it gave a poor score with its closest homologue, it was not recognized by G-BLAST. We have previously shown that the three constituents (receptor protein, R; membrane protein, M; and cytoplasmic ATPase, C) of ABC uptake porters coevolved almost without exception, therefore forming analogous phylogenetic trees [124]. However, while the genes encoding a complete ABC porter often cluster together, the receptor and/or ATPase may cluster separately. Based on these facts, we attempted to identify the most probable set of ABC proteins that function with DesE.
In order to predict which membrane (M) and cytoplasmic (C) ATPase proteins function with DesE, DesE was blasted against TCDB and brought up FhuD (3.A.1.14.7) as the best hit, the receptor for the ferric iron-hydroxamate porters of Staphylococcus aureus, FhuBCD,D2. FhuB, the membrane constituent, was then blasted against the Sco database and brought up Sco1785 and Sco0497 (CchC) as top hits. FhuC, the ATPase of the S. aureus porter, brought up Sco1787 and Sco0495 (CchE) as the top hits. Examination of the gene cluster containing Sco1785 and Sco1787 revealed that Sco1786 is a second membrane protein encoded in the same operon. However, no receptor was encoded in this operon or the surrounding gene cluster. We therefore propose that the characterized receptor, DesE, functions with Sco1785/Sco1786/Sco1787. We have designated this system DesEFGH, and it has been assigned TC# 3.A.1.14.22 (see Table 11).
Discussion
Streptomyces coelicolor (Sco) and Myxococcus xanthus (Mxa) have genomes of about the same size, each present on a single chromosome. They have expanded genomes relative to almost all other prokaryotes with fully sequenced genomes. However, the numbers of integral membrane transport proteins encoded in these two genomes differ dramatically. We identified 658 in Sco, but only 355 in Mxa, a 93% difference. Part of this difference reflects the total number of proteins encoded; Mxa has been reported to have 10% fewer protein-encoding genes than Sco. However, the primary explanation for the difference in numbers of transport proteins appears to come from studies aimed at determining the nature of the "expanded" gene sets. As reported by Goldman et al. [12], for Mxa, the increased genome size evidently resulted from extensive gene duplication and divergence relative to other bacteria of normal genome size, but of only certain functional types. More than 1500 duplications specific to the myxobacterial lineage were identified relative to other δ-proteobacteria, and these represented 15.6% of the total genes. The amplified genes they identified dealt primarily with cell-cell signaling, small molecule sensing, and integrative transcriptional regulation [11]. For example, 97 serine/threonine protein kinases were identified in Mxa (44 were found in Sco), although other δ-proteobacteria with "normal" sized genomes exhibit 0–3 such enzymes. Corresponding increases in some proteins (e.g., chaperones), but not other types of genes (e.g., transport systems), were generally observed in Mxa [12, 36] and this study]. By contrast, in Sco, certain types of transporters were extensively amplified as shown here.
As for Mxa, there has been very considerable expansion of regulatory genes in Sco relative to other actinobacteria such as Mycobacterium tuberculosis and Corynebacterium diptheriae[11, 16]. The total number of regulatory genes identified in Sco was 965 or 12.3%, about the same as reported for Mxa [11, 12]. However, in Sco, the numbers of transport and secreted proteins expanded relative to M. tuberculosis and C. diptheriae, although such extensive expansion was not observed for Mxa. These observations help to explain the differences in transport protein numbers in these two bacteria.
Mxa has a large repertoire of polyketide synthases, about twice that in Sco [12]. Since these enzymes are often in excess of 2,000 amino acyl residues in size, this fact may help to explain why the Mxa genome encodes fewer polypeptide chains than the Sco genome. In fact, the average protein size in Mxa is reported to be 376 aas/polypeptide chain with approximately 90% of the genome coding for proteins [12]. In Sco, it is 330 aas/polypeptide chain with approximately 89% of the genome coding for proteins [11]. Thus, the increased number of proteins in Sco is compensated for by their decreased average size. It would be interesting to do a comparative study of protein sizes for the different functional types of proteins in a range of organisms to determine if this difference is specific or general.
Species of Streptomyces and Myxobacteria belong to two different bacterial phyla—the actinobacteria (high G + C Gram-positive bacteria) and proteobacteria (Gram-negative δ-proteobacteria)—and are therefore only very distantly related. However, (a) both are saprophytic microorganisms, (b) both encode multiple complex programs of differentiation, (c) both produce spores within multicellular structures (aerial mycelia and fruiting bodies, respectively), (d) both produce wide ranges of secondary metabolites including many pigments and macrolid antibiotics, (e) both communicate using numerous secreted small molecules, and (f) both degrade a wide range of extracellular macromolecules [2, 5, 14, 86, 125–129]. These two organisms have the most complex lifestyles of any bacteria currently under careful experimental scrutiny, and both have genomes that are larger than almost any other prokaryote whose genomes have been sequenced, thus accounting for their expanded genetic repertoire.
In view of these similarities, we compared the range of transport mechanisms and substrates used by these two developmental organisms. Such knowledge, we reasoned, would allow us to determine if they introduce developmental complexity along similar lines at the molecular level. Our studies led to the general conclusion that these two organisms have solved their metabolic needs and created programs of differentiation by entirely different means. For example, while Sco has a plethora of sugar, organic anion, and amino acid uptake systems of very specific types, Mxa has relatively few. In retrospect, this may be explained since myxobacteria are "micropredators," lysing other microorganisms which they use as food sources, while Streptomyces species may have evolved as beneficial, growth-promoting symbionts of other organisms [126, 128, 129]. It seems likely that the programs of development exhibited by these two organisms evolved independently, and the similarities reflect the limited numbers of options available. Other physiological similarities noted above possibly reflect a convergent evolutionary process, resulting from similarities in the habitats in which these organisms live.
Several surprises resulted from the analyses reported here. For example, Mxa has a member of the AAA family of nucleotide (ATP, ADP, NAD+, etc.) transporters, normally found only in obligatory intracellular parasites. It also has more (9) CorC-type putative Mg2+ transporters than we have encountered in any other organism. Mxa additionally has a Ca2+-ATPase, although such an enzyme was lacking in Sco where a Ca:H+ antiporter, lacking in Mxa, could be identified. It is known that both organisms rely on Ca2+ for developmental regulation [72–75]. We also discovered homologues of Spinster proteins, believed to be sphingosine-1-phosphate transporters in animals [53–55]. BLAST searches revealed that many bacteria have these proteins. Their substrates and functions may prove to be similar to those in animals since myxobacteria have been shown to have outer membrane sphingolipids [57].
Gram-negative bacteria have a number of transport systems that allow biogenesis, maintenance and function of the outer membranes of these organisms. These include the TolQ/R energizers of outer membrane receptor-mediated uptake of large molecules such as iron-siderophores and large vitamins, and they are known to function as energizers of gliding motility in Mxa [130]. They also include an outer membrane protein insertion porin apparatus (Bam or OmpIP systems; TC#1.B.33) and the outer membrane lipopolysaccharide export porin complex 3 (LPS-EP systems; TC#1.B.42). All of these systems were found in Mxa but could not be detected in Sco. Although Sco has an outer membrane of a very different composition [131], this observation implies that entirely different types of systems, serving the same functions, must exist in actinobacteria. It therefore seems clear that the comparative analyses reported here will open up new fields of microbial inquiry.
Conclusions
Analyses of transport proteins in two of the largest genome bacteria, both capable of sporulation and antibiotic production, one an actinobacterium and one a myxobacterium, revealed that these two organisms have evolved complexity via entirely different pathways. While both have amplified certain sets of transport protein-encoding genes, they differ in the degrees of amplification and the nature of the transporters amplified. The results provide insight into the evolution of prokaryotic complexity.
Methods
The proteomes of S. coelicolor strain A3(2) (Sco) and M. xanthus strain DK1622 (Mxa) were screened for homologues of all proteins contained in the Transporter Classification Database (TCDB; http://www.tcdb.org) as of September, 2011 using G-BLAST [132]. FASTA-formatted protein sequences of the completed genomes of Sco and Mxa were used. Each putative open-reading frame (ORF) was used as a query in the BLASTP software to search for homologous proteins in TCDB. The SEG low complexity filter was not used. In addition, each ORF was scanned with the HMMTOP 2.0 program [133] to predict the number of putative transmembrane segments (TMSs). The WHAT program [134] was used to resolve the differences in the numbers of TMSs between Sco proteins, Mxa proteins, and their TCDB homologues. A cut-off value of 0.001 was used with the G-BLAST program so proteins retrieved with larger values (greater sequence divergence) were not recorded. After analysis of these proteins was conducted, proteins with e-values between 0.1 and 0.001 were retrieved, and the more distant homologues to TC entries were identified. Proteins with 0 predicted TMSs were eliminated so that only integral membrane proteins (primarily multi-spanning membrane proteins) were retrieved. Some single TMS proteins, including many extracytoplasmic solute binding receptors of ABC transport systems, were often predicted to lack a TMS and therefore were not included in our study.
Candidate proteins were subsequently examined in greater detail to estimate their substrate specificities. On the basis of the numbers and locations of TMSs, as well as degrees of sequence similarities with entries of known function in TCDB, transport proteins were classified into families and subfamilies of homologous transporters according to the classification system presented in TCDB [17, 18]. Regions of sequence similarity were examined to ensure that homology was in transmembrane regions and not in hydrophilic domains. Proteins encoded within single operons were often identified in order to gain evidence for multicomponent systems and to help deduce probable functions. Operon analyses were performed for candidate proteins with assigned or unassigned transport functions.
The substrate specificities of particular homologues identified in the sequenced genomes were sometimes predicted based on homology to functionally characterized genes and from their genomic context. Assignment to a family or subfamily within the TC system often allows prediction of substrate type with confidence [13, 20, 135–137]. When an expected transport protein constituent of a multi-component transport system could not be identified with BLASTP, tBLASTn was performed because such expected proteins are sometimes undetectable by BLASTP due to sequencing errors, sequence divergence, or pseudogene formation.
Transport proteins thus obtained were systematically analyzed for unusual properties using published [132] and unpublished in-house software. Unusual properties can result from events such as genetic deletion and fusion, sometimes resulting in the gain or loss of extra domains or the generation of multifunctional proteins. Such results can be reflective of the actual protein sequence, but can also be artifactual, due to sequencing errors or incorrect initiation codon assignment. In the latter cases, but not the former, the protein sequences were either corrected when possible or eliminated from our study.
This theoretical bioinformatics study does not contain any experimental research that requires the approval of an ethics committee.
Declarations
Acknowledgements
We thank Carl Welliver and Maksim Shlykov for valuable assistance in the preparation of this manuscript. This work was supported by NIH Grant GM077402.
Authors' Affiliations
(1)
Department of Molecular Biology, University of California at San Diego, La Jolla, USA
Copyright
© Getsin et al.; licensee BioMed Central Ltd. 2013
This article is published under license to BioMed Central Ltd. This is an open access article distributed under the terms of the Creative Commons Attribution License (http://creativecommons.org/licenses/by/2.0), which permits unrestricted use, distribution, and reproduction in any medium, provided the original work is properly cited.