Research article

Open Access
Regulation of phenylacetic acid uptake is σ54 dependent in Pseudomonas putidaCA-3
BMC Microbiology
2011
11:229
Received: 27 April 2011
Accepted: 13 October 2011
Published: 13 October 2011
Abstract
Background
Styrene is a toxic and potentially carcinogenic alkenylbenzene used extensively in the polymer processing industry. Significant quantities of contaminated liquid waste are generated annually as a consequence. However, styrene is not a true xenobiotic and microbial pathways for its aerobic assimilation, via an intermediate, phenylacetic acid, have been identified in a diverse range of environmental isolates. The potential for microbial bioremediation of styrene waste has received considerable research attention over the last number of years. As a result the structure, organisation and encoded function of the genes responsible for styrene and phenylacetic acid sensing, uptake and catabolism have been elucidated. However, a limited understanding persists in relation to host specific regulatory molecules which may impart additional control over these pathways. In this study the styrene degrader Pseudomonas putida CA-3 was subjected to random mini-Tn5 mutagenesis and mutants screened for altered styrene/phenylacetic acid utilisation profiles potentially linked to non-catabolon encoded regulatory influences.
Results
One mutant, D7, capable of growth on styrene, but not on phenylacetic acid, harboured a Tn5 insertion in the rpoN gene encoding σ54. Complementation of the D7 mutant with the wild type rpoN gene restored the ability of this strain to utilise phenylacetic acid as a sole carbon source. Subsequent RT-PCR analyses revealed that a phenylacetate permease, PaaL, was expressed in wild type P. putida CA-3 cells utilising styrene or phenylacetic acid, but could not be detected in the disrupted D7 mutant. Expression of plasmid borne paaL in mutant D7 was found to fully restore the phenylacetic acid utilisation capacity of the strain to wild type levels. Bioinformatic analysis of the paaL promoter from P. putida CA-3 revealed two σ54 consensus binding sites in a non-archetypal configuration, with the transcriptional start site being resolved by primer extension analysis. Comparative analyses of genomes encoding phenylacetyl CoA, (PACoA), catabolic operons identified a common association among styrene degradation linked PACoA catabolons in Pseudomonas species studied to date.
Conclusions
In summary, this is the first study to report RpoN dependent transcriptional activation of the PACoA catabolon paaL gene, encoding a transport protein essential for phenylacetic acid utilisation in P. putida CA-3. Bioinformatic analysis is provided to suggest this regulatory link may be common among styrene degrading Pseudomonads.
Keywords
Styrene
Phenylacetic Acid
Minimal Salt Medium
Catabolic Gene
Primer Extension Analysis
Background
Microbial degradation of the major industrial solvent and polymer synthesis monomer styrene has been the focus of intense academic investigation for over 2 decades, most notably in the genus
Pseudomonas
. As a result, a significant body of knowledge has been established regarding the key enzymatic steps as well as the organisation, regulation and taxonomic distribution of the catabolic genes involved [
1
–
4
]. In
Pseudomonas
species studied to date, styrene degradation involves an initial "upper pathway", composed of genes encoding the enzymes for styrene catabolism to phenylacetic acid. The upper pathway is regulated by a two component sensor kinase and response regulator system, StySR, which activates transcription of the catabolic genes in response to the presence of styrene, Figure
1
, [
5
–
7
]. The intermediate, phenylacetic acid, subsequently undergoes an atypical aerobic step of Co-enzyme A activation to yield phenylacetyl CoA (PACoA), which binds to and deactivates a GntR-type negative regulator, PaaX, enabling transcription of the PACoA catabolon. This pathway facilitates the degradation of PACoA to succinyl-CoA and acetyl CoA, Figure
1
, [
8
,
9
]. The PACoA catabolon was originally identified and characterised in
E. coli
W and
P. putida
U, and has since been found to be widely dispersed among microbial species as one of the four key metabolic routes for microbial, aromatic compound degradation [
2
,
3
,
10
,
11
]. Thus, while styrene degradation is dependent on the presence of PACoA catabolon genes for complete substrate mineralisation, the PACoA catabolon is commonly identified independently of the
sty
operon genes. Indeed, in
Pseudomonas
sp. Y2 the presence of two, functional PACoA catabolons has been reported, only one of which is linked with the styrene degradation pathway genes. The distinct genetic divergence and gene organisation patterns of these catabolons suggest disparate evolutionary origins, [
12
]. In relation to the identification and characterisation of styrene linked PACoA catabolons, several strain specific traits have been reported in
Pseudomonas
species studied to date. Comparative analyses of
sty
gene sequences from
Pseudomonas putida
CA-3,
Pseudomonas fluorescens
ST,
Pseudomonas
species Y2 and
Pseudomonas
sp VLB120 reveal a high degree of similarity in terms of percentage identity and structural organisation, [
1
]. However, functional characterisations in
P. putida
CA-3 and
P. fluorescens
ST have identified different regulatory profiles in relation to catabolite repression inducing carbon sources and nutrient limitation exposure [
6
,
7
,
13
,
14
]. With respect to the PACoA catabolon, an essential phenylacetic acid uptake mechanism has previously been characterised in
Pseudomonas putida
U, co-ordinately expressed with the catabolic genes [
10
]. In contrast, a recent proteomic analysis of styrene grown
P. putida
CA-3 cells indicated that phenylacetic acid transport gene products were not detected in styrene grown CA-3, despite the expression of all other PACoA catabolon proteins [
15
]. Bioinformatic analysis of PACoA catabolon gene organisation in 102 microbial genomes revealed repeated
de novo
clustering of the catabolic genes [
3
]. However, the authors suggested that recombination events and
in situ
gene replacements by interspecies gene transfer had produced considerable diversity in both gene composition and operonic organisation in the pathways. In light of these findings the question arises as to whether the conserved catabolic function of the PACoA catabolon is subject to varied, host dependent regulatory influences in differing species. Elucidation of such host regulatory influences may identify key flux control points for recombinant strain engineering strategies to optimise biotechnological outputs related to the pathways [
9
,
16
–
18
]. In this study the
Pseudomonas putida
CA-3 genome was randomly mutagenised with a mini-Tn
5
transposon and isolates screened for altered styrene and phenylacetic acid utilisation phenotypes in an effort to identify key regulatory influences acting on these catabolic pathways in this strain.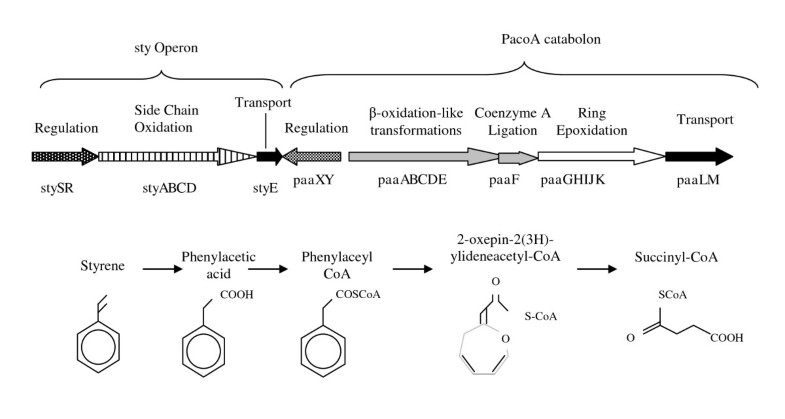 Conclusions
To our knowledge this is the first study to report σ54 dependent regulation of PaaL expression in phenylacetic acid utilisation by a Pseudomonas species. Since other groups have previously suggested σ70 dependent regulation of the transport system, [5, 10, 12, 20] we questioned whether such regulation might be unique to P. putida CA-3, or have a potentially broader significance in the field of styrene/phenylacetic acid microbial catabolism. Our analyses of the genetic diversity of paaL genes and promoters suggest that a relatively recent recombination event involving de novo clustering of paa genes [3] with the sty operon may have occurred. In this scenario, incorporation of the σ54 dependent regulation of paaL may have been an arbitrary event, following the "black cat/white cat" random promoter association model proposed by Cases and de Lorenzo in relation to novel catabolic pathways [33]. However, irrespective of the origins of σ54 regulation of paaL, the identical promoter structures suggest that biotechnological applications targeting this pathway should consider the potential for a functional role of σ54 dependent regulation in phenylacetic acid assimilation by these strains.
Declarations
Acknowledgements
This work was funded by the Science, Technology, Research and Innovation for the Environment 2007-2013 (STRIVE) Fellowship programme of the Irish Environmental Protection Agency. (Grant No: 2007-FS-ET-9-M5).
Authors' Affiliations
(1)
Department of Microbiology, University College Cork, Cork, Ireland
(2)
Environmental Research Institute, University College Cork, Cork, Ireland
Copyright
© O' Leary et al; licensee BioMed Central Ltd. 2011
This article is published under license to BioMed Central Ltd. This is an Open Access article distributed under the terms of the Creative Commons Attribution License (http://creativecommons.org/licenses/by/2.0), which permits unrestricted use, distribution, and reproduction in any medium, provided the original work is properly cited.