Research article
Open Access
The human jejunum has an endogenous microbiota that differs from those in the oral cavity and colon
BMC Microbiology
BMC series – open, inclusive and trusted
2017
17:160
Received: 10 April 2017
Accepted: 26 June 2017
Published: 17 July 2017
Abstract
Background
The upper half of the human small intestine, known as the jejunum, is the primary site for absorption of nutrient-derived carbohydrates, amino acids, small peptides, and vitamins. In contrast to the colon, which contains 1011–1012 colony forming units of bacteria per ml (CFU/ml), the normal jejunum generally ranges from 103 to 105 CFU per ml. Because invasive procedures are required to access the jejunum, much less is known about its bacterial microbiota. Bacteria inhabiting the jejunal lumen have been investigated by classical culture techniques, but not by culture-independent metagenomics.
Results
The lumen of the upper jejunum was sampled during enteroscopy of 20 research subjects. Culture on aerobic and anaerobic media gave live bacterial counts ranging from 5.8 × 103 CFU/ml to 8.0 × 106 CFU/ml. DNA from the same samples was analyzed by 16S rRNA gene-specific quantitative PCR, yielding values from 1.5 × 105 to 3.1 × 107 bacterial genomes per ml. When calculated for each sample, estimated bacterial viability ranged from effectively 100% to a low of 0.3%. 16S rRNA metagenomic analysis of uncultured bacteria by Illumina MiSeq sequencing gave detailed microbial composition by phylum, genus and species. The genera Streptococcus, Prevotella, Veillonella and Fusobacterium, were especially abundant, as well as non-oral genera including Escherichia, Klebsiella, and Citrobacter. The jejunum was devoid of the genera Alistipes, Ruminococcus, Faecalibacterium, and other extreme anaerobes abundant in the colon. In patients with higher bacterial loads, there was no significant change in microbial species composition.
Conclusions
The jejunal lumen contains a distinctive bacterial population consisting primarily of facultative anaerobes and oxygen-tolerant obligate anaerobes similar to those found in the oral cavity. However, the frequent abundance of Enterobacteriaceae represents a major difference from oral microbiota. Although a few genera are shared with the colon, we found no evidence for retrograde movement of the most abundant colonic microbes to the jejunum. Some individuals had much higher bacterial loads, but this was not correlated with decreases in bacterial species diversity or other evidence of dysbiosis.
Keywords
MetagenomicsMicrobiomeSmall intestineJejunumBacterial load
Background
The jejunum is a structurally and functionally distinct region of the alimentary tract that spans the upper half of the small intestine (Fig.
1
). Its inner surface contains an extensive array of vascularized villi that efficiently absorb carbohydrates, amino acids, small peptides, and vitamins [
1
]. In contrast to the colon, which has a dense population of 10
11
–10
12
bacteria per ml [
2
], the jejunal lumen of healthy individuals has a relatively sparse bacterial population of 10
3
–10
5
CFU/ml [
3
–
5
]. The composition and source of this jejunal microbiota remains an open question. One possibility is that its bacteria are continuously replenished by bacteria passing from higher levels of the alimentary tract, such as the oral cavity. However, few bacteria normally survive this journey. Acid and enzymes secreted by the stomach have a strong bacteriocidal effect on salivary or food-associated microbes. Fewer than 10
1
–10
2
CFU/ml typically pass down the alimentary tract to the duodenum and jejunum [
1
,
2
]. Another possible source of microbes is the wall of the jejunum itself, where bacteria are tightly associated with the villi of the intestinal mucosa [
6
]. The glycoprotein matrix on the surface of these villi could play a role similar to glycoprotein-rich mucosal layers of the colon, which foster a renewable seed population of bacteria in the lower gut [
7
]. Yet another possible source is the colonic lumen, which normally contains a total of 10
12
–10
13
bacteria [
2
]. Continuous downward peristalsis and restriction of retrograde flow by the iliocaecal valve play an active role in keeping the upper jejunum free of colonic bacteria. However, given the enormous population of bacteria in the colon, even a very small retrograde migration into the small intestine would be sufficient to greatly increase the bacterial population of the jejunum. During acute and chronic infection of several levels of the gut, there is a complex interaction between pathogen and the resident bacteria. Better understanding of the composition and dynamics of this resident microbial population will be crucial in developing methods to restore it to a healthy state via dietary changes or microbial transplantation with defined populations of bacteria [
8
,
9
].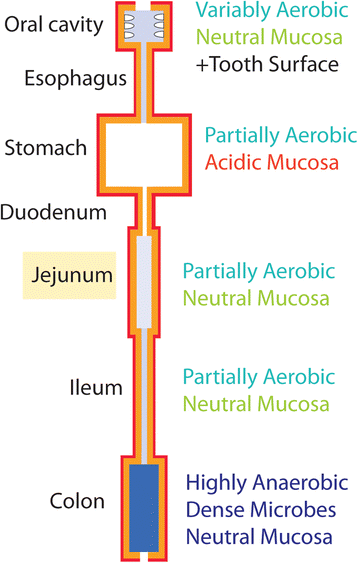 Given its location deep within the human body, retrieving bacteria from the jejunum is technically much more difficult than sampling oral or fecal microbes. As a result, there have been very few studies of the human jejunal bacteria [3, 4]. Microbial sampling of the intestinal lumen has usually been achieved by passing a tube or other collection device to the jejunum via the oral cavity, esophagus, stomach and duodenum [10–12]. In these earlier studies, X-ray fluoroscopy was often used to determine position of the probe within the gut. With endoscopes, entry of the probe into the jejunum can be monitored by fiber optic imaging of anatomical landmarks. In preparation for such endoscopic sampling, the mouth and teeth need to be thoroughly cleaned and the endoscopy tube closed in order to avoid possible contamination by oral bacteria. Live bacterial cultures retrieved from the human proximal jejunum have included the gram-positive genera Streptococcus and Veillonella, as well as the gram-negative enterobacterial genus Escherichia and Enterobacter [10–12]. In recent years, culture-independent microbial identification via high-throughput DNA sequencing of 16S ribosomal RNA genes has transformed our ability to investigate the complex bacterial populations of the human body [13]. Because this new methodology provides efficient and reliable detection of many bacteria, including those that are not readily grown in culture, it has been proposed that a complete survey of jejunal bacteria will require such a culture-independent approach [3, 12].
Currently, there are only two published 16S rRNA metagenomic studies of bacteria from the human jejunum [14, 15], but neither of these sampled the jejunal lumen. In each case, a tissue biopsy was excised from the wall of the small intestine and then washed extensively to select only those bacteria that were tightly adherent to the mucosal surface. The first of these studies utilized low-throughput Sanger DNA sequencing of plasmid-cloned 1.5 kb 16S rRNA gene amplimers to identify bacteria from intestinal tissue biopsies of a single individual [14]. This study identified Streptococcus mitis as the most abundant bacterial species in the jejunum. The second study [15] employed Roche 454 Next Generation DNA deep sequencing of 16S rRNA amplimer libraries to identify bacteria in jejunal tissue biopsies of a cohort of patients with irritable bowel syndrome (IBS). Although the bacterial assortment varied between individuals, the mucosal microbiota in normal, asymptomatic controls was statistically indistinguishable from that of patients with IBS. One interpretation of these results is that mechanisms governing bacterial species composition of the jejunum are surprisingly robust, since species composition appeared unaffected by the severe inflammatory pathology of IBS [15].
In the current exploratory study, we have built upon this earlier work with some new approaches. Our study is the first to carry out high-throughput 16S metagenomic analysis of bacteria retrieved directly from the jejunal lumen. It is also the first study to simultaneously quantify live colony forming units and bacterial DNA in the human jejunum. Earlier studies that used bacterial culture to quantify bacterial load within the jejunal lumen were generally motivated by clinical interest in a gastrointestinal dysfunction that is often associated with an overgrowth of bacteria in the small intestine [3]. For this reason, we considered it important to measure the density of bacteria in the lumen, as well as to determine its composition profile by phylum, genus and species. In addition, while many metagenomic studies focus on phylum and genus level classification [13], we have attempted, where possible, to characterize jejunal bacteria at the species level.
Conclusions
Our study has successfully used standard clinical enteroscopy to sample and characterize the normally sparse bacterial community of the jejunal lumen. 16S rRNA gene metagenomic analysis has revealed a jejunal microbiome with a common core of bacterial species, characterized by an abundance of Streptococcus along with other facultative anaerobes and oxygen-tolerant obligate anaerobes. Although the jejunal bacterial microbiota showed similarities to those of the oral cavity, this population was distinguished by the presence of a varying assortment of Enterobacteriaceae, including Eschericha, Citrobacter and Klebsiella. However, the species profile of microbial DNA provided no evidence of significant retrograde transfer of bacteria from the colon to the jejunum, even in those subjects with much higher bacterial loads. Although total bacterial DNA load ranged over 100-fold and CFUs ranged over 1000-fold, higher bacterial loads were not associated with decreased Shannon species diversity. This suggested that a high level of jejunal bacteria in reasonably healthy subjects was not associated with classic dysbiosis or infection. We hope that this work will provide a basis for future studies involving chronic dysfunction and acute infection of the jejunum.
Abbreviations
16S rRNA:

16 Svedberg unit sedimenting ribosomal RNA
BGE:

Bacterial genome equivalent
CDC-Blood:

Center for Disease Control blood agar
CFU:

Colony forming units
KV-Blood:

Kanamycin-vancomycin blood agar
Levine-EMB:

Levine eosin-methylene blue agar
NCBI-BLAST:

National Center for Biotechnology-Basic Local Alignment Search Tool
OTU:

Operational taxonomic unit, a provisional classification of DNA sequence
PCR:

Polymerase chain reaction
PEA-Blood:

Phenylethyl alcohol blood agar
QPCR:

Quantitative PCR
SIBO:

Small intestinal bacterial overgrowth
Declarations
Acknowledgements
The authors wish to acknowledge the nurses in the GI unit who procured the endoscopy specimens and diagnostic tests. Chad Cooper, a medical resident, and several GI fellows assisted in clinical aspects of the project. We also greatly appreciate the high quality sequence analysis performed by SeqMatic LLC of Fremont, CA. Dr. Mohammad Bashashati read the manuscript and made valuable suggestions.
Funding
Supplies, DNA sequencing and enteroscopy services necessary for his work were funded by an Indirect Cost Account from National Institutes of Health grant R01EY013610 (P.I. O.H.S.) and an intramural grant from the Texas Tech Health Science Center Department of Internal Medicine to R.W.M. Additional funds to develop methodology were from a subcontract to O.H.S. under a Center for Medicare and Medicaid Services 1115 Medicare Waiver Innovation Grant to the El Paso City Department of Public Health.
Availability of data and materials
Primary data sets are provided as Supplemental Materials, as described in the text.
Authors' contributions
OHS, RWM, MZ and AM-L conceived, planned the project, and wrote the manuscript. AM-L was principal investigator of the IRB protocol, and responsible for subject recruitment and informed consent. AM-L developed and carried out the procedure for microbial sampling by enteroscopy, while RWC advised and NA assisted with clincal aspects of the project, including recruitment of research subjects, and the collection of samples. OHS, MZ, DD-A, EM, BMF and PV carried out laboratory analysis of samples. JO assisted with bioinformatic and statistical analysis of the results. All authors have read and approved the final manuscript.
Ethics approval and consent to participate
Research subject recruitment and written informed consent were performed under IRB Protocol #E14034, reviewed and authorized by the Texas Tech University Health Sciences Center at El Paso Institutional Review Board according to principles of the Declaration of Helsinki. The subjects were under clinical evaluation for moderate gastrointestinal symptoms, including bloating, gas, or irregular bowel habits. Dr. Mendoza-Ladd supervised informed consent of the patients.
Consent for publication
No identifiable personal information of any of the research subjects is presented in this publication. The IRB protocol and informed consent allowed the authors to publish this work under these terms.
Competing interests
None of the authors have any conflicts of interest or competing interests that would compromise objectivity of this work.
Publisher's Note
Springer Nature remains neutral with regard to jurisdictional claims in published maps and institutional affiliations.
Open AccessThis article is distributed under the terms of the Creative Commons Attribution 4.0 International License (http://creativecommons.org/licenses/by/4.0/), which permits unrestricted use, distribution, and reproduction in any medium, provided you give appropriate credit to the original author(s) and the source, provide a link to the Creative Commons license, and indicate if changes were made. The Creative Commons Public Domain Dedication waiver (http://creativecommons.org/publicdomain/zero/1.0/) applies to the data made available in this article, unless otherwise stated.
Authors' Affiliations
(1)
Department of Biomedical Sciences, Texas Tech University Health Sciences Center at El Paso, El Paso, USA
(2)
Department of Internal Medicine, Division of Gastroenterology, Texas Tech University Health Sciences Center at El Paso, El Paso, USA
(3)
Biostatistics Unit, Texas Tech University Health Sciences Center at El Paso, El Paso, USA