Research article

Open Access
Serological diagnosis of pulmonary Mycobacterium tuberculosis infection by LIPS using a multiple antigen mixture
BMC Microbiology
2015
15:205
Received: 1 June 2015
Accepted: 2 October 2015
Published: 8 October 2015
Abstract
Background
There is an urgent need for a simple and accurate test for the diagnosis of human Mycobacterium tuberculosis, the infectious agent causing tuberculosis (TB). Here we describe a serological test based on light emitting recombinant proteins for the diagnosis of pulmonary Mycobacterium tuberculosis infection.
Methods
Luciferase Immunoprecipitation Systems (LIPS), a fluid-phase immunoassay, was used to examine antibody responses against a panel of 24 different M. tuberculosis proteins. Three different strategies were used for generating the constructs expressing the recombinant fusion M. tuberculosis proteins with luciferase: synthetic gene synthesis, Gateway recombination cloning, and custom PCR synthesis. A pilot cohort of African pulmonary TB patients was used for initial antibody screening and confirmatory studies with selected antigens were performed with a cohort from Thailand and healthy US blood donors. In addition to testing M. tuberculosis antigens separately, a mixture that tested seven antigens simultaneously was evaluated for diagnostic performance.
Results
LIPS testing of a pilot set of serum samples from African pulmonary TB patients identified a potential subset of diagnostically useful M. tuberculosis antigens. Evaluation of a second independent cohort from Thailand validated highly significant antibody responses against seven antigens (PstS1, Rv0831c, FbpA, EspB, bfrB, HspX and ssb), which often showed robust antibody levels up to 50- to 1000-fold higher than local community controls. Marked heterogeneity of antibody responses was observed in the patients and the combined results demonstrated 73.5 % sensitivity and 100 % specificity for detection of pulmonary TB. A LIPS test simultaneously employing the seven M. tuberculosis antigen as a mixture matched the combined diagnostic performance of the separate tests, but showed an even higher diagnostic sensitivity (90 %) when a cut-off based on healthy US blood donors was used.
Conclusion
A LIPS immunoassay employing multiple M. tuberculosis antigens shows promise for the rapid and quantitative serological detection of pulmonary TB.
Keywords
Antibodies
Latent tuberculosis infection (LTBI)
Luciferase immunoprecipitation systems (LIPS)
Mycobacterium tuberculosis
Pulmonary TB
Serology
Background
Mycobacterium tuberculosis (MTB) infects more than one-third of the global population and is one of the world's leading causes of mortality, resulting in approximately 1.7 million deaths annually [1]. Despite T- and B-cell mediated immunity against MTB, approximately 30 % of individuals develop latent, asymptomatic infection (LTBI) following primary infection. If LTBI is left untreated, there is a 10 % life-time risk of developing active tuberculosis (TB), usually localized to the lung [2]. In HIV-infected patients, there is an even greater risk, ~10 % per year, with a higher incidence of disseminated infection [3]. Fortunately, prophylaxis for patients identified with latent MTB infection can greatly reduce the risk of subsequent active infection [4].
The diagnosis of active TB infection involves sputum smear microscopy, bacterial culture, and molecular methods [5]. XpertMTB, a nucleic acid amplification test, shows high sensitivity and specificity for the diagnosis of active pulmonary disease including for detecting rifamycin resistance [6]. In contrast to active TB, subjects with LTBI show no clinical or radiographic symptoms and molecular assays are not diagnostically useful [7]. Tuberculin skin testing is used for detecting latent infection, but it has poor specificity and requires patients to return for evaluation. Alternatively, interferon-γ release assays, which exploit T cell responses, are highly effective for detecting LTBI, yet these assays are technically complex and require several days to process [8].
Efforts to develop serological tests for identification of MTB infection have been ongoing for many years [9, 10]. However, no reported immunoassay using either single or multiple target antigens has shown high enough sensitivity (i.e. the ability to correctly identify those with the disease) and specificity (i.e. the ability to correctly identify those without the disease) to meet the requirements for clinical utility. Another current limitation of solid-phase immunoassays such as ELISA [11, 12], microbead immunoassay [13] and even whole proteome protein arrays [14], is that these assays are not robust and show relatively modest differences in antibody signals between MTB-infected patients and controls, making it difficult to identify infected patients. In addition, antibody-based testing is complicated by the marked heterogeneity in humoral responses of TB-infected patients requiring multiple antigens to achieve high sensitivity [11, 13].
Unlike solid phase immunoassay, fluid-phase immunoassays show the highest sensitivity and specificity for detecting antibodies because they employ native antigens and efficiently detect conformational epitopes [15]. One such fluid-phase immunoassay employing light-emitting antigens, luciferase immunoprecipitation systems (LIPS), has been used to profile antibodies against a variety of infectious agents including viruses, fungi, filaria, and bacteria [16]. LIPS utilizes a Renilla luciferase enzymatic reporter with linear detection in light units for a concentration range over 7 orders of magnitude. In this report, LIPS was used to screen antibody responses against potential MTB antigens, resulting in the identification of seven antigens for the diagnosis of pulmonary TB. The feasibility of using seven MTB antigens in a mixture for the facile and robust detection of active TB infection is also demonstrated.
Methods
Clinical participants
The studies were approved by Institutional Review Board of the National Institute of Allergy and Infectious Diseases, NIH and written consent was obtained for all subjects. Three different cohorts of controls and/or subjects with TB from different geographical locations were employed (Additional file 1: Table S1). All patients were culture positive for MTB and HIV negative. In a pilot study, a small set of serum samples (cohort 1) from TB patients with pulmonary disease (n = 14) from Mali, Africa were screened against multiple potential antigens to identify those with potential clinical utility. A second cohort of serum samples from Thailand (cohort 2; n = 78) that included healthy control subjects (n = 22), patients with pulmonary TB (n = 49), and patients with extrapulmonary TB (n = 7) was used for validation. All TB patients in cohort 2 were on anti-TB treatment (average treatment of 3 months and 17 on treatment for 1–6 months within inactive and one with active disease) at the time of obtaining blood samples. Since there is a high level of LTBI in Thailand, and the control subjects from cohort 2 were not evaluated for LTBI by TST or interferon-γ release assays, sera from 16 healthy US donors (cohort 3) were used as additional controls.
Selection of antigen for generating Renilla luciferase MTB fusion proteins
Based on published studies describing the serological diagnosis of TB [11–14, 17], a panel of twenty four MTB proteins (ESAT-6, TB16.3, TB9.7, TB15.3, TB 9.4, MPT63, L7 ribosomal, PTRP, cfp10, EspB, FbpC, Ssb, Mpt70, PstS1, Mpt64, BfrB, Rv0831C, PPE42, TIG, FbpA, LprG, CysA2, HspX and Pks10) was chosen for LIPS testing.
Synthetic genes for generating Renilla luciferase MTB fusion proteins
Initially, nine MTB targets were generated as synthetic, human codon-optimized genes (Blue Heron Biotechnology, Seattle, WA) (Table
1
), essentially as described [
16
,
18
]. These synthetic genes were used as templates in PCR with primer adapter sequences to amplify each protein's coding region. Following restriction enzyme digestion of the corresponding PCR products, the DNA fragments were ligated either downstream or upstream of the restriction enzyme-digested pREN2 (for C-terminal antigen fusions) and pREN3S (for N-terminal antigen fusions)
Renilla
luciferase expression vectors [
18
]. Subsequently, plasmids containing the correct insert were grown up and used to prepare plasmid DNA using a Qiagen Midi kit. DNA sequencing was used to confirm the integrity of the nine different MTB constructs.
Table 1
LIPS testing of TB proteins using cohort 1 sera
| Rv number | Protein Name | Seropositivitya as a C-terminal Gateway fusion protein (pREN5-ATT) | Seropositivitya as a C-terminal fusion protein (pREN2) | Seropositivitya as a N-terminal fusion protein (pREN3S) |
| --- | --- | --- | --- | --- |
| Rv3875* | ESAT-6 | | 0/14 | 0/14 |
| Rv2185c* | TB16.3 | | 1/14 | 0/14 |
| Rv3354* | TB9.7 | | 0/14 | 0/14 |
| Rv1636* | TB15.3 | | 0/14 | |
| Rv3208A* | TB9.4 | | | ND |
| Rv1926c* | Mpt63 | | | 0/14 |
| Rv0652* | L7 | | | 7/14 |
| Rv0538* | PTRP | | 0/14 | |
| Rv3874* | cfp10 | 0/14 | 1/14 | 1/14 |
| Rv3881c | EspB | 0/14 | 6/14 | 4/14 |
| Rv0129c | FbpC | 0/14 | 0/14 | 0/14 |
| Rv0054 | Ssb | 0/14 | 0/14 | 1/14 |
| Rv2875 | Mpt70 | 0/14 | 0/14 | 0/14 |
| Rv0934 | PstS1 | 0/14 | 1/14 | |
| Rv1980c | Mpt64 | 0/14 | 2/14 | |
| Rv3841 | BfrB | 0/14 | 4/14 | |
| Rv0831c | Hypoth. | 0/14 | 4/16 | |
| Rv2608 | PPE42 | 0/14 | 0/14 | |
| Rv2462c | TIG | ND | | |
| Rv3804c | FbpA | 0/14 | 4/14 | |
| Rv1411c | LprG | ND | | |
| Rv0815c | CysA2 | | 0/14 | 0/14 |
| Rv2031c | HspX | | 1/14 | 0/14 |
| Rv1660 | Pks10 | | 0/14 | |
Generation of Renilla luciferase-antigen fusion constructs by Gateway recombination
Constructs for thirteen additional MTB proteins (Table 1) were generated from Gateway MTB clones obtained from BEI resources (Manassas, Virginia), which were initially created through NIAID's Pathogen Functional Genomics Resource Center (managed and funded by the Division of Microbiology and Infectious Diseases, NIAID, NIH, DHHS and operated by the J. Craig Venter Institute). In order to use this novel reagent set, a Gateway compatible destination vector was constructed to generate C-terminal fusion proteins with Renilla luciferase. To build this acceptor vector, a mammalian expression plasmid, pcDNA-Myc-Ruc, was first generated for expressing an N-terminal Myc-tag in frame with Renilla luciferase. Testing of the pcDNA-Myc-Ruc vector with several previously described antigenic targets revealed that protein expression was equivalent to that seen with the standard pREN2 vector (data not shown). The pcDNA-Myc-Ruc plasmid was further modified to produce a Gateway vector (pREN5-ATT), containing ATT recombination sites flanking the CCB toxic gene for accepting in-frame genes from Gateway donor clones. Gateway recombination reactions for generating the MTB antigens were then performed essentially as described [19]. Briefly, miniprep DNA was obtained from preexisting Gateway MTB donor clones grown under kanamycin selection. Miniprep DNA (50 ng) was then mixed with the ampicillin-resistant pREN5-ATT Gateway vector (50 ng) and incubated with LR clonase II enzyme mix (Invitrogen). Following bacterial transformation and selection of clones with ampicillin and carbenicillin, correctly recombined plasmids were checked by restriction enzyme digest and then confirmed by DNA sequencing.
Custom construct design for generating Renilla luciferase-MTB antigen fusions
A third set of fifteen Renilla luciferase MTB constructs, lacking Gateway recombination and extra linker sequences before and after the coding sequence of each gene, were generated by PCR with gene-specific primers (Table 1). For each Renilla luciferase-MTB antigen construct generated in the pREN2 vector [18], the signal sequences for the proteins were omitted and a stop codon was included at the end of the coding sequence. Since several of the MTB proteins are extracellular, additional N-terminal MTB-Renilla luciferase fusions were constructed with the pREN3S vector [20] fusion constructs were created in some cases. The primer adapter sequences used to clone each protein or protein fragment are available upon request.
LIPS analysis
A schematic of the LIPS assay technology is shown in Fig.
1
. LIPS assays were performed in a 96-well plate format at room temperature as described [
21
]. For these assays, transfected Cos1 cells were lysed with assay buffer A (20 mM Tris, pH 7.5, 150 mM NaCl, 5 mM MgCl
2
, 1 % Triton X-100) and centrifuged to obtain the crude lysates containing
Renilla
luciferase-MTB fusion proteins. Testing was performed using a master plate, which involved first diluting subject sera 1:10 in assay buffer A in a 96-well polypropylene microtiter plate. To initiate testing, 40 μl of buffer A, 10 μl of diluted human sera (1 μl equivalent), and
Renilla
luciferase-antigen Cos1 cell extract, diluted in buffer A, were added to each well of a polypropylene working plate and incubated for 1 h at room temperature. Next, 6 μl from a 30 % suspension of Ultralink protein A/G beads (Pierce Biotechnology, Rockford, IL) in PBS were added to the bottom of each well of a 96-well filter HTS plate (Millipore, Bedford, MA). The 100-μl antigen-antibody reaction mixture was transferred to this filter plate and incubated for 1 h at room temperature on a rotary shaker. The washing steps of the retained protein A/G beads were performed on plate washer with an integrated vacuum manifold (Tecan). After the final wash, light units (LU) were measured in a Berthold LB 960 Centro microplate luminometer (Berthold Technologies, Bad Wildbad, Germany) using coelenterazine substrate mix (Promega, Madison,WI). LU data were averaged from at least two separate experiments.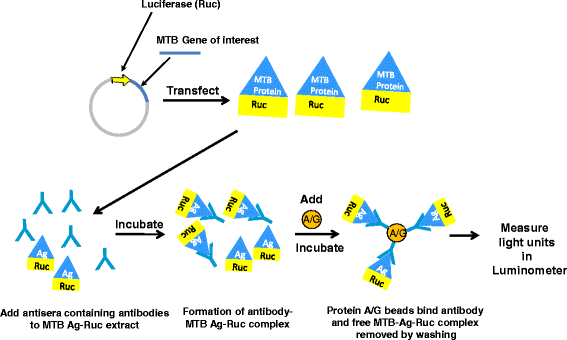 The method was modified slightly for the LIPS mixture based assay. In this case, each of the Renilla luciferase-MTB antigen extracts was harvested in lysis buffer without glycerol and used immediately upon collection to create a cocktail. Approximately 10 million LU from each of the seven MTB antigen lysates was combined in a single well with sera and then processed as above.
Data analysis
GraphPad Prism 6 software (San Diego, CA) was used for statistical analysis. Antibody levels are presented as the geometric mean plus/minus 95 % confidence intervals. For the calculation of sensitivity and specificity, cut-off limits for each antigen were derived from the mean value plus three standard deviations of the Cohort 2 controls. Non-parametric Mann–Whitney U tests were used to compare the antibody levels among groups. Tests for differences between for the pulmonary TB patients and controls with the eight MTB antigens used a Bonferroni adjusted P value (P = 0.006) for significance. For heat map analysis, Cohort 2 controls were used as a reference group and the level of each antibody for each TB subject above the mean plus three standard deviations of the control values was calculated as a Z score value and then color-coded. For mixture testing, two different cut-off values were calculated based on the mean value plus three standard deviations (SD) of cohort 2 and cohort 3 control subjects.
Conclusion
The LIPS, fluid-phase immunoassay detected robust antibody responses against MTB proteins, but required proper protein folding. Particularly attractive was the finding that the LIPS mixture format of seven antigens showed 74–90 % sensitivity and 96–100 % specificity. It is likely that the addition of new antigenic targets into the mixture format could further improve the performance. If optimized further, this LIPS mixture format might be useful for rapidly screening of patient samples in a 96-well format.
Abbreviations
LIPS:

Luciferase immunoprecipitation systems
MTB:

Mycobacterium tuberculosis
TB:

Active tuberculosis
LTBI:

Latent tuberculosis infection
LU:

Light units
Ruc:

Renilla luciferase
SD:

Standard deviations
Declarations
Acknowledgments
This work was supported by the Division of Intramural Research, National Institute of Dental and Craniofacial Research, the National Institute of Allergy and Infectious Diseases, the Clinical Center, in part with funds from Project Serefo and by a Bench to Bedside award from the NIH Clinical Research Center, which was funded by the Office of AIDS Research.
Open AccessThis article is distributed under the terms of the Creative Commons Attribution 4.0 International License (http://creativecommons.org/licenses/by/4.0/), which permits unrestricted use, distribution, and reproduction in any medium, provided you give appropriate credit to the original author(s) and the source, provide a link to the Creative Commons license, and indicate if changes were made. The Creative Commons Public Domain Dedication waiver (http://creativecommons.org/publicdomain/zero/1.0/) applies to the data made available in this article, unless otherwise stated.
Authors' Affiliations
(1)
Dental Clinical Research Core, National Institute of Dental and Craniofacial Research, National Institutes of Health, Bethesda, USA
(2)
Laboratory of Sensory Biology, National Institute of Dental and Craniofacial Research, National Institutes of Health, Bethesda, USA
(3)
Laboratory of Cell and Developmental Biology, National Institute of Dental and Craniofacial Research, National Institutes of Health, Bethesda, USA
(4)
Project SEREFO, University of Sciences, Techniques and Technologies of Bamako (USTTB), Bamako, Mali
(5)
Khon Kaen University, Khon Kaen, Thailand
(6)
Faculty of Medicine Siriraj Hospital, Mahidol University, Bangkok, Thailand
(7)
Faculty of Medicine Ramathibodi Hospital, Mahidol University, Bangkok, Thailand
(8)
Laboratory of Clinical Infectious Diseases, National Institute of Allergy and Infectious Diseases, National Institutes of Health, Bethesda, USA
(9)
Collaborative Clinical Research Branch, Division of Clinical Research, National Institute of Allergy and Infectious Diseases, National Institutes of Health, Bethesda, USA
(10)
Critical Care Medicine Department, NIH Clinical Center, National Institutes of Health, Bethesda, USA
(11)
Dental Clinical Research Core, NIDCR, Bethesda, USA