Research article

Open Access
Bioinformatics analysis of the locus for enterocyte effacement provides novel insights into type-III secretion
Received: 21 December 2004
Accepted: 09 March 2005
Published: 09 March 2005
Abstract
Background
Like many other pathogens, enterohaemorrhagic and enteropathogenic strains of Escherichia coli employ a type-III secretion system to translocate bacterial effector proteins into host cells, where they then disrupt a range of cellular functions. This system is encoded by the locus for enterocyte effacement. Many of the genes within this locus have been assigned names and functions through homology with the better characterised Ysc-Yop system from Yersinia spp. However, the functions and homologies of many LEE genes remain obscure.
Results
We have performed a fresh bioinformatics analysis of the LEE. Using PSI-BLAST we have been able to identify several novel homologies between LEE-encoded and Ysc-Yop-associated proteins: Orf2/YscE, Orf5/YscL, rORF8/EscI, SepQ/YscQ, SepL/YopN-TyeA, CesD2/LcrR. In addition, we highlight homology between EspA and flagellin, and report many new homologues of the chaperone CesT.
Conclusion
We conclude that the vast majority of LEE-encoded proteins do indeed possess homologues and that homology data can be used in combination with experimental data to make fresh functional predictions.
Keywords
Functional Assignment
Secretion Apparatus
Photorhabdus Luminescens
Flagellar Filament
Lytic Transglycosylase
Background
Type-III secretion is one of five different types of protein secretion employed by Gram-negative bacteria to move proteins from the cytoplasm across two membranes to the external milieu [1–5]. Any given type-III secretion system (T3SS) consists of a multi-protein complex that spans both the inner and outer membranes and the periplasm so that proteins are delivered to the exterior in an ATPase-dependent fashion without a periplasmic intermediate. Type-III secretion systems can be classified into two major groups: those associated with flagellar biosynthesis and those associated with interactions between bacteria and eukaryotic cells [5]. Type-III secretion is thus central to our understanding of bacterial motility, virulence, symbiosis, and ecology. Type-III secretion also provides an attractive drug and vaccine target [6] and has been exploited in the biotechnology arena as a antigen delivery system [7, 8]
The important human pathogens, enteropathogenic and enterohaemorrhagic
Escherichia coli
(EPEC and EHEC respectively) utilise type-III secretion to subvert eukaryotic signalling pathways by injecting bacterial effector proteins into the host cell cytoplasm [
1
,
9
–
12
]. Within these pathovars, a well-characterised T3SS is responsible for the development of a characteristic attaching-effacing (AE) lesion and for other effects on enterocyte function [
9
,
11
–
13
] (Figure
1
). In common with most other T3SSs, this system is encoded by a "pathogenicity island" (in this case termed the "locus of enterocyte effacement" or LEE), which contains virulence genes clustered on the chromosome and acquired en bloc by horizontal gene transfer [
13
–
16
]. Some strains of the rarely isolated putative pathogen of humans,
Escherichia albertii
(formerly misidentified as
Hafnia alvei
), and of the mouse pathogen
Citrobacter rodentium
, which causes transmissible murine colonic hyperplasia, have been shown to induce AE lesion formation and to possess the LEE [
17
–
20
].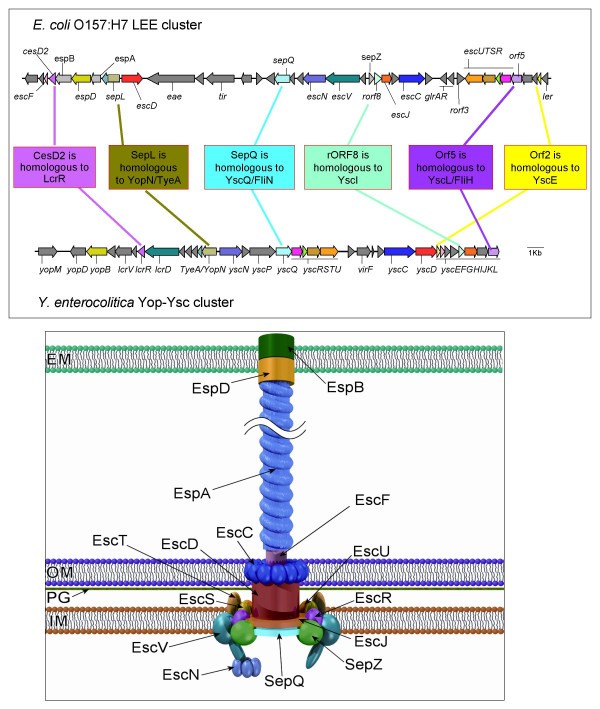 When applied to biological sequences, homology is defined as similarity that arises because of descent from a common ancestor [21]. Assignments of sequence homology have a predictive value, in that sequence homology implies structural homology, and, less certainly, functional similarity. Although homologous sequences can diverge in function, or be recruited to a different physiological role or cellular compartment, the discovery of homology allows functional assignments to be transferred from a protein or gene that has undergone experimental investigation to a protein or gene that has not been studied in the laboratory (albeit tentatively and allowing for various common pitfalls in this process [22]). Any such functional assignment should always be treated as a working hypothesis rather than as an established fact. However, this approach can lead to new predictions about biological function that can then be tested in the laboratory, informing an existing programme of experimental work, or even opening up an entire line of enquiry where none existed before [22, 23]. At its most basic, an assertion of homology calls to our attention the "null hypothesis" – that proteins with homologous sequences should behave in similar ways – and, whenever this does not appear to be true, provokes the question, why are these proteins behaving differently? Searches for homology between sequences are reliable only when the search program provides statistics that allow one to estimate how likely it is that randomly composed sequences could yield alignment scores at least as high as that obtained between the two sequences in question (an example of such a statistical evaluation is the e value reported by BLAST [24]).
When the complete sequence of the LEE was first reported, an attempt was made to create a standard rational nomenclature based on experimental findings and functional predictions. E. coli-secreted proteins were given the generic name Esp (EspA, EspB, EspD) [11]. Components of the secretion apparatus that had obvious homologues in the better-characterized plasmid-encoded Ysc-Yop T3SS of Yersinia sp. were given the prefix Esc and the same suffix as their Yersinia homologues (EscC, EscD, EscJ, EscN, EscR, EscS, EscT, EscU and EscV). Proteins that apparently lacked Yersinia homologues, but appeared to be involved in type III secretion, retained the designation Sep (for "secretion of E. coli proteins"): originally SepZ for rOrf9 and SepQ for Orf17, but with the designations SepD for rorf6 and SepL for Orf23 subsequently seeing widespread use. The chaperone for the secretion of EspD was named cesD ("chaperone for E. coli secreted protein D"). The intimin gene was named eae (for "E. coli attaching and effacing") and the intimin receptor named Tir (for "translocated intimin receptor"). Since these original designations were made, several other LEE-encoded proteins have been characterized and re-named according to these conventions ((EspF, EspG, EspH; CesF, CesAB/CesA, CesD2), while some others have acquired names outside the original nomenclature, based on functional properties (Ler, Map, GrlR, GrlA) [25–33]
The original assertions of homology for the LEE-encoded proteins – and the functional assignments that flowed from them – were based on the results of unsophisticated searches using the gapped BLAST program [
11
]. However, in the search for distant homologues, a considerable body of evidence now confirms that simple BLAST searches are far outperformed by more advanced, iterative methods such as PSI-BLAST [
24
,
34
–
39
]. In addition, the growth of domain databases such as PFAM [
40
] and the steady accumulation of new sequence data on type-III secretion systems, especially from genome sequencing [
2
,
23
,
41
], provide a new backdrop against which original claims of homology (or lack of homology) can now be judged. Bearing these facts in mind – and prompted by a recent assertion that "nearly half of the LEE genes have no homologues [
33
]" – we have therefore undertaken a fresh bioinformatics analysis of the proteins encoded by the LEE, using highly sensitive methods for the detection of homology. Given the recent discoveries of numerous T3SS effectors secreted through the LEE-encoded T3SS [
33
,
42
–
46
], for reasons of space we have opted to restrict our analysis to LEE-encoded components of the secretion and translocation apparatus and soluble cytoplasmic proteins associated therewith (i.e. chaperones and regulators). We will leave homology analyses of effectors (Tir, EspF, EspG, EspH, Map, SepZ [
46
] encoded within the LEE; potentially many dozens encoded outside the LEE) and functionally related proteins (intimin) for later publications. We conclude that the vast majority of LEE-encoded proteins do indeed possess homologues and that homology data can be used in combination with experimental data to make fresh functional predictions (Figure
1
, Table
1
).
Table 1
Summary of known characteristics of LEE-encoded genes and their associated proteins, with novel homology-based functional predictions. New names as suggested in body text of this article. Summary of effects on gene expression, type-III secretion and virulence in mice drawn from Deng et al [33]. Yeast two-hybrid results drawn from Creasey et al [145]. Predictions drawn from combination of homology data and cited works. T3S: involved in type-III secretion.
| Gene (new name) | Effect of deletion mutation on secretion | Effect on pedestal formation / virulence | Known interactions | Homologues | Domains | Known functions | New functional prediction |
| --- | --- | --- | --- | --- | --- | --- | --- |
| rorf1 | + | +/+ | EspD | YjiK | SdiA-regulated domain (NHL repeats) | | SdiA-regulated? |
| espG | + | +/+ | | VirA | | Translocated effector | |
| ler | No expression | -/- | | H-NS, StpA | | Positive regulator | Might form heterodimers with H-NS, StpA |
| orf2 (escE) | - | | Orf29 | YscE, PscE, SsaE, CV2595, YPO0259 | | T3S | Interacts with C-terminus of SepL; Functionally important conserved residues can be identified by scrutiny of homologues |
| cesAB | ± EspA, EspB | -/- | EspA, EspB | none | | Chaperone for EspA and EspB | |
| orf4 | - | -/- | | YPO0264, SsaK, CV2589 | | T3S | Functionally important conserved residues can be identified by scrutiny of homologues |
| orf5 (escL) | - | -/- | | YscL, FliH | | T3S | Binds to and regulates activity of ATPase EscN |
| escR | - | -/- | EscR, EscS, EscU, SepZ EspD | YscR, FliP | PF00813 | T3S | |
| escS | - | -/- | EscR, EspD | YscS, FliQ | PF01313 | T3S | |
| escT | - | -/- | | YscT, FliR | PF01311 | T3S | Physically associated in the basal body with EscU in a 1:1 ratio; C-terminus is cytoplasmic [158] |
| escU | - | -/- | EscrR, EscI, EspD | Yscu, FlhB | PF00771 | T3S | Physically associated in the basal body with EscT in a 1:1 ratio [158]; cleaved at NPTH motif [159]; regulates substrate specificity of secretion system [160]. |
| rorf3 (etgA) | ± | ±/± | EscI | lytic transglycosylase IagB, IpgF | | | Lytic transglycosylase needed to open gap in peptidoglycan for assembly of secretion system [58]; potential drug target |
| grIR | + | +/++ | GrlR/GrlA | Bongori regulator | | Negative regulator | Will work in concert with GrlA |
| grIA | No expression | -/- | GrlR | Bongori regulator, CaiF | | Positive regulator | Will work in concert with GrlR |
| cesD | -/EspD | ±/- | | Other TPR chaperones | | Chaperone for EspD | TPR chaperone [115] |
| escC | - | -/- | EscD | YscC, MxiD, InvG | | T3S | Interacts with peptidoglycan [161], Dsb-dependent domain missing |
| sepD | -/Translocators | -/- | SepL | None | | Switches translocator/effector secretion | Works in concert with SepL |
| escJ | - | -/- | | YscJ, PrgK, FliF | PF01514 | T3S | EscD and EscJ form ring-like structure in inner membrane [66, 162, 163] |
| rorf8 (escI) | - | -/- | EscU, rORF3 | PrgJ, MxiI, YscI | | T3S | Forms inner rod within base of needle complex [65, 68-70]. |
| sepZ | + | +/± | EscR | None | | Translocated effector | |
| orf12 | - | -/- | | SsaM | | T3S | Might play a role in switching translocator/effector secretion |
| escN | - | -/- | CesT, Tir [50] | YscN | | T3S ATPAse | Forms hexameric complex |
| escV | - | -/- | | LcrD, FlhA | PF00771 | T3S | C-terminal cytoplasmic domain might play a role in gene regulation [164, 165]. |
| orf15 | - | -/- | | None | | T3S | |
| orf16 | ±/Translocators | ±/± | | None | | Secretion of translocators | FliK/YscP analogue? |
| sepQ (escQ) | - | -/- | | YscQ, FliN | COG1887 | T3S | Forms ring within basal body [56]; interacts with EscL [54] |
| espH | + | +/++ | | | | Translocated effector | |
| cesF | ±/EspF? | +/+ | | | | Chaperone for EspF | |
| map | + | +/++ | CesT | | | Translocated effector | |
| tir | + | -/- | CesT Tir | | | Translocated effector | |
| cesT | ±/Tir | -/- | Map, EspF, Tir, CesT | Many | | Chaperone for Tir | Possible regulatory role, by analogy with ExsC? |
| eae | + | -/- | | | | Adhesin (intimin) | |
| escD | - | -/- | | YscD, PrgH | YscD: FHA and BON domains | T3S | EscD and EscJ form ring-like structure in inner membrane [66, 162, 163]; BON domains mediate binding to phospholipids; FHA domain mediates protein-protein interactions and signalling |
| sepL | -/Translocators | -/- | SepD | YopN, TyeA | | Switches translocator/effector secretion | single protein mediating effects of YopN and TyeA; internal interaction between YopN- and TyeA-like moieties; also a translocated effector? |
| espA | + | -/- | CesAB | flagellin | | Translocator | Half-flagellin model (see text); dimerizes before polymerizes; lacks D0 and D3 domains |
| espD | + | -/- | EspD, EscRSU, CesD, rORF1, SepZ | YopB etc | | Translocator | |
| espB | + | -/- | CesAB | YopD etc | | Translocator | |
| cesD2 | ±/EspD? | +/± | | LcrR | | Chaperone for EspD | LcrR will bind YopB |
| escF | - | -/- | | YscF | | Major needle component | |
| orf29 | - | -/- | Orf2 | YPO0261, SsaI, H, CV2586 | | T3S | Functionally important conserved residues can be identified by scrutiny of homologues |
| espF | + | +/+ | | | | Translocated effector | |
Conclusion
In this survey, we have discovered several new homologous relationships and woven together threads of evidence from our own in silico surveys and from published experimental studies to craft numerous novel functional predictions about the LEE-encoded and other T3SSs that can now be tested in the laboratory. We invite the scientific community to test our predictions. Furthermore, in this sequence-rich, post-genomic era [2, 23], we believe the time is right to roll out similar bioinformatics analyses over all known type-III secretion systems and invite others to join us in this enterprise on our new web site, 3Base, dedicated to type-III secretion http://3base.bham.ac.uk.
Methods
Sequences
Peptide sequences of the 44 LEE-encoded proteins from the genome-sequenced enterohaemorrhagic E. coli O157:H7 Sakai strain (encoded by genes ECs4548-ECs4591 in the Sakai nomenclature) were extracted from the relevant GenBank file (accession number dbj|BA000007). Analyses were performed on a Macintosh Dual 2 GHz G5 running OSX10.3.
Homology searches
PSI-BLAST searches [24] were performed on LEE-encoded proteins against a composite database that included the NCBI's non-redundant (NR) protein database and a database of predicted protein sequences from unfinished genomes (VGE-PEPT: searchable on our web site http://www.vge.ac.uk). To explore all possibilities, multiple PSI-BLAST searches were run for the LEE-encoded proteins using different combinations of substitution matrices (BLOSUM45, BLOSUM62, BLOSUM80), low-complexity filtering (ON, OFF), compositional-based statistics (ON, OFF), E-value inclusion threshold (E = 0.002, E = 0.02) and database (VGE-PEPT + NR, VGE-PEPT alone). PSI-BLAST results were parsed using home-produced Perl scripts and any searches that uncovered significant or near-significant matches to other type III secretion associated proteins were flagged for closer examination and potential homologues retrieved and analysed further. In some cases, PSI-BLAST searches were supplemented with iterative Hmmer searches [151] and searches of the PFAM, CDD and SMART databases [40, 55, 152].
Most LEE proteins produced statistically significant matches to other Type III associated proteins of known and unknown function under PSI-BLAST default conditions (except for the absence of filtering and compositional based statistics) within 1 to 5 iterations. In some cases (e.g. ECs4584/ORF5), a significant PSI-BLAST hit was dependent on an absence of low-complexity eukaryote sequences in the target database, whereas in others (e.g. ECs4572/rORF8) significant hits were only identified using the BLOSUM80 matrix.
Alignments
In most cases alignments were generated from homologues identified in PSI-BLAST searches with T-coffee under default settings [153]. In the case of the EscD alignment, the FHA-like and BON-like regions were aligned separately using T-coffee. The former was then aligned to the FHA domain profile (SM00240) from the SMART database and the latter to the BON domain profile from PFAM (PF04972), respectively, using hmmalign from the Hmmer package. Similarly, the SepQ alignment was generated by aligning the COG1886 and Pfam:SpoA domain profiles with hmmalign. The EscI alignment was generated using T-coffee to align homologues parsed from the PSI-BLAST searches before the FliH sequence from E. coli K-12 was aligned to it using hmmalign. All multiple alignments were manually curated to ensure that secondary structure elements were not broken and to minimise the number of misaligned regions (as assessed using ClustalX and T-coffee [153, 154]). Alignments were coloured using default CHROMA settings [155].
Declarations
Acknowledgements
We thank the MRC for funding SB's Bioinformatics Fellowship; we thank the Division of Infection and Immunity and the Medical School, University of Birmingham for funding CMB and the 3Base project. We thank the British Biotechnology and Biologivcal Sciences Research Council for funding other experimental and bioinformatics work within the Pallen group on E. coli and type-III secretion (grant references EGA16107, D13414, 02B1D08033). We thank an anonymous reviewer for pointing out the similar genetic locations of sepD and yscB.
Authors' Affiliations
(1)
Bacterial Pathogenesis and Genomics Unit, Division of Immunity and Infection, Medical School, University of Birmingham, Birmingham, UK
Copyright
© Pallen et al; licensee BioMed Central Ltd. 2005
This article is published under license to BioMed Central Ltd. This is an Open Access article distributed under the terms of the Creative Commons Attribution License (http://creativecommons.org/licenses/by/2.0), which permits unrestricted use, distribution, and reproduction in any medium, provided the original work is properly cited.