Research article
Open Access
Functional characterization of a Penicillium chrysogenum mutanase gene induced upon co-cultivation with Bacillus subtilis
BMC Microbiology
2014
14:114
Received: 23 January 2014
Accepted: 17 April 2014
Published: 6 May 2014
Abstract
Background
Microbial gene expression is strongly influenced by environmental growth conditions. Comparison of gene expression under different conditions is frequently used for functional analysis and to unravel regulatory networks, however, gene expression responses to co-cultivation with other microorganisms, a common occurrence in nature, is rarely studied under laboratory conditions. To explore cellular responses of the antibiotic-producing fungus Penicillium chrysogenum to prokaryotes, the present study investigates its transcriptional responses during co-cultivation with Bacillus subtilis.
Results
Steady-state glucose-limited chemostats of P. chrysogenum grown under penillicin-non-producing conditions were inoculated with B. subtilis. Physiological and transcriptional responses of P. chrysogenum in the resulting mixed culture were monitored over 72 h. Under these conditions, B. subtilis outcompeted P. chrysogenum, as reflected by a three-fold increase of the B. subtilis population size and a two-fold reduction of the P. chrysogenum biomass concentration. Genes involved in the penicillin pathway and in synthesis of the penicillin precursors and side-chain were unresponsive to the presence of B. subtilis. Moreover, Penicillium polyketide synthase and nonribosomal peptide synthase genes were either not expressed or down-regulated. Among the highly responsive genes, two putative α-1,3 endoglucanase (mutanase) genes viz Pc12g07500 and Pc12g13330 were upregulated by more than 15-fold and 8-fold, respectively. Measurement of enzyme activity in the supernatant of mixed culture confirmed that the co-cultivation with B. subtilis induced mutanase production. Mutanase activity was neither observed in pure cultures of P. chrysogenum or B. subtilis, nor during exposure of P. chrysogenum to B. subtilis culture supernatants or heat-inactivated B. subtilis cells. However, mutanase production was observed in cultures of P. chrysogenum exposed to filter-sterilized supernatants of mixed cultures of P. chrysogenum and B. subtilis. Heterologous expression of Pc12g07500 and Pc12g13330 genes in Saccharomyces cerevisiae confirmed that Pc12g07500 encoded an active α-1,3 endoglucanase.
Conclusion
Time-course transcriptional profiling of P. chrysogenum revealed differentially expressed genes during co-cultivation with B. subtilis. Penicillin production was not induced under these conditions. However, induction of a newly characterized P. chrysogenum gene encoding α-1,3 endoglucanase may enhance the efficacy of fungal antibiotics by degrading bacterial exopolysaccharides.
Keywords
Time-course transcriptional analysisMixed cultureChemostat-based transcriptomicsMutanaseHeterologous expressionPenicillium chrysogenumBacillus subtilis
Background
Penicillium chrysogenum is widely used for industrial production of β-lactam antibiotics such as penicillins and cephalosporins. Current production strains are the result of classical strain development programmes which, over a period spanning more than six decades, has improved productivity by several orders of magnitude [1]. Throughout strain improvement, industrial and academic research has sought to understand the molecular basis and physiology of penicillin production by P. chrysogenum based on research in pure cultures.
The complete genome sequence of P. chrysogenum[2] revealed 20 putative polyketide synthase genes (PKS), 10 non-ribosomal peptide synthase (NRPS) genes and 2 genes encoding hybrid NRPS-PKS enzymes [3, 4]. Most of these genes are not significantly transcribed under standard laboratory conditions [5–10] and, consequently, their functional and physiological roles remains to be determined.
The contribution of many secondary metabolites to evolutionary fitness of the producing organism remains unknown and subject to debate [11–14]. It is generally assumed that fungal penicillin biosynthesis has primarily evolved as a mechanism to combat competing bacteria. However, there is no evidence that fungal penicillin biosynthesis is triggered by the presence of bacteria. Moreover, there is no a priori reason to assume that synthesis of fungal antibiotics it is single-layer defense mechanism. For example, NRPS or PKS gene clusters may enable the synthesis of compounds that complement and/or augment the action of penicillins.
Several strategies have been successfully applied to activate and characterize cryptic gene clusters in filamentous fungi [15]. These methods include inactivation of biosynthesis genes [16], heterologous expression [17] and simulation of conditions that might activate gene clusters in natural environments [5, 6, 18]. A successful example the latter approach was achieved by co-culturing Aspergillus nidulans with Streptomyces hygroscopicus. Genome wide expression analysis of A. nidulans revealed that co-cultivation led to specific expression of a polyketide gene cluster that was silent under standard conditions for laboratory growth of the fungus [18]. This example supports the notion that microbial interactions in natural environments may be a direct trigger for production of secondary metabolites and other means of 'microbial warfare'. Simulation of these interactions by co-cultivation in the laboratory is therefore a rational strategy to identify natural antimicrobial compounds and mechanisms. Indeed, this approach has been successfully used to study interactions between microorganisms [19–22], allowing the identification of a wide range of responses, ranging from increased production of stress-response related compounds [23], induction of biofilm formation and modulation of virulence expression [20]. By providing in-depth knowledge on interaction mechanisms it provides an important tool for understanding the physiology of microorganisms, communication between microbial species and drug discovery [18].
The dynamic nature of microbial interactions in mixed cultures limit the value of static (single time point) gene expression studies. Time-course expression experiments, in which transcriptional responses to an external stimulus are recorded over time [24] have been applied successfully to a wide range of perturbations [25–29].
The original discovery of penicillin by Fleming was unintentionally based on a co-cultivation experiment, involving interaction of a Penicillium strain with bacteria on solid medium plates [30]. Surprisingly however, interaction of this fungus with prokaryotes has subsequently not been studied in detail. The objective of the present study is to investigate the response of P. chrysogenum to co-cultivation with B. subtilis, a penicillin-sensitive Gram-positive bacterium. To this end, steady-state chemostat cultures of P. chrysogenum Wisconsin 54–1255 were inoculated with B. subtilis. The dynamic transcriptional and physiological responses of P. chrysogenum in the resulting mixed cultures were monitored and analyzed. Several differentially expressed genes potentially reflected responses to the bacterium. To test whether any bacterial signaling molecules are responsible for differential expression of selected fungal genes, P. chrysogenum cultures were supplemented with supernatant of B. subtilis cultures, supernatants from mixed cultures and with heat-inactivated B. subtilis. The specific transcriptional responses, identified using microarray, were verified by analysis of fermentation broth and by functional characterization of selected P. chrysogenum genes in S. cerevisiae.
Discussion
General responses of P. chrysogenum to co-cultivation with B. subtilis
While co-cultivation experiments under laboratory conditions cannot fully capture the entire complexity of microbial interactions in natural environment, they do enable identification of specific mechanisms by which micro-organisms interact [18, 20–22]. The present study focused on responses of P. chrysogenum to co-cultivation with the B. subtilis. A substantial part of the transcriptional response of P. chrysogenum to co-cultivation could be attributed to competition for glucose, the growth-limiting nutrient used for the chemostat studies. However this has not been experimentally tested since our fermenters were not equipped with rapid sampling port and the actual supernatant sampling procedure was far too long to trust the measured values. When B. subtilis was inoculated in a glucose-limited chemostat of P. chrysogenum, the bacterium was able to grow faster than the fungus and, over a 72 h period, was well on the way to outcompete it highlighting a better affinity (μmax/Ks) of the bacterium for the limited nutrient. The strong up-regulation of P. chrysogenum genes including sugar transporters (Figure 3, Cluster 4), including genes encoding putative high-affinity transporters, represents a typical response of a micro-organism that is confronted with competition for glucose as the growth-limiting nutrient [46].
The gene Pc12g10440, which showed the strongest upregulation during co-cultivation with B. subtilis, shares strong similarity with the alternative oxidase gene aox1 from A. niger. Alternative oxidases in fungi and plants represent bypass energy coupling sites in the mitochondrial respiratory chain. Their expression is upregulated under a variety of stress conditions, including changes in the supply of, or demand for, carbon, reducing power, and ATP [47]. Interestingly, alternative oxidases have also been directly implicated in the defense against microbes and, in the case of pathogens, with host cells. For example, expression of alternative oxidase in Nicotania attenuata has been shown to contribute to resistance against pathogenic Pseudomonas syringae[48] and, in pathogenic fungi, the enzyme counteracts the host's immune system [49–51].
The side-chain precursor phenylacetic acid, whose addition is essential for high-level production of penicillin G by P. chrysogenum, was not included in the growth media used for the present study. P. chrysogenum is able to synthesize phenylacetic acid by itself, using L-phenylalanine as a precursor [10]. However, co-cultivation did not affect expression of genes involved in phenylalanine production or catabolism. This result indicated that, at least in this strain background, co-cultivation of a penicillin-sensitive Gram positive bacterium, did not trigger penicillin production. Although the Wisconsin strain of P. chrysogenum represents an early strain in the penicillin strain improvement lineage [31], we cannot exclude the possibility that its penicillin biosynthetic pathways had already been deregulated as a result of strain improvement, thereby masking induction by the presence of bacterial cells. However, unexpectedly and in contrast to a previous study on co-cultivation of Aspergillus nidulans with Streptomyces hygroscopicus[18], P. chrysogenum did not induce other secondary metabolite biosynthetic gene clusters upon in response to the presence of B. subtilis (Figure 4).
Expression of fungal mutanase activity results from cross talk between P. chrysogenum and B. subtilis
Although we were unable to connect co-cultivation of P. chrysogenum with a prokaryote to production of low-molecular weight fungal metabolites, co-cultivation clearly triggered the expression of two genes encoding putative α-1, 3 glucanases (Pc12g07500 and Pc12g13330). Synthesis of mutanase (α-1,3-glucanase, EC 3.2.1.59) is induced in several fungi and bacteria when mutan (α-1,3-glucan) or oligosaccharides such as raffinose are present in the growth medium [52–54]. Mutanase production by Trichoderma harzianum is triggered by sugars or molecule with α-1,3 linkages, consistent with the ability of the enzyme to act on α-1,3 linkages in bacterial biofilms and extracellular polysaccharides such as α-mutan [55].
Upregulation of the putative mutanase genes Pc12g07500 and Pc12g13330 required the presence of the two microorganisms simultaneously. Supernatant of pure B. subtilis culture or heat inactivated B. subtilis cells were not sufficient to induce the expression of these genes (Table 2), suggesting that the triggering molecule(s) is (are) produced by B. subtilis in response to the presence of P. chrysogenum. Induction of the mutanase genes during co-cultivation could, for example, result from the formation of α-1,3 glucan containing exopolysaccharide by B. subtilis in response to co-cultivation by the fungus. This bacterial response could then be countered by the production of mutanase by the fungus. Several pathogenic bacteria in environment reside in exopolysaccharide biofilm which protects bacterial cells from antibiotics [56]. If enzymes produced against these pathogenic bacterial exopolysaccharides in mixed culture enable bacterial biofilm degradation, this might potentiate fungal antibiotics by facilitating access to the bacteria.
P. chrysogenum Pc12g07500 is an atypical fungal mutanase without a mutan binding domain
Of the two putative mutanase genes that were upregulated during co-cultivation, only Pc12g07500 yielded extracellular mutanase activity when expressed in
Saccharomyces cerevisiae
. The genome sequence of
P. chrysogenum
[
2
] harbors six genes that share similarity to the
mutA
genes from
Trichoderma harzianum
and
Talaromyces purpurogerus
(formely known as
Penicillium purpurogenum
) (Figure
7
). Comparison of the predicted amino acid sequences of these six putative mutanases revealed that only two of them (Pc12g07500 and Pc15g01400) were predicted to contain a signal peptide. Interestingly, the amino acid sequence analysis also revealed that, in contrast to previously characterized fungal mutanases, the Pc12g07500 amino acid sequence was much shorter and missed the C-terminal sequence that corresponds to the α-mutan binding domain (Figure
7
).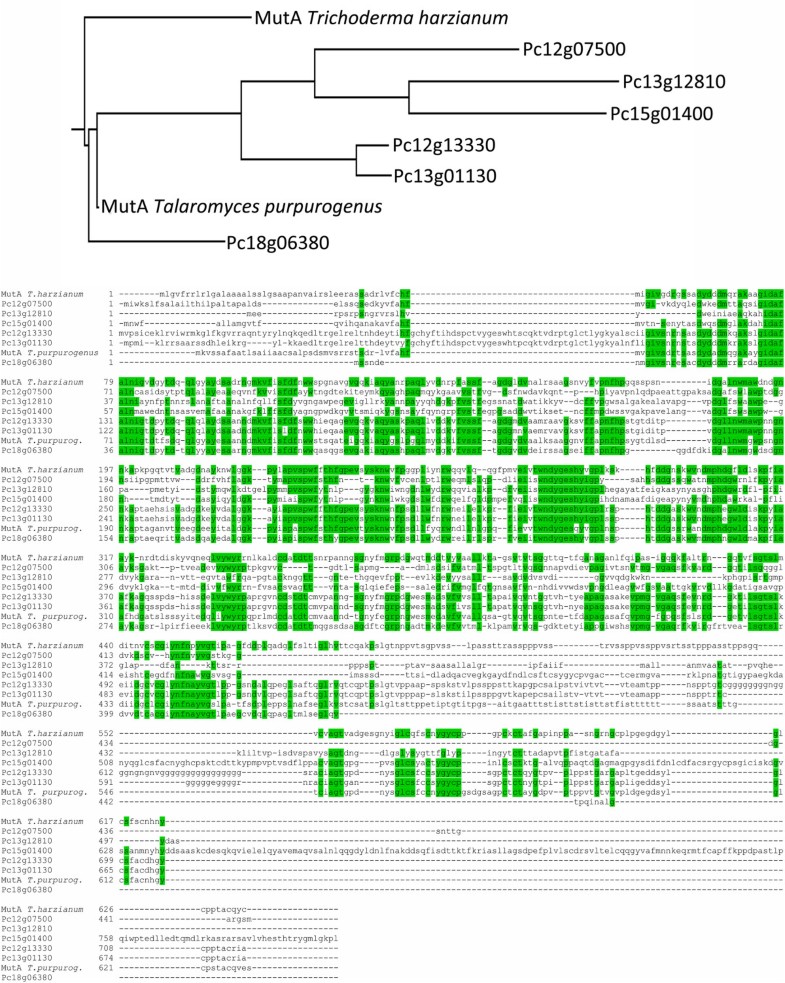 Pc12g13330, which showed a higher sequence similarity to T. purpurogenus MutA, did not harbor an N terminal sequence corresponding to a signal peptide, but did contain a C-terminal extension corresponding to the mutan binding motif. Of the six P. chrysogenum mutanases, not only Pc12g07500, but also Pc18g06380 missed the α-mutan binding domain. However, in contrast to Pc12g07500, Pc18g06380 did not appear to carry a signal peptide and was not expressed during co-cultivation with B. subtilis.
Hitherto, fungal mutanases have been described as strictly extracellular enzymes [42, 57]. Interestingly, several of the genes with strong sequence similarity to mutanase genes in the P. chrysogenum genome appear to lack excretion signals. 1, 3-α-D-glucan has been detected in cell walls of Aspergilllus wentii[58] and Schizosaccharomyces pombe[59], intracellular mutanase-like enzymes may play a role in processing and/or degradation of fungal cell wall components. Expression of the P. chrysogenum mutanase gene Pc12g07500 in S. cerevisiae (strain IME209) had a strong negative effect on yeast growth. This is an intriguing observation, since 1,3-α-D-glucan has not been reported to occur in S. cerevisiae cell walls. Detailed analysis of the mode of growth inhibition of mutanase-expressing strains may yield new insights in yeast cell wall composition and biosynthesis.
Conclusion
The present study demonstrates that co-cultivation experiments with defined mixed cultures provide a useful tool for identifying microbial interactions. Under the experimental conditions, B. subtilis successfully competed with P. chrysogenum for the glucose, the growth-limiting nutrient. The fungus did not respond to this competition by induction of pathways for antimicrobial secondary metabolites. However, a co-cultivation-dependent expression of an extracellular fungal mutanase was observed, which was triggered by (an) extracellular compound(s) produced by the mixed cultures but not by pure cultures of the two organisms. Heterologous expression in S. cerevisiae revealed that of the P. chrysogenum genes induced during co-cultivation with B. subtilis encoded an extracellular mutanase that differed from previously described fungal mutanases due to the absence of an α-mutan binding domain.
Declarations
Acknowledgements
This project was part of the research programme of the Kluyver Centre for Genomics of Industrial Fermentation, which was sponsored by the Netherlands Genomics Initiative. We are grateful to Prof. Malgorzata Pleszczynska, Maria Curie-Sklodowska University, Lublin, Poland for providing mutan samples.
Authors' Affiliations
(1)
Department of Biotechnology, Delft University of Technology, BC Delft, the Netherlands
(2)
Kluyver Centre for Genomics of Industrial Fermentation, BC Delft, the Netherlands
(3)
Platform for Green Synthetic Biology, GA Delft, the Netherlands
Copyright
© Bajaj et al.; licensee BioMed Central Ltd. 2014
This article is published under license to BioMed Central Ltd. This is an Open Access article distributed under the terms of the Creative Commons Attribution License (http://creativecommons.org/licenses/by/2.0), which permits unrestricted use, distribution, and reproduction in any medium, provided the original work is properly credited. The Creative Commons Public Domain Dedication waiver (http://creativecommons.org/publicdomain/zero/1.0/) applies to the data made available in this article, unless otherwise stated.