Research article

Open Access
Morphology, ultrastructure, and molecular phylogeny of the ciliate Sonderia voraxwith insights into the systematics of order Plagiopylida
BMC Microbiology
2013
13:40
Received: 28 November 2012
Accepted: 8 February 2013
Published: 18 February 2013
Abstract
Background
Ciliates of the family Sonderiidae are common members of the eukaryotic communities in various anoxic environments. They host both ecto- and endosymbiotic prokaryotes (the latter associated with hydrogenosomes) and possess peculiar morpho-ultrastructural features, whose functions and homologies are not known. Their phylogenetic relationships with other ciliates are not completely resolved and the available literature, especially concerning electron microscopy and molecular studies, is quite scarce.
Results
Sonderia vorax Kahl, 1928 is redescribed from an oxygen-deficient, brackish-water pond along the Ligurian Sea coastlines of Italy. Data on morphology, morphometry, and ultrastructure are reported. S. vorax is ovoid-ellipsoid in shape, dorsoventrally flattened, 130 x 69 μm (mean in vivo); it shows an almost spherical macronucleus, and one relatively large micronucleus. The ventral kinetom has a "secant system" including fronto-ventral and fronto-lateral kineties. A distinctive layer of bacteria laying between kineties covers the ciliate surface. Two types of extrusomes and hydrogenosomes-endosymbiotic bacteria assemblages are present in the cytoplasm. The phylogeny based on 18S rRNA gene sequences places S. vorax among Plagiopylida; Sonderiidae clusters with Plagiopylidae, although lower-level relationships remain uncertain. The studied population is fixed as neotype and the ciliate is established as type species of the genus, currently lacking.
Conclusions
This is the first description of a representative of Sonderiidae performed with both morphological and molecular data. To sum up, many previous hypotheses on this interesting, poorly known taxon are confirmed but confusion and contradictory data are as well highlighted.
Keywords
Ectosymbionts
FISH
Hydrogenosomes-endosymbionts assemblages
Oxygen deficient environment
Plagiopylida
Phylogeny
Silver-nitrate staining
SSU rRNA
Sulphide fauna
Ultrastructure
Background
The genus Sonderia was established by Kahl in 1928 [1] for ciliates collected from Oldesloe salt marshes (Hamburg region, Germany) and later on from the Island of Sylt (North Sea, Germany). These interesting ciliates are ubiquitous and common in the sapropelic environment of salt marshes and in ecologically similar brackish water sites with oxygen deficiency [2–9].
Within the genus Sonderia quite conspicuous, ovoid-ellipsoid ciliates are included. These are dorsoventrally flattened, uniformly ciliated, and show a conical, subapical oral cavity. The cell length of genus representatives varies, according to the species, from 80 to 250 μm. Their surface is covered by a distinctive layer of bacteria organized in parallel along the host body axis and plunged in a gelatinous coating between kineties. From a few to numerous long, needle-shaped extrusomes are present in the cortex. Oral kineties extend from somatic ones, both organized as monokinetids, and run perpendicularly to the upper and lower lips of the oral cavity opening. A transversely striated band arises near the right margin of the oral cleft and dorsolaterally runs down [10–13].
After Kahl, 1928 [1] the genus Sonderia was splitted into four related genera – Sonderia, Parasonderia, Kahlisonderia, and Oncosonderia[14–16]. All these genera share some morphological features such as: general shape, subapical position of oral cavity, transversely striated band passing from the oral cleft, and a surface gelatinous layer with embedded bacteria. However, silver impregnation and/or different staining methods were never applied to describe the majority of the species and the type species of Sonderia was never established [15, 17]. As a curiosity, six out of eight species described during the genus establishment were marked in the key publication [11] as "Kahl, 1930", but no articles dealing with Sonderia published in 1930 are in fact available [15, 18].
Molecular studies on Sonderia lack at present, while there is a single study on a representative of the family Sonderiidae, Parasonderia vestita[16]. Only a few 18S rRNA gene sequences are available for other taxa belonging to the class Plagiopylea, namely the plagiopylids Plagiopyla[19, 20], Lechriopyla[21] and Trimyema[19, 22–24], and the odontostomatid Epalxella[25]. The fact that these sequences form a clade is the main uniting feature of the class itself [12]. Members of the class Prostomatea usually appear to be the most closely related to Plagiopylea in phylogenetic analyses.
In the present paper Sonderia vorax Kahl, 1928 is redescribed as type species of the genus and neotypified using a modern multidisciplinary analytical approach which combines morphological (i.e. live, stained, scanning, and transmission electron microscopy) with morphometric and molecular analysis.
Methods
General remarks
The neotype population of Sonderia vorax was discovered in three brackish water samples with a 4–8% salinity range; together with oxygen level (see below), salinity was measured using an OX 22 oxygen meter (Aqualytic, Langen, Germany). All the samples came from the same brackish water pond referred to as "Stagno 1" placed on the coastline of Ligurian Sea, close to Serchio River mouth, Pisa district (Tuscany, Italy) (43°47'39" N, 10°16'4" E), and were collected during October 2005, with a water temperature ranging from 18 to 22°C. The samples also contained ciliates such as Sonderia pharyngea, Plagiopyla sp., Copemetopus sp., and Metopus sp. in moderate or low abundance. In the sediment layer, where S. vorax was mainly discovered, the oxygen level in water was 1–7%; close to the water surface it was 35–66%. Attempts to cultivate in laboratory S. vorax were unsuccessful under full oxygen conditions. The ciliates survived in closed tubes within the original samples for a week, and, sometimes, even longer; thus, all investigations were performed on the specimens of the non-clonal neotype population of the original pond, taken from all of the three collected samples.
Live observations
Live ciliates were observed for morphological details using differential interference contrast (DIC) microscopy with a Leitz (Weitzlar, Germany) microscope at a magnification of 300–1250 × with the help of a compression device [26]. For examination of the swimming behavior, ciliates were observed in a glass depression slide (3 ml) under a dissection microscope (Wild M3, Switzerland) at a magnification of 12.5–50 ×.
Fixation and staining
Ciliates were fixed with Champy's solution [27] and then silver nitrate-stained according to Corliss, 1953 [28]. Feulgen staining procedure after fixation in Bouin's fluid [27] was used to reveal the nuclear apparatus.
Cell image capturing and measurements
Computer images were captured from appropriate preparations with a digital camera (Canon PowerShot S45), automatically saved as files during optical observation at a magnification of 500–1250 ×, and used to obtain measurements of living and fixed ciliates.
Schematic line drawings were based on micrographs of typical living and impregnated cells.
Electron microscopy
Scanning electron microscope (SEM) and transmission electron microscope (TEM) preparations were obtained as described in Modeo et al.[29] except for: 1. cell preservation in 2% (w/v) OsO4 in distilled water for SEM procedure; 2. use of 2.5% (v/v) glutaraldehyde in 0.1 M cacodylate buffer, pH 7.4, for TEM fixation.
Fluorescence microscopy
Fluorescence microscopy to check the possible autofluorescence of cells due to the presence of methanogenic symbionts was used [30, 31]. Specimens were fixed either in 4% (v/v) formaldehyde in PBS or in 2% (w/v) OsO4 in distilled water, and then observed at the following wavelengths: ~ 495 nm, ~ 550 nm, and UV, with both a Zeiss AxioPlan fluorescence microscope (Carl Zeiss, Oberkochen, Germany) equipped with a HBO 100W/2 mercuric vapor lamp, and a Leica DMR microscope (Leica, Switzerland) equipped with a Osram 50 W/AC L2 mercuric vapor lamp. With the latter microscope, computer images were captured from appropriate preparations by means of a dedicated software called IM1000, version 1.0.
To roughly classify ectosymbionts and possible endosymbionts harbored by S. vorax double fluorescence in situ hybridization (FISH) experiments were performed according to Ferrantini et al.[32]; the oligonucleotidic probes EUB338 5′-GCTGCCTCCCGTAGGAGT-3′[33], targeting most of Eubacteria, and Arc915R 5′-GTGCTCCCCCGCCAATTCCT-3′[34], specific for Archaea were used.
18S rRNA gene sequence obtainment
Approximately 50 organisms were individually harvested from the original sample and carefully washed three times in sterilized distilled water in order to minimize contaminations from the original medium. The washed cells were fixed in ethanol 70%. Total genomic DNA was isolated with the NucleoSpin™ Plant II DNA extraction kit (Macherey-Nagel) and stored at −20°C in aqueous solution.
A polymerase chain reaction (PCR) was performed with a Primus 96 plus thermal cycler (MWG-Biotech AG) employing the TaKaRa Ex Taq (TaKaRa Bio Inc.) (forward primer: 18S F9 Euk [35]; reverse primer: 18S R1513 Hypo [36]; annealing temperature: 50°C). The PCR products were sequenced in both directions using three internal primers as in Rosati et al.[37]. The three partially overlapping sequences were compared to each other and assembled.
Sequence availability and phylogenetic analyses
The characterized sequence is available under the accession number [EMBL: HF547270].
The 18S rRNA gene sequence of the ciliate was aligned against those available in the SILVA 108 database [38] using the Fast Aligner algorithm of the ARB software package [39]. The alignment was then manually edited in order to optimize base-paring in the predicted rRNA stem regions. For phylogenetic analyses, gaps were coded as a fifth character, while missing data were discarded. Columns containing only one non-gap character were also discarded. The final character matrix contained 40 sequences (29 from the class Plagiopylea and 11 from the class Prostomatea as outgroup) and 1345 columns. The evolutionary model that fits best the data was selected according to the AIC parameter as calculated by jModelTest [40, 41]. The TREE-PUZZLE [42] Likelihood Mapping function was employed in order to check the informational content of the data.
Phylogenetic analyses were performed with Maximum Likelihood (ML) and Bayesian Inference (BI) methods. The software PHYML [40] as provided by ARB was employed for ML, producing 1000 pseudoreplicates for bootstrapping. MrBayes 3.1.2 [43] was employed for BI, using three different runs with one cold and three heated chains each, running for 1,000,000 generations.
The tree topology was also compared against those obtained from modified character matrices. These were generated: (1) retaining only columns with at least one non-gap character conserved in at least 30% of the sequences (modified matrix 1); (2) additionally deleting all columns containing gaps (modified matrix 2); (3) removing the sequences of uncultured organisms (modified matrix 3).
Results
General morphology
Cells are ovoid-ellipsoid in shape with anterior and posterior ends almost equally curved (Figures 
1
,
2
B,
3
A,
3
B,
4
,
5
B,
5
D). The body is dorsoventrally flattened.
In vivo
dimensions are ~ 100–150 × 50–75 μm (130 × 69 μm on average); dimensions after fixation in Champy's solution are ~ 80–130 × 45–70 μm (~ 113 × 65 μm on average) (Table 
1
). After SEM treatment, cell dimensions are ~ 89 × 42 μm on average (Figures 
5
A,
5
B). The cell surface is uniformly ciliated with 45–62 somatic ciliary rows (~ 54 on average). On the dorsal side 25–31 rows (~ 28 on average) run parallel to each other extending to the posterior end of cell (Figures 
3
B, 4B, 5B). The dorso-lateral striated band at the right cell margin is visible with DIC microscope as well as on impregnated specimens, arising near the right side of the oral cavity cleft and terminating near the posterior end of the cell (Figures 
3
B,
4
). This structure, that can be considered as a border between dorsal and ventral sides (Figures 
1
A,
1
D,
3
A,
3
B,
3
D,
4
), is ~ 2 μm high at SEM, with ~ 0.5 μm-spaced out, ridge-like lamellae ~ 0.15 μm in thickness each (Figure 
5
F). A single contractile vacuole, apparently without collecting canals, is located in the posterior part of cell and opens on the dorsal side (Figure 
1
E); its pore was not clearly impregnated with silver staining procedure.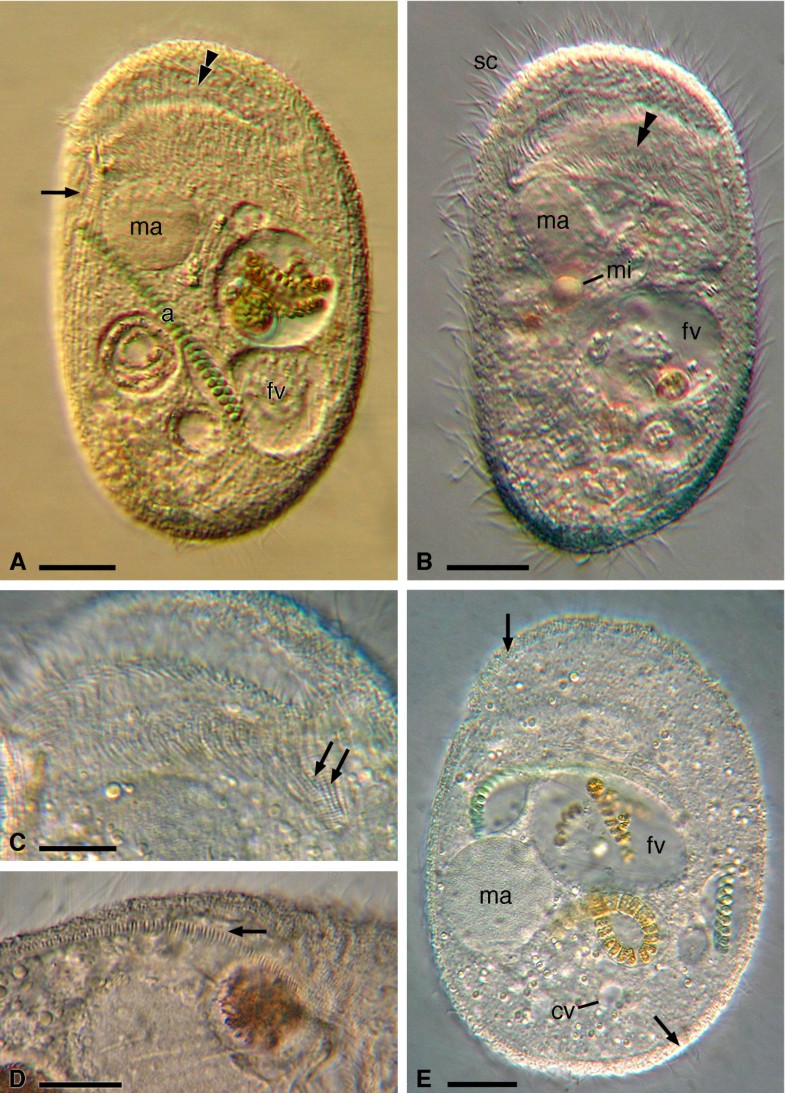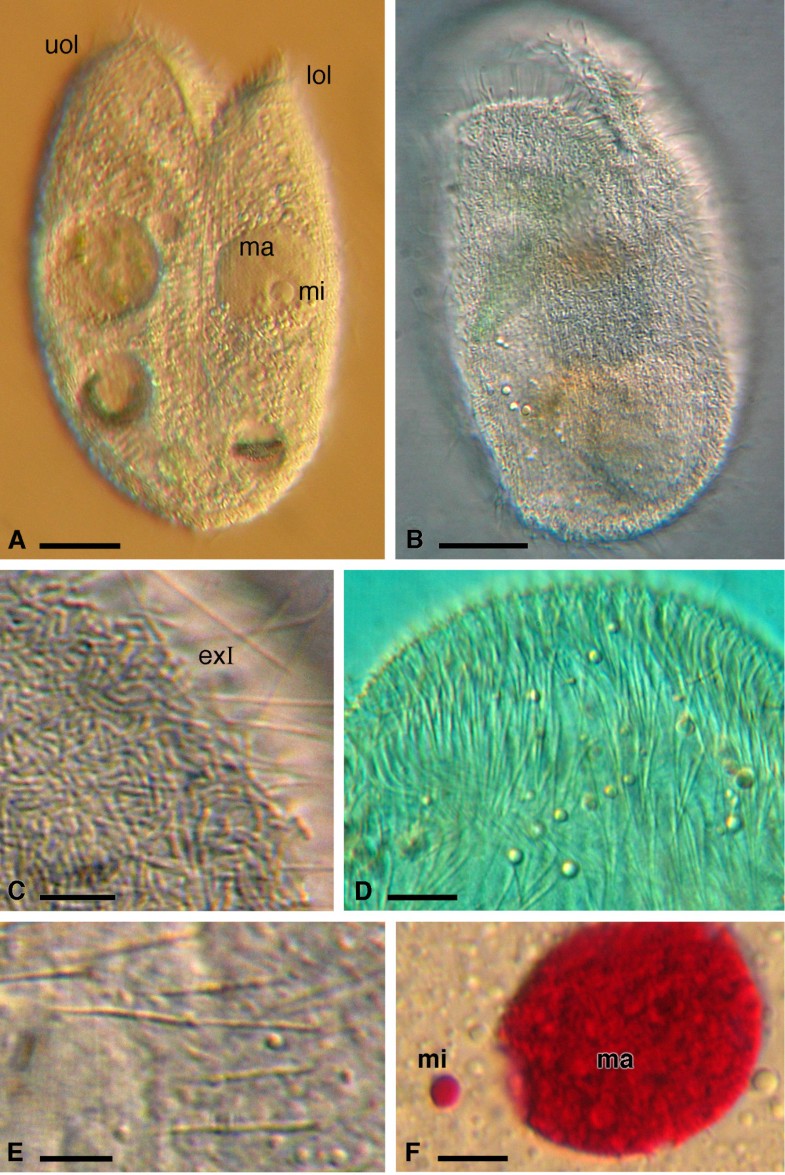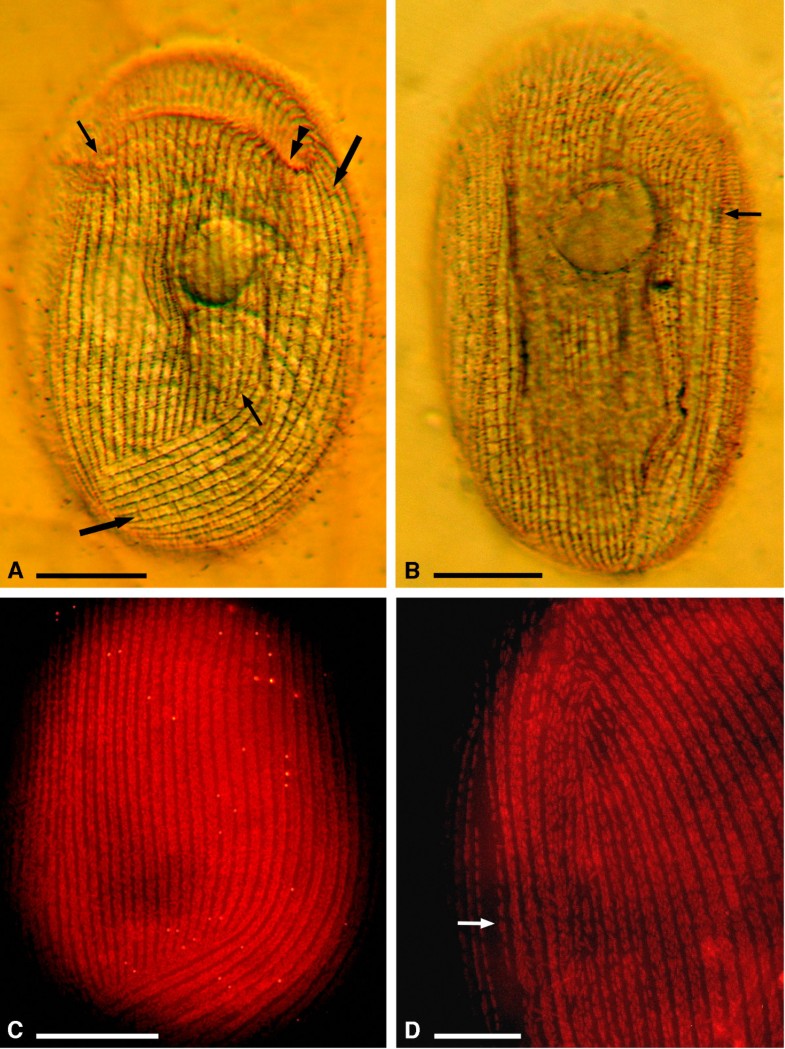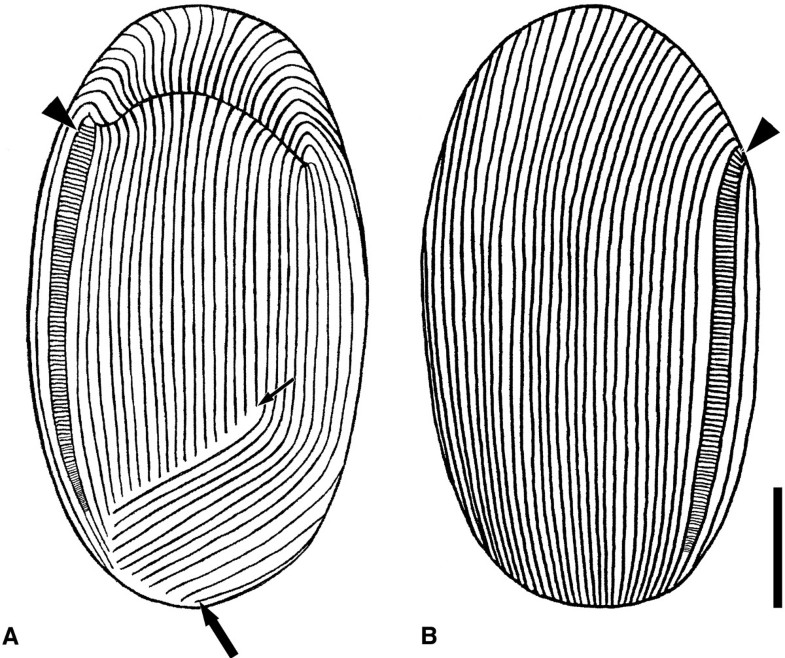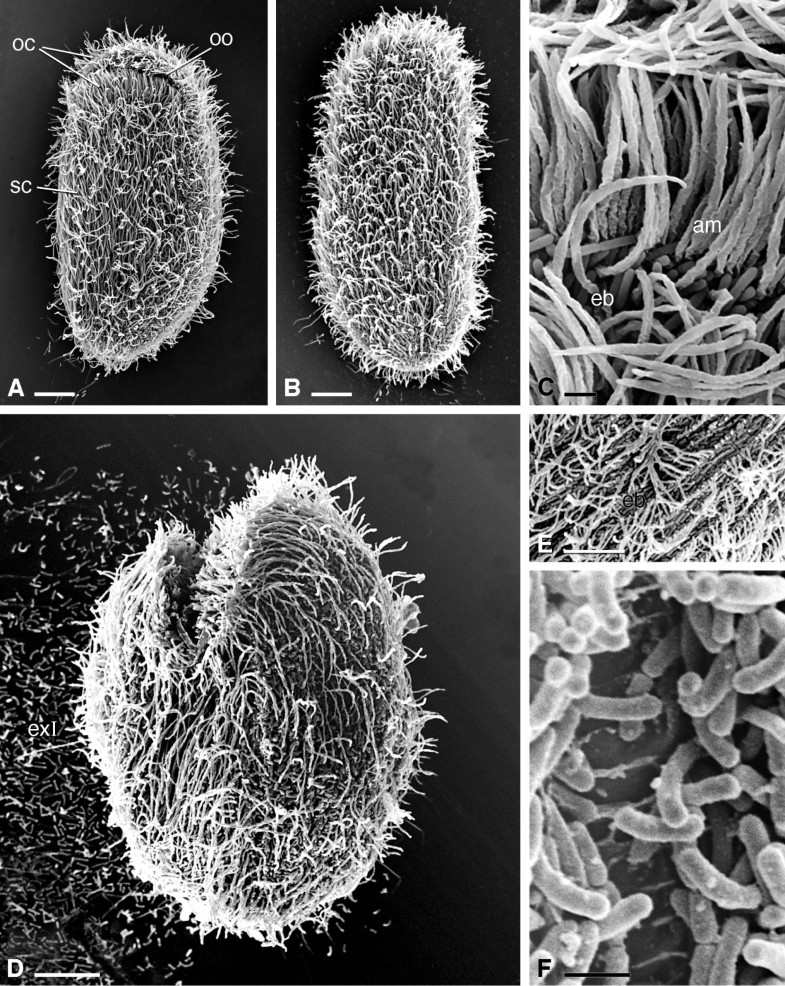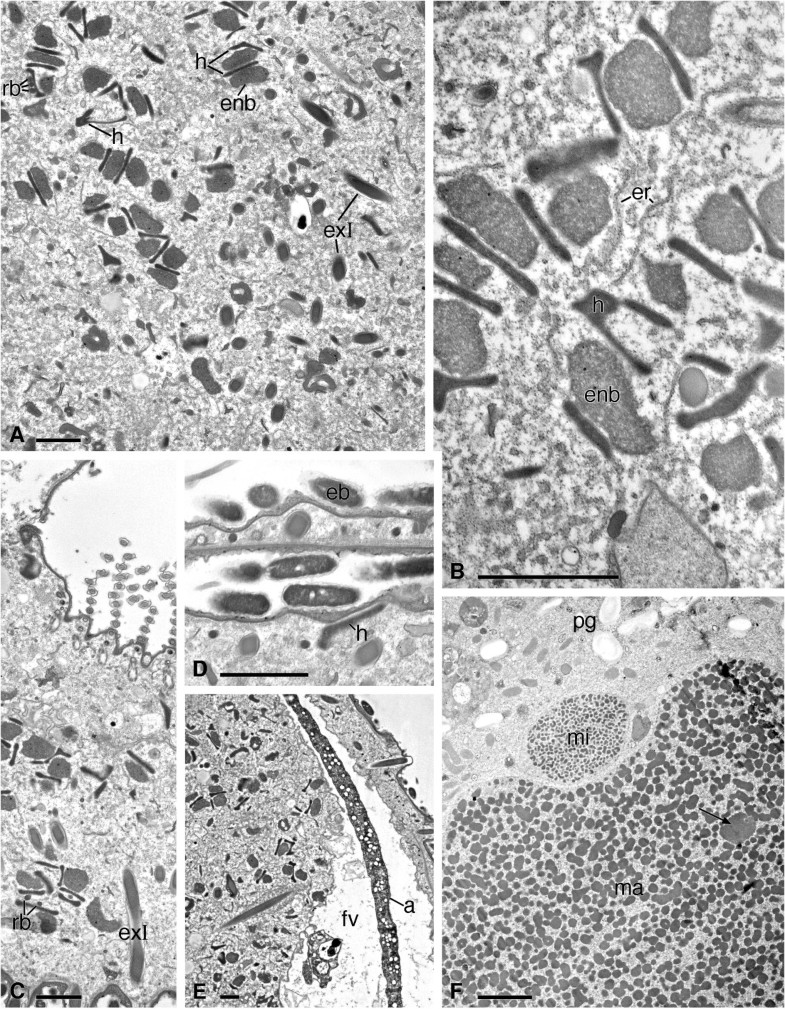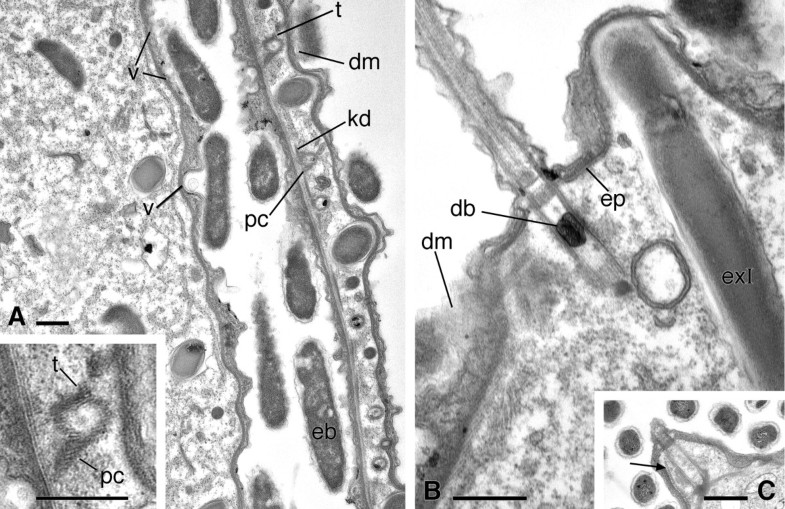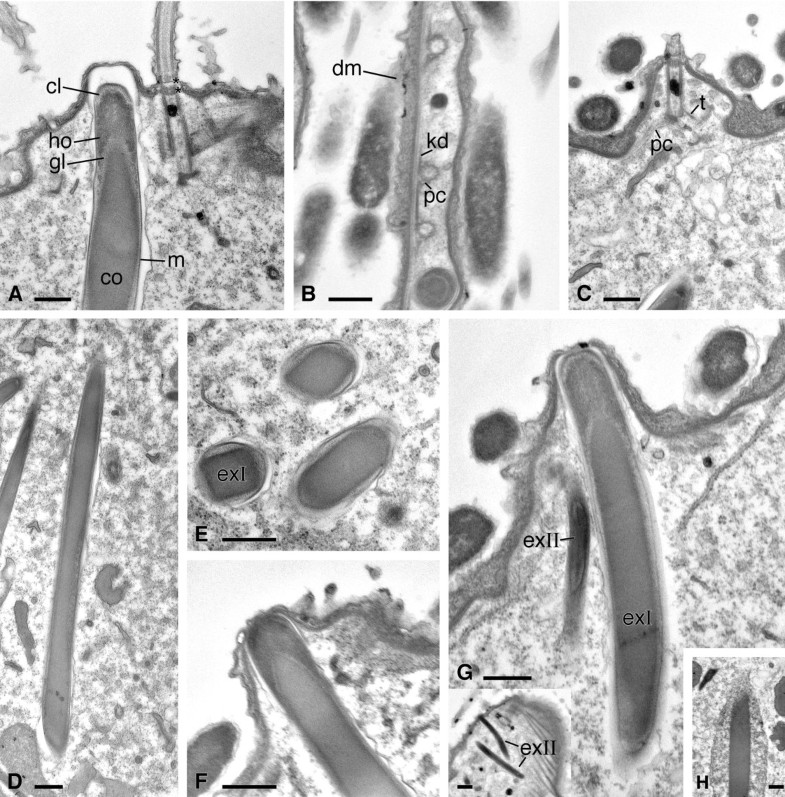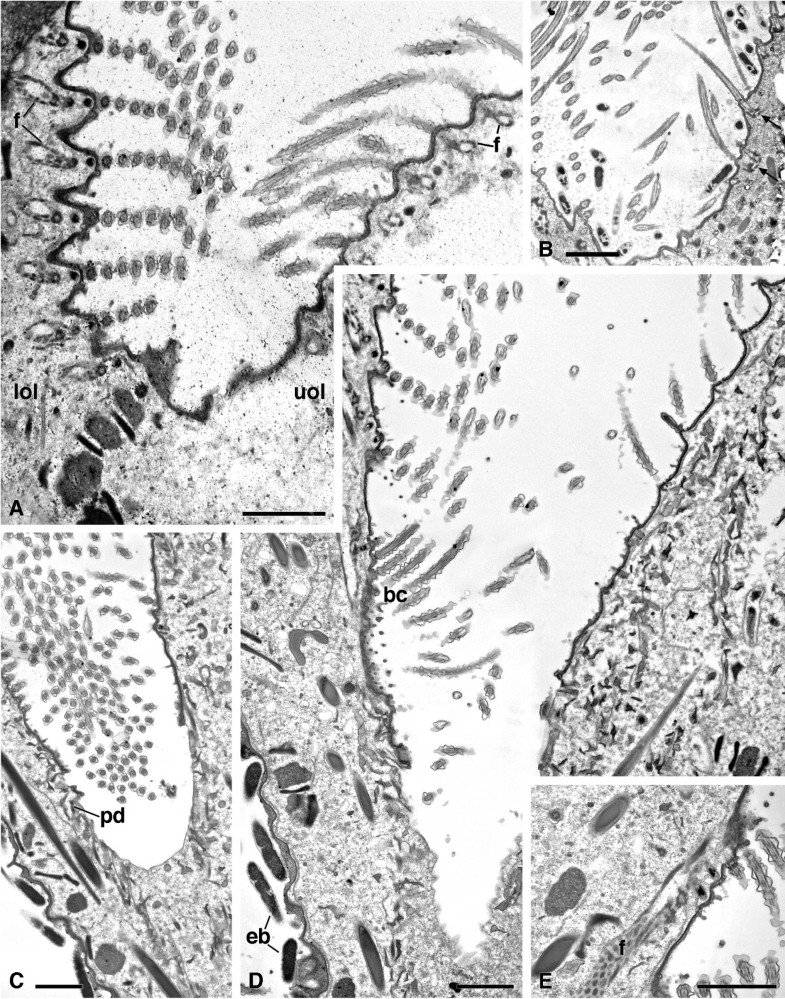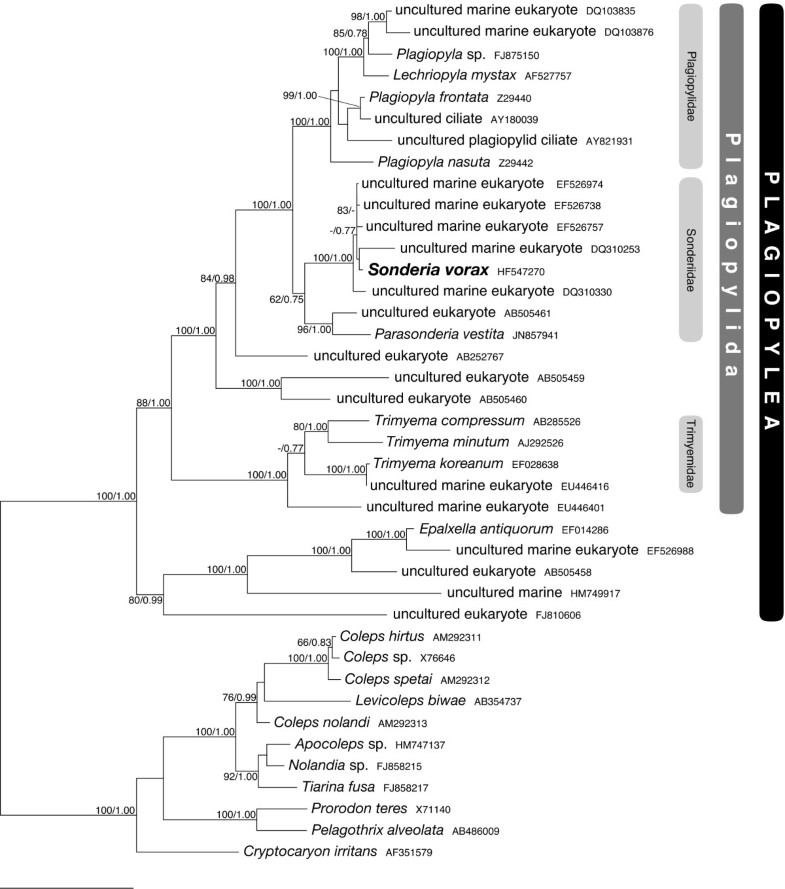 Table 1
Morphometric characterization of Sonderia vorax Kahl, 1928
| Characteristics | Min | Max | Mean | SD | CV | n |
| --- | --- | --- | --- | --- | --- | --- |
| Body, length | 80 | 130 | 113.1 | 12.5 | 11.0 | 12 |
| Body, width | 45 | 70 | 64.9 | 5.4 | 8.3 | 12 |
| Somatic ciliary rows (dorsal), number | 25 | 31 | 28.3 | 2.6 | 9.2 | 17 |
| Somatic ciliary rows (ventro-frontal), number | 12 | 18 | 17.1 | 2.4 | 14.0 | 14 |
| Somatic ciliary rows (ventro-lateral), number | 8 | 13 | 11.4 | 1.8 | 15.8 | 11 |
| Somatic ciliary rows (general), number | 45 | 62 | 54.0 | 4.13 | 7.75 | 20 |
| Prebuccal kineties (upper oral lip), number | 25 | 30 | 27.6 | 2.05 | 7.4 | 3 |
| Postbuccal kineties (lower oral lip), number | 18 | 20 | 19.0 | 1.0 | 5.3 | 3 |
| Macronucleus, length | 25 | 35 | 32.5 | 3.7 | 11.4 | 15 |
| Macronucleus, width | 22 | 34 | 27.0 | 2.7 | 10.0 | 15 |
| Micronucleus, number | 1 | 1 | 1 | 0 | 0 | 20 |
| Micronucleus, diameter | 5.0 | 6.0 | 5.4 | 0.3 | 5.5 | 20 |
On the ventral side, the oral cavity opening is subapically located as a cleft orientated perpendicularly to the main body axis (Figures 1A, 1B, 3A, 5A). The oral ciliature arises from and is in continuity with the somatic ciliature (Figures 5A, 5C). It runs on the dorsal side (upper oral lip) at first perpendicularly to the front of oral cleft; then, it deviates under some angle to the left reaching the oral cavity's deepest point (Figures 1A, 1C). The oral ciliature of the lower oral lip consists of kineties perpendicularly inserted with respect to the upper oral lip kineties and forms single ciliary rows with a membranelle-like appearance at SEM (distance between two ciliary rows: ~ 0.3 μm; length of cilia: ~ 5 μm) (Figure 5C). The oral ciliature is represented by 25–30 prebuccal (on the upper oral lip) and 18–20 postbuccal (on the lower oral lip) densely packed kineties. The depth of oral cavity is always not more than 1/3 of body length. On the ventral side, the ciliate kinetom (20–31 ciliary rows, ~ 28 on average) consists of two distinct parts: the ventro-lateral kineties (8–13 ciliary rows, ~ 11 on average), which are continuous along the cell body, and the ventro-frontal kineties (12–18 ciliary rows, ~ 17 on average), which are not continuous (Figure 4A); they start after the membranelle-like ciliary rows and end posteriorly where they meet the left ventro-lateral kineties, forming the so-called ventral secant system [9]; 4–5 rows of the latter group start from the left margin of oral cleft (Figures 3A, 4A).
Many ~ 20 μm long, slightly curved, needle-shaped extrusomes are present in the cortex (Figures 2C-E). They are mainly distributed around the oral cavity opening, but can be found in any part of the cortex and in the cytoplasm. During ejection they appear as long filaments (length at SEM: ~ 17 μm) (Figure 5D). A single quite large micronucleus (diam: 5.4 μm on average) of the compact type is situated nearby or inside the depression of the almost spherical macronucleus (27 × 32.5 μm on average) (Figure 2F). The cell surface is covered by a layer of slightly curved, rod-shaped ectosymbiotic bacteria (size at SEM: ~ 1.5-3.0 × 0.3-0.5 μm), arranged in parallel rows along interkinetal spaces (interkinetal space thickness at SEM: ~ 2.3 μm) (Figures 1E, 3C, 3D, 5C, 5E) except for striated band (Figures 3D, 5F). At SEM observation no gelatinous or mucous coating between the layer of bacteria and ciliate surface was detected (Figure 5).
Notes of behavior
Specimens of Sonderia vorax rotate on the main body axis always anticlockwise (i. e. cells are left spiral swimmers). This species inhabits brackish water sites with oxygen deficiency (oxygen level 1–7%) and is mainly a consumer of diatoms and other algae.
Fluorescence microscopy observation
Cells observed after treatments do not autofluoresce (data not shown). Neither endo- nor ectosymbiotic bacteria are labeled by archeal specific probe Arc915R (data not shown). Ectosymbionts are marked by the universal eubacterial probe EUB338 (Figures 3C, 3D): since they cover most of the cell surface, it is not possible to discriminate signals arising from endosymbionts possibly labelled by the same probe.
Phylogenetic analysis
The ML tree is shown in Figure 10. With one significant exception discussed below, the topology of the ingroup is almost identical in all trees calculated.
Inside class Plagiopylea, the clade containing Epalxella antiquorum (Odontostomatida, Epalxellidae) and four related environmental sequences is the sister group of a major cluster containing all the taxa of the order Plagiopylida. These are distributed in the Trimyemidae clade with three morphospecies of the genus Trimyema, the Plagiopylidae clade including the genera Plagiopyla (non monophyletic) and Lechriopyla, and the Sonderiidae clade with the sequences of S. vorax and Parasonderia vestita. All the aforementioned clades also include environmental sequences from freshwater and marine environments, either suboxic or anoxic. The five sequences most closely related to that of S. vorax were obtained from the supersulfidic and anoxic Framvaren Fjord (Norway).
The monophyly of the families Plagiopylidae and Trimyemidae is well supported. The status of family Sonderiidae is more dubious. It appears monophyletic when trees are calculated either on the unmodified character matrix or the modified matrix 1, although with low statistical support (62/0.75 and 60/0.75 respectively); the support is higher (97/1.00) when sequences from uncultured organisms are discarded (modified matrix 3). In trees calculated on the modified matrix 2, the P. vestita sequence and the closely related environmental sequences AB505461 cluster with Plagiopylidae instead, again with low support (72/0.76).
Conclusions
In the present paper we redescribed and neotypified the plagiopylid ciliate Sonderia vorax from a brackish water pond along the Italian coastlines. By means of the applied multidisciplinary analytical approach, more familiarity with the typical features of this poorly-known ciliate was gained. Moreover, in the light of the comparison between our findings and the scarce available literature on the order Plagiopylida, some previous systematics interpretations concerning this taxon were confirmed and some difficulties and ambiguities in the classification became as well evident. Our data significantly contribute to the general understanding of the overall diversity of the Plagiopylida. Nevertheless, it still remains a largely unexplored ciliate order: multidisciplinary analytical studies from a larger number of representatives are needed to clarify the phylogenetic relationships within this group.
Diagnosis
Sonderia voraxKahl, 1928
1928 Sonderia vorax – Kahl, Archiv Hydrobiol 19:93–95, Figs 20a-c. [1]
1931 Sonderia vorax – Kahl, Tierwelt Dtl 21:269, Fig. 14. [11]
1934 Sonderia vorax – Kirby, Archiv Protistenknd 82:116. [7]
1969 Sonderia vorax – Fenchel, Ophelia 6:1–182. [6]
1972 Sonderia vorax – Borror, Acta Protozool 10:29–71. [2]
1992 Sonderia vorax – Carey, Marine Interstitial Ciliates 103–104, Fig. 359. [76]
Diagnosis of neotype material
Body dimensions in vivo: ~ 130 × 69 μm (on average). Outline body shape ovoid-ellipsoid with rounded ends, flattened up. On average 56 ciliary rows with ventral kinetom differentiated into two parts (ventral secant system): the ventro-frontal part (~ 17 rows on average) which breaks off posteriorly where it meets from the left the continuous ventro-lateral part (~ 11 rows on average at the ventral surface left). Kineties composed of monokinetids placed at the top of cortical ridges. Depth of oral cavity never more than 1/3 of body length. Oral ciliature arising in continuity with somatic ciliature; oral ciliature of the lower oral lip (18–20 postbuccal rows) consists of kineties perpendicularly inserted with respect to the upper oral lip kineties (25–30 prebuccal rows) and forms single ciliary membranelle-like rows. Dorso-laterally striated band arising near the right side of oral cavity and terminating near cell posterior end. A number of long needle-shaped extrusomes in body cortex visible under light microscope; a second smaller type visible only by TEM. A single contractile vacuole in the posterior part of the dorsal side of the cell. One quite large micronucleus of the "compact" type situated in the depression of the nearly spherical macronucleus. Different hydrogenosomes-endosymbiotic bacteria assemblages distributed throughout the cytoplasm, often in the neighbourhood of endoplasmic reticulum elements. Cell surface completely covered except for striated band by a layer of slightly curved, rod-shaped ectosymbiotic bacteria, arranged in parallel rows along interkinetal spaces. The ciliate rotates about main body axis always anticlockwise (left spiral swimming) and inhabits brackish water sites with oxygen deficiency (level 1-7%).
Neotypification and neotype material
No useable type material (type or voucher slides) is available so far from any of Sonderia vorax populations [15, 17]. The original description [1] is incomplete and apparently based on living observations only. Thus, it seems wise to define S. vorax by the designation of a neotype [77, 78]. Validation of the neotype according to Article 75.3 of the ICZN [77] is justified by the following particulars: (i) the systematic status of S. vorax (it was considered as valid species after Kahl [1], but the description has never been improved according to a modern set of morphological methods); (ii) the differences between S. vorax and related taxa (see Discussion and Table 2); (iii) the neotype specimens (Figures 3A, 3B) representing neotype population from the Ligurian coastline pond (Pisa district, Tuscany, Italy) are described in details (see above); thus, recognition of the neotype designated is ensured; (iv) it is generally known that no type material is available from species described by Kahl; (v) there is strong evidence that the neotype is consistent with S. vorax as originally described by Kahl [1]; (vi) however, the neotype does not come from a site very near to the original type locality (Oldesloe salt marshes, Hamburg region, Germany). Neotype population of the ciliate was found in the middle part of Ligurian Sea (coastline pond nearby Serchio river mouth, Tuscany, Italy), roughly distance: ~ 1000 km; however, both sites are brackish water. Most ciliates, especially marine ones, are cosmopolitans [79], hence this point should not be over-interpreted. A detailed description of the new type locality, that is the sample site of the neotype population, is given in Material and Methods; (vii). One neotype slide of silver nitrate-impregnated specimens (slide № S-11), collected from the pond in Ligurian coastline, Pisa district, Tuscany, Italy, (sampling date 05 October 2005; collector S. I. Fokin), one permanent Feulgen staining preparation (slide № S-17), and Epon-embedded material for TEM investigation have been deposited in the collection of the Museo di Storia Naturale e del Territorio dell'Università di Pisa, Calci (PI), Italy. Two further neotype slides of silver nitrate-impregnated specimens (slides № S-12 and S-14) have been deposited in the slide collection of the Laboratory of Invertebrate Zoology, Biological Research Institute, St. Petersburg State University, St. Petersburg, Russia.
Neotype locality
Owing to the neotypification, the sampling site of the neotype population is the new (valid) type locality of Sonderia vorax: brackish water pond along the coastline of Ligurian Sea close to Serchio River mouth (Pisa district, Tuscany, Italy; 43°47′16″N, 10°16′02″E).
Etymology
The derivation of the species-group name is in the original description by Kahl [1].
Gene sequence
The 18S rRNA gene sequence of S. vorax is available under the accession number [EMBL: HF547270].
Abbreviations
SEM:

Scanning electron microscope/Microscopy
TEM:

Transmission electron microscope/Microscopy
FISH:

Fluorescence in situ hybridization
PCR:

Polymerase chain reaction.
Declarations
Acknowledgments
This research was partly supported by a grant from the Italian Ministry of University and Research – MIUR (Ministero Italiano dell'Università e della Ricerca) to S. I. Fokin.
The authors wish to thank S. Gabrielli for technical assistance with photographic work.
Authors' Affiliations
(1)
Unit of Protistology-Zoology, Department of Biology, University of Pisa, Pisa, Italy
(2)
Department of Invertebrate Zoology, St. Petersburg State University, Petersburg, Russia
Copyright
© Modeo et al.; licensee BioMed Central Ltd. 2013
This article is published under license to BioMed Central Ltd. This is an Open Access article distributed under the terms of the Creative Commons Attribution License (http://creativecommons.org/licenses/by/2.0), which permits unrestricted use, distribution, and reproduction in any medium, provided the original work is properly cited.