Research article
Open Access
Bacillus safensis FO-36b and Bacillus pumilus SAFR-032: a whole genome comparison of two spacecraft assembly facility isolates
BMC Microbiology
2018
18:57
Received: 15 February 2018
Accepted: 18 May 2018
Published: 8 June 2018
Abstract
Background
Bacillus strains producing highly resistant spores have been isolated from cleanrooms and space craft assembly facilities. Organisms that can survive such conditions merit planetary protection concern and if that resistance can be transferred to other organisms, a health concern too. To further efforts to understand these resistances, the complete genome of Bacillus safensis strain FO-36b, which produces spores resistant to peroxide and radiation was determined. The genome was compared to the complete genome of B. pumilus SAFR-032, and the draft genomes of B. safensis JPL-MERTA-8-2 and the type strain B. pumilus ATCC7061T. Additional comparisons were made to 61 draft genomes that have been mostly identified as strains of B. pumilus or B. safensis.
Results
The FO-36b gene order is essentially the same as that in SAFR-032 and other B. pumilus strains. The annotated genome has 3850 open reading frames and 40 noncoding RNAs and riboswitches. Of these, 307 are not shared by SAFR-032, and 65 are also not shared by MERTA and ATCC7061T. The FO-36b genome has ten unique open reading frames and two phage-like regions, homologous to the Bacillus bacteriophage SPP1 and Brevibacillus phage Jimmer1. Differing remnants of the Jimmer1 phage are found in essentially all B. safensis / B. pumilus strains. Seven unique genes are part of these phage elements. Whole Genome Phylogenetic Analysis of the B. pumilus, B. safensis and other Firmicutes genomes, separate them into three distinct clusters. Two clusters are subgroups of B. pumilus while one houses all the B. safensis strains. The Genome-genome distance analysis and a phylogenetic analysis of gyrA sequences corroborated these results.
Conclusions
It is not immediately obvious that the presence or absence of any specific gene or combination of genes is responsible for the variations in resistance seen. It is quite possible that distinctions in gene regulation can alter the expression levels of key proteins thereby changing the organism's resistance properties without gain or loss of a particular gene. What is clear is that phage elements contribute significantly to genome variability. Multiple genome comparison indicates that many strains named as B. pumilus likely belong to the B. safensis group.
Keywords
Planetary protection Bacillus endosporesExtreme radiation resistancePeroxide resistanceGenome comparisonPhage insertions
Background
Microbial persistence in built environments such as spacecraft cleanroom facilities [1–3] is often characterized by their unusual resistances to different physical and chemical factors [1, 4–7]. Consistently stringent cleanroom protocols under planetary protection guidelines over several decades [1, 8–12], have created a special habitat for multi-resistant bacteria, many of which have been isolated and identified [13–19]. The potential of many of these isolates to possibly survive interplanetary transfer [2, 20–24] raises concern of potential forward and backward bacterial contamination. Understanding the survival mechanisms employed by these organisms is the key to controlling their impact on exobiology missions. In addition, their occurrence in the closed environments of the International Space Station, (ISS), could possibly impact the living conditions there as well [1–3, 25–27].
Two of the most studied organisms in the specialized econiches of spacecraft assembly facilities and the ISS are B. safensis FO-36bT [28] (referred to as FO-36b henceforth) and B. pumilus SAFR-032 [16] (referred to as SAFR-032). These organisms are representative strains of the endospore producing Bacillus sp. [13, 16, 29–33]. Both strains produce spores that exhibit unusual levels of resistance to peroxide and UV radiation [24, 29, 34] that far exceed that of the dosimetric B. subtilis type strain (B. subtilis subsp. subtilis str. 168, referred to as BSU) [35]. A third strain, B. safensis MERTA-8-2 (referred to as MERTA), was initially isolated from the Mars Odyssey Spacecraft and associated facilities at the Jet Propulsion Laboratory and later also found on the Mars Explorer Rover (MER) before its launch in 2004. It has been reported that this strain actually grows better on the ISS than on Earth [36]. However, the resistance properties of its spores have not been directly tested. A recent phylogenetic study of 24 B. pumilus and B. safensis strains, found FO-36b, and MERTA clustered together in a distinct group of B. safensis strains [37].
Previously a draft genome of FO-36b with as many as 408 contigs (https://www.hgsc.bcm.edu/microbiome/bacillus-pumilus-f036b) was compared to SAFR-032 and the type strain B. pumilus ATCC7061T [38, 39] (referred to as ATCC7061). This comparison identified several genes and a mobile genetic element in SAFR-032 that may be associated with the elevated resistance [39]. Since this previous study was completed, minor corrections to the SAFR-032 gene order were made and the annotation was updated [40]. In addition, a draft genome of MERTA was reported [41]. Herein, we now report a complete genomic sequence for FO-36b and the results of a detailed comparison of these four genomes.
Results
Unique and characteristic genes
Genes are considered to be characteristic if they are present in FO-36b, but absent in the other three organisms examined here. Unique genes are those that are not only absent in the other three genomes, but have not yet been found in any other genome. Three hundred seven ORFs found in FO-36b are not shared by SAFR-032. Sixty five of these ORFs did not have homologs in the genomes of ATCC7061 or MERTA and are therefore considered characteristic (Table
1
). Although most are open reading frames that code for hypothetical proteins, six genes suggest that FO-36b has a CRISPR system. The likely presence of a CRISPR system is shared by 5 other
B. safensis
genomes and 8 other
B. pumilus
genomes (Additional file
2
: Table S2). Among the 49 hypothetical protein coding ORFs, 26 are predicted to be part of phage element(s).
Table 1
List of B. safensis FO-36b genes not shared by B. pumilus SAFR-032, B. pumilus ATCC7061T and B. safensis JPL_MERTA8-2
Locus tag RS87_#

Gene

Function

01590

02635-40

02695-700

02960

03370

03615-20

04125

04345

06055a

09165

09820a

12770a

14125-30

14140

14150a

15275a

17540

18710

18745

18755-60

HP (25)

02980

02995

03000

03010

03030-35

03050a

03065

03075-095

03110

03125

03195-200

03220

14285

14395

14400

14310a

14320a

14410

HP on phages (24)

03215 (ps)

Pseudogene (on phage) (1)

Locus tag RS87_#

Gene

Function

03015

recombinase RecT

DNA repair/recombination (2)

03060

dUTPase

03190

alkaline phosphatase

Phage element components (2)

03210

phage tail protein

03225

protein XhlA

04350

CRISPR module RAMP protein Cmr1

Type III-B CRISPR element components (6)

04355

CRISPR-associated protein Cas10/Cmr2

04360

CRISPR module-associated protein Cmr3

04365

CRISPR module RAMP protein Cmr4

04370

CRISPR module-associated protein Cmr5

04375

CRISPR module RAMP protein Cmr6

09105

protein IolH

Metabolism (4)

09130

5-deoxy-glucuronate isomerase

09150

isomerase

09160

myo-inosose-2 dehydratase
The analysis was extended to all available genomes of
B. safensis
(
https://www.ncbi.nlm.nih.gov/genome/genomes/13476
) and
B. pumilus
(
https://www.ncbi.nlm.nih.gov/genome/genomes/440
). Nine ORFs/genes classified as FO-36b characteristic are absent from all the
B. safensis
and
B. pumilus
genomes available in the NCBI database. These nine genes are totally unique to FO-36b with no homologs in the entire NR/NT databases (Table
2
). Four of these are part of predicted phage elements. In addition, there are four genes with fewer than five homologs found in other
B. pumilus
/
B. safensis
genomes (Table
3
). Overall 217 SAFR-032 ORFs are not shared by
B. safensis
FO-36b. Sixty three of the 65 FO-36b characteristic ORFs are absent in 28 of the 61 total
B. safensis, B. pumilus,
and
Bacillus sp
. WP8 genomes. Eighteen are absent in all the
B. safensis
genomes, while 15 are not found in any of the
B. pumilus
genomes (Additional file
3
: Table S3).
Table 2
B. safensis F0-36b unique genes
Locus tag RS87_#
03140a
09820
12770
14110
14145
14150
14155a
14285a
14310a
Table 3
B. safensis FO-36b genes (hypothetical proteins) with fewer than 5 homologs
Locus tag RS87_#

03030 a

only four homologs in B. safensis U41 (GCA_001938685.1), B. safensis U17–1 (GCA_001938705.1), B. pumilus CCMA-560 (GCA_000444805.1), and, B. pumilus strain 36R_ATNSAL (GCA_002744245.1).

03050 a

only one homolog in B. pumilus strain 36R_ATNSAL (GCA_002744245.1).

03110

only two homologs in B. safensis 7783 (GCA_002276315.1), and, B safensis Bcs96 (GCA_002155005.1).

04125

only one homolog in B. pumilus PE09–72 (GCA_002174275.1).
Genes shared by FO-36b, SAFR-032, and MERTA but missing in ATCC7061
We had earlier reported that a total of 65 genes that were shared by SAFR-032 and FO-36b, were not found in the ATCC7061 strain [38]. Because they correlate with the presence or absence of resistance, these genes are of potential interest. A re-analysis of this list of genes extending to the MERTA strain showed that 59 of these genes are indeed shared by the MERTA strain as well (Additional file 4: Table S4). All of these genes are shared by at least several of the available 61 B. pumilus, B. safensis and Bacillis sp. WP8 draft genomes. However, since the resistance properties of these organisms have typically not been examined, it is not immediately possible to determine if the correlation can be extended to these strains.
Antibiotic resistance loci in the genomes
The four genomes showed vast differences in the number of antibiotic resistance related mutations that were identified by the CARD [71] search. FO-36b, SAFR-032, MERTA and ATCC7061 had 670, 587, 317, and 495 mutations respectively. BSU comparatively had 861 such mutations. All the four genomes share "cat86", which is a chromosome-encoded variant of the cat gene found in Bacillus pumilus [72], belonging to the AMR (antimicrobial resistance) gene gamily of chloramphenicol acetyltransferase (CAT).
Phylogenetic analysis
Previous efforts to define the phylogenetic relationship between various
B. safensis
and
B. pumilus
strains relied on 24 genomes including the unpublished draft sequence (ASJD00000000) of
B. safensis
. Comparing this earlier version with our updated corrected sequence assembly using Mauve shows our version differs considerably (Additional file
5
: Figure S1). Given this and the large number of additional draft genomes, it was concluded that a re-analysis would be appropriate. Whole Genome Phylogenetic Analysis and Genome-genome distance analysis were used to examine relationships among the strains. The results of the WGPA are shown in Fig.
8
, while the GGDC results are given in Additional file
1
: Table S1. The phylogenetic trees are consistent with the earlier work (38). Two large clusters are seen. The first consists primarily of strains of
B. pumilus
with no
B. safensis
strains included. The first major cluster is itself broken into two large sub clusters, the first one of which includes both SAFR-032 and ATCC7061. The second sub cluster includes strains from the
B. altitudinis
complex (
https://www.ncbi.nlm.nih.gov/Taxonomy/Browser/wwwtax.cgi?id=1792192
), as well as other strains recently reported to be
B. pumilus
. The second major cluster consists primarily of
B. safensis
isolates but does include several likely misnamed
B. pumilus
strains too. This latter cluster includes both the FO-36b and the MERTA8-2 strains.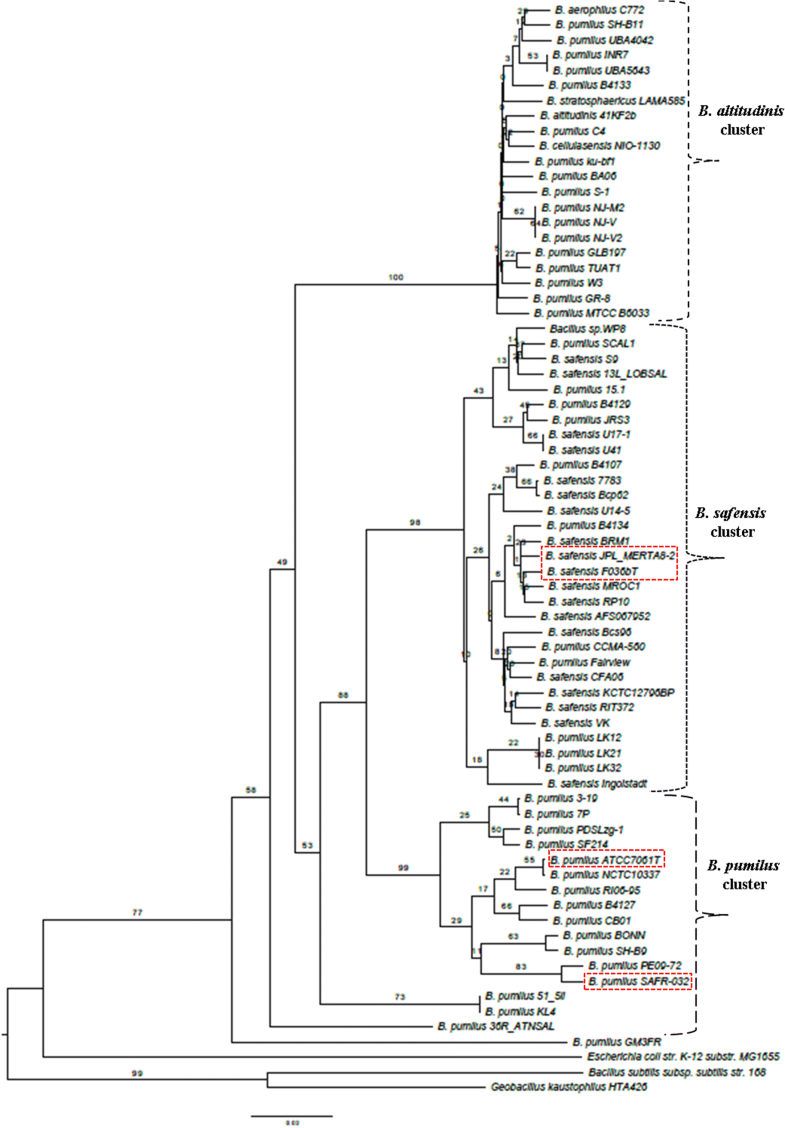 To further ascertain this observation, a maximum likelihood tree was obtained for the gene
gyrA
(Fig.
9
), which further supports the WGPA and GGDC analysis. Alternative tree constructions of
gyrA
are provided as Additional files
6
and
7
: Figures S2 and S3.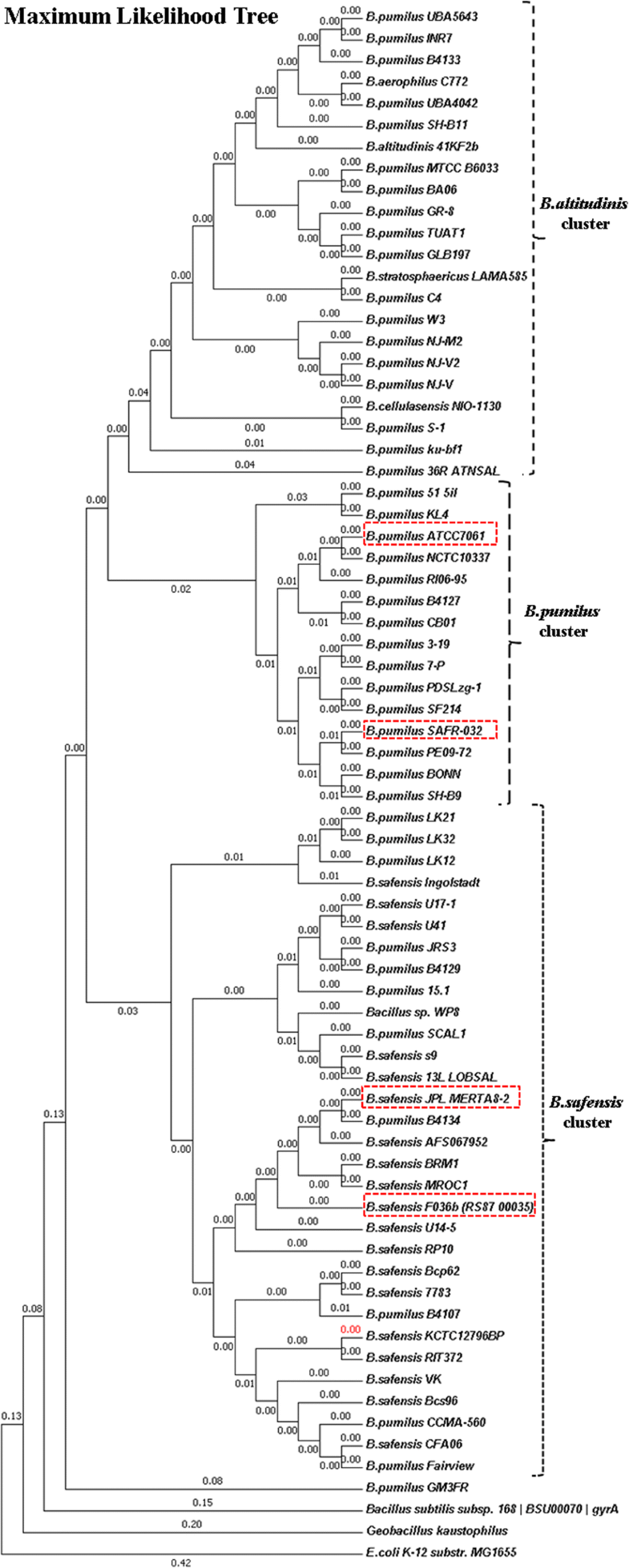 Discussion
If there is a single group of genes accounting for the elevated spore resistances seen in various strains of B. pumilus and B. safensis then the relevant genes should be shared by all three strains examined here but absent in the type strain. The fact that the extent of resistance and type of resistance (radiation, desiccation etc.) varies suggests there may not be a single set of genes involved. In any event, the distinctions in resistance seen may occur due to regulatory differences resulting in key genes associated with resistance being expressed at different levels or for different times [73–75]. Although not correlated with resistance information, it is of interest that in FO-36b, there is a dUTPase and a DNA recombinase gene included in the Bacillus bacteriophage SPP1 (NC_004166.2) homologous region.
Conclusions
A recent report [105] has implicated that the opposing effects of environmental DNA damage and DNA repair result in elevated rates of genome rearrangements in radiation-resistant bacteria that belong to multiple, phylogenetically independent groups including Deinococcus. This view is not consistent with the four genomes examined in detail here as few arrangements are observed. Comparison with earlier results [38, 39] did not yield anything new and thus although candidates continue to exist, no specific gene has been identified as likely being responsible for the resistances exhibited by these organisms. The differences in resistance properties can easily be attributed to changes in expression level but of what gene or genes? With a larger phylogenetic tree now available, it should be possible to select a representative subset of strains for further resistance studies as well as sequencing.
Abbreviations
ATCC7061:

B. pumilus ATCC7061T
BSU:

B. subtilis subsp. subtilis str. 168
FO-36b:

B. safensis FO-36bT (Genbank Accession no: CP010405)
MERTA:

B. safensis JPL-MERTA-8-2
SAFR-032:

B. pumilus SAFR-032
Declarations
Acknowledgements
The authors acknowledge the use of the Maxwell/Opuntia Cluster and the advanced support from the Center of Advanced Computing and Data Systems at the University of Houston to carry out the research presented here. The authors would also like to thank Dr. Jan Meier-Kolthoff, Department of Bioinformatics, Leibniz Institute DSMZ (German Collection of Microorganisms and Cell Cultures), Inhoffenstraße 7 B, 38124 Braunschweig, Germany, for help with the Whole Genome Phylogenetic Analysis. This work was supported in part by NASA Grant NNX14AK36G to GEF.
Funding
This work was funded in part by NASA Grant NNX14AK36G to GEF. Discussions relating to the NASA project led to this work and provided resources for the design of the study, and writing of the manuscript.
Availability of data and materials
The datasets used and analyzed within the current study are available from the NCBI Website as referenced in the paper. The sequence of the B. safensis FO-36b strain was deposited with the NCBI/Genbank under accession number CP010405.
Authors' contributions
KV, VGS, and GEF conceived and designed the study. MRT annotated and curated the annotated genome, analyzed the data, performed the comparative genome analysis. SM and MRT prepared the tables and the figures. VGS prepared the library for NextGen sequencing and processed the resulting data. AW performed the sequencing. VGS and ROG conducted local sequencing studies to order contigs and close the genome. KV provided genomic DNA. MRT, VGS and GEF prepared a draft paper which was finalized with help from all the authors. All authors read and approved the final manuscript.
Ethics approval and consent to participate
Not Applicable.
Competing interests
The authors declare that they have no competing interests.
Publisher's Note
Springer Nature remains neutral with regard to jurisdictional claims in published maps and institutional affiliations.
Open AccessThis article is distributed under the terms of the Creative Commons Attribution 4.0 International License (http://creativecommons.org/licenses/by/4.0/), which permits unrestricted use, distribution, and reproduction in any medium, provided you give appropriate credit to the original author(s) and the source, provide a link to the Creative Commons license, and indicate if changes were made. The Creative Commons Public Domain Dedication waiver (http://creativecommons.org/publicdomain/zero/1.0/) applies to the data made available in this article, unless otherwise stated.
Authors' Affiliations
(1)
Department of Biology and Biochemistry, University of Houston, Houston, USA
(2)
Biotechnology & Planetary Protection Group, NASA Jet Propulsion Laboratories, California Institute of Technology, Pasadena, USA