Research article
Open Access
Physiological roles of sigma factor SigD in Corynebacterium glutamicum
BMC Microbiology
BMC series – open, inclusive and trusted
2017
17:158
Received: 3 May 2017
Accepted: 4 July 2017
Published: 12 July 2017
Abstract
Background
Sigma factors are one of the components of RNA polymerase holoenzymes, and an essential factor of transcription initiation in bacteria. Corynebacterium glutamicum possesses seven genes coding for sigma factors, most of which have been studied to some detail; however, the role of SigD in transcriptional regulation in C. glutamicum has been mostly unknown.
Results
In this work, pleiotropic effects of sigD overexpression at the level of phenotype, transcripts, proteins and metabolites were investigated. Overexpression of sigD decreased the growth rate of C. glutamicum cultures, and induced several physiological effects such as reduced culture foaming, turbid supernatant and cell aggregation. Upon overexpression of sigD, the level of Cmt1 (corynomycolyl transferase) in the supernatant was notably enhanced, and carbohydrate-containing compounds were excreted to the supernatant. The real-time PCR analysis revealed that sigD overexpression increased the expression of genes related to corynomycolic acid synthesis (fadD2, pks), genes encoding corynomycolyl transferases (cop1, cmt1, cmt2, cmt3), L, D-transpeptidase (lppS), a subunit of the major cell wall channel (porH), and the envelope lipid regulation factor (elrF). Furthermore, overexpression of sigD resulted in trehalose dicorynomycolate accumulation in the cell envelope.
Conclusions
This study demonstrated that SigD regulates the synthesis of corynomycolate and related compounds, and expanded the knowledge of regulatory functions of sigma factors in C. glutamicum.
Keywords
Corynebacterium glutamicum Sigma factorSigDMycomembraneTrehalose dicorynomycolate
Background
Sigma factors are a component of bacterial RNA polymerase holoenzymes essential for promoter recognition and transcription initiation [1]. Most bacteria encode multiple sigma factors, and each sigma factor containing RNA polymerase holoenzyme initiates transcription from the cognate promoter sequences [2–5]. By replacing a sigma factor in RNA polymerase holoenzyme, bacteria activate transcription of a different gene set under different conditions, and cope with environmental changes [6]. Therefore, sigma factors play an important role in transcriptional regulation in a global manner. The knowledge of regulations by sigma factors is helpful to elucidate the regulatory network of the organism.
Corynebacterium glutamicum was first isolated as an organism secreting high amounts of L-glutamate [7]. Nowadays, this bacterium is used for production of L-amino acids in million tons per year, especially L-glutamate and L-lysine [8]. C. glutamicum ATCC 13032 has seven sigma factor genes in its chromosome, sigA, sigB, sigC, sigD, sigE, sigH and sigM [9, 10]. The physiological functions of SigA, SigB, SigC, SigE, SigH and SigM have been studied to some extent [11]; however, the regulation and physiological roles of SigD in C. glutamicum have not yet been revealed. sigD gene is well conserved among corynebacteria, and 17 out of 19 examined Corynebacterium species possess sigD genes [11]. Therefore, it is assumed that SigD plays a substantial role in transcriptional regulation and subsequent adaptation of C. glutamicum to changing environments.
C. glutamicum belongs to the CMN (C orynebacterium, M ycobacterium, N ocardia) group, which is characterized by the unique molecular constituents of their cell envelopes such as the mycomembrane [12]. The mycomembrane is composed of a monolayer of corynomycolate (α-alkyl, β-hydroxy fatty acid), which is covalently linked to arabinogalactan or forms other lipids such as trehalose monocorynomycolate (TMCM) and trehalose dicorynomycolate (TDCM) [13].
In this work, we evaluated the effects of deletion and overexpression of sigD on the cell phenotype, and revealed the influence of sigD overexpression on transcripts, proteins and metabolites. The achieved results disclosed the important roles of SigD in mycomembrane synthesis and maintaining cell wall integrity.
Discussion
Understanding the regulatory mechanisms of bacteria is important in many fields varying from biotechnology to public health.
C. glutamicum
has been used for the production of amino acids for several decades, however, the transcriptional regulation by sigma factors has not been fully elucidated. As for SigD, selection of high oxygen requiring mutants in a transposon library accidentally revealed that deletion of
sigD
in
C. glutamicum
loses the ability to grow under low oxygen concentrations [
36
], however, the knowledge is still limited. In the previous works, we demonstrated that overexpression of one of global regulators can artificially perturb the cellular regulation and influence metabolites as well as transcripts [
37
,
38
]. This approach of sigma factor gene overexpression was found to be a useful approach for investigation of regulatory mechanisms and activation of specific biosynthesis pathways in
C. glutamicum
. In this work, deletion and overexpression of
sigD
revealed that sigma factor SigD plays a role in regulating maintenance of the cell wall integrity in
C. glutamicum
(Fig.
6
).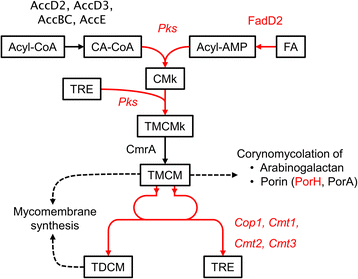 The real time PCR analysis revealed that overexpression of sigD induced the expression of multiple genes related to mycomembrane synthesis (cop1, cmt1, cmt2, cmt3, elrF, fadD2, porH and pks) which exist at the different loci in the C. glutamicum genome. For mycomembrane biosynthesis, one molecule of fatty acid is carboxylated via the carboxylation complex composed of AccD2, AccD3, AccBC and AccE [39], and a second fatty acid is activated to a fatty acyl-CoA by FadD2 [40]. These two molecules are condensed and attached to trehalose by Pks [41, 42]. This product is reduced to TMCM (trehalose monocorynomycolate) by CmrA [43], and TMCM is exported from cytoplasm [44, 45]. Then, corynomycolyl transferases transfer the corynomycolate group of TMCM onto arabinogalactan, TMCM itself or proteins such as PorH [32, 33, 46, 47]. C. glutamicum possesses six corynomycolyl transferase genes, cop1, cmt1, cmt2, cmt3, cmt4 and cmt5 [32], and Cop1, Cmt1 and Cmt2 catalyze TDCM synthesis from TMCM [32, 46]. Cop1 is also reported to transfer corynomycolate from TMCM to arabinogalactan in the cell wall in C. glutamicum CGL2005 [33]. Interestingly, sigD overexpression induced the expression of four out of six corynomycolyl transferase genes at the same time, and enhanced the secretion of Cmt1 and Cmt2 to the supernatant. PorH forms the major cell wall channel penetrating the mycomembrane together with the other protein PorA [48], and corynomycolation of PorH and PorA catalyzed by Cmt1 was shown to be necessary for the pore forming activity [47, 49]. Furthermore, ElrF was identified as the envelope lipids regulation factor which regulates lipid composition of corynomycolic acids and phospholipids in cell envelope [50]. In this study, increased content of TDCM in the crude lipid extract indicated that sigD overexpression influences not only the transcription of those genes but also the metabolic flux toward mycomembrane synthesis (Fig. 6). These results indicate that SigD controls the integrity of the cell envelope, especially of the mycomembrane in C. glutamicum.
SigD of C. glutamicum is classified as ECF40 type sigma factor by the ECFfinder program [3], as is SigD of M. tuberculosis. SigD in M. tuberculosis was shown to be essential for virulence, and inactivation of sigD decreased expression of some mycolyl transferase genes as well as other genes related to lipid metabolism and cell wall processes [51, 52]. For example, Calamita et al. reported that the expression of fbpA encoding antigen 85A, which is a homolog for corynomycolyl transferase, decreased in the sigD deletion strain [52]. Raman et al. showed that the expression of fbpC encoding antigen 85C, which is also a homolog for corynomycolyl transferase, decreased two-fold in the sigD deletion strain [51]. Even though a different organism has a different regulatory architecture, C. glutamicum and M. tuberculosis may share the similar regulatory network by SigD.
SigD gene overexpression in C. glutamicum led to excretion of carbohydrate-containing compounds and cell aggregation. In C. glutamicum CGL2005, various types of polysaccharides were detected extracellularly [34, 53]. In addition, C. glutamicum CCTCC M201005 was found in soil as a producer of a bioflocculant consisting of galacturonic acid as the main structural unit [54]. In M. tuberculosis and M. smegmatis, polysaccharides containing arabinose are suggested to be involved in the aggregation of cells via interaction with Antigen 85s, which are homologs for corynomycolyl transferases [55]. Furthermore, arabinose was shown to promote the cell aggregation of M. smegmatis [56]. Therefore, excretion of polysaccharides or carbohydrate-containing compounds caused by sigD overexpression may induce cell aggregation also in C. glutamicum.
Sigma factors regulate transcription in a global manner and their effects are pleiotropic. In this study, the link between sigD overexpression and the regulation of cell wall integrity was confirmed, however, other effects remain to be elucidated, if exist. Furthermore, overexpression of sigD turns on the cascade regulation which includes direct and indirect outcomes inside the cells. Based on our results, the physiological role of C. glutamicum SigD in cell wall integrity seems apparent, however, the elucidation of the SigD regulon control and definition of the class of SigD-dependent promoters will require further molecular studies.
The non-pathogenic C. glutamicum serves as a good model organism for understanding the cell wall biosynthesis and resistance to antibiotics in Corynebacterineae, which include human pathogenic bacteria such as M. tuberculosis and C. diphtheriae [42]. Therefore, the findings described in this work can be helpful to understand the cell wall biosynthesis of Corynebacterineae. Furthermore, TDCM was shown to induce priming and activation of macrophages in vivo and in vitro in a similar manner as TDM from M. tuberculosis [57]. Chemical synthesis of TDM is not easy because it requires multiple steps, and those compounds are extracted from organisms. Considering the common biotechnological use of C. glutamicum, the production of TDCM with C. glutamicum seems to be an attractive idea. On the other hand, a corynomycolate-less strain is known to excrete more L-glutamate and L-lysine [58] as well as to take up glycerol and acetate more efficiently [33]. Reorganization of the mycomembrane by controlling sigD expression can be therefore helpful to understand the permeability barrier of C. glutamicum cells, and construct strains with higher or lower permeability barriers.
Conclusion
In this work, the functions of C. glutamicum sigma factor SigD were studied by overexpression or disruption of sigD gene. Overexpression of sigD led to the several physiological changes such as slower growth, cell aggregation, less foaming of the culture and increased turbidity of the supernatant. The real-time PCR analysis confirmed that overexpression of sigD induced the expression of several genes related to maintenance of cell envelop integrity and mycomembrane biosynthesis. Furthermore, overexpression of sigD increased the content of trehalose dicorynomycolate in the lipid extract.
Abbreviations
IPTG:

Isopropyl β-D-1-thiogalactopyranoside
TDCM:

Trehalose dicorynomycolate
TDM:

Trehalose dimycolate
TMCM:

Trehalose monocorynomycolate
Declarations
Acknowledgements
Not applicable.
Funding
HT acknowledges support by DAAD (Deutscher Akademischer Austauschdienst) for providing a full PhD fellowship and MP acknowledges support by grant 17-06991S from Czech Science Foundation. Those foundations had no role in the design of the study in collection, analysis, and interpretation of data and in writing the manuscript.
Availability of data and materials
The datasets generated during the current study are available in the ArrayExpress database repository (E-MTAB-5411: http://www.ebi.ac.uk/arrayexpress/).
Authors' contributions
HT, TB, TP, KN, MP, JK and VFW designed the study. HT, TB, TP performed the experiments and analyzed the data. HT wrote the manuscript. TB, TP, KN, MP and JK reviewed the manuscript. VFW finalized the manuscript. All authors read and approved the final manuscript.
Author's information
HT currently belongs to Synthetic Bioengineering lab, Dept.of Biotechnology, Graduate School of Engineering, Osaka University (Yamadaoka 2-1, Suita, Osaka, 565-0871, Japan).
Ethics approval and consent to participate
Not applicable.
Consent for publication
Not applicable.
Competing interests
The authors declare that they have no competing interests.
Publisher's Note
Springer Nature remains neutral with regard to jurisdictional claims in published maps and institutional affiliations.
Open AccessThis article is distributed under the terms of the Creative Commons Attribution 4.0 International License (http://creativecommons.org/licenses/by/4.0/), which permits unrestricted use, distribution, and reproduction in any medium, provided you give appropriate credit to the original author(s) and the source, provide a link to the Creative Commons license, and indicate if changes were made. The Creative Commons Public Domain Dedication waiver (http://creativecommons.org/publicdomain/zero/1.0/) applies to the data made available in this article, unless otherwise stated.
Authors' Affiliations
(1)
Genetics of Prokaryotes, Faculty of Biology, Bielefeld University, Bielefeld, Germany
(2)
Center for Biotechnology, Bielefeld University, Bielefeld, Germany
(3)
Proteome and Metabolome Research, Faculty of Biology, Bielefeld University, Bielefeld, Germany
(4)
Institute of Microbiology, Academy of Sciences of the Czech Republic, Prague, Czech Republic