Identification and functional analysis of secreted effectors from phytoparasitic nematodes
BMC Microbiology
BMC series – open, inclusive and trusted
2016
16:48
Received: 21 May 2015
Accepted: 22 January 2016
Published: 21 March 2016
Abstract
Background
Plant parasitic nematodes develop an intimate and long-term feeding relationship with their host plants. They induce a multi-nucleate feeding site close to the vascular bundle in the roots of their host plant and remain sessile for the rest of their life. Nematode secretions, produced in the oesophageal glands and secreted through a hollow stylet into the host plant cytoplasm, are believed to play key role in pathogenesis. To combat these persistent pathogens, the identity and functional analysis of secreted effectors can serve as a key to devise durable control measures. In this review, we will recapitulate the knowledge over the identification and functional characterization of secreted nematode effector repertoire from phytoparasitic nematodes.
Research
Despite considerable efforts, the identity of genes encoding nematode secreted proteins has long been severely hampered because of their microscopic size, long generation time and obligate biotrophic nature. The methodologies such as bioinformatics, protein structure modeling, in situ hybridization microscopy, and protein-protein interaction have been used to identify and to attribute functions to the effectors. In addition, RNA interference (RNAi) has been instrumental to decipher the role of the genes encoding secreted effectors necessary for parasitism and genes attributed to normal development. Recent comparative and functional genomic approaches have accelerated the identification of effectors from phytoparasitic nematodes and offers opportunities to control these pathogens.
Conclusion
Plant parasitic nematodes pose a serious threat to global food security of various economically important crops. There is a wealth of genomic and transcriptomic information available on plant parasitic nematodes and comparative genomics has identified many effectors. Bioengineering crops with dsRNA of phytonematode genes can disrupt the life cycle of parasitic nematodes and therefore holds great promise to develop resistant crops against plant-parasitic nematodes.
Keywords
Nematodes
Phytoparasitic
RNA interference (RNAi)
Plant-parasitic nematodes (PPN)
Background
Nematodes are the most abundant multi-cellular animals on earth. Most of the nematodes are simple, colorless and transparent roundworms with relatively little morphological variation. A vast majority of the nematodes is free living, feeding on fungi, bacteria, organic matter, and other nematodes (predators). Only a small percentage of the phylum Nematoda are parasites of animals and plants. Plant-parasitic nematodes (PPNs) have been reported to cause annual crop losses worth $ 173 billion [1]. PPNs are classified according to their feeding and reproduction behaviour. The ectoparasites (e.g., Trichodorus and Xiphinema spp.) mainly feed on epidermal cells, root hairs or on the outer cortical cells beneath the epidermal cell layer using their stylets. The migratory endo-parasites (e.g. Aphelenchoides and Bursaphelenchus spp.) penetrate plant tissue through several cell layers and feed on cytoplasm of the cells that they come across. Finally, the sedentary endo-parasites, root-knot nematodes (Meloidogyne spp.) and cyst nematodes (Heterodera, and Globodera spp.) have developed an intimate and long-term feeding relationship with their hosts [2, 3].
To counteract pathogen ingress plants have evolved a two-layered surveillance system which detect either directly or indirectly specific effector molecules from parasites. The first line of defense in plants is established by extracellular immune receptors that recognize pathogen associated molecular patterns (PAMPS) from diverse pathogens. A classical example is the recognition of 22 amino acids in the flagella of bacteria. Recognition by this basal defense system leads to generic defense responses such as cell wall modifications, release of reactive oxygen species, etcetera. But parasites have found ways to breach the basal immunity by suppressing disease signaling with other effectors molecules. These suppressive parasite effectors, however, may induce changes in molecular states of host resistance proteins (Immune receptors) directly or in the host proteins that are being monitored by the immune receptors, so-called R proteins. The probable outcome of pathogen recognition in this second layer of defense is the activation of disease signaling pathways that lead to specific resistances. In many cases effector recognition results in local cell death or a hypersensitive response (HR), thus inhibiting further pathogen infection and colonization. Effector proteins that are being recognized by the products of resistance (R) genes have acquired so-called avirulence (Avr) activity. This gene-for-gene model, which essentially explains the recognition specificity of disease resistance responses in plants, holds true for most biotrophic plant-pathogen interactions [4]. Plant-parasitic nematodes transform host cells into feeding sites, and the most plausible explanation to this transformation is likely to be found within nematode effector molecules.
Root knot nematodes (RKNs) and Cyst nematodes (CNs) are obligate plant parasites. Some species of RKNs have a wide host range (
M.arenaria, M. hapla, M. incognita
, and
M. javanica
), however, some species have a restricted host range (
M. partityla
,
M. kralli
, and
M. ichinohei
). Similarly, some of CNs such as
G. rostochiensis
and
G. pallida
have a restricted host range, however,
H. schachtii
has a wide host range (218 plant species). This aspect can aid in their effective control through crop rotation by growing less favorable host plants [
5
,
6
]. The second stage juveniles (J
2
) hatch from the eggs in response to host-plant root exudates and invade the root just behind the apex, preferentially in the differentiation and elongation zone. Plant penetration is achieved by perforating cell walls with the combined effect of physical thrusting of the oral stylet and the enzymatic softening of the cell walls. The infective J2s of RKNs migrate inter-cellularly but CNs nematodes migrate intra-cellularly through the cortex in the direction of the vascular cylinder where they induce specialized feeding structures. RKNs induce giant cells which are formed due to repeated cycles of mitosis without cytokinesis [
7
]. However, CNs select an inner cortical cell as an initial syncytial cell (ISC) and transforms it into a highly metabolically active cell, which is characterized by small secondary vacuoles, dense cytoplasm, numerous organelles and enlarged amoeboid nucleus [
8
,
9
]. The developing syncytium extends longitudinally along the vascular cylinder by progressive protoplast fusion with neighboring cells through local cell wall dissolution (Fig.
1
). Cell wall ingrowths are formed adjacent to xylem elements, facilitating nutrient uptake into the developing syncytium [
10
,
11
]. The giant cells and syncytium act as nutrient sink for several weeks which is continuously replenished by photosynthetic assimilates from the host plant. A high degree of sexual dimorphism has been observed where swollen adults females remain sessile throughout their parasitic life cycle. In contrast, adult males regain motility and become attracted by the females to achieve insemination and fertilization of the eggs. RKN female lays eggs directly on the roots but in case of CNs, the eggs remain inside the body of the gravid female and her remains forms a protective cyst. The first stage juveniles (J1) molt inside the egg and remain dormant for at least 1 year [
12
].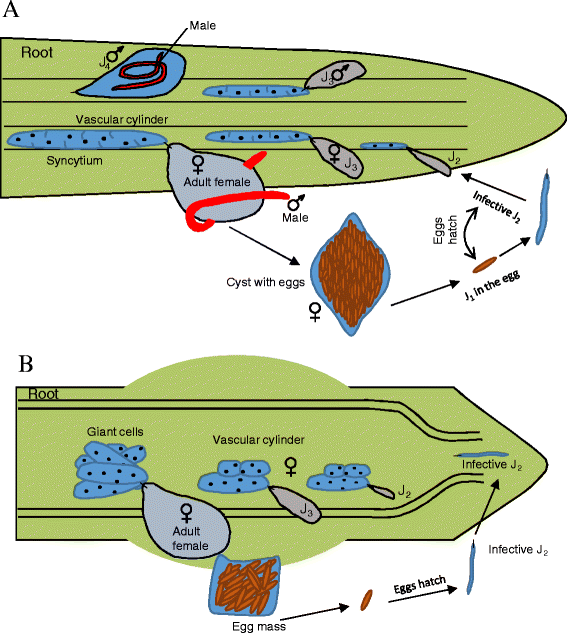 Conclusion
Plant parasitic nematodes pose a serious threat to food security of various economically important crops. The use of host plant resistance by traditional breeding to combat the infection of PPN is not very effective due to lack of novel sources of resistance on one hand and on the other hand the race-specific resistance even if found, can easily be overcome due to the emergence of more virulent biotypes. Restricting yield loses due to the use of nematicides has deleterious effect on the environment and most of them have been banned from developed countries. Due to the limitations of the existing control measures, it is of utmost importance to develop new control strategies. There is a wealth of genomic and transcriptomic information available on plant parasitic nematodes and comparative genomics had identified many parasitism genes. The next challenge is how to relate those candidate genes to nematode parasitism by functional analysis. Despite disadvantages, RNAi has revolutionized the functional genomics in parasitic nematodes. The plant parasitic nematode genes targeted so far by RNAi can be divided into three classes based on the annotation of the target gene like 1) Putative parasitism genes, 2) Genes required for nematode development, and 3) Housekeeping genes. In principle, host-delivered RNA interference (HIGS) triggered silencing of genes in plant-parasitic nematodes may prove to be a novel disease resistance strategy with wide biotechnological applications. Bioengineering crops with dsRNA of phytonematode genes can disrupt the developmental life cycle of parasitic nematodes and therefore holds great promise to develop resistant crops against plant-parasitic nematodes. It can be advocated that the introduced RNAi hairpin in host plants is not translated into a protein and it has great target specificity as only the root parasites will be affected only. Target specificity can even be fine-tuned further by excluding homologous sequences in host plants to avoid any off-target effects, use of nematode inducible promoter in the roots, and the selection of nematode species specific parasitism genes. The new emerging genomic technologies hold great promise in enhancing our understanding of nematode infection process and using this knowledge in turn to engineer crops for a sustainable yield potential.
Abbreviations
AFLP:

amplified fragment length polymorphism
Avr:

avirulence
cDNA:

complementary DNA
CNs:

cyst nematodes
CWDEs:

cell wall degrading enzymes
CLE:

CLAVATA3/ESR-related
dsRNA:

double stranded RNA
EST:

expressed sequence tag
GST:

glutathione-S-transferase
GFP:

green fluorescent protein
HIGS:

host-delivered RNA interference
HR:

hypersensitive response
ISC:

initial syncytial cell
J:

juveniles
LGT:

lateral gene transfer
mRNA:

messenger RNA
MAbs:

monoclonal antibodies
PAMPS:

pathogen associated molecular patterns
PPNs:

plant-parasitic nematodes
RFP:

red fluorescence protein
RT-PCR:

reverse transcription polymerase chain reaction
RNAi:

RNA interference
RISC:

RNA induced silencing complex
RdRp:

RNA-directed RNA polymerase
RKNs:

root knot nematodes
siRNAs:

small interfering RNAs
SPDS2:

spermidine synthase 2
SSH:

subtractive suppressive hybridization
Hs-UBI1:

ubiquitin extension protein
YTH:

yeast two hybrid
YFP:

yellow fluorescence protein
Declarations
Open AccessThis article is distributed under the terms of the Creative Commons Attribution 4.0 International License (http://creativecommons.org/licenses/by/4.0/), which permits unrestricted use, distribution, and reproduction in any medium, provided you give appropriate credit to the original author(s) and the source, provide a link to the Creative Commons license, and indicate if changes were made. The Creative Commons Public Domain Dedication waiver (http://creativecommons.org/publicdomain/zero/1.0/) applies to the data made available in this article, unless otherwise stated.
Authors' Affiliations
(1)
International Center for Agriculture Research in the Dry Areas (ICARDA), Rabat-Instituts-Morocco, Rabat, Morocco
(2)
National University of Ireland Galway, Galway, Ireland