Methodology article

Open Access
Bacterial flora-typing with targeted, chip-based Pyrosequencing
BMC Microbiology
2007
7:108
Received: 06 July 2007
Accepted: 30 November 2007
Published: 30 November 2007
Abstract
Background
The metagenomic analysis of microbial communities holds the potential to improve our understanding of the role of microbes in clinical conditions. Recent, dramatic improvements in DNA sequencing throughput and cost will enable such analyses on individuals. However, such advances in throughput generally come at the cost of shorter read-lengths, limiting the discriminatory power of each read. In particular, classifying the microbial content of samples by sequencing the < 1,600 bp 16S rRNA gene will be affected by such limitations.
Results
We describe a method for identifying the phylogenetic content of bacterial samples using high-throughput Pyrosequencing targeted at the 16S rRNA gene. Our analysis is adapted to the shorter read-lengths of such technology and uses a database of 16S rDNA to determine the most specific phylogenetic classification for reads, resulting in a weighted phylogenetic tree characterizing the content of the sample. We present results for six samples obtained from the human vagina during pregnancy that corroborates previous studies using conventional techniques.
Next, we analyze the power of our method to classify reads at each level of the phylogeny using simulation experiments. We assess the impacts of read-length and database completeness on our method, and predict how we do as technology improves and more bacteria are sequenced. Finally, we study the utility of targeting specific 16S variable regions and show that such an approach considerably improves results for certain types of microbial samples. Using simulation, our method can be used to determine the most informative variable region.
Conclusion
This study provides positive validation of the effectiveness of targeting 16S metagenomes using short-read sequencing technology. Our methodology allows us to infer the most specific assignment of the sequence reads within the phylogeny, and to identify the most discriminative variable region to target. The analysis of high-throughput Pyrosequencing on human flora samples will accelerate the study of the relationship between the microbial world and ourselves.
Keywords
Preterm LaborSample ProfileTree EdgeRandom ProfileShort Variable Region
Background
Metagenomics enables the genomic study of microbial communities that are sampled directly from their environment, eliminating the need for isolating and cultivating specific microbes [1–3]. Metagenomic analyses of human flora samples [4] are a new type of assay with intriguing potential applications for the diagnosis and prediction of clinical outcomes [5]. Studies of human vaginal bacterium during pregnancy so far include the use of direct culture methods and conventional PCR studies of clinically suspected infectious microorganisms. Although infection and inflammation likely play a major role in the pathogenesis of preterm labor and delivery [6, 7], these studies reveal only a fraction of the potential microorganic inhabitants. A comprehensive identification and catalog of these organisms will enable future investigators to target a defined population of species that may be correlated with preterm labor, premature rupture of amniotic membranes, chorioamnionitis, and other complications of pregnancy [8–12].
Metagenomics analyses will become increasingly practical as DNA sequencing costs fall dramatically with the advent of new technologies [13, 14] including Pyrosequencing™ [15]. One challenge common to these revolutionary sequencing technologies is the short length of reads, which limits the amount of unique, discriminating sequence available within each read. Sequencing the 16S rRNA gene (16S rDNA) using conventional Sanger sequencing produces reads of at least 500 bp in length, which is sufficient to identify the precise source species for each gene [3]. In fact, though there is a danger of producing chimeras, the reads are often long enough that they can be assembled into near-complete 16S rDNA sequences [16]. Despite the promise of high-throughput technologies like Pyrosequencing, current versions produce short reads, making the accurate identification of the source of these reads a daunting task. One solution used chip-based Pyrosequencing targeted at a small variable region within the 16S rDNA to show that there exists a much greater variety of rare microorganisms than previously thought [17].
We describe a methodology for phylogenetic classification based on short, 16S rRNA gene sequence reads and apply the technique to reads obtained via high-throughput, chip-based Pyrosequencing of human vaginal flora samples during pregnancy. The resulting phylogenetic trees reveal the vast diversity of bacterial inhabitants seen in other studies, and will assist in future investigations of the link between microorganisms and pregnancy complications. Next, we examine the ability of our methodology to classify reads at different levels in the phylogeny and discuss limitations of our technique. Using simulations, we study the effect of read-length on our methodology to understand the consequence of using high-throughput Pyrosequencing instead of conventional technologies. Finally, we explore the effectiveness of isolating specific 16S variable regions using validated universal primers. Our methodology for analyzing short 16S rDNA sequence reads will enable the accurate and informative study of human flora samples using new, high-throughput sequencing technologies.
Conclusion
By combining high-throughput Pyrosequencing with a novel analysis methodology, we identified phylogenies of bacteria present in the human vagina during pregnancy. Previous studies of the correlation between identified bacteria and preterm labor, and attempts to treat such microorganisms have produced conflicting results [24–26]. Our methodology for studying in-depth the ecology of human pregnancy will assist in understanding the correlation between vaginal microorganisms and complications in pregnancy.
Our simulations indicate that the methodology is currently limited by two factors: short read-lengths of Pyrosequencing and the incomplete nature of 16S rDNA databases. As more bacteria are sequenced and added to the database, the effects of the second limitation will decrease. Improvements in sequencing technology will increase read-lengths and enhance our ability to distinguish between genera. In order to best identify particular species, using our methodology we can identify and isolate the most informative 16S variable region.
Methods
Identifying 16S sequence
The first stage of our analysis matches reads against known 16S rDNA sequences, or finds the closest matches to known organisms. We leverage the Ribosomal Database Project release 9 update 39 for its catalog of bacteria and their phylogenetic relationships [19] and the prokMSA database as a representative set of archaeal sequence [20]. For each read, we used the tool BLAT (BLAST-Like Alignment Tool) [18] to quickly identify matches between reads and the combined bacterial/archaeal database, using a minimum identity of 90% and a minimum match/mismatch score of 15 bases.
To score the homology between a read and a database sequence, we approximate the probability that the read came from an organism with a
p
= 98% sequence similarity to the given read as follows:
where M i are indicator variables that are 1 if position i in the read matches with the database sequence in their alignment and 0 otherwise. The variables Q i are the probabilities that the read bases were called correctly, derived from the sequence quality scores.
Then, to judge whether or not we believe a read came from the organism's phylotype, we compare this probability against the probability for a hypothetical read that falls at the boundary of similarity
P (related limit) = p pL (1 - p)(1 - p) L
Reads that score above this probability limit are classified as known, while reads that score below the limit are classified as unknown.
Placing reads in the phylogeny
Each read that results in a known match will typically also match with many additional organisms. For example, a read may match with several species within the same genus, in which case we cannot identify the exact species of the read. However, if all the known hits at least fall within the same genus then we are confident the read was sampled from an organism belonging to that genus. In this way, for each read our goal is to determine the most specific classification within the phylogeny that likely contains the organism from which the read was obtained.
We analyze each read
r
using the following alrogithm. For every node
i
in the phylogenetic tree, we assign a value
B
(
i
) as follows. For leaf nodes, we set
B
(
i
) =
P
(
r
related to
i
) defined above for organisms with a scored BLAT hit, and
B
(
i
) = 0 otherwise. For internal nodes, we set
B
(
i
) = max
j ∈ children (i)
B
(
j
). This process is illustrated in Figure
8a
. At the root node we will therefore have
B
(root) = max
i
P
(
r
related to
i
).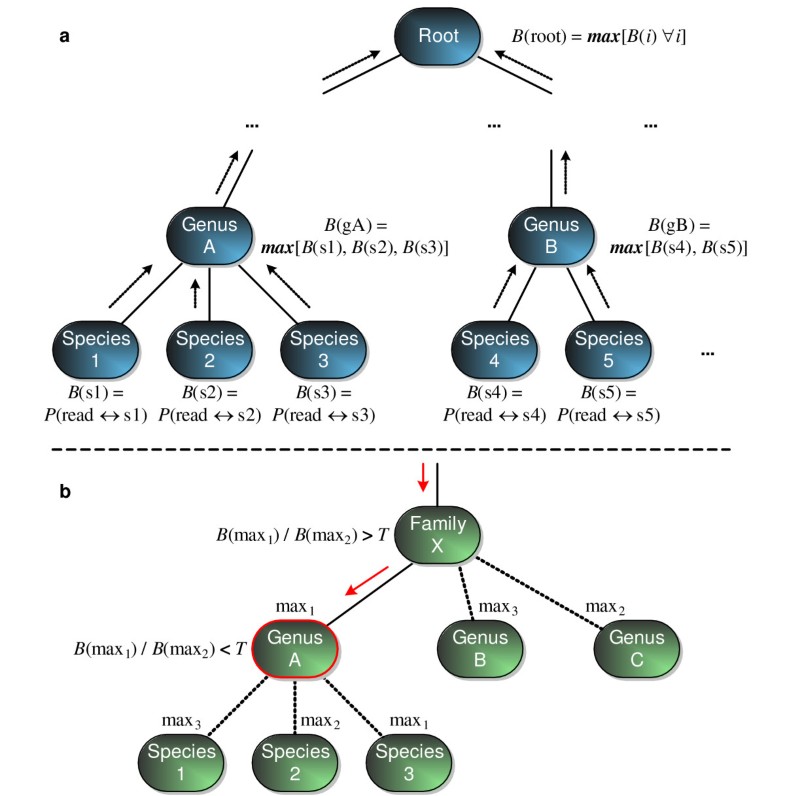 Next, we traverse down the tree starting at the root node. At each internal node, if the ratio of the two maximal child nodes j and k exceeds a threshold T (i.e. B(j)/B(k) > T), or if B(j) is the only non-zero child, then we descend to node j and repeat the procedure. Once the procedure terminates in an internal node or a leaf node i, we believe with a confidence level related to T that the read came from an organism belonging to the subtree rooted at i. An example of this is illustrated in Figure 8b. We experimented with the choice of T over several orders of magnitude and found that the resulting analysis varied only very slightly. For the analyses performed in this study, we used T = 0.01.
Simulating reads
For our analysis of read-length and variable region resolving power, we simulated reads from two hypothetical collections of species. The random profile consists of 387 species of bacteria, selected by randomly traversing down the phylogenetic tree from the root to a leaf, picking each branch with uniform probability, resulting in very high diversity. The sample profile constitutes 330 species of bacteria, created by sampling species from a distribution of genera and species that was consistent with the analysis results from our six samples.
For each simulation, a read simulator generated reads sampled from 16S rDNA sequence selected randomly according to either the random or the sample profile. Reads were sampled with uniform probability from across the rDNA sequence, with a read-length drawn from a Gaussian distribution with average read-lengths of 30, 60, 100, 150, 200, 400, or 800 bp and standard deviations of 20%. Sequencing errors were introduced into the reads at a rate of 1% that consisted of mutations, insertions, deletions, and homopolymer run count errors characteristic of Pyrosequencing.
To understand the effect of read-length on the resolving power of our methodology, we simulated reads from both the random and sample profile with the seven read-lengths L of 30 – 800 bp. For each of the 2 × 7 = 14 parameter sets we produced 30 Mb of simulated read data (N reads @ L bp = 30 · 106 bp) and applied our analysis. By annotating the source species for each read we able to measure the accuracy of its placement in the phylogenetic tree, as in Figure 6.
To study the effectiveness of restricting the sequencing to known variable regions, we first selected a set of eight minimally-overlapping regions within the 16S rDNA sequence: seven regions each contained one of the known variable regions V1 – V6 and V9, and one region contained both V7 and V8 [27]. These regions are listed in Table 1 with their E. coli 16S rDNA sequence coordinate ranges as well as 5' and 3' broad-range amplification primers, which we validated by PCR amplifying 16 rDNA from E. coli. For each primer pair we performed 15 cycles of touch-down PCR, going from 94°C for 30 s, to an annealing temperature ranging from 70°C to 50°C for 30 s, and finally extending at 72°C for 30 s. We then performed 30 additional cycles at 94°C for 45 s, 50°C for 45 s, and 72°C for 45 s, and verified the resulting products via gel electrophoresis.
Next, we again produced sets of simulated reads for both the random and the sample profile, restricted to each region, for a total of 2 × 8 = 16 sets. Each read data set consisted of 300,000 reads with an average read-length of 100 bp and a 1% error rate. We applied our analysis and measured the accuracy of read placement in the phylogeny in Figure 7.
Declarations
Acknowledgements
The authors would like to thank the members of the Batzoglou lab for their support for this work. AS is partly supported by an SAP Labs Stanford Graduate Fellowship. This project is supported in part by NIH grant R01HG003571-02, the Stanford Pediatric Research Fund, and research funds from the Division of Maternal-Fetal Medicine at Stanford University.
Authors' Affiliations
(1)
Department of Computer Science, Stanford University, Stanford, USA
(2)
Stanford Genome Technology Center, Stanford University, Palo Alto, USA
(3)
Department of Obstetrics and Gynecology, Stanford University Medical Center, Palo Alto, USA
Copyright
© Sundquist et al; licensee BioMed Central Ltd. 2007
This article is published under license to BioMed Central Ltd. This is an Open Access article distributed under the terms of the Creative Commons Attribution License (http://creativecommons.org/licenses/by/2.0), which permits unrestricted use, distribution, and reproduction in any medium, provided the original work is properly cited.