Research article
Open Access
A census of membrane-bound and intracellular signal transduction proteins in bacteria: Bacterial IQ, extroverts and introverts
Received: 18 April 2005
Accepted: 14 June 2005
Published: 14 June 2005
Abstract
Background
Analysis of complete microbial genomes showed that intracellular parasites and other microorganisms that inhabit stable ecological niches encode relatively primitive signaling systems, whereas environmental microorganisms typically have sophisticated systems of environmental sensing and signal transduction.
Results
This paper presents results of a comprehensive census of signal transduction proteins – histidine kinases, methyl-accepting chemotaxis receptors, Ser/Thr/Tyr protein kinases, adenylate and diguanylate cyclases and c-di-GMP phosphodiesterases – encoded in 167 bacterial and archaeal genomes, sequenced by the end of 2004. The data have been manually checked to avoid false-negative and false-positive hits that commonly arise during large-scale automated analyses and compared against other available resources. The census data show uneven distribution of most signaling proteins among bacterial and archaeal phyla. The total number of signal transduction proteins grows approximately as a square of genome size. While histidine kinases are found in representatives of all phyla and are distributed according to the power law, other signal transducers are abundant in certain phylogenetic groups but virtually absent in others.
Conclusion
The complexity of signaling systems differs even among closely related organisms. Still, it usually can be correlated with the phylogenetic position of the organism, its lifestyle, and typical environmental challenges it encounters. The number of encoded signal transducers (or their fraction in the total protein set) can be used as a measure of the organism's ability to adapt to diverse conditions, the 'bacterial IQ', while the ratio of transmembrane receptors to intracellular sensors can be used to define whether the organism is an 'extrovert', actively sensing the environmental parameters, or an 'introvert', more concerned about its internal homeostasis. Some of the microorganisms with the highest IQ, including the current leader Wolinella succinogenes, are found among the poorly studied beta-, delta- and epsilon-proteobacteria. Among all bacterial phyla, only cyanobacteria appear to be true introverts, probably due to their capacity to conduct oxygenic photosynthesis, using a complex system of intracellular membranes. The census data, available at http://www.ncbi.nlm.nih.gov/Complete_Genomes/SignalCensus.html, can be used to get an insight into metabolic and behavioral propensities of each given organism and improve prediction of the organism's properties based solely on its genome sequence.
Keywords
Histidine KinaseSignal Transduction SystemSignal Transduction ProteinArchaeal GenomeDiguanylate Cyclase
Background
All living organisms adjust their metabolism and behavior in response to the changes in their environment. For unicellular microorganisms, knowing themselves, i.e. constantly monitoring a variety of environmental and intracellular parameters, is a necessary condition of survival. Mechanisms of some adjustments can be as simple as those in the lac operon – the presence of a substrate induces expression of the genes that are necessary for assimilation of that substrate (although even lac operon has a complex high-level regulation through catabolite repression and inducer exclusion, see [1] and references therein). More complex regulatory mechanisms include transmission of an external signal across the cytoplasmic membrane, followed by intracellular signal transduction to the appropriate genes (operons), metabolic enzymes, or to such organelles as bacterial flagella. Given that all these mechanisms have to be encoded in the organism's genome, the complexity of the signaling systems correlates with the genome size and the range of environmental challenges it normally encounters. Bacterial parasites that inhabit relatively stable host environments typically encode few, if any, signaling proteins (see [2–4]).
Analysis of the first three sequenced microbial genomes revealed very few signaling systems: four histidine kinases (HKs), five response regulators (RRs) and no methyl-accepting chemotaxis proteins (MCPs) in
Haemophilus influenzae
, none of these in
Mycoplasma genitalium
or
Methanococcus
(recently renamed
Methanocaldococcus
)
jannaschii
. Analysis of the fourth sequenced organism, the freshwater cyanobacterium
Synechocystis
sp. PCC 6803, revealed 42 HKs and 38 RRs [
5
], whereas the fifth,
Mycoplasma pneumoniae
, again had none. The list of signaling proteins encoded in microbial genomes grew by leaps and bounds ever since, generally following the exponential increase in the number of completely sequenced genomes and the total number of proteins that they encode (Figure
1
). Given the importance of two-component signal transduction in bacteria [
6
,
7
], the numbers of HKs and RRs were routinely reported in many genome descriptions. However, due to the limitations of employed algorithms and arbitrarily high cut-off values in most sequence comparison protocols, certain HK variants were often missed, for example, the HKs of the LytS family (family HPK8 in the classification of Grebe and Stock [
8
,
9
]). Some HKs of the recently described HWE family [
10
] have not been recognized as HKs even when compared against SMART [
11
,
12
] and Pfam [
13
,
14
] domain databases [
15
]. Because of that, HKs were systematically undercounted: the number of HKs in
E. coli
, first reported to be 28 [
16
], was then revised upwards to 29 [
2
,
17
] and now stands at 30 [
18
]; [see
Additional file 1
]). Likewise, the number of HKs encoded by
Synechocystis
sp. PCC 6803, originally estimated to be 42 [
5
], has been revised to 46 [
2
]. As a result, most estimates of the HK numbers published in previous years are unreliable. Besides, listings of signal transduction proteins typically did not take into account Ser/Thr/Tyr-specific protein kinases (STYKs) and protein phosphatases, which, as we now know, were encoded in the
H. influenzae
,
M. genitalium
, and
M. jannaschii
genomes [see
Additional file 1
], see [
19
,
20
]. Further, cross-genome comparisons revealed entirely new classes of signaling molecules with GGDEF and EAL domains, involved in the turnover of the c-di-GMP, a novel secondary messenger [
21
,
22
]. Although genetic data and sequence considerations have long pointed to the diguanylate cyclase (c-di-GMP synthetase) activity of the GGDEF domain and the phosphodiesterase (c-di-GMP hydrolase) activity of the EAL domain, direct biochemical proof that this is indeed the case has became available only in the past year [
23
–
25
], reviewed in [
21
,
22
]. Predicted phosphodiesterase activity of the HD-GYP domain [
26
] has never been experimentally verified. Finally, although participation of cellular adenylate cyclases (ACs) in signal transduction was never in question, class 3 enzymes (AC3s) were recognized as legitimate environmental sensors only last year, when they were shown to function as light receptors modulating motility in cyanobacteria [
27
,
28
]. Adenylate cyclases of class 1 and class 2, represented by experimentally characterized proteins from
E. coli
(AC1, [
29
]) and
Aeromonas hydrophila
(AC2, [
30
]), are cytoplasmic enzymes of relatively narrow phylogenetic distribution [see
Additional file 1
] and are not known to function as environmental sensors.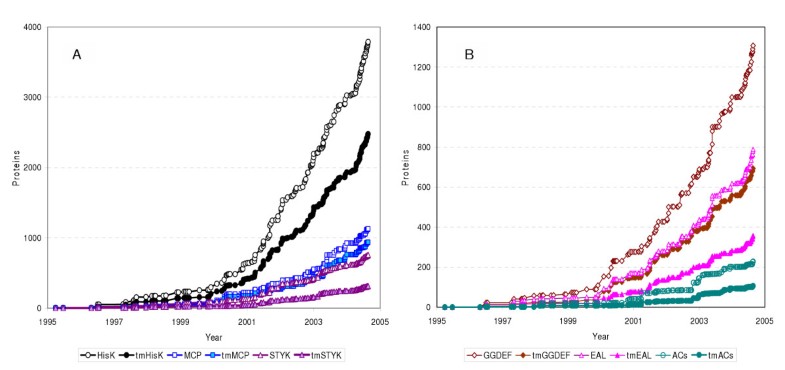 The diversity of the signal transduction systems made careful accounting for all of them a daunting task, further complicated by the paucity of the data on the cellular targets for STYKs [31] and virtual absence of any data on the mechanisms of c-di-GMP-mediated regulation [21, 22]. Hence, most signaling protein surveys focused exclusively on certain classes of membrane receptors (HKs and/or MCPs) and RRs [5, 16, 17, 32–34], or on certain organisms, mostly cyanobacteria and actinobacteria [35–38]. Shi, Kennelly and Potts performed a comprehensive survey of STYKs and protein phosphatases [19, 20, 39], but have not looked at other signaling proteins. Galperin and colleagues [2, 26] performed a census of HKs, GGDEF, and EAL domains but never considered STYKs or ACs. Surveys of the MCP and AC3 distribution in complete microbial genomes by Zhulin [40] and Shenoy and Visweswariah [41], respectively, were limited to these protein domains. The information on signaling systems is poorly represented in public databases. While HKs and RRs are covered in the KEGG database [42, 43], other signaling systems are not. The SENTRA [44, 45]), SMART [11, 12] and COG [46, 47] databases have a good coverage of the first sequenced genomes but have not been updated in a while, whereas data in other databases, such as Pfam [13, 14] or PEDANT [48, 49] are generated mostly by automatic means and therefore prone to the biases described above (and also in the Results section).
While preparing recent reviews on signal transduction in bacteria [3, 22], the need for comprehensive and reliable data on the distribution of specific signaling systems among different phylogenetic lineages became all too obvious. Since signal transduction systems grow in number and complexity with the genome size and play increasingly important roles in environmental bacteria [3, 4], it has become clear that comparative analysis of such systems could provide a useful insight into bacterial behavior [50]. Here I present a comprehensive census of HKs, MCPs, STYKs and ACs, as well as GGDEF, EAL, and HD-GYP domains encoded in complete genomes of 167 bacterial and archaeal species, sequenced by the end of 2004. I hope that availability of these data on a public web site [51], which will be updated as needed, will stimulate further analysis of microbial signal transduction and will lead to a better understanding of microbial behavior in various ecological niches.
Discussion
This paper has grown out of a survey of signal transduction systems in several alpha- and gamma-proteobacteria prepared for a recent review (Table 1 in ref [3]). It turned out that mere 'counting the senses' could help understand bacterial behavior. For example, as discussed earlier, genomes of two alpha-proteobacteria, Caulobacter crescentus and Mesorhizobium loti, encode the same number of HKs but the former one encodes 19 MCPs compared to just one in M. loti [see Additional file 1]. In contrast, M. loti encodes 13 copies of AC3, compared to just two of them in C. crescentus ([3], [see Additional file 1]). Such observations could provide a useful insight into the physiology of many obscure bacteria whose genomes have been sequenced in the last several years or will be sequenced in the near future. I have therefore updated our previous listing of signal transduction proteins encoded in microbial genomes [2] to cover the genomes sequenced in the past five years.
Conclusion
Careful accounting of diverse proteins participating in prokaryotic signal transduction shows that the complexity of signaling mechanisms correlates well with the organism's genome size and the size of its proteome. The total number of proteins involved in signal transduction, the number of histidine kinases, and the total number of signal transduction proteins other than histidine kinases all grow as square of the genome size. At the same time, the fractions of the latter proteins – MCPs, STYKs, adenylate and diguanylate cyclases and phosphodiesterases – in the total set vary widely depending on the organism's ecology, metabolic properties, and phylogenetic position. The results of this census are freely available to the public and will be updated and corrected as necessary. The availability of this resource, as well as introduction of the concepts of bacterial IQ, introverts and extroverts among the prokaryotes, should help in achieving a better understanding of the microbial behavior and forces that shape microbial genome evolution.
List of Abbreviations
AC:

adenylate cyclase
AC1:

adenylate cyclase class 1
AC2:

adenylate cyclase class 2
AC3:

adenylate cyclase class 3
c-di-GMP:

cyclic dimeric (3',5'-guanosine monophosphate)
EAL:

conserved protein domain with the Glu-Ala-Leu sequence motif and c-di-GMP-specific phosphodiesterase activity
GGDEF:

conserved protein domain with the Gly-Gly-(Asp/Glu)-Glu-Phe sequence motif and diguanylate cyclase activity
HD-GYP:

conserved protein domain of the HD phosphohydrolase superfamily with additional highly conserved residues, predicted phosphodiesterase
HK or HisK:

histidine kinase
MCP:

methyl-accepting chemotaxis protein
STYK:

Ser/Thr/Tyr-specific protein kinase
TM:

transmembrane.
Declarations
Acknowledgements
I thank Yuri Wolf and Darren Natale for valuable advice, Mark Gomelsky, Eugene Koonin, Armen Mulkidjanian, and Igor Zhulin for helpful comments, and many other colleagues for suggestions.
Authors' Affiliations
(1)
National Center for Biotechnology Information, National Library of Medicine, National Institutes of Health, Bethesda, USA
Copyright
© Galperin; licensee BioMed Central Ltd. 2005
This article is published under license to BioMed Central Ltd. This is an Open Access article distributed under the terms of the Creative Commons Attribution License (http://creativecommons.org/licenses/by/2.0), which permits unrestricted use, distribution, and reproduction in any medium, provided the original work is properly cited.