Research article
Open Access
Identification and characterization of the biosynthetic gene cluster of polyoxypeptin A, a potent apoptosis inducer
BMC Microbiology
2014
14:30
Received: 7 November 2013
Accepted: 4 February 2014
Published: 8 February 2014
Abstract
Background
Polyoxypeptin A was isolated from a culture broth of Streptomyces sp. MK498-98 F14, which has a potent apoptosis-inducing activity towards human pancreatic carcinoma AsPC-1 cells. Structurally, polyoxypeptin A is composed of a C15 acyl side chain and a nineteen-membered cyclodepsipeptide core that consists of six unusual nonproteinogenic amino acid residues (N-hydroxyvaline, 3-hydroxy-3-methylproline, 5-hydroxypiperazic acid, N-hydroxyalanine, piperazic acid, and 3-hydroxyleucine) at high oxidation states.
Results
A gene cluster containing 37 open reading frames (ORFs) has been sequenced and analyzed for the biosynthesis of polyoxypeptin A. We constructed 12 specific gene inactivation mutants, most of which abolished the production of polyoxypeptin A and only ΔplyM mutant accumulated a dehydroxylated analogue polyoxypeptin B. Based on bioinformatics analysis and genetic data, we proposed the biosynthetic pathway of polyoxypeptin A and biosynthetic models of six unusual amino acid building blocks and a PKS extender unit.
Conclusions
The identified gene cluster and proposed pathway for the biosynthesis of polyoxypeptin A will pave a way to understand the biosynthetic mechanism of the azinothricin family natural products and provide opportunities to apply combinatorial biosynthesis strategy to create more useful compounds.
Keywords
BiosynthesisPolyoxypeptin APolyketideNonribosomal peptideApoptosis-inducing activity
Background
Polyoxypeptin A (PLYA) was isolated from the culture broth of
Streptomyces
sp. MK498-98 F14, along with a deoxy derivative named as polyoxypeptin B (PLYB), as a result of screening microbial culture extracts for apoptosis inducer of the human pancreatic adenocarcinoma AsPC-1 cells that are highly apoptosis-resistant[
1
,
2
]. PLYA is composed of an acyl side chain and a cyclic hexadepsipeptide core that features two piperazic acid units (Figure
1
). Structurally similar compounds have been identified from actinomycetes including A83586C[
3
], aurantimycins[
4
], azinothricin[
5
], citropeptin[
6
], diperamycin[
7
], kettapeptin[
8
], IC101[
9
], L-156,602[
10
], pipalamycin[
11
], and variapeptin[
12
] (Figure
1
). This group of secondary metabolites was named 'azinothricin family' after the identification of azinothricin as the first member in 1986 from
Streptomyces
sp. X-1950.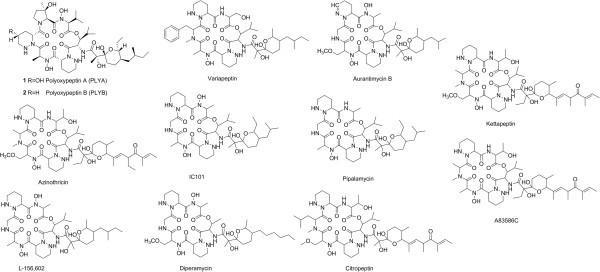 The compounds in this family exhibit diverse biological activities, such as potent antibacterial, antitumor[13, 14], and anti-inflammatory activities[15], and acceleration of wound healing[16]. Both PLYA and PLYB were confirmed to be potent inducers of apoptosis. They can inhibit the proliferation of apoptosis-resistant AsPC-1 cells with IC50 values of 0.062 and 0.015 μg/mL. They can also induce early cell death in human pancreatic adenocarcinoma AsPC-1 cell lines with ED50 values of 0.08 and 0.17 μg/mL, more efficiently than adriamycin and vinblastine that can't induce death of AsPC-1 cells even at 30 μg/mL[2]. In addition, they are able to induce apoptotic morphology and internucleosomal DNA fragmentation in AsPC-1 cell lines at low concentrations[17].
Polyoxypeptins (A and B) possess a variety of attractive biosynthetic features in their structures. The C15 acyl side chain may present a unique extension unit in polyketide synthase (PKS) assembly line probably derived from isoleucine[18]. The cyclo-depsipeptide core consists of six unusual amino acid residues at high oxidation states, including 3-hydroxyleucine, piperazic acid, N-hydroxyalanine, 5-hydroxypiperazic acid (for PLYA) or piperazic acid (for PLYB), 3-hydroxy - 3-methylproline, and N-hydroxyvaline. The most intriguing is the hydroxylation at α-amino groups of the l-alanine and l-valine, different from that at terminal amino group of ornithine or lysine in siderophore biosynthesis[19]. It is worth to note that (2S, 3R) -3-hydroxy - 3-methylproline presents a synthetic challenge[20]. Both structural novelty and biological activity of polyoxypeptins have spurred much interest in understanding the biosynthetic mechanism and employing biosynthesis and combinatorial biosynthesis to create new polyoxypeptin derives.
Here, we report the identification and characterization of the biosynthetic gene cluster for PLYA based on the genome sequencing, bioinformatics analysis, and systematic gene disruptions. The five stand-alone nonribosomal peptide synthetase (NRPS) domains were confirmed to be essential for PLYA biosynthesis, putatively involved in the biosynthesis of the unusual building blocks for assembly of the peptide backbone. Furthermore, three hydroxylases and two P450 enzymes were genetically characterized to be involved in the biosynthesis of PLYA. Among them, the P450 enzyme PlyM may play a role in transforming PLYB to PLYA.
Conclusions
We identified and characterized the ply gene cluster composed of 37 open reading frames (ORFs) by genomic sequencing and systematic gene disruptions. The biosynthetic pathway has been proposed based on bioinformatics analysis, the structural analysis of PLYs and genetic data. It was demonstrated that five discrete NRPS domains are essential for the biosynthesis of PLYs and proposed their roles in maturation of three unusual amino acid building blocks. The proposed biosynthetic pathway for PLYs will open the door to understand the biosynthesis of this family of secondary metabolites and set a stage to explore combinatorial biosynthesis to create new compounds with improved pharmaceutical properties.
Ethics statement
This study doesn't involve human subjects or materials.
Methods
Strains, plasmids, primers and culture conditions
Strains, plasmids and primers used in the study are summarized in Additional file1: Tables S1, S2 and S3 of the supplemental material. Escherichia coli strains were cultured on Luria-Bertani (LB) broth and agar medium at 37°C. Streptomyces sp. MK498-98 F14 and its mutant strains were cultivated at 30°C on the medium (yeast extract 0.4%, glucose 0.4%, malt extract 1%, agar 1.2%, pH 7.2) for sporulation and on 2CM[60] medium (soluble starch 1%, tryptone 0.2%, NaCl 0.1%, (NH4)2SO4 0.2%, K2HPO4 0.1%, MgSO4 0.1%, CaCO3 0.2%, agar 1.2% with 1 mL inorganic salt solution per liter, pH7.2) for conjugation. For fermentation, mycelia of strain MK498-98 F14 and its mutants from the solid plates were inoculated into a 500-mL Erlenmeyer flask containing 100 mL of a medium composed of glucose 1%, potato starch 1%, glycerol 1%, polypepton 0.5%, meat extract 0.5%, sodium chloride 0.5%, and calcium carbonate 0.32% (adjusted to pH 7.4)[2]. The culture was incubated at 28°C for six days on a rotatory shaker at 220 rpm.
General genetic manipulations and reagents
The general genetic manipulation in E. coli and Streptomyces were carried out following the standard protocols[22]. PCR amplifications were performed on a Veriti thermal cycler (Applied Biosystems, Carlsbad, CA) using Taq DNA polymerase. DNA fragments and PCR products were purified from agarose gels using a DNA Gel Extraction Kit (Omega). Primers were synthesized in Sangong Biotech Co. Ltd. Company (Shanghai, China). All DNA sequencing was accomplished at Shanghai Majorbio Biotech Co. Ltd (Shanghai, China). Restriction enzymes were purchased from New England Biolabs (Ipswich, MA) and Fermentas (St. Leon-Rot, Germany). Taq DNA polymerase and DNA ligase were purchased from Takara Co. Ltd. Company (Dalian, China).
Genomic library construction and screening
A genomic cosmid library of Streptomyces sp. MK498-98 F14 derived from SuperCos1 was constructed according to the procedure as described by the SuperCos1 Cosmid Vector Kit. E. coli EPI300™-T1R, instead of E.coli XL1-Blue MR, was used as the host strain. The total number of recombinant clones was about 3000 and then stored at −70°C. Two pairs of primers for two hydroxylase genes, orf0337 4 (plyE) and orf14777 (plyP) were designed and used to screen the genomic cosmid library by PCR.
Genome sequencing and analysis
Genome sequencing was accomplished by 454 sequencing technology. Open reading frames were analyzed using the Frame Plot 3.0 beta online[61], and the analysis of the deduced function of the proteins were carried out by the NCBI website[62]. Primer design, multiple nucleotide sequence alignments and analysis were performed using the BioEdit. The NRPS-PKS architecture was analyzed by NRPS-PKS online website (http://nrps.igs.umaryland.edu/nrps/)[63] and the prediction of ten amino acid of the conserved substrate-binding pocket of the A domain was performed using the online program NRPS predictor (http://ab.inf.unituebingen.de/toolbox/index.php?view=domainpred)[64].
Construction of gene inactivation mutants
All the mutant strains in this study were generated by homologous recombination according to the standard method[65]. The target genes were replaced with an apramycin-resistance gene from pIJ773 on SuperCos1 by traditional PCR-targeting technique. Then the recombinant plasmids were transformed into E. coli S17-1 cells for conjugation. The exconjugants would appear three days later and could be transferred to a new growth medium supplemented with apramycin (60 μg/mL) and nalidixic acid (100 μg/mL). Double-crossover mutants were identified through diagnostic PCR with corresponding primers (Additional file1: Table S3).
LC-MS analyses of wild type and mutant strains
After finishing the fermentation, the culture broth of wild type and mutant strains were extracted by equal volume of ethyl acetate. The supernatant of the ethyl acetate phase was concentrated by rotary evaporator under the reduced pressure and finally dissolved in methanol (400 μL) for the LC-MS analysis using the Agilent 1100 series LC/MSD Trap system. The conditions for the LC-MS analysis are as follows: 55-100% B (linear gradient, 0–25 min, solvent A is water containing 0.1% formic acid, solvent B is acetonitrile containing 0.1% formic acid), 100% B (26–30 min) at the flow rate of 0.3 mL/min with a reverse-phase column ZORBAX SB-C18 (Agilent, 5 μm, 150 mm × 4.6 mm). Figure 4B was recorded with the conditions: 35-95% B (linear gradient, 0–20 min), 100% B (21–25 min), 35%B (25–40 min) at the flow rate of 0.3 mL/min.
Nucleotide sequence accession number
The sequence of the polyoxypeptin A biosynthetic gene cluster was deposited in GenBank with accession number KF386858.
Declarations
Acknowledgments
This work was financially supported by the 973 programs (2010CB833805 for SL) and (2009CB118901 for ZD) from MOST, the key project (311018) from MOE and NSFC (31070057 for SL; 31121064 for ZD).
Authors' Affiliations
(1)
State Key Laboratory of Microbial Metabolism, School of Life Sciences and Biotechnology, Shanghai Jiao Tong University, Shanghai, China
(2)
Department of Chemistry at the Scripps Research Institute, Jupiter, USA
Copyright
© Du et al.; licensee BioMed Central Ltd. 2014
This article is published under license to BioMed Central Ltd. This is an Open Access article distributed under the terms of the Creative Commons Attribution License (http://creativecommons.org/licenses/by/2.0), which permits unrestricted use, distribution, and reproduction in any medium, provided the original work is properly credited. The Creative Commons Public Domain Dedication waiver (http://creativecommons.org/publicdomain/zero/1.0/) applies to the data made available in this article, unless otherwise stated.