Research article

Open Access
Escherichia coliYmdB regulates biofilm formation independently of its role as an RNase III modulator
BMC Microbiology
2013
13:266
Received: 1 June 2013
Accepted: 21 November 2013
Published: 24 November 2013
Abstract
Background
Ribonuclease III (RNase III) activity modulates hundreds of genes in Escherichia coli (E. coli). YmdB, a member of the macrodomain protein family, is one of known trans-acting regulators of RNase III activity; however, the significance of its regulatory role in specific bacterial cellular processes and related genes has not been determined. YmdB overexpression was used to model YmdB-induced RNase III inhibition in vivo, and microarray analysis identified gene targets and cellular processes related to RNase III inhibition.
Results
The expression of >2,000 E. coli genes was modulated by YmdB induction; 129 genes were strongly regulated, of which 80 have not been reported as RNase III targets. Of these, ten are involved in biofilm formation. Significantly, YmdB overexpression also inhibited biofilm formation via a process that is not uniquely dependent upon RNase III inhibition. Moreover, biofilm formation is interdependently regulated by RpoS, a known stress response regulator and biofilm inhibitor, and by YmdB.
Conclusions
This is the first global profile of target genes modulated by YmdB-induced RNase III inhibition in E. coli, and the data reveal a novel, hitherto unrecognized regulatory role for YmdB in biofilm modulation.
Keywords
Ribonuclease III (RNase III)MicroarrayBiofilmTrans-acting regulator Escherichia coli
Background
RNase III family members cleave double-stranded RNAs to yield 5′ phosphate and 3′ hydroxyl termini, and are extensively conserved in prokaryotes and eukaryotes [1–7]. During bacterial ribosome biogenesis, RNase III processes the ribosomal RNA (rRNA) precursors [8], and also mediates the maturation and/or degradation of different types of transcripts [9], small RNAs [10, 11], and mRNAs containing rnc[12, 13] or pnp genes [14]. The structural and mechanistic features of RNase III have been extensively studied [1–14]; however, questions remain concerning the cellular control of RNase III activity under different physiological conditions.
In E. coli, some proteins are known as regulators for endo-RNase activity [15–18]. For example, RraA and RraB negatively regulate RNase E activity [15, 16]. In case of RNase III, bacteriophage T7 protein kinase [17] and YmdB [18] identified as an either activator or inhibitor of RNase III function. The activation process by bacteriophage T7 protein kinase is through binding to RNase III and phosphorylates the enzyme on serine [17]. YmdB was the first RNase III-binding inhibitor to be identified in vivo using a novel genetic screening approach and, in common with other RNase regulators, YmdB expression is modulated by cold- or growth-stress [18]. YmdB, acting in concert with other uncharacterized stress-mediated trans-acting factors, facilitates the regulation of RNase III activity under growth- [18] or osmotic stress conditions [19]. Several protein identities are proposed for the trans-acting inhibitor(s) and potential targets of their inhibition has been suggested; for example, cellular targets of RNase III activity, such as the RNase III gene itself, rnc[12, 13], pnp[14], and rRNA processing by YmdB [18] and the level of bdm mRNA encoding a protein that promotes biofilm formation by unknown trans-acting factor(s) [19]. The cellular processes required for RNase III inhibition by trans-acting factor(s) during stress responses are unclear; however, one post-transcriptional pathway has been proposed [7], which involves the general stress-responsive regulator, RpoS [20]. By cleaving the rpoS mRNA 5′-leader [21], RNase III reduces RpoS production; the presence of YmdB limits this reaction and as a consequence, increases RpoS levels, which supports entry into the stationary phase [7]. This hypothesis behind this process came from a study that used an RNase III mutant [21]; however, to clarify and identify new targets of RNase III inhibition, it is essential to adopt a model that mimics physiological RNase III inhibition via the induction of trans-acting factor(s).
The present study investigated RNase III inhibition via the ectopic expression of the regulatory protein, YmdB, and identified novel targets of inhibition. We also explored the mechanism(s) by which biofilm formation is regulated. Gene expression profiling of the entire E. coli open reading frame (ORF) following YmdB overexpression was performed using DNA microarray analysis, and revealed that ~2,000 transcripts were modulated. Of these, 129 genes spanning ten cellular processes were strongly modulated by YmdB expression. About 40 of these were similarly controlled by RNase III, including five novel targets. Moreover, among the YmdB-modulated genes, ten are reported to be related to biofilm formation, the presence of which is a universal feature of bacteria and a component of multicellular communities [22]. Biochemical analyses indicate that induction of YmdB strongly inhibits biofilm formation in a manner similar to that of RpoS, which is a regulator of general stress responses [20] and a biofilm inhibitor [23–25]. Inhibition occurred via two mechanisms that were either dependent or independent of RNase III activity. Genetic studies revealed that the YmdB- and RpoS-induced decrease in biofilm formation required RpoS and YmdB, respectively. In conclusion, we have identified a novel role for YmdB as a modulator of biofilm formation, and revealed how a trans-acting factor can regulate RNase III activity, as well as function independently to enable a rapid response to changing cellular needs.
Discussion
The results presented herein demonstrate that YmdB is a major regulator of RNase III activity in
E. coli
, modulating more than 30% of the genes targeted by RNase III. In addition, the results of a microarray analysis following YmdB overexpression (which identified changes in biofilm-related genes and a decrease in biofilm formation) indicate a novel role for YmdB as a modulator of biofilm formation. Previous results indicated that overexpression of RpoS was associated with decreased biofilm formation [
25
]. Our microarray, qPCR, and Western blotting data showed that overexpression of YmdB increased the levels of RpoS (Additional file
1
: Tables S3, Figures
2
,
3
and
4
). Moreover, YmdB modulated RpoS levels and activity of biofilm formation (Figures
3
,
4
). Thus, we propose a model to illustrate the multiple roles played by YmdB during gene expression and biofilm formation (Figure
5
).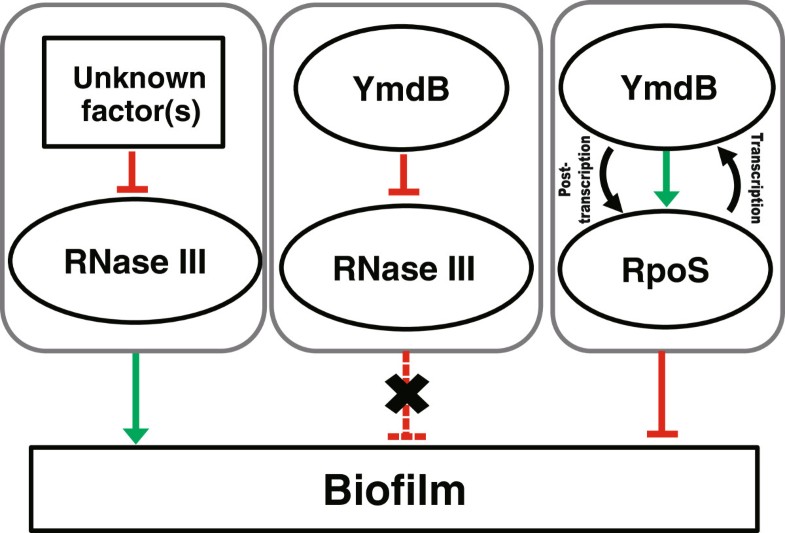 The 5′ UTR of rpoS mRNA is a known target of RNase III and its levels increase when RNase III activity is ablated [21]. Because biofilm formation is influenced by RpoS levels, it may be proposed that the rpoS mRNA is responsive to YmdB-directed RNase III inhibition. However, this is not the case because the decrease in biofilm formation following YmdB expression was not reversed in the absence of RNase III (Figure 2), suggesting that regulation of RNase III activity by YmdB is not essential for the inhibition of biofilm formation. Thus, the major mechanism underlying biofilm regulation by YmdB appears to be RNase III-independent (Figure 5).
A screen of potential regulatory gene(s) with a YmdB-mediated phenotype demonstrated that RpoS is necessary for inhibiting biofilm formation (Figure 3); RpoS activates the transcription of ymdB[18]; thus, it is highly plausible that the RpoS gene is an upstream regulator of YmdB transcription and the resultant phenotypes. Conversely, the possibility that YmdB is a transcription factor that activates rpoS transcription was initially suggested by observations that RpoS levels were increased by YmdB overexpression, and that YmdB and RpoS are both required for the decrease in biofilm formation. However, this theory was rejected because increases in YmdB expression had no effect on promoter activity (data not shown). Hence, YmdB-induced modulation of RpoS levels must occur via post-transcriptional regulation (Figure 4). It is also possible that YmdB modulates other rpoS transcription factor(s), although we have not identified which other transcription factors are required for this response. Overall, the data suggest that YmdB and RpoS are co-regulators of biofilm formation (Figure 5).
The identification of a novel role for YmdB is not altogether surprising, since eukaryotic macrodomain proteins can have multiple roles [43, 44], and YmdB has additional functions in bacteria [45, 46]. For instance, in E. coli YmdB deacetylates the sirtuin product of O-acetyl-ADP-ribose and reforms ADP ribose [45]. The present study reveals that YmdB modulates the expression of genes involved in physiologically important pathways (Table 1); hence, YmdB could act as a general regulator in a variety of cellular processes. Further examination of such a potential role for YmdB and its family members in bacteria is necessary. YmdB is also required to be coexpressed for the complementation of a function of ClsC, a recently identified cardiolipin synthase in E. coli[45]. ClsC utilizes phosphatidylethanolamines (PE) as the phosphatidyl donor to phosphatidylglycine (PG) to form cardiolipin (CL) [46]. While YmdB is apparently not a direct modulator of that pathway (since changes in clsC (ymdC) gene expression in the microarrays were negligible (a 1.1-fold increase only); (data not shown), it may modulate it indirectly via the action of the fatty acid biosynthesis gene, fabD (Table 1), on the CL synthesis-regulating gene; however, such a role has not been confirmed.
The ectopic expression of YmdB almost completely regulates RNase III activity with respect to several targets, including pnp, rnc and ribosomal RNA processing (Additional file 1: Figure S2) [6]; however, biofilm formation is not solely dependent upon YmdB-directed RNase III regulation, suggesting that gene expression data will be useful for identifying unknown RNase III-independently regulated YmdB functions.
Several trans-acting factors that modulate the RNase activity of both exo- and endo-RNases have been identified in E. coli[15–18, 47, 48]. Among these four trans-acting regulatory proteins for endo-RNase activity have been well characterized in E. coli: RraA [15] and RraB [16] for RNase E, and bacteriophage T7 protein kinase [17] and YmdB [18] for RNase III. The presence of homologs in other species suggests such regulation of endo-RNase activity is generally required for bacterial physiology. Recently, gene expression profiling revealed a role for RraA in regulating the SOS response, a mechanism which responds to the stress caused by DNA damage [15, 49]. RNase III modulates approximately 12% (592 genes) of the E. coli genome [35]; using YmdB-mediated down-regulation of RNase III rather than an RNase III mutant retains the ability to measure the effect of trans-acting factor(s) and hence the correct physiological modulation of RNase III. Because YmdB regulates the turnover of approximately 30% of the target genes of RNase III (Additional file 1: Table S3) and the rpoS level is not completely regulated by YmdB (Figure 4), either other regulator(s) that result RNase III mutant-like conditions must be present or YmdB partially regulates the physiology of the RNase III-mutant to induce the up-regulation of an RNase III activator that has yet to be identified.
Conclusions
The data presented herein show that YmdB functions both to regulate RNase III activity and to modulate bacterial biofilm formation; therefore, YmdB seems to be a multifunctional bacterial macrodomain protein, similar to that in eukaryotic cells. Furthermore, this protein will make it possible to design a more intelligent synthetic scaffold for producing bacterial cells that modulate difficult-to-treat pathogens that depend upon biofilm production.
Availability of supporting data
The data sets supporting the results of this article are included within the article and in Additional file 1.
Declarations
Acknowledgements
We thank Dr. Susan Gottesman for distributing RpoS fusion strain (SG30013). This work is supported by the Basic Science Research program through the NRF Korea (2010–0023011) to K.S.K. and the KRIBB initiative program.
Authors' Affiliations
(1)
Superbacteria Research Center, Korea Research Institute of Bioscience and Biotechnology (KRIBB), Daejeon, Korea
(2)
Department of Molecular Biology, Chonbuk National University, Jeonju-si, Korea
(3)
Department of Biosystems and Bioengineering, University of Science and Technology, Yuseong-gu, Korea
Copyright
© Kim et al.; licensee BioMed Central Ltd. 2013
This article is published under license to BioMed Central Ltd. This is an open access article distributed under the terms of the Creative Commons Attribution License (http://creativecommons.org/licenses/by/2.0), which permits unrestricted use, distribution, and reproduction in any medium, provided the original work is properly cited.