Research article
Open Access
Proteomics of Streptococcus gordonii within a model developing oral microbial community
BMC Microbiology
2012
12:211
Received: 15 May 2012
Accepted: 17 September 2012
Published: 18 September 2012
Abstract
Background
Streptococcus gordonii is one of several species that can initiate the formation of oral biofilms that develop into the complex multispecies microbial communities referred to as dental plaque. It is in the context of dental plaque that periodontal pathogens such as Porphyromonas gingivalis cause disease. We have previously reported a whole cell quantitative proteomics investigation of P. gingivalis in a model dental plaque community of S. gordonii, P. gingivalis, and Fusobacterium nucleatum. Here we report the adaptation of S. gordonii to the same model.
Results
1122 S. gordonii proteins were detected in S. gordonii control samples, 915 in communities with F. nucleatum, 849 with P. gingivalis, and 649 with all three organisms. Quantitative comparisons showed extensive proteome changes in association with F. nucleatum or P. gingivalis individually or both P. gingivalis and F. nucleatum together. The changes were species specific, though the P. gingivalis interaction may be dominant, indicated by large differences between the proteomes with F. nucleatum or P. gingivalis but limited changes between communities with P. gingivalis or both P. gingivalis and F. nucleatum. The results were inspected manually and an ontology analysis conducted using DAVID. Extensive changes were seen in nutrition pathways with increases in energy metabolism and changes in the resulting byproducts, while the acid and sugar repressed PTS (phosphoenolpyruvate dependent phosphotransferase system) sugar transport systems showed decreases. These results were seen across all the multispecies samples, though with different profiles according to the partner species. F. nucleatum association decreased proteins for the metabolic end products acetate and ethanol but increased lactate, the primary source of acidity from streptococcal cultures. P. gingivalis containing samples had a reduction in levels of proteins for ethanol and formate but increased proteins for both acetate and lactate production. The communities also showed increases in exopolysaccharide synthesis, amino acid biosynthesis, and oxidative stress protection and decreases in adhesion and transporter proteins.
Conclusion
This study showed that S. gordonii demonstrates species specific responses during interactions with F. nucleatum or P. gingivalis. Extensive changes were seen in energy metabolism and byproduct production implicating nutrient transfer as an important community interaction.
Keywords
Streptococcus gordonii Oral biofilmProteomicsModel community Porphyromonas gingivalis Fusobacterium nucleatum
Background
Oral infections, such as caries and periodontal disease, are among the most common instances of bacterial pathogenesis in humans. Current models of oral disease development center around the microbial communities found in dental plaque biofilms. Development of the dental plaque biofilm involves competition and cooperation among hundreds of different organisms. Early colonizing organisms, dominated by streptococci such as S. gordonii[1], bind to a variety of host derived molecules coating oral surfaces known as the acquired pellicle. Secondary colonizing species then adhere to those bound to the pellicle. Fusobacterium nucleatum can bind these early colonizing organisms and later additions to the biofilm [2]. In addition, F. nucleatum is aerotolerant and metabolic activity can reduce the concentration of oxygen to levels that can be tolerated by more pathogenic organisms such as P. gingivalis[3]. P. gingivalis can bind to both F. nucleatum and S. gordonii[4, 5], and these organisms are metabolically compatible when associated [3, 6]. While destruction of periodontal tissue is generally associated with later colonizers like P. gingivalis, pathogenicity is expressed within the context of the microbial community.
It has recently been shown that nutrient transfer within a community can play an important role in pathogenicity [7]. Co-culture with S. gordonii resulted in increased virulence of the periodontal pathogen Aggregatibacter actinomycetemcomitans. The increase was dependent on the ability of A. actinomycetemcomitans to utilize L-lactate, a byproduct of S. gordonii energy metabolism, as an energy source. Furthermore, a mutant strain unable to utilize L-lactate showed significantly decreased virulence in the co-culture highlighting the importance of metabolite cross-feeding.
Oral microbial communities are also known for altering their local environment. The most striking example occurs in dental caries where species such as Streptococcus mutans significantly reduce the pH to a point where enamel is demineralized [8]. This shift in ecology also effects the development of the dental plaque, selecting for more aciduric organisms such as lactobacilli. While S. gordonii does not produce acid at the same levels or at lower pH as does S. mutans, S. gordonii has been found to produce acid down to pH 5.5 [9] and may also change the local ecology during formation of dental plaque.
The large number of species involved, the heterogeneity between hosts as well as within the oral cavity, and the small sample sizes that can be harvested from the oral cavity compared to laboratory grown samples, all present significant experimental challenges in examining microbial interactions in dental plaque development. In order to investigate these interactions in a more experimentally tractable system [10], we have developed a model of nascent community interactions [11] using three representative species of oral bacteria, S. gordonii, F. nucleatum, and P. gingivalis. We have previously reported our results for P. gingivalis protein expression, which showed extensive changes in 18 hour pellets with S. gordonii and F. nucleatum, especially in the cell envelope proteome and in vitamin synthesis pathways [11]. Here we report changes in S. gordonii protein levels in model nascent communities with F. nucleatum, P. gingivalis, and all three species combined.
Results and discussion
Bacteria in the oral cavity assemble into complex heterotypic communities that engage in multilevel signaling and response interactions [
12
,
13
]. Bacteria can communicate through direct contact; soluble secreted factors such as autoinducers; and detection and utilization of metabolic products of partner species [
14
,
15
]. Proteomic investigation of such communities in vitro presents numerous challenges including sample size and relevance to the in vivo situation. We have developed a model that includes elements from three major species of dental biofilms that represent early (
S. gordonii
) mid (
F. nucleatum
) and late (
P. gingivalis
) colonizers, organisms that form close associations with one another, as illustrated using scanning confocal microscopy (Figure
1
). By generating pellets of these organisms, we have provided conditions under which they are in close contact, thus allowing signaling through contact dependent mechanisms and short range chemical mediators. This model also allows separation of the interaction stage of community development (our major interest) from community development through bacterial growth and division. By avoiding growth cycles influenced by nutrient diffusion, there is less opportunity for results to be confounded by differential protein expression due to different physiological microniches.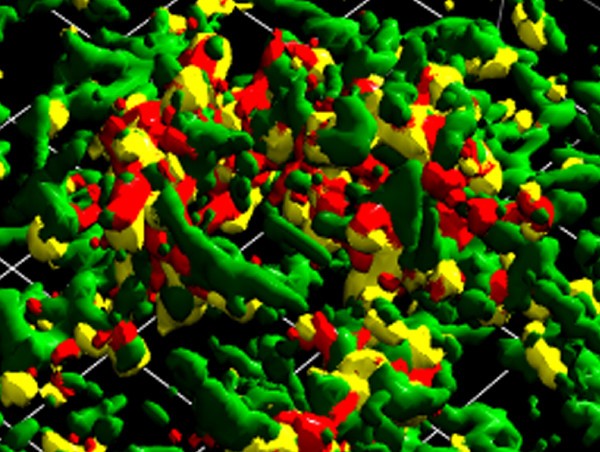 Conclusions
Both dental caries and periodontal disease are community diseases that ensue from the action of complex multispecies biofilms. Both synergistic and competitive interactions occur among the biofilm constituent species, and biofilm development is a complex interaction involving attachment, recruitment, maturation and detachment. In this study we used quantitative whole cell proteomics to compare proteomes in a simplified model of dental plaque, from a mono-culture of the early colonizer S. gordonii, to a mixed community of S. gordonii with the intermediate colonizer F. nucleatum, to a three-species model nascent community of S. gordonii, F. nucleatum, and the late colonizing periodontal pathogen P. gingivalis.
S. gordonii displayed extensive changes in communities with F. nucleatum and P. gingivalis, especially related to pathways for metabolite utilization and production. The observed changes were species specific depending on the interaction partner. The P. gingivalis interaction appeared to be dominant as protein levels in S. gordonii paired with P. gingivalis and F. nucleatum were very similar to those observed with P. gingivalis only. All of the mixed species samples showed evidence of increased energy metabolism and decreased PTS sugar transport compared to S. gordonii alone, consistent with high metabolite availability in mixed communities in vivo. There was also a shift in end product pathways for energy metabolism, altering the products available from S. gordonii to the community away from ethanol and towards L-lactate. Such a shift would be consistent with the production of a more acidic environment in vivo.
While contact with both F. nucleatum and P. gingivalis resulted in extensive changes to the proteome of S. gordonii, the dominant P. gingivalis interaction was consistent with models whereby P. gingivalis can influence the virulence properties of the microbial community as a whole [31, 32]. The mixed communities showed significant quantitative changes in 45 to 54% of the detected proteome compared to the S. gordonii single organism control. The F. nucleatum or P. gingivalis interactions appeared to be quite distinct, with approximately 48% of the detected proteome differing between the two two-species communities. However, only a small quantitative relative abundance difference, 11% of the detected proteome, occurred between pellets containing P. gingivalis and pellets with P. gingivalis and F. nucleatum, implying that in the present experimental model the contribution of P. gingivalis to a nascent heterotypic community supersedes that of other gram-negative anaerobes, such as F. nucleatum.
Methods
Bacteria and culture conditions
Fusobacterium nucleatum subsp. nucleatum ATCC 25586 and Porphyromonas gingivalis ATCC 33277 were grown anaerobically (85% N2, 10% H2, 5% CO2) at 37°C in trypticase soy broth supplemented with 1 mg/ml yeast extract, 1 μg/ml menadione and 5 μg/ml hemin (TSB).S. gordonii DL1 was grown anaerobically at 37°C in Todd-Hewitt broth (THB).
Chemicals
HPLC grade acetonitrile was from Burdick & Jackson (Muskegon, MI, USA); high purity acetic acid (99.99%) and ammonium acetate (99.99%), from Aldrich (Milwaukee, WI, USA). High purity water was generated with a NANOpure UV system (Barnstead, Dubuque, IA, USA).
Proteomics of model bacterial communities
Harvesting and pelleting of bacteria, proteomic analysis, mass spectrometry and statistical methods were handled as described in Kuboniwa et al.[11]. In brief, bacteria were cultured to mid-log phase, harvested by centrifugation and resuspended in pre-reduced PBS (rPBS). 1 x 109 cells of S. gordonii were mixed with an equal number of P. gingivalis, F. nucleatum, or both as combinations of the species. S. gordonii cells alone were also used as a control. Two independent biological replicates from separate experiments comprised of at least two technical replicates were analyzed. Bacteria were centrifuged at 3000 g for 5 min, and pelleted mixtures of bacteria were held in 1 ml pre-reduced PBS in an anaerobic chamber at 37°C for 18 h [10]. Bacterial cells were lysed in resuspension buffer (15 mM Tris HCl pH 9.5, 0.02% Rapigesttm Waters, Milford, MA) in a boiling water bath followed by sonication and bead beating and proteins were digested with trypsin then fractionated into five pre-fractions [33]. The 2D capillary HPLC/MS/MS analyses were conducted on a Thermo LTQ mass spectrometer (Thermo Fisher Corp. San Jose, CA, USA). Peptides were eluted with a seven step salt gradient (0, 10, 25, 50, 100, 250 and 500 mM ammonium acetate) followed by an acetonitrile gradient elution (Solvent A: 99.5% water, 0.5% acetic acid. Solvent B: 99.5% acetonitrile, 0.5% acetic acid). The MS1 scan range for all samples was 400–2000 m/z. Each MS1 scan was followed by 10 MS2 scans in a data dependent manner for the 10 most intense ions in the MS1 scan. Default parameters under Xcalibur 1.4 data acquisition software (Thermo Fisher) were used, with the exception of an isolation width of 3.0 m/z units and normalized collision energy of 40%.
Data processing and protein identification
Data processing was handled as described in Kuboniwa et al.[11]. In brief, raw data were searched by SEQUEST [34] against a FASTA protein ORF database consisting of the P. gingivalis W83 (2006, TIGR-CMR [35]) [GenBank: AE015924], S. gordonii Challis NCTC7868 (2007, TIGR-CMR [36]) [GenBank: CP00725.1], F. nucleatum ATCC 25586 (2002, TIGR-CMR [37]) [GenBank: AE009951.1], bovine (2005, UC Santa Cruz), nrdb human subset (NCBI, as provided with Thermo Bioworks ver. 3.3) and the MGC (Mammalian Gene collection, 2004 curation, NIH-NCI [38]) concatenated with the reversed sequences. The reversed sequences were used for purposes of calculating a qualitative FDR using the published method [39, 40]. The SEQUEST peptide level search results were filtered and grouped by protein using DTASelect [41], then input into a FileMaker script developed in-house [42, 43] for further processing, including peak list generation. Only peptides that were unique to a given ORF were used in the calculations, ignoring tryptic fragments that were common to more than one ORF or more than one organism, or both. The qualitative peptide level FDR was controlled to approximately 5% for all conditions by selecting a minimum non-redundant spectral count (unique peptide) cut-off number appropriate to the complexity of each condition. Using our methods, this implies a protein level qualitative FDR in the range of approximately 0.01 to 2%, depending on the specific experiment. A minimum of three unique peptides were used for any qualitative protein identification. Substitution of a database based on P. gingivalis 33277 [GenBank: AP009380] rather than W83 had no substantive effect on the calculations [44], so the original W83 entries were retained in the database for purposes of the work described here.
Protein abundance ratio calculations
Protein relative abundances were estimated on the basis of spectral count values for proteins meeting the requirements for qualitative identification described above [42, 43]. For spectral counts, the redundant numbers of peptides uniquely associated with each ORF were taken from the DTAselect filter table (t = 0). Spectral counting is a frequency measurement that has been demonstrated in the literature to correlate with protein abundance [45]. To calculate protein abundance ratios, a normalization scheme was applied such that the total spectral counts for all S. gordonii proteins in each condition were set equal for each comparison. The normalized data for each abundance ratio comparison was tested for significance using a global paired t-test for each condition, the details of which have been published for this type of proteomics data in which all biological replicates are compared against each other [33, 46], see also the explanatory notes in Kuboniwa et al. [11]. The testing procedure weighs deviation from the null hypothesis of zero abundance change and random scatter in the data to derive a probability or p-value that the observed change is a random event, i.e. that the null hypothesis of no abundance change is true. Each hypothesis test generated a p-value that in turn was used to generate a q-value as described [42, 47], using the R package QVALUE [48]. The q-value in this context is a measure of quantitative FDR [49] that contains a correction for multiple hypothesis testing. A q cut-off value of 0.005 was used for all ratios reported in the relative abundance tables shown in Additional files 1, 2, 3, 4, 5, 6, 7. All statistical calculations were done using R (Ver. 2.5.0). Only proteins with data consisting of confirmed high scoring MS2 mass spectra (high scoring qualitative database matches as described above) present in both the numerator and denominator of the abundance ratio comparison were listed as significantly changed in the relative abundance data tables (see Additional files 1, 2, 3, 4, 5, 6, 7).
Ontology analysis
An overall list of detected proteins, as well as lists of proteins that showed increased or decreased levels in the community comparisons, were prepared using Entrez gene identifiers. Ontology analyses were then conducted using the DAVID [50] functional annotation clustering feature with the default databases. Both increased and decreased protein level lists were analyzed using the overall list of detected proteins as the background. Potentially interesting clusters identified by DAVID were then examined manually.
Confocal microscopy
S. gordonii stained with hexidium iodide 15 μg ml-1, (Molecular Probes, Carlsbad, CA), F. nucleatum stained 5- (and 6-) carboxyfluorescein (4 μg ml-1, Molecular Probes) and P. gingivalis (2 x 108 cells of each species) were added together, centrifuged and incubated under anaerobic conditions for 18 h before removal of the supernatant and gentle re-suspension of the cells. The cell suspension (0.5 ml) was added to a glass coverslip before fixing with 4% paraformaldehyde. Detection of P. gingivalis was achieved using a specific anti-whole cell P. gingivalis antibody and anti-rabbit alexa 547 (Molecular Probes) conjugated secondary. Coverslips were imaged using an Olympus FV500 laser scanning confocal microscope. A series of XYZ image stacks were digitally reconstructed using Volocity image analysis program (Improvision, Waltham, MA).
Abbreviations
ATCC:

American type culture collection
DAVID:

Database for annotation, visualization and integrated discovery
FDR:

False discovery rate
Fn:

Fusobacterium nucleatum
LANL:

Los Alamos National Laboratory
MS:

Mass spectrometry
ORF:

Open reading frame
Pg:

Porphyromonas gingivalis
PTS:

Phosphoenolpyruvate dependent phosphotransferase system
Sg:

Streptococcus gordonii
TIGR-CMR:

The Institute for Genomic Research Comprehensive Microbial Resource, now part of the J. Craig Venter Institute.
Declarations
Acknowledgements
This work was supported by the NIH NIDCR under grants DE014372, DE12505 and DE11111. Additional funding was provided by the UW Office of Research, College of Engineering and the Department of Chemical Engineering. We thank Qiangwei Xia and Fred Taub for the FileMaker database, David A. C. Beck for help with the computations.
Authors' Affiliations
(1)
Department of Chemical Engineering, University of Washington, Seattle, USA
(2)
Department of Microbiology, University of Washington, Seattle, USA
(3)
Department of Oral Biology, University of Florida, Gainesville, USA
(4)
Center for Oral Health and Systemic Disease, University of Louisville, Louisville, USA
Copyright
© Hendrickson et al.; licensee BioMed Central Ltd. 2012
This article is published under license to BioMed Central Ltd. This is an Open Access article distributed under the terms of the Creative Commons Attribution License (http://creativecommons.org/licenses/by/2.0), which permits unrestricted use, distribution, and reproduction in any medium, provided the original work is properly cited.