Research article

Open Access
Identification and functional analysis of gene cluster involvement in biosynthesis of the cyclic lipopeptide antibiotic pelgipeptin produced by Paenibacillus elgii
BMC Microbiology
2012
12:197
Received: 12 June 2012
Accepted: 29 August 2012
Published: 8 September 2012
Abstract
Background
Pelgipeptin, a potent antibacterial and antifungal agent, is a non-ribosomally synthesised lipopeptide antibiotic. This compound consists of a β-hydroxy fatty acid and nine amino acids. To date, there is no information about its biosynthetic pathway.
Results
A potential pelgipeptin synthetase gene cluster (plp) was identified from Paenibacillus elgii B69 through genome analysis. The gene cluster spans 40.8 kb with eight open reading frames. Among the genes in this cluster, three large genes, plpD, plpE, and plpF, were shown to encode non-ribosomal peptide synthetases (NRPSs), with one, seven, and one module(s), respectively. Bioinformatic analysis of the substrate specificity of all nine adenylation domains indicated that the sequence of the NRPS modules is well collinear with the order of amino acids in pelgipeptin. Additional biochemical analysis of four recombinant adenylation domains (PlpD A1, PlpE A1, PlpE A3, and PlpF A1) provided further evidence that the plp gene cluster involved in pelgipeptin biosynthesis.
Conclusions
In this study, a gene cluster (plp) responsible for the biosynthesis of pelgipeptin was identified from the genome sequence of Paenibacillus elgii B69. The identification of the plp gene cluster provides an opportunity to develop novel lipopeptide antibiotics by genetic engineering.
Keywords
Non-ribosomal peptideBiosynthesisGene clusterAntimicrobial agent
Background
The intensive use of chemical pesticides to treat plant diseases has resulted in various problems such as severe environmental pollution, food safety concerns, and emergence of drug resistance. Biological control using microorganisms or their metabolites, a more rational and safer method, has emerged as a promising alternative to suppress plant pathogens and reduce the use of agrochemicals [
1
,
2
]. Pelgipeptins, a group of natural active compounds isolated from
Paenibacillus elgii
B69, are potential biological control agents [
1
]. This group of antibiotics has a general structure composed of a cyclic nonapeptide moiety and a β-hydroxy fatty acid. Four analogues of pelgipeptin have been identified and characterised [
3
]. These analogues are highly similar in structure and differ only in one amino acid unit or in the lipid acid (Figure
1
A). Pelgipeptin exhibits broad-spectrum antimicrobial activity against pathogenic bacteria and fungi, including
Staphylococcus aureus
Enterococcus faecalis
Escherichia coli
Candida albicans
Fusarium oxysporum
F. graminearum
F. moniliforme
Rhizoctonia solani
, and
Colletotrichum lini
[
1
,
3
]. This compound effectively inhibited the development of sheath blight caused by
R. solani
on rice in a preliminary evaluation of the
in vivo
efficacy of pelgipeptin [
1
].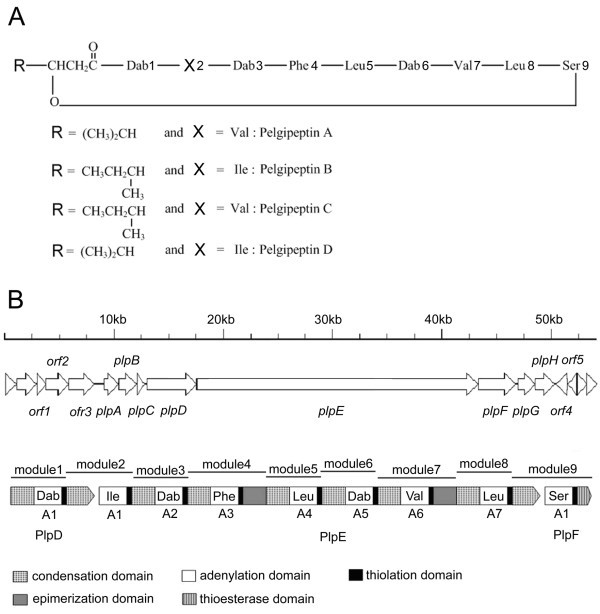 Similar to polymyxin and fusaricidin from P. polymyxa, pelgipeptin, containing non-proteinogenic and D-amino acids, must be synthesised by a non-ribosomal peptide synthetase (NRPS). NRPS is a large multifunctional enzyme that has modular structures [4]. Each NRPS module catalyses the incorporation of a specific substrate into the growing product. A typical module consists of three enzymatic domains, namely, adenylation (A), thiolation (T; also known as peptidyl carrier protein), and condensation (C) domains. The A domain selects and activates a specific amino acid substrate, the T domain is responsible for tethering the activated substrate to the 4′-phosphopanthetheinyl cofactor, and the C domain catalyses peptide bond formation between the elongating peptide and a new amino acid. In addition to these core domains, the terminal thioesterase (TE) and epimerisation (E) domains, as well as several other tailoring domains, may also be present in NRPS modules. The order of modules of an NRPS is, in many cases, collinear to the amino acid sequence of the corresponding peptide product. The collinearity rule of NRPS systems combined with knowledge of the specificity-conferring code of A domain allow for the prediction and amino acid modification of peptide fragments synthesised by corresponding NRPS [5]. However, few NRPS sequences have been extensively described in comparison with the number of known peptide products, limiting the study of the principles of non-ribosomal peptide synthesis and the development of new bioactive peptides by genetic engineering. In this study, we identified and analysed a gene cluster involved in the biosynthesis of pelgipeptin and provided biochemical data for the collinearity of this peptide assembly line.
Methods
Bacteria strains and culture conditions
P. elgii B69, isolated from a soil sample [1], was cultured in nutrient broth. E. coli DH5α, for gene manipulation, and E. coli BL21 (DE3), for overexpression of recombinant proteins, were cultivated on Luria-Bertani medium.
Identification and in silico analysis of plp gene cluster in P. elgii B69
The draft genome sequence of the strain was used to build a database in Bioedit to identify the putative NRPS genes in P. elgii B69 (http://www.mbio.ncsu.edu/BioEdit/bioedit.html). The first and second C domains of PmxE (GenBank EU371992), which is a polymyxin synthetase subunit, were compared with the created database using local BLAST searches [6] as implemented in Bioedit. Amino acid sequence homology searches were performed using the BLAST server at the National Centre for Biotechnology Information (NCBI, http://www.ncbi.nlm.nih.gov/BLAST/) site. NRPS domains were identified by PKS/NRPS analysis (http://nrps.igs.umaryland.edu/nrps/) [7]. Prediction of 10 amino acids located at the substrate-binding pocket of the A domain and substrate specificity prediction were performed using the web-based program NRPS predictor (http://ab.inf.uni-tuebingen.de/software/NRPSpredictor/) [8].
Cloning, expression and purification of A domains
We synthesised four sets of specific forward and reverse primers: plpD-A1-F (CTAGCCATGG AAAACATTTTGACCCG) and plpD-A1-R (CACCTCGAG TTCGTACTCCGCTCCG); plpE-A1-F (GACACCATGG ATTTGTTGTCGGAAG) and plpE-A1-R (ATCCTCGAG CACGAACTCCACGCCGGTT); and plpE-A3-F (CTAGCCATGG CGGCGGAGCAGACAC) and plpE-A3-R (CCCAAGCTT CGCGACGTAGTCGGCTC); and plpF-A1-F (CTAGCTAGC TTGTCCGACTCCGAG) and plpF-A1-R (GCGGATCC TCACTCCAGTCCGGTCT) to amplify the A domains of PlpD A1, PlpE A1, PlpE A3, and PlpF A1. The genes encoding these A domains were PCR-amplified from the genomic DNA of P. elgii B69 and cloned into pET28a vector. The recombinant plasmid was transformed into E. coli DH5α for gene manipulation. After transformation into E. coli BL21 (DE3), the recombinant proteins were overexpressed and produced as described previously [9].
BL21 strains expressing each A domain were grown in Luria–Bertani medium supplemented with 50 μg/ml kanamycin at 37 °C until its OD600 reached about 0.5. Gene expression was induced by 0.1 mM isopropyl-b-D-thiogalactopyranoside at 30 °C for 4 h. Cells were harvested by centrifugation, resuspended in buffer A (40 mM Tris–HCl, 200 mM NaCl, 20 mM imidazole, pH 8.0), and lysed by sonication on ice. The lysates were centrifuged at 12 000 g for 30 min at 4 °C, and the supernatants were loaded onto a Ni Sepharose 6 FF (GE Healthcare) column. The column was washed with five bed volumes of buffer A, followed by five bed volumes of buffer B (40 mM Tris–HCl, 200 mM NaCl, 60 mM imidazole, pH 8.0). The recombinant proteins were then eluted by buffer C (40 mM Tris–HCl, 200 mM NaCl, 150 mM imidazole, pH 8.0). Purified proteins were detected by 10 % sodium dodecyl sulphate-polyacrylamide gel electrophoresis (SDS-PAGE) and dialysed against buffer D (40 mM Tris–HCl, pH 8.0, 200 mM NaCl, and 1 mM dithiothreitol). Protein concentration was determined by the bicinchoninic acid protein assay (Pierce, USA) using bovine serum albumin as the standard.
Determination of substrate specificity
The substrate selectivity of each of the A domains was determined using a non-radioactive assay [10]. The reaction mixture (40 μl) contained 0.5 μM recombinant A domain, 0.2 U/ml inorganic pyrophosphatase, 5 mM ATP, 100 mM NaCl, 10 mM MgCl2, and 6 mM amino acid in 50 mM Tris–HCl (pH 7.5). Reactions were started by the addition of ATP and incubated at 25 °C. The reactions were terminated by the addition of molybdate/malachite green reagent. After 15 min of colour development, optical density was measured at 600 nm on a microplate reader (Multiscan MK3, Thermo Electron Co. Ltd., Shanghai, China). A reaction mixture lacking the recombinant A domain was used as a negative control.
Nucleotide sequence accession numbers
The DNA sequences for the pelgipeptin biosynthetic gene cluster in P. elgii B69 was deposited in the GenBank under accession number JQ745271.
Conclusions
In the present study, we identified a potential pelgipeptin synthetase gene cluster (plp) in P. elgii B69 through genome analysis. The cluster spans 40.8 kb with three NRPS genes (plpD, plpE, and plpF). The determination of substrate specificity of four A domains, PlpD A1, PlpE A1, PlpE A3, and Plp F A1 further linked the plp gene cluster to pelgipeptin synthesis. We failed to provide a final proof, which could have been obtained by constructing a pelgipeptin-deficient mutant, after numerous attempts because this strain was hardly amicable to genetic manipulation. However, all the results mentioned above well supported the assignment of the plp gene cluster as the one responsible for the production of pelgipeptin. Our results enrich the understanding of the enzymatic action in lipopeptide biosynthesis and provide insight into the mechanism of natural product diversity.
Declarations
Acknowledgment
This work was supported by Major State Basic Research Development Program (973 Program: 2010CB833803) to H.G. and X-C.W.
Authors' Affiliations
(1)
Institute of Microbiology, College of Life Sciences, Zhejiang University, Hangzhou, P.R.China
(2)
Zhejiang Pharmaceutical College, Ningbo, P.R.China
Copyright
© Qian et al.; licensee BioMed Central Ltd. 2012
This article is published under license to BioMed Central Ltd. This is an Open Access article distributed under the terms of the Creative Commons Attribution License (http://creativecommons.org/licenses/by/2.0), which permits unrestricted use, distribution, and reproduction in any medium, provided the original work is properly cited.