Research article

Open Access
Developmental plasticity of bacterial colonies and consortia in germ-free and gnotobiotic settings
BMC Microbiology
2012
12:178
Received: 4 March 2012
Accepted: 18 July 2012
Published: 15 August 2012
Abstract
Background
Bacteria grown on semi-solid media can build two types of multicellular structures, depending on the circumstances. Bodies (colonies) arise when a single clone is grown axenically (germ-free), whereas multispecies chimeric consortia contain monoclonal microcolonies of participants. Growth of an axenic colony, mutual interactions of colonies, and negotiation of the morphospace in consortial ecosystems are results of intricate regulatory and metabolic networks. Multicellular structures developed by Serratia sp. are characteristically shaped and colored, forming patterns that reflect their growth conditions (in particular medium composition and the presence of other bacteria).
Results
Building on our previous work, we developed a model system for studying ontogeny of multicellular bacterial structures formed by five Serratia sp. morphotypes of two species grown in either "germ-free" or "gnotobiotic" settings (i.e. in the presence of bacteria of other conspecific morphotype, other Serratia species, or E. coli). Monoclonal bodies show regular and reproducible macroscopic appearance of the colony, as well as microscopic pattern of its growing margin. Standard development can be modified in a characteristic and reproducible manner in close vicinity of other bacterial structures (or in the presence of their products). Encounters of colonies with neighbors of a different morphotype or species reveal relationships of dominance, cooperation, or submission; multiple interactions can be summarized in "rock – paper – scissors" network of interrelationships. Chimerical (mixed) plantings consisting of two morphotypes usually produced a "consortium" whose structure is consistent with the model derived from interaction patterns observed in colonies.
Conclusions
Our results suggest that development of a bacterial colony can be considered analogous to embryogenesis in animals, plants, or fungi: to proceed, early stages require thorough insulation from the rest of the biosphere. Only later, the newly developing body gets connected to the ecological interactions in the biosphere. Mixed "anlagen" cannot accomplish the first, germ-free phase of development; hence, they will result in the consortium of small colonies. To map early development and subsequent interactions with the rest of the biospheric web, simplified gnotobiotic systems described here may turn to be of general use, complementing similar studies on developing multicellular eukaryots under germ-free or gnotobiotic conditions.
Keywords
Ontogeny of bacteriaGerm-free and gnotobiotic coloniesInteractions of colonies and/or chimerasSerratia sp.ScoutingRock-paper-scissors
Background
All living beings find themselves embedded in a complicated and fluid network of ecological (symbiotic) interdependencies. Ontogeny, i.e. buildup of a multicellular, species-specific body, may represent an exception: early stages of embryonic development typically require massive shielding against the influences of biospheric web. Thus, animals and plants go to great pains to ensure sterile conditions for their embryos; even fungi, champions of web-dwelling who spend most of their life without apparent body patterning, produce a special, protected cocoon ("embryo") whenever they decide to produce fruiting bodies – mushrooms typical of their kin. Bacteria, typical dwellers of multi-species consortia, are allowed to build such species-specific bodies only at rare occasions when they can claim suitable germ-free environment (like freshly ruptured fruits, loafs of bread, surface of milk, etc.). Only then we can admire their creativity in building macroscopic, species-specific bodies (colonies). Bacterial axenic, i.e. germ-free growth on solid media reveals many paraphernalia of their ontogenetic potential (e.g., [1–5]).
Subsequent coupling of the developing embryo to the biospheric web often requires a thorough coordination. For example, all animals populate their bowels with a microbiome consisting of hundreds of microbial species (e.g., [6]). Some animals even require such cooperation for their proper organogenesis; as in the squid-Vibrio interplay in the development of light organ [7], or in mycetome of insects [8]. In plants, mycorrhiza or legume-Rhizobium symbioses [9, 10] belong among paradigmatic examples. To disentangle such complicated interactions, development under germ-free or gnotobiotic conditions (involving two or at most a small number of interacting species) is often of a great help. Similarly, a "gnotobiotic" state, i.e. controlled development of bacterial colony in the presence of other bacterial bodies, may reveal rules and factors of cross-species interactions that otherwise remain obscured by their usual – consortial – way of life.
Bacterial colonies offer another advantage: Whereas most "typical" multicellular organisms steer their development towards a body capable of reproduction, for most bacteria building a multicellular body is not the precondition for maintaining the lineage. If, in spite of the fact, they do not end in topsy-turvy assemblages of cells, structured multicellular bodies must help somehow in marking out and holding their spatial and temporal claims. Hence, whenever freed from the grip of ecological demands in the consortium, they orient their full creative potential towards a single multicellular body.
Putting such bodies into contact with similar bodies – of siblings, of other strains or other species – may reveal some basic rules of bacterial interactions that are valid not only for such gnotobiotic situation on the dish, but also in natural consortia. In a similar way, chimeric "colonies" started by a mixture of different bacterial lineages, may shed light to "colonizing processes" that take place in incomparably more structured, multispecies ecosystems intangible experimentally. Such an approach may be more informative than is the usual study of growing homogenous suspension cultures. In fact, trends towards developing multicellular structured bodies (colonies, films, coatings, fouls, etc…) fail only in well-mixed suspension cultures: it seems that the planktonic way of living is rather an extreme, an exception from usual life strategies of most bacteria (e.g. [11]). Yet, most information concerning bacterial communication comes from suspension cultures i.e. unstructured mass (e.g. [12, 13] for quorum sensing; [14] for signaling via antibiotics); but see works on intricate networks of quorum regulations in Serratia biofilms [15–17]. "Morphogenetic" data on colonies were mostly obtained under stress conditions (as is the presence of antibiotics, phages, etc.), and the goal of such experiments was primarily diagnostical, not aimed to study developmental processes as such. Many authors therefore consider results obtained from suspensions to be more representative, more "true" than those obtained on bacterial bodies.
In contrast, in this paper we focused on revealing steps towards a simple ecology on the Petri dish: how multicellular bacterial structures (colonies or chimeras) feel the self and the nonself, and how they react to the presence of the others. We draw from earlier works on bacterial colonies [4, 5, 18, 19], but above all from our previous studies on developing Serratia colonies [3, 20]. Thanks to color and plastic patterning, their development is easy to follow, without a need of artificial molecular or genetic markers. Moreover, our morphotypes show a finite colony growth, i.e. the whole development takes place in a limited area, and the markers of youth, prime, and senescence are readily apparent. Due to relative "simplicity" of their "embryogenesis", colonies offer insights into strategy of establishing morphogenetic fields, evaluating the quality and amount of space available, and reacting to bodies occurring in the immediate neighborhood – both conspecific (i.e. in axenic cultures) or heterospecific/heterotypic (i.e. under gnotobiotic settings).
We further utilized a gnotobiotic approach in the study of bacterial consortia. We believe that simple chimeric communities, such as those developed in the present work, will provide a pathway towards understanding behavior of the utmost important ecosystems on the Earth – those of the prokaryotes (e.g. [21]).
We designed our study with the assumption that bacterial way of life is primarily multicellular [
22
]: they form a body that comes to existence through a sequence of elaborated, species-specific morphogenetic processes, in a given environment. (It means that we shall not consider such phenomena as flocculation, even if we admit that even such aggregates may bring a selective advantage in comparison to planktonic way of life; see, e.g., [
23
,
24
]). Depending on initial setting, bacteria can develop two kinds of multicellular existence: (1) Axenic, "germ-free" clonal growth from one cell or from a group of cells of the same kin, leading to a colony or a swarm (often with a fruiting body). Such colonies then command a plethora of strategies how to implement their fitness towards neighboring bodies. (2) When the conditions do not allow an axenic start, due either to simple crowding, or to the presence of competing clones and species, the body-building strategy will change towards small colonies in close contact that establish consortia elaborately interconnected with other dwellers of the community (e.g. stromatolites, plaques, or mats; [
25
,
26
]). An interesting phenomenon occurs when the edge of such a chimera grows into free substrate: often it will radiate rungs of monoclonal material; this phenomenon is apparent even if the chimerical body contains close relatives [
3
,
27
,
28
].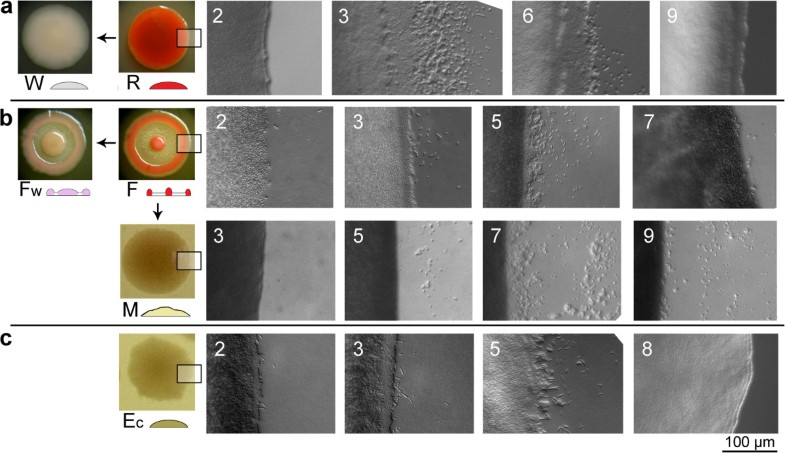 Discussion
We present here a simple system allowing study of bacterial development in two regimes of growth – germ free (axenic), or gnotobiotic. As mentioned in the Introduction, we draw inspiration from attempts to reduce extreme complexity of multispecies cohabitations from experiments with germ-free multicellular eukaryotes (mostly animals, or humans with inborn defects of immunity, but also plants) or gnotobiotic organisms where such a complexity was reduced to an interaction of two, or small number, of players.
Germ-free development
Formation of multicellular bodies is facultative in bacteria: they easily survive and multiply without multicellularity, thus they can abound with much richer repertoire of creativity, without endangering further propagation of the lineage. Bacterial colonies, then, may provide some cues to the nature of multicellularity. Moreover, growth of a colony is a complex process specific for a given lineage, and specifically modulated by environmental conditions (neighbors, nutrients, spatial settings, an array of signals, etc.). We chose five easily distinguishable morphotypes belonging to two Serratia species; the sixth, "outgroup", morphotype was a domesticated strain of E. coli.
It deserves a notice that our morphotypes seem to resist domestification, i.e. gradual loss of structural refinements when grown under laboratory conditions commonly observed in microorganisms [1, 31]. What also deserves a comment is the fact that the way of initiating a colony has little, if any, effect on the resulting body building. The same pattern can be grown from a single cell, from big amount (millions) of cells planted to a limited area as a dense homogenous suspension, or even from a chunk of material from the donor colony. Provided the area of planting is small, the cells can coordinate their behavior, "make wise decisions and act upon them"(B. McClintock, The Nobel lecture, 1983). Regulatory embryos of metazoans provide another example of such a potential.
With our array of easily distinguishable morphotypes, we were able to proceed from "germ-free" colonies towards gnotobiotic colony interactions – either with conspecifics, or with heterospecific bodies. We believe that such arrangement may provide a promising tool for future study of microbial communication at the level of structured entities. Similarly, study of chimerical bodies introduced in our works may reveal rules controlling self-structuration of the bacterial body and/or multispecies community. Moreover, our hypothesis of two-phase formation of multicellular body (e.g. axenic and cross-talk stages) can be easily tested on bacterial bodies that are not constrained by the need of producing special reproductive structures (organs).
Gnotobiotic interactions of clonal bodies
Perceiving the neighbors and interacting with them is one of the most natural conditions of all dwellers in the biosphere; often new qualities (shapes and properties) may appear as a consequence of such an encounter (for review, see [32]). Colonies growing on an agar plate provide a simplified model revealing some basic rules of such interactions [33].
In our model, a bacterial plant (be it a single cell or a clump of cells of a given morphotype) needs about 3 days to establish its "self", to become a genuine multicellular body. During this initial period, its development may be readily deviated by external stimuli (Figure 2), or the presence of other bodies in its vicinity (Figures 39). Colonies of the same kin may even merge at this early stage of development (confluent colonies as reported by [20]), reminding early embryos of, e.g., of mammals.
In later stages of their development, colonies maintain their integrity even in inevitable close encounters, preferring a channel of free space between them, sometimes even "guarded" by advanced scouts; conspicuous is, in this respect, the "immune reaction" of rimmed colonies (F, Fw) that develop a specific "X" structure in the vicinity of rimless bodies (see also [3]). Even more accentuated such interactions become when colonies of different age grow to a close contact or are artificially forced to it – with the whole array of reactions such as breaking away from the neighbor, overgrowing it, "strangling" it, changing body pattern, changing the character of scouting, etc. (Figures 69). The roles of scouts remain enigmatic for the time being – albeit they may seem obvious candidates for mediators of short-distance interactions), because similar reactions of bodies do take place also on the minimal substrate (MMA) where we did not observe any scouting. What are they for, if obviously colonies can easily do without them?
Colonies on MMA appear as if underdeveloped: no coloration, no patterning, and no scouts. In this respects, they resemble very young colonies planted on NAG – as if the minimal medium impeded the transition from the juvenile phase into phase of growth and ornamentation (which would require scouts). Growth would, however, continue (as in experiments with higher temperatures, Figure 2), and the result is an "overgrown youngster". Such a speculation may help to explain behavior on MMA, yet does not help explaining the very role of scouts in "full-blooded" development on NAG.
The ability to distinguish between self and non-self may represent one of the preconditions for consortial (or multi-species) way of life. The X structure, then, may represent such a reaction of F to the presence of foreign clones. Swarms of Proteus mirabilis (growing on solid media) display a similar behavior: whereas two swarms belonging to the same line will merge when grow towards each other, swarms of two different lines will maintain a demarcation line dividing both swarms [34]. The phenomenon is readily used in epidemiology, for diagnostics of different strains of Proteus. The mutual inhibition is communicated by secretion (and sensing) of a great array of signaling proteins – proticins [35]; similar system was described in Pseudomonas aeruginosa[36] Transforming P. vulgaris strain by a proticin from P. mirabilis leads to abolishment of mutual inhibition [37]. Yet, our observation of incompatibility even between isogenic strains (R:R, or F:F, see Figure 8) needs a more parsimonious explanation than rapid mutation of putative pheromone genes. As suggested by [38, 39]), if an identical signal is produced by approaching siblings, it may lead to a quick surpassing of the quorum threshold in the furrow between them – this will lead to the inhibition of growth in that direction.
As a rule, we can recognize a "rock – paper – scissors" interplay between colonies belonging to three groups: (1) rimmed morphotypes F, Fw; (2) rimless morphotypes R, W; and (3) E. coli, as summarized in Figures 59. The morphotype M has a somewhat intermediary position. Hence, even such a reduced, model "ecosystem", will establish relations of dominance, cooperation, or subordination according to overall context. For the time being we were able to prove that the induction of X structure is the matter of a signal diffusing, and persisting, in the agar substrate (see also [3]).
A similar situation was already described described by Kerr et al.[40]: the authors cultivated three strains of E. coli, one producing colicine and being resistant to it, the second not producing but resistant (i.e. growing in the presence of colicine), and the third sensitive (i.e. killed in the presence of colicine). The authors interpret the results in neoDarwinian frames: The synthesizer will always overgrow the sensitive strain. Because of the cost of colicine synthesis, the resistant wins the contest with the synthesizer. As resistance itself represents extra cost, the sensitive strain will win over the resistant, but is a loser in a contest with the producer (see also [41]).
The harsh behavior of our S. marcescens clones (F, Fw, M) against E. coli might be explained as a relation producer – sensitive. For example Fuller & Horton [42] described production, by S. marcescens, of a factor dubbed marcescin, resembling in its effect to colicins. In such a schema, F would be in a role of the producer of the repellent; R would be resistant towards it – and therefore overgrowing the F, but at the same time sensitive to E. coli. We suspect, however, that the situation is more complicated and more factors are in the game.
The phenomenon of cooperation comes to the fore even more with "helpers": on the minimal medium, the morphotype F can grow only in the presence of rimless morphotypes or E. coli, as it is dependent on – at present unknown – nutrient or signal secreted to the substrate by the helper. Yet, as soon as helped, F can exert its "powers" towards the neighbors: even if F colonies can grow only thanks to the E. coli plant in the middle, the same plant will later be strongly inhibited by colonies it supports (Figure 7b). Even more illustrative is the interaction of the trio R, F, and E. coli. The R/E.coli chimera (normally the growth of R suppressed) in the vicinity of F, the F will keep E. coli at bay (as in Fig. 9), which enables R to grow and, in turn, overgrow and suppress the F (Figure 11c). All such interactions may be considered as paradigmatic for much more complicated ecosystems of natural microbial consortia.
Chimeras
The dominance/subordination rules as observed above for colony encounters more or less fit also for chimeric growths; i.e. they are not explainable from the growth rates of particular morphotypes involved, as observed in suspensions (Graph in Figure 11d). Which of the partners will prevail will often depend by rock – paper – scissors rules – as described for single colonies. This is not surprising when we take into account that the chimera represents a model gnotobiotic microbial ecosystem. The dense initial mixed suspension on the area of planting is not able to negotiate the rules how to build the final body: Compare to situation with planting axenic cultures, where even very dense suspension establish a full-fetched colony indistinguishable from that growing from a single colony. An exception is "chimeras" where one of partners is completely eliminated, and the "winner" continues in building an ordinary colony (Table 2, Figure 11). Hence, in cases when all strains present in the mix survive, the planting area represents not the center of a colony, but a gnotobiotic ecosystem containing a nebula of very small colonies. An organized outgrowth from this navel will build the external circle composed of a single morphotype, or containing alternative wedges, each of a single morphotype. A chimera, thus, does not represent a body, but a consortium of bodies, even in simple gnotobiotic settings; only the clonal outgrowths into the free space may be compared to genuine colonies, albeit "one-dimensional".
It deserves attention that even closely related sister clones F-Fw and R-W will not cooperate in building a single colony upon chimeric planting: Especially conspicuous is the "chrysanthemum" appearance of R/W chimeras (Figure 10). The finding is not new. Korolev et al.[28] working with a different pair of strains, argue that cells that happen to appear on the margin of the plant, will establish cooperating groups of this of that origin. They take over a corresponding part of the circumference and grow out of it as monoclonal, one-dimensional colonies – hence the "petals" of the chrysanthemum. Remarkably – in quoted studies as well as in our results – outgrowing "petals" grow to similar length, independently on the diameter of the planted navel. Again, the rock-paper-scissors rules (Figure 11) will mostly predict the outcome of the growth; the rest of interactions being hierarchical.
The mutual behavior of strains is more or less similar on both substrates tested, rich (NAG) and minimal (MMA); the only expected exception is the submissive role of F on MMA whose growth is dependent on the presence of helpers. It is conspicuous that the role of F is fully taken by its daughter morphotype M. As already mentioned above, the behavior of particular strains in liquid media provides no guide for predicting their behavior on solid substrates: the two kinds of media represent to a great extent alternative, and incompatible, strategies of growth.
Why multicellular bacteria?
If we take axenic bacterial colonies as analogues of clonal body of multicellular eukaryots, two problems will come out immediately: the objective of building such a body, and the high plasticity of bacterial ontogenies. As far as we know, colonies of Serratia never produce reproductive organs: they can safeguard their propagation without any demanding, and coordinated, activity of colony building. Why, then, do they go into the trouble with elaborate microscopic filigree of terraces and scouts, and even macroscopic patterning and ornamentation? The answer may lie in physiological division of labor [4] and perhaps even "histological" differences across the colony.
Besides plastic responses, bacteria can – reversibly or irreversibly – diversify also genetically into different morphotypes, depending on conditions like those mentioned above. In Paenibacillus repeated and heritable switches between different morphotypes are induced by the density of agar [43–45]. Genetic differentiation was also often described in suspension cultures. For example a clone of Pseudomoas aeruginosa differentiated quickly and apparently purposelessly into multiple genetic variants [46]. The authors ascribe the phenomenon to an "insurance effect" preparing the lineage to conditions that may set in the future. A similar effect in Serratia is believed to play a role in colonization of new niches [47]. Finally, a clonal population may break into different specialized clones evoked by metabolic demands [48, 49] or antibiotic pressure [50].
However, since our clones were genetically stable in respect to the observed characteristics, and since all morphogenetic variation was found to be fully reversible, we can exclude such genetic switches, as well participation of phages, plasmids, transposons or similar elements, in our model and ascribe all variations observed (like colony patterning, scouting, or response to neighbors and environmental cues) solely to phenotypic plasticity.
Conclusions
Multicellular bacterial models (colonies) match their eukaryotic counterparts (animals, plants, fungi) in areas of research classically focused only to eukaryotes:
1. Axenic ("germ-free") and gnotobiotic settings are easy to establish, and interactions within the body, as well as between different bodies (of the same, or different lineages) can be studied to minute details. Such studies can be carried out on developing, fully formed or mixed assemblages of colonies that can be brought into defined spatial and temporal configurations. An additional advantage of the bacterial model is its independence on mature individuals that are able to produce germs (sexually or asexually), i.e. the range of full-formed phenotypes is much greater and can be influenced towards many ends (plasticity).
2. Ontogenesis of a colony (starting either from a single cell or from an assemblage of cells), similarly to the development of multicellular eukaryotic bodies, proceeds in two stages: the first stage must be thoroughly insulated from the rest of the biosphere and relies to intrinsic settings of the developing germ; in the second stage, the germ establishes its bounds with its environment, and plastically reacts to outside cues. In chimeric assemblages where the first phase is wrecked, the mix is unable to establish germ(s) and proceed towards a colony, and develops toward a simple bacterial consortium. Such an "ecosystem" allows detailed study of how different lineages implement their fitness in a given context.
We bring here examples of model settings allowing, in further research, detailed studies of ontogenies and ecologies on the dish.
Declarations
Acknowledgements
Supported by the Grant Agency of Czech Republic 408/08/0796 (JČ, IP, AB, AM, ZN), and by the Czech Ministry of education MSM 0021620845 (AM, AB, ZN). The authors thank Josef Lhotsky for invaluable comments, Alexander Nemec for strain determination, and Ondřej Šebesta for assistance with microscopy.
Authors' Affiliations
(1)
Department of philosophy and history of Science, Faculty of Science, Charles University in Prague, Praha 2, Czechia
Copyright
© Pátková et al.; licensee BioMed Central Ltd. 2012
This article is published under license to BioMed Central Ltd. This is an Open Access article distributed under the terms of the Creative Commons Attribution License (http://creativecommons.org/licenses/by/2.0), which permits unrestricted use, distribution, and reproduction in any medium, provided the original work is properly cited.