Correction to: Interaction of the heterotrimeric G protein alpha subunit SSG-1 of Sporothrix schenckii with proteins related to stress response and fungal pathogenicity using a yeast two-hybrid assay
BMC Microbiology volume 19, Article number: 262 (2019)
Correction to: BMC Microbiol (2010) 10:317
https://doi.org/10.1186/1471-2180-10-317
Following the publication of this article [1], it was brought to our attention that Fig. 7A lane 2 is identical to Fig. 7B lane 2 and Fig. 7B lane 4 is identical to Fig. 7C lane 4. The corrected Fig. 7 with accompanying figure legend can be seen below. This correction does not change the conclusions drawn from the data.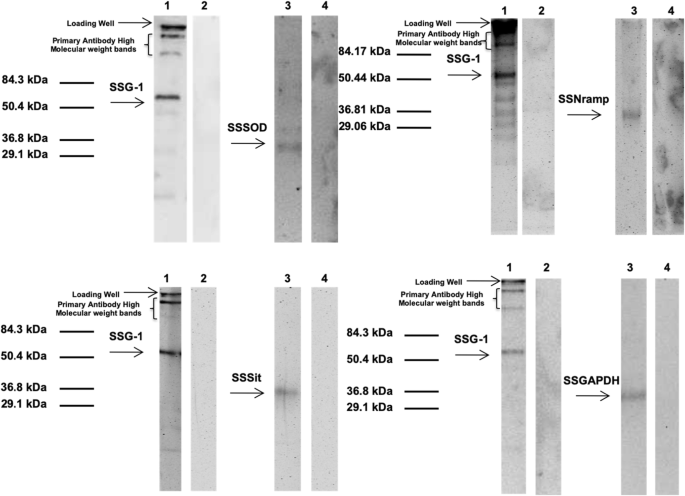 Reference
Pérez-Sánchez, et al. Interaction of the heterotrimeric G protein alpha subunit SSG-1 of Sporothrix schenckii with proteins related to stress response and fungal pathogenicity using a yeast two-hybrid assay. BMC Microbiol. 2010;10:317. https://doi.org/10.1186/1471-2180-10-317.
Rights and permissions
Open Access This article is distributed under the terms of the Creative Commons Attribution 4.0 International License (http://creativecommons.org/licenses/by/4.0/), which permits unrestricted use, distribution, and reproduction in any medium, provided you give appropriate credit to the original author(s) and the source, provide a link to the Creative Commons license, and indicate if changes were made. The Creative Commons Public Domain Dedication waiver (http://creativecommons.org/publicdomain/zero/1.0/) applies to the data made available in this article, unless otherwise stated.
About this article
Cite this article
Pérez-Sánchez, L., González, E., Colón-Lorenzo, E.E. et al. Correction to: Interaction of the heterotrimeric G protein alpha subunit SSG-1 of Sporothrix schenckii with proteins related to stress response and fungal pathogenicity using a yeast two-hybrid assay. BMC Microbiol 19, 262 (2019). https://doi.org/10.1186/s12866-019-1656-7
Published:

DOI: https://doi.org/10.1186/s12866-019-1656-7