Research article
Open Access
High-throughput analysis of Yersinia pseudotuberculosis gene essentiality in optimised in vitro conditions, and implications for the speciation of Yersinia pestis
BMC Microbiology
2018
18:46
Received: 5 September 2017
Accepted: 18 May 2018
Published: 31 May 2018
Abstract
Background
Yersinia pseudotuberculosis is a zoonotic pathogen, causing mild gastrointestinal infection in humans. From this comparatively benign pathogenic species emerged the highly virulent plague bacillus, Yersinia pestis, which has experienced significant genetic divergence in a relatively short time span. Much of our knowledge of Yersinia spp. evolution stems from genomic comparison and gene expression studies. Here we apply transposon-directed insertion site sequencing (TraDIS) to describe the essential gene set of Y. pseudotuberculosis IP32953 in optimised in vitro growth conditions, and contrast these with the published essential genes of Y. pestis.
Results
The essential genes of an organism are the core genetic elements required for basic survival processes in a given growth condition, and are therefore attractive targets for antimicrobials. One such gene we identified is yptb3665, which encodes a peptide deformylase, and here we report for the first time, the sensitivity of Y. pseudotuberculosis to actinonin, a deformylase inhibitor. Comparison of the essential genes of Y. pseudotuberculosis with those of Y. pestis revealed the genes whose importance are shared by both species, as well as genes that were differentially required for growth. In particular, we find that the two species uniquely rely upon different iron acquisition and respiratory metabolic pathways under similar in vitro conditions.
Conclusions
The discovery of uniquely essential genes between the closely related Yersinia spp. represent some of the fundamental, species-defining points of divergence that arose during the evolution of Y. pestis from its ancestor. Furthermore, the shared essential genes represent ideal candidates for the development of novel antimicrobials against both species.
Keywords
Yersinia TraDISTnSeqEssential genes
Background
Yersinia pseudotuberculosis can colonise a wide range of animal and bird hosts, from which human infection can arise causing gastrointestinal illness. It is an important disease of young cattle in particular, and can result in chronic morbidity, or acute septicaemia, haemorrhagic diarrhoea and death [1]. The difficulty in diagnosing yersiniosis in both cattle and humans means that cases are likely to be considerably underreported [2, 3].
The study of Y. pseudotuberculosis has added significance because of its genetic similarity to the plague bacillus, Yersinia pestis, a recently emerged and highly virulent species [4]. The common ancestor of Y. pestis that is capable of causing bubonic plague is thought to have emerged in the vicinity of China some 5700 years ago [5, 6]. That strain is itself thought to have emerged from a less virulent ancestor that diverged from Y. pseudotuberculosis about 54,000 years ago.
The vast majority of genes present in Y. pseudotuberculosis share over 97% identity with the respective orthologues in Y. pestis [7]. While genetic conservation between the two species can be used to explain shared characteristics, genetic differences can help inform us of the evolution of virulence in Y. pestis. The known genetic differences between Y. pestis and Y. pseudotuberculosis to date have been described as the "foothold moments" that mark the emergence of the highly virulent species from its ancestor [8]. Such differences may include, for example, the acquisition of the plasmids pMT1 and pPCP1 by Y. pestis [9], as well gene inactivation by negative transcriptional regulation [10] and genome size reduction [11]. Whole genome sequencing has revealed that Y. pestis has approximately 100,000 fewer nucleotides than its immediate ancestor [11]. The accumulation of pseudogenes further contributes to the ongoing divergence. For example, Y. pseudotuberculosis IP32953 has a reported 62 pseudogenes compared to over 200 pseudogenes in strains of Y. pestis [7].
Gene loss may not necessarily result in a loss of function, but can sometimes facilitate the gain of a new capability. For example, Y. pestis has a mutation compared with Y. pseudotuberculosis that prevents the formation of O-antigen in its lipopolysaccharide (LPS) [12]. However, the lack of O-antigen facilitates the activity of plasminogen activator, a plasmid-borne virulence factor found in strains of Y. pestis causing bubonic plague [13].
Y. pestis and Y. pseudotuberculosis occupy different niches that afford unique resources and challenges, and hence the absolute requirement of certain genes changes. For example, while Y. pseudotuberculosis is well adapted to survival in the soil, Y. pestis is less fit in this environment [14]. While both are capable of infecting mammals, the infection cycle of Y. pestis does not require survival in the mammalian gut, whereas it does require reaching a high cell density to cause bacteraemia [15], and can also cause pneumonic infection [16]. Finally, only Y. pestis is fully adapted for survival in and transmission by the flea vector [14, 17, 18]. The genetic differences between Y. pestis and Y. pseudotuberculosis that contributed to vector-borne transmission and enhanced virulence in humans are well studied, and it can be concluded that following successful adaptation of Y. pestis to its new niche, detrimental or superfluous genes were gradually lost [19]. Using Transposon-Directed Insertion-site Sequencing (TraDIS), also known as Transposon Sequencing (TnSeq), we are able to identify such genes in unprecedented detail.
TraDIS, or TnSeq, was first demonstrated in Salmonella Typhi [20], and has subsequently been applied to several pathogenic species including Vibrio cholerae [21], Escherichia coli [22] and Burkholderia pseudomallei [23]. Libraries are constructed from individual randomly-integrated transposon mutants that are then pooled, ranging in complexity from the small, (< 3000 [24]), to the very large, (in excess of 1,000,000 [23]) unique transposon mutants, saturating the genome several times over. Negative selection of transposon insertion mutants reveals their essentiality in the chosen in vitro or in vivo condition. In this study, we utilised TraDIS to establish the functional essentiality of every gene in the Y. pseudotuberculosis IP32953 genome under optimised in vitro growth conditions. This is in contrast to previous Y. pseudotuberculosis TraDIS studies that have focused on the discussion of in vivo virulence-associated genes [25].
Essential genes, particularly those that are conserved among species but with no orthologue in humans, represent potential targets for novel or re-purposed antibiotics. In the present work, we demonstrate the efficacy of actinonin, a deformylase inhibitor, against Y. pseudotuberculosis based on the discovery that peptide deformylase, yptb3665, is required for growth in vitro. Furthermore, we exploit the recently published Y. pestis essential gene data [26] and compare this to our Y. pseudotuberculosis TraDIS. This allowed us to contrast the differing importance of genes required for growth of either Yersinia spp. in optimised nutritional conditions. A strength of this approach is that it is not limited to only identifying the genes that are present or absent between the species, which has informed most of our knowledge of Yersinia spp. pathogen evolution to date. Also, unlike transcriptional profiling data, in which not all transcribed genes are essential, TraDIS identifies the absolute necessity of all the genes required for survival. Thus, we are able to report not only the conserved genes between Y. pseudotuberculosis and Y. pestis that are essential for growth, but also where gene essentiality has been lost, and where new genes have taken on greater significance in Y. pestis. These represent a record of the key sites of divergence that resulted from the emergence of Y. pestis from Y. pseudotuberculosis.
Results
The Ez-Tn5-Kan transposome complex was used to generate a library of approximately 40,000 mutants in Y. pseudotuberculosis IP32953. DNA sequencing of our 'wild-type' laboratory isolate of IP32953 revealed three non-synonymous amino-acid mutations compared with the reference sequence, these were located within: celB, a carbohydrate transporter; yptb3499, an uncharacterised gene and yptb0420, an uncharacterised gene.
Transposon coverage was mostly evenly distributed throughout the chromosome, although there was a lower density of transposon insertions between 2 and 3000 Kbps. We did not observe any apparent bias toward GC content or towards the origin of replication (Fig.
1a
). In general, the distribution of gene sizes identified as essential reflected the distribution of gene sizes for the genome as a whole (Fig.
1b
). However, below 200 bp a higher proportion of genes were identified as essential, suggesting their small size reduced the likelihood of transposon insertion regardless of gene function. This aspect was taken into account by generating an insertion index during TraDIS data analysis as described by others [
20
,
27
–
29
], which normalised insertion frequency against gene length for every gene; a low gene insertion index score is indicative of increased likelihood of essentiality. A gamma distribution curve was generated to visualise the data and calculate the threshold value at which a given gene was considered to be essential (Fig.
1c
). As a quality control step, we generated a correlation coefficient between two technical replicates of the TraDIS, showing the reproducibility of the gene insertion index between replicates across the whole genome (Fig.
1d
).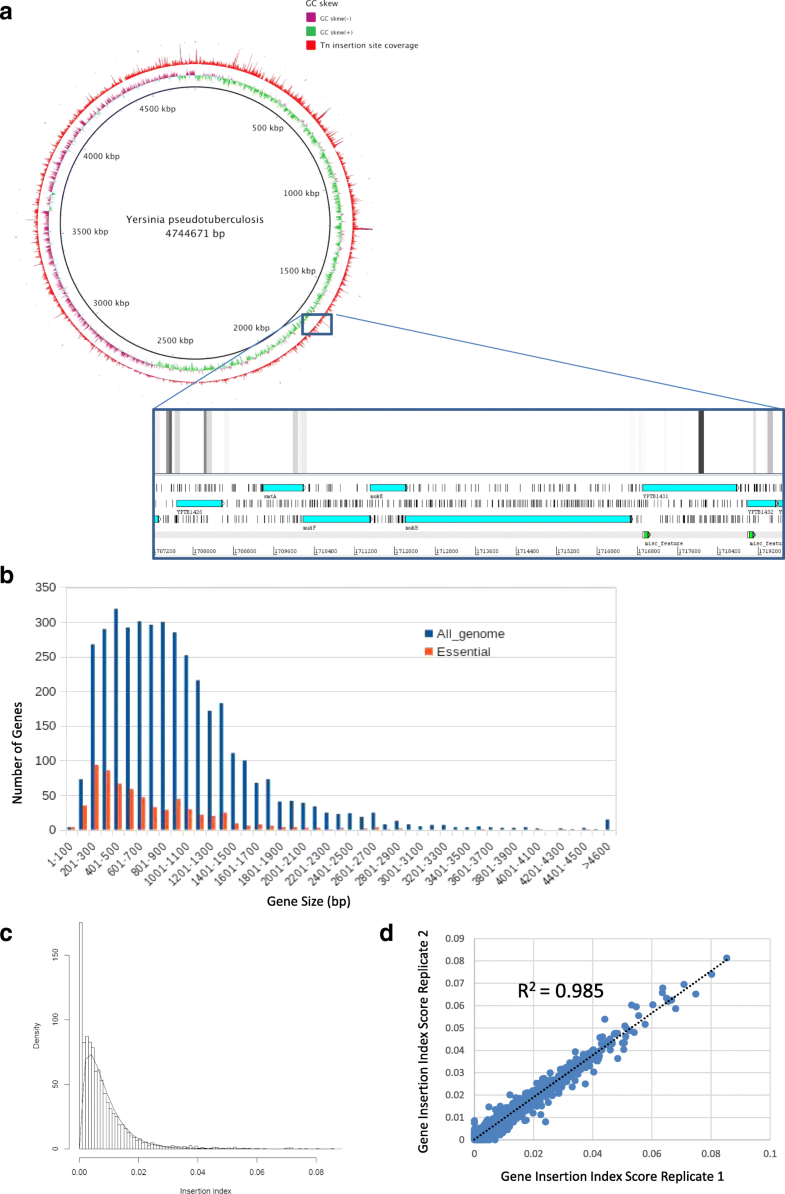 We generated 566,387 high-quality reads with confirmed transposon barcoding, of which 297,216 reads mapped to the reference sequence. Un-mapped reads were accounted for by phiX DNA used to facilitate sequencing; genomic DNA clusters that did not contain transposon; and reads that contained at least one mismatch with the transposon sequence. We used a custom-designed single-primer adenylation method [30] to reduce non-unique PCR amplification bias during sequencing preparation, which we conservatively limited to 10 cycles.
For assessing essentiality, we pooled the collective data from three independent sequencing reactions. The Y. pseudotuberculosis genome contains 4324 predicted coding sequences (CDSs), excluding non-coding RNA genes. We identified 24,480 unique genome insertion events, representing, on average, seven transposon insertions per gene, of which 3796 were disrupted by transposon insertion. An example of essential genes showing lack of transposon insertion is provided in the enlarged inset of Fig. 1a: the mukE/F/B operon, involved in chromosome condensation, segregation and cell-cycle progression.
From the resulting 534 CDSs that we identified as essential in our experimental conditions, we excluded 46 genes belonging to known phage-related genes, leaving 488 in vitro growth essential genes (Additional file 1: Table S1).
The genes we identified from in vitro growth of
Y. pseudotuberculosis
IP32953 in liquid BAB media at 28 °C are dominated by genes encoding proteins with enzymatic function, of which kinases, transferases and synthases are highly represented (summarised in Fig.
2a
). The next largest group contains genes encoding proteins involved in transcription, translation and replication. Metabolic function and transporters are also a significant subset of the essential genes. Notably, several large clusters are identified such as the
hem
and
rpl
genes and those with related function.
Rpl
genes encode the 50S ribosomal proteins, and
hem
is involved in the haeme porphyrin biosynthesis pathway.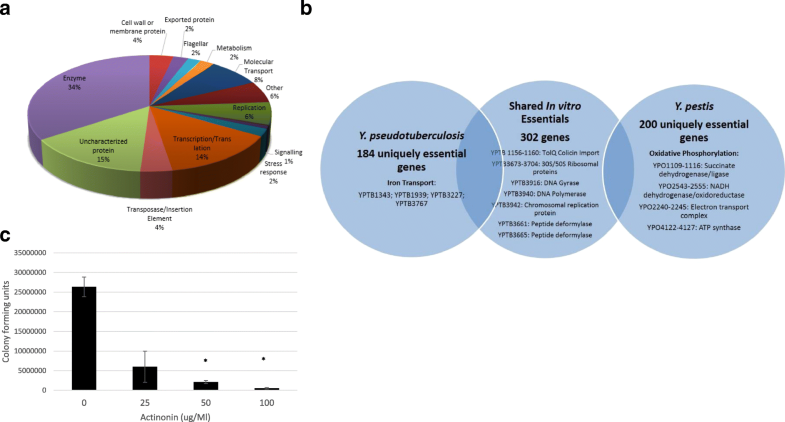 By comparing our findings with the published Y. pestis in vitro essential genes [26], cultured using identical methods, we were able to identify shared and contrasting essential genes between the species (Additional file 2: Table S2). A Venn diagram showing selected shared and unique essential genes between Y. pseudotuberculosis and Y. pestis highlights some prominent trends, such differences relating to iron acquisition and oxidative phosphorylation (Fig. 2b).
We were interested to test the hypothesis that essential genes may represent targets for specific compounds that may be bactericidal. We identified yptb3665, which encodes a peptide deformylase-type enzyme, and subsequently identified that Y. pseudotuberculosis was sensitive to the deformylase inhibitor, actinonin (Fig. 2c).
Conclusion
By constructing a transposon library in Y. pseudotuberculosis and utilising TraDIS, we have been able to present the essential gene set for this species under defined growth conditions. As well as providing a resource for understanding its biology, we also demonstrate its utility in revealing new targets for the development or repurposing of existing antimicrobials, and report for the first time the sensitivity of Y. pseudotuberculosis to the deformylase inhibitor, actinonin. Comparison of our TraDIS data with those from a similar study performed with Y. pestis allowed us to identify fundamental differences in the importance of genes between Y. pestis and Y. pseudotuberculosis. Our results suggest that the two closely related species do not just favour, but depend upon, different iron uptake and metabolic pathways for survival, reflecting their adaptation to different microenvironments.
Methods
TraDIS library preparation
The Ez-Tn5 Kan2 transposome complex (Epicentre, UK), was electroporated into fresh electro-competent Y. pseudotuberculosis IP32953 (a kind gift from Prof Richard Titball, Exeter University) at 1800 V and recovered at 28 °C in super-optimal broth with catabolite repression (SOC) media for two hours before spreading onto Yersinia selective agar base (Oxoid, UK) infused with kanamycin at 50 μg ml− 1. Resulting colonies, each representing unique transposon clones were removed from the agar and pooled in approximately 650 mutant batches in 40% glycerol until a total library size of about 40,000 mutants was achieved, and stored at − 80 °C. Transposon integration was validated by Southern blot and Linker PCR using standard methodology (data not shown).
In preparation for sequencing, the TraDIS library was thawed on ice and pooled together prior to genomic DNA extraction (ArchivePure, 5 Prime), or used to seed sterile Oxoid blood agar base no.2 media (BAB) (ThermoScientific) for growth at 28 °C overnight for essential gene identification experiments.
Extracted genomic DNA was fragmented by sonication and size-selected by gel electrophoresis. Gel extracted DNA was assessed for size, purity and concentration by Bioanalyser™. The fragmented gDNA was end-repaired using Klenow DNA polymerase (New England Biolabs, NEB) and T4 DNA polymerase (NEB) prior to single-primer adenylation PCR of fragments containing the transposon insert [30]. This method uses a blend of A-tailing and high-fidelity enzyme to enrich transposon-positive fragments without the need for excessive PCR cycles that may introduce amplification bias. Adapters P5 and P7 were then ligated onto the A-tailed transposon-containing fragments to serve both as the template for the sequencing primer and to allow annealing to the flow cell. Finally, samples were PCR-amplified using primers specific for the P5 and P7 adapters, with a maximum of ten cycles. Prepared DNA was sequenced using Illumina MiSeq technology.
Sequence analysis
Raw sequencing data from three independent repeats in FASTQ format were analysed for the presence of the terminal ten base pair nucleotides of the transposon sequence with no mismatches, and then the transposon sequence was trimmed using a custom PERL script. Reads were curated for quality control and trimmed to 36 base pairs using Trimmomatic software. Bowtie software was used to map reads against the reference genome (European Molecular Biology Laboratory accession number: BX936398) with no mismatches allowed to establish the transposon insertion sites; non-unique mapping reads were discarded.
The TraDIS toolkit [87] determines gene essentiality based on the empirically observed bimodal distribution of insertion sites over genes when normalized for gene length using a method adapted from Langridge et al. [20] and Barquist et al. [36]. Briefly, a loess curve is fit to the distribution of insertion indices and used to fit a gamma distribution curve from which log-odds ratios are generated to determine the threshold for gene essentiality. Pseudogenes, and genes that were not conserved among multiple strains as identified by BLAST were excluded as false positives (data not shown). For cross-referencing against the Y. pestis genome, we referred to the recently published work by Yang and colleagues [26].
Antibiotic sensitivity testing
To test the activity of actinonin against Y. pseudotuberculosis, we incubated approximately 1 × 105 bacteria in 96-well plate format for 24 h at 28 °C in BAB broth with a titration of actinonin (in water solution) in triplicate prior to enumeration by serial dilution and assessment of colony forming units (CFU) growth.
Abbreviations
ATP:

Adenosine triphosphate
BLAST:

Basic local alignment search tool
CDS:

Coding sequence
CFU:

Colony forming units
DNA:

Deoxyribonucleic acid
LPS:

Lipopolysaccharide
PCR:

Polymerase chain reaction
RM:

Restriction modification
RNA:

Ribonucleic acid
SOC:

Super-optimal broth with catabolite repression
TA:

Toxin-antitoxin
TCA:

Tricarboxylic acid
TnSeq:

Transposon sequencing
TraDIS:

Transposon-directed insertion site sequencing
Declarations
Acknowledgements
We thank Prof Richard Titball and Dr. Alex McCarthy for their discussions and contributions to this study.
Funding
This work was funded by the Defense Science and Technology Laboratory (DSTL), UK, who also contributed to the study design, interpretation of data and manuscript review.
Availability of data and materials
All data analysed during this study are included in this published article and its supplementary information files. Additional raw data from sequencing and quality control datasets are available from the corresponding author on reasonable request.
Authors' contributions
SW experimental design; sequencing; data analysis and main manuscript text. HA and PO design of the project; data analysis; manuscript review. RS sequencing and data analysis, manuscript review. BW Principle Investigator; design of the project; data analysis; manuscript review. All authors have read and approved this manuscript.
Ethics approval and consent to participate
Not applicable.
Competing interests
The authors declare that they have no competing interests.
Publisher's Note
Springer Nature remains neutral with regard to jurisdictional claims in published maps and institutional affiliations.
Open Access This article is distributed under the terms of the Creative Commons Attribution 4.0 International License (http://creativecommons.org/licenses/by/4.0/), which permits unrestricted use, distribution, and reproduction in any medium, provided you give appropriate credit to the original author(s) and the source, provide a link to the Creative Commons license, and indicate if changes were made. The Creative Commons Public Domain Dedication waiver (http://creativecommons.org/publicdomain/zero/1.0/) applies to the data made available in this article, unless otherwise stated.
Authors' Affiliations
(1)
Department of Pathogen Molecular Biology, London School of Hygiene and Tropical Medicine, London, UK
(2)
Microbiology, CBR Division, DSTL Porton Down, Salisbury, UK