Researc article
Open Access
Do biofilm communities respond to the chemical signatures of fracking? A test involving streams in North-central Arkansas
BMC Microbiology
BMC series – open, inclusive and trusted
2017
17:29
Received: 16 September 2016
Accepted: 9 January 2017
Published: 3 February 2017
Abstract
Background
Unconventional natural gas (UNG) extraction (fracking) is ongoing in 29 North American shale basins (20 states), with ~6000 wells found within the Fayetteville shale (north-central Arkansas). If the chemical signature of fracking is detectable in streams, it can be employed to bookmark potential impacts. We evaluated benthic biofilm community composition as a proxy for stream chemistry so as to segregate anthropogenic signatures in eight Arkansas River catchments. In doing so, we tested the hypothesis that fracking characteristics in study streams are statistically distinguishable from those produced by agriculture or urbanization.
Results
Four tributary catchments had UNG-wells significantly more dense and near to our sampling sites and were grouped as 'potentially-impacted catchment zones' (PICZ). Four others were characterized by significantly larger forested area with greater slope and elevation but reduced pasture, and were classified as 'minimally-impacted' (MICZ). Overall, 46 bacterial phyla/141 classes were identified, with 24 phyla (52%) and 54 classes (38%) across all samples. PICZ-sites were ecologically more variable than MICZ-sites, with significantly greater nutrient levels (total nitrogen, total phosphorous), and elevated Cyanobacteria as bioindicators that tracked these conditions. PICZ-sites also exhibited elevated conductance (a correlate of increased ion concentration) and depressed salt-intolerant Spartobacteria, suggesting the presence of brine as a fracking effect. Biofilm communities at PICZ-sites were significantly less variable than those at MICZ-sites.
Conclusions
Study streams differed by Group according to morphology, land use, and water chemistry but not in biofilm community structure. Those at PICZ-sites covaried according to anthropogenic impact, and were qualitatively similar to communities found at sites disturbed by fracking. The hypothesis that fracking signatures in study streams are distinguishable from those produced by other anthropogenic effects was statistically rejected. Instead, alterations in biofilm community composition, as induced by fracking, may be less specific than initially predicted, and thus more easily confounded by agriculture and urbanization effects (among others). Study streams must be carefully categorized with regard to the magnitude and extent of anthropogenic impacts. They must also be segregated with statistical confidence (as herein) before fracking impacts are monitored.
Keywords
16S ribosomal RNAAnthropogenic impactsBioindicatorsFayetteville shaleGroundwaterMicrobiome
Background
Unconventional natural gas (UNG) extraction has been promoted as a potential fuel source in North America, as well as a bridge to a cleaner energy economy [
1
]. It is now ongoing in over 30 states, particularly those containing appropriate geologic 'plays,' i.e., geographic areas that contain fine-grained sedimentary rock with an appropriate clay-to-silt particle size. In North America, these include: Bakken (ND), Barnett (TX), Haynesville (LA), Fayetteville (AR), Antrim (MI), Woodford (OK), Green River (WY), Denver (CO), Marcellus and Utica (PA, OH, WV) [
2
] (Fig.
1a
). Shale gas is termed 'unconventional' in that it is trapped in strata with low porosity and permeability and requires additional extraction processes beyond those normally employed in more traditional petroleum exploitations.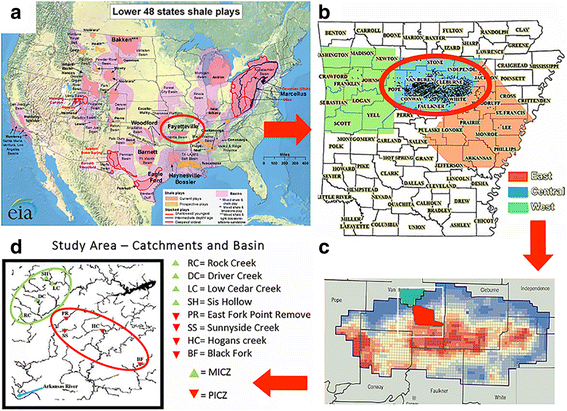 UNG extraction is initiated by drilling downward then horizontally into shale strata, followed by injection of 8000–50,000 m3 of pressurized local groundwater to fracture shale and release trapped hydrocarbons, a process termed 'fracking' [3]. The injected water contains numerous chemical additives [4, 5] as well as 'proppants' (i.e., sand/silica) that lodge into fractures, allowing oil and gas to flow outward as fluid pressure subsides. Of the injected water, less than half is quickly returned to the surface (i.e., as flowback), whereas the majority (i.e., produced water) lingers underground and is slowly mobilized as gas is removed [5].
The fracking process can generate numerous environmental impacts [6], the majority of which stem from poor well integrity, improper wastewater disposal, and surface spills [3, 7], with the latter either anthropogenic or environmental (i.e., due to rainwater and/or storm flooding). Of serious concern are those that transport toxic chemicals into surface and ground water [8], with contamination directly correlated to the proximity of the drill site [9]. Impacts are most often gauged by monitoring 'indicator species' i.e., organisms whose presence, absence, or abundance can reflect a specific environmental condition [10], particularly in the context of adaptive stream management.
Biofilm communities in streams (sensu lato) are composed of sessile organisms on substrata [11] and thus have an intimate contact with, and long-term exposure to flowing waters. They provide a matrix within which fundamental ecosystem processes occur [12] and, as such, are functionally employed as bioindicators. For example, the Cyanobacterial component of biofilm can contribute >80% of the primary production in a system [13], whereas other biofilm components such as heterotrophic bacteria employ complex metabolic pathways that can quickly remediate harmful substances [14]. The composition of biofilm is radically transformed by alterations in stream conditions [15], with deterioration directly impacting the aquatic food base, such that ramifications are quickly translated into higher trophic levels [16]. Although biofilm communities play a major role in the dynamics of stream ecosystems, they have been traditionally difficult to monitor, due largely to a time-consuming process of optical identification coupled with an inability to initiate and/or sustain laboratory cultures for identification [17].
Molecular advances have now largely ameliorated these issues by facilitating identification and quantification of bacterial constituents in the biofilm community. From this, a much broader perspective on stream metabolism can be developed, in that numerous concurrent samples can be rapidly, simultaneously, and accurately characterized. For example, microbial traits are not only conserved in a phylogenetic context but also linked across clades through biochemical and genetic complexities. Important ecological traits such as pH- and salinity preferences are not only characteristic in a phylogenetic sense but also drive stream metabolism and fulfill ecosystem services [18].
Genomic approaches that characterize microbial communities are also utilized to interpret their dynamics. Here, the 16S ribosomal RNA region has been the molecular marker of choice, as it contains both conserved and hyper-variable regions that are well suited for phylogenetic analyses. Furthermore, the advent of high-throughput DNA sequencing technologies has improved accuracy and reduced costs [17], making community characterization an attractive procedure with which to gauge ecosystem health.
A molecular genetic approach was utilized in the current study to assay biofilm communities of selected streams within a 932-km2 region of Fayetteville shale located in the Boston Mountains of northwest Arkansas (Fig. 1b, c). The topography of this region is a limestone-based karst, with numerous emergent ground and spring-fed streams. Previous studies have assessed the potential impacts of fracking in these streams by focusing on either stream metabolism [19] or the presence/absence of aquatic insects as bioindicator species [20].
The objectives of this study were to characterize and compare the biofilm communities at sampling sites a priori characterized by fracking impacts. These sites were first evaluated across a series of abiotic and anthropogenic factors, then compared and contrasted using univariate and multivariate statistical approaches. Our results could then be evaluated against biofilm communities recorded within other shale play studies, as well as those utilizing non-microbial indicators within the Fayetteville shale [19, 20]. In addition to assaying for potential effects of fracking on stream biofilm communities, other potential anthropogenic effects that drive biofilm communities such as agriculture, silviculture, urbanization, etc., were also considered so as to guide the adaptive management of regional streams. This, in turn, provides broader insights into the manner by which the functioning of stream ecosystem can vary locally and regionally with regard to anthropogenic land manipulations, and nationally with regard to fossil fuel extraction. It also allowed us the opportunity to test if potential fracking effects could be parsed from those engendered by other anthropogenic activities.
Discussion
During the past decade, shale resources have been heavily developed in the United States, an industry that will steadily increase over the next several years [10]. The majority of environmental impacts that stem from these activities parallel those recorded for traditional petroleum-extraction, and as such can be predictably monitored [23]. Others are instead UNG-specific, such as poor well integrity and accidental wastewater release, and are compounded by the geographic distribution of shale plays across the continent [24] (Fig. 1a). Environmental risks associated with UNG are hence more difficult to predict and to track, in that sufficient data regarding their breadth and depth have yet to accumulate. This, in turn, delays the designation of appropriate environmental policies that would otherwise provide for their regulation [25, 26].
Research activities that evaluate these impacts are ongoing in the Fayetteville Shale of northwest Arkansas [19, 20] (Fig. 1b, c), and have now been expanded so as to encompass biofilm communities as biological indicators of study catchments (this study). The composition of microbial communities reflects sensitivity and exposure of these catchments to anthropogenic activities [14], such as urbanization, deforestation, agricultural development, habitat fragmentation, and others [27], including UNG-extraction. It is of interest to potentially parse these situations according to the manner by which they drive stream microbial diversity. Similarly, ecosystem processes are also driven by hydrology, stream gradient, stream order, and stream chemistry (among others), and these also modulate the composition of biofilm communities [15]. Given this, we first tested (and rejected) the hypothesis that environmental variability was similar among our minimally impacted (MICZ) versus potentially impacted (PICZ) study sites.
Conclusions
Biofilm communities have complex roles in freshwater stream metabolism, and consequently drive numerous critical processes: Primary production [12], biogeochemical cycling [17], nitrogen cycles [28], and the remediation of deleterious carbon sources [14], among many. Microbial communities are also extraordinarily diverse, composed of numerous rare OTUs, and display a rapid response to changes in temperature, pH, and stream metabolism [16]. This also provoke taxonomic turnover in stream biofilm communities as an ecosystem-scale response [29]. Given this, stream biofilm communities can be employed to only to gauge ecosystem health [28], but also its potential impacts on humankind [17]. Unfortunately, the breadth and depth of biofilm communities are also confounding factors that can limit diagnostic and taxonomic projections, particularly with regard to bioremediation.
Region specific issues also predominate [4]. For example, biofilm communities are quite sensitive to changes in land use [15]. This is important in that both the Fayetteville and Barnett shale catchments display pre-existing anthropogenic disturbances [26] that can easily confound more focused analyses regarding the impacts of UNG-activity. In addition, habitat and water chemistry data collected prior to the onset of fracking are necessary baselines from which potential impacts on both freshwater streams and their biofilm communities can be assessed. These data were lacking herein, and similarly lacking in other studies that employed biofilm communities as a means to adjudicate fracking activities [24]. As a result, the statistical analyses employed to contrast these sites were similarly limited.
Unfortunately, necessary data are often unavailable at the national level, and a mandate for their collection has not as yet been established in state or federal management plans. This, in turn, cripples the development of conservation measures that may promote the sustainability of stream ecosystems. Resource managers require these data so as to guide local development projects, and to reduce possible environmental effects particularly in light of the interactive effects produced by multiple stressors in a warming climate [12]. The evaluation of anthropogenic impacts, whether fracking or otherwise, also depends upon rigorous statistical analyses conducted in a comparative manner (as herein). This, too, is often lacking with regard to those projects that attempt to recognize and define biodiversity elements, or conserve and restore habitats.
Our data mirror similar conditions found in other systems with long-term disturbance, such as elevated conductance/lack of Spartobacteria, and elevated nitrogen/elevated Cyanobacteria, and these, in turn, suggest potential impacts from UNG wells. Our data are also confounded by pre-existing conditions such as development of pasture and the extent of urbanization, as well as naturally occurring aspects such as stream order that likewise influence the constituents of biofilm communities, and biodiversity in general. These limitations argue for an a priori selection of pre- versus post-impact study sites, in that a variety of anthropogenic endeavors can drive biofilm communities in concurrent directions and it is difficult if not impossible to separate these effects a posteriori. The complexities of anthropogenic/environmental interactions also necessitate the development of a rigorous statistical framework, one within which variability can be tested among- and between-groups. This study provides a set of guidelines with regard to study design that can avoid the former, while establishing a strong statistical framework for the latter.
Declarations
Acknowledgments
This research was completed by WHJ in partial fulfillment of the M.S. degree in Biological Sciences at University of Arkansas/Fayetteville. We thank The Nature Conservancy (TNC; Fayetteville) for supplying GIS-data, and V.S. Pylro (Microbiology Department, Universidade Federal de Viçosa, Minas Gerais, Brazil) for advice and assistance in biofilm community analyses. The Huttenhower Lab (C. Huttenhower, Harvard University; https://huttenhower.sph.harvard.edu) provided access to its Galaxy server and the LEfSe software. The Arkansas High Performance Computing Center (AHPCC), with support from multiple National Science Foundation (NSF) grants and the Arkansas Economic Development Commission, facilitated the analyses of data.
Funding
This research was supported by endowments to the University of Arkansas (MRD: Bruker Professorship in Life Sciences; MED: 21st Century Chair in Global Change Biology), and the Arkansas Biosciences Institute (Arkansas Settlement Proceeds Act of 2000). Ecological data were collected under Arkansas State Wildlife Grants T31-03 and T33-01 (MAEW and SAE) from the U.S. Fish and Wildlife Service through an agreement with the Arkansas Game and Fish Commission.
Availability of data and materials
Data are available from the corresponding author upon reasonable request.
Authors' contributions
WHJ and BJA collected samples; MRD, JAL, and TNS extracted DNA and amplified 16S rRNA genes; FGC performed MiSeq sequencing; BJA, MAEW, and SAE provided ecological data; WJH and MED completed data analyses; WHJ, MRD, JAL, TNS, and MED drafted the manuscript. MAEW and SAE initiated the original project to investigate fracking effects in Arkansas streams. All authors approved the final manuscript.
Competing interests
The authors declare that they have no competing interests.
Consent for publication
Not applicable.
Ethics approval and consent to participate
Not applicable.
Open AccessThis article is distributed under the terms of the Creative Commons Attribution 4.0 International License (http://creativecommons.org/licenses/by/4.0/), which permits unrestricted use, distribution, and reproduction in any medium, provided you give appropriate credit to the original author(s) and the source, provide a link to the Creative Commons license, and indicate if changes were made. The Creative Commons Public Domain Dedication waiver (http://creativecommons.org/publicdomain/zero/1.0/) applies to the data made available in this article, unless otherwise stated.
Authors' Affiliations
(1)
Department of Biological Sciences, University of Arkansas, Fayetteville, USA
(2)
Department of Food Sciences, University of Arkansas, Fayetteville, USA
(3)
Department of Biology, University of Central Arkansas, Conway, USA