Common themes in nutrient acquisition by plant symbiotic microbes, described by the Gene Ontology
BMC Microbiology
2009
9(Suppl 1):S6
Published: 19 February 2009
Abstract
A critical function for symbionts is the acquisition of nutrients from their host. Relationships between hosts and symbionts range from biotrophic mutualism to necrotrophic parasitism, with a corresponding range of structures to facilitate nutrient flow between host and symbiont. Here, we review common themes among the nutrient acquisition strategies of a range of plant symbiotic microorganisms, including mutualistic symbionts, biotrophic pathogens that feed from living tissue, necrotrophic pathogens that kill host tissue, and hemibiotrophic pathogens that switch from biotrophy to necrotrophy. We show how Gene Ontology (GO) terms developed by the Plant-Associated Microbe Gene Ontology (PAMGO) Consortium can be used for describing commonalities in nutrient acquisition among diverse plant symbionts. Where appropriate, parallels found among animal symbionts are also highlighted.
Keywords
Gene Ontology
Arbuscular Mycorrhizal Fungus
Nutrient Acquisition
Nutrient Exchange
Symbiotic Interaction
Symbiosis, a range of intimate relationships
Plants, animals, and diverse microbes engage in a wide range of interactions that can be characterized as symbiotic, that is, the living together of unlike organisms [1–5]. The Plant-Associated Microbe Gene Ontology (PAMGO) Consortium [6] has been developing an extensive set of Gene Ontology (GO) [7] terms that describe processes and structures underlying symbiotic interactions between organisms, ranging from mutualists through parasites [8]. This mini-review focuses on the nutrient acquisition strategies of a range of symbiotic organisms. Here "nutrient" is defined as any chemical substance required for metabolism or development. GO terms that describe gene products related to nutrient exchange during symbiosis are discussed along with examples of symbioses involving bacteria, protozoans, fungi, animals, oomycetes, algae, and plants.
The Gene Ontology
The GO is a controlled vocabulary consisting of GO terms that describe gene product attributes in any organism [9]. GO terms are arranged as directed acyclic graphs (DAGs) within three ontologies, "GO: 0005575 cellular component", "GO: 0008150 biological process", and "GO: 0003674 molecular function". DAGs differ from hierarchies in that each term (child) may be related to more than one less specific term (parent). Three specific relationships among parent and child terms within a DAG are currently recognized by the GO: "is_a", "part_of", and "regulates". For example, "GO: 0052010 catabolism by symbiont of host cell wall cellulose" is a type of "GO: 0052009 disassembly by symbiont of host cell wall", and thus these terms would be connected by the "is_a" relationship (for more information on term-term relationships and ontology structure, see [9]).
The concept of symbiosis in the Gene Ontology
In the GO, the concept of symbiosis is represented by the term "GO: 0044403 symbiosis, encompassing mutualism through parasitism", which is defined as: "An interaction between two organisms living together in more or less intimate association. The term host is usually used for the larger (macro) of the two members of a symbiosis. The smaller (micro) member is called the symbiont organism" [
10
]. The various forms of symbiosis include parasitism, in which the association is disadvantageous or destructive to the host organism; mutualism, in which the association is advantageous to both; and commensalism, in which the symbiont benefits while the host is not affected [
8
]. However, mutualism, parasitism, and commensalism are not discrete categories of interactions but rather a continuum. In fact, the nature of a symbiotic interaction may vary due to developmental changes in the host or symbiont, changes in the biotic or abiotic environment, or variation in host genotype [
11
]. Correspondingly, the exchange of nutrients between symbiotic partners may be context dependent and may be bidirectional or heavily unidirectional. The PAMGO Consortium strongly discourages the common but incorrect usage of the term "symbiosis" as a synonym for "mutualism" [
8
]. Figure
1
illustrates parent and child terms of "GO: 0044403 symbiosis, encompassing mutualism through parasitism", as viewed with the AmiGO browser [
10
]. Examples of child terms describing biological processes related directly or peripherally to nutritional exchange between symbionts and hosts include: "GO: 00051816 acquisition of nutrients from other organism during symbiotic interaction"; "GO: 0051817 modification of morphology or physiology of other organism during symbiotic interaction"; and "GO: 0009877 nodulation". These and other terms are described in greater detail in Figure
2
and Additional file
1
.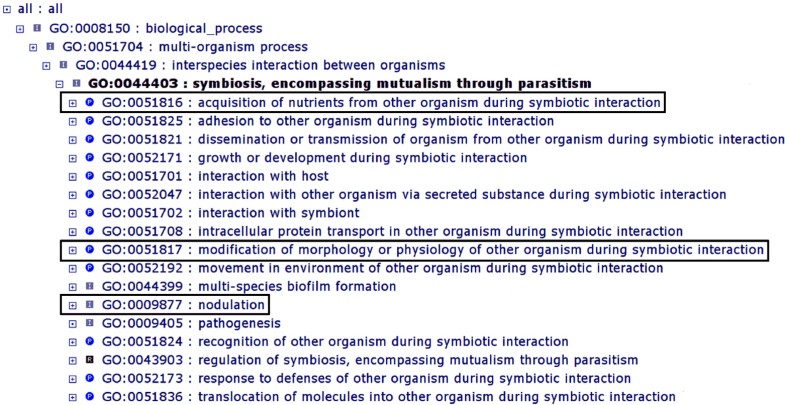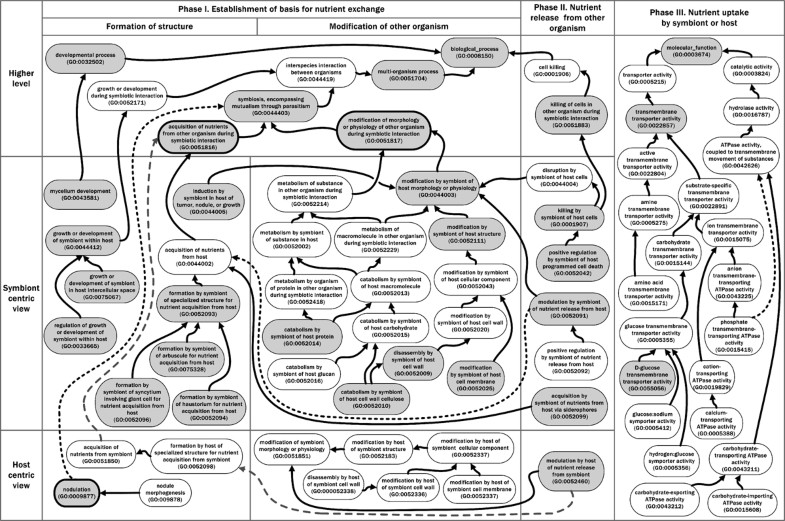 Symbiotic nutrient exchange
Strategies for nutrient exchange between host and symbiont organisms, which may involve formation of structures or modification of cell components of one or both organisms, are astonishingly diverse. For example, necrotrophic plant pathogens make nutrients available by producing enzymes that degrade host cell components including cell wall polysaccharides, e.g. "GO: 0052010 catabolism by symbiont of host cell wall cellulose", and cell membrane proteins, e.g. "GO: 0052025 modification by symbiont of host cell membrane" or "GO: 0052014 catabolism by symbiont of host protein" [12, 13] (Figure 2). On the other hand, many biotrophic pathogens colonize host cells via haustoria, differentiated intracellular hyphal structures that facilitate nutrient uptake and suppression of host defenses [14], e.g. "GO: 0052094 formation by symbiont of haustorium for nutrient acquisition from host" (Figure 2 and explained below). Other interesting examples include: parasitic plants and algae [15]; mutualisms of lichenaceous fungi with cyanobacteria and/or green algae [16]; mutualisms of algae within the cytoplasm of protozoans [17]; and symbioses between coral polyps and dinoflagellate algae that are mutualistic or antagonistic depending on the ocean temperature [18]. Annotating gene products involved in symbiotic nutrient exchange with GO terms facilitates comparison among host and symbiont species from diverse kingdoms of life.
Gene Ontology terms relevant to nutrient exchange, in a temporal framework
In Figure 2 we have represented the establishment of symbiotic nutrient exchange as occurring in three overlapping phases. Phase I involves establishing the physical basis for nutrient exchange through formation of structures or modification of the morphology or physiology of the other organism, or both. In phase II the release of nutrients from the symbiotic partners is achieved, for example through cell killing or modulation of nutrient release. Phase III comprises uptake of nutrients released in phase II, for example via transporters. Figure 2 summarizes GO terms relevant to symbiotic nutrient exchange within this temporal framework.
Terms from the Biological Process ontology related to symbiosis and cell killing are relevant principally to phases I and II, while many terms relevant to phase III are found in the Molecular Function ontology (Figure 2). The terms shown under phases I and II come from the "GO: 0051704 multi-organism process" branch of the Biological Process ontology that was created by PAMGO specifically to characterize symbiotic and other multi-organism interactions [8].
Phase I contains two important high-level GO terms, "GO: 0051816 acquisition of nutrients from other organism during symbiotic interaction" and "GO: 0051817 modification of morphology or physiology of other organism during symbiotic interaction". More specific child terms describe symbiont- or host-centric processes of morphological or physiological modification or structure formation; some of these terms are defined in Additional file 1.
Key terms within phase II that describe nutrient release from the other organism include "GO: 0051883 killing of cells in other organism during symbiotic interaction" [19], "GO: 0052091 modulation by symbiont of nutrient release from host", and "GO: 0052460 modulation by host of nutrient release from symbiont". All of those GO terms describe the process of making nutrients available for uptake by a symbiotic partner. In addition, terms such as "GO: 0052099 acquisition by symbiont of nutrients from host via siderophores" describe uptake of a (metal ion) nutrient that could occur through active interaction with the host, as described above, or through a passive mechanism such as acquisition from a plant root exudate by a microbe located in the rhizosphere [20].
Phase III of Figure 2 depicts representative terms from the Molecular Function ontology that describe transmembrane transporter-mediated uptake of nutrients. These terms describe attributes of gene products irrespective of symbiotic context. For example, "GO: 0055056 D-glucose transmembrane transporter activity" describes a gene product that transports glucose, whether that transport is part of an endogenous intra-organismal process or uptake following symbiotic killing of cells, e.g. "GO: 0051883 killing of cells in other organism during symbiotic interaction", and consequent release of glucose.
Survey of symbiotic nutritional strategies
The following sections highlight mechanisms employed by diverse symbionts and hosts, both animal and plant, in order to facilitate nutrient exchange.
Summary
An extraordinary diversity of organisms engage in symbiotic interactions, ranging from pathogenic to mutualistic. However, many common themes for fulfilling nutritional requirements have emerged among both hosts and their symbionts. A large number of Gene Ontology terms created by the PAMGO Consortium can be used to identify these commonalities. The more that these terms are used and refined by the community, the more that they will enhance our understanding of multi-organism processes, including mechanisms of nutrient exchange.
List of abbreviations used
AM:

arbuscular mycorrhizal fungus
DAG:

directed acyclic graph
GO:

Gene Ontology
PAMGO:

Plant-Associated Microbe Gene Ontology.
Declarations
Acknowledgements
The authors would like to thank the editors at The Gene Ontology Consortium, in particular Jane Lomax and Amelia Ireland, and the members of the PAMGO Consortium for their collaboration in developing many PAMGO terms. This work was supported by the National Research Initiative of the USDA Cooperative State Research, Education and Extension Service, grant number 2005-35600-16370 and by the U.S. National Science Foundation, grant number EF-0523736.
This article has been published as part of BMC Microbiology Volume 9 Supplement 1, 2009: The PAMGO Consortium: Unifying Themes In Microbe-Host Associations Identified Through The Gene Ontology. The full contents of the supplement are available online at http://www.biomedcentral.com/1471-2180/9?issue=S1.
Authors' Affiliations
(1)
Virginia Bioinformatics Institute, Virginia Polytechnic Institute and State University, Blacksburg, USA
(2)
Institute for Genome Sciences, University of Maryland School of Medicine, Baltimore, USA
Copyright
© Chibucos and Tyler; licensee BioMed Central Ltd. 2009
This article is published under license to BioMed Central Ltd. This is an open access article distributed under the terms of the Creative Commons Attribution License (http://creativecommons.org/licenses/by/2.0), which permits unrestricted use, distribution, and reproduction in any medium, provided the original work is properly cited.