Research article
Open Access
Functions of the Clostridium acetobutylicium FabF and FabZ proteins in unsaturated fatty acid biosynthesis
BMC Microbiology
2009
9:119
Received: 29 January 2009
Accepted: 04 June 2009
Published: 04 June 2009
Abstract
Background
The original anaerobic unsaturated fatty acid biosynthesis pathway proposed by Goldfine and Bloch was based on in vivo labeling studies in Clostridium butyricum ATCC 6015 (now C. beijerinckii) but to date no dedicated unsaturated fatty acid biosynthetic enzyme has been identified in Clostridia. C. acetobutylicium synthesizes the same species of unsaturated fatty acids as E. coli, but lacks all of the known unsaturated fatty acid synthetic genes identified in E. coli and other bacteria. A possible explanation was that two enzymes of saturated fatty acid synthesis of C. acetobutylicium, FabZ and FabF might also function in the unsaturated arm of the pathway (a FabZ homologue is known to be an unsaturated fatty acid synthetic enzyme in enterococci).
Results
We report that the FabF homologue located within the fatty acid biosynthetic gene cluster of C. acetobutylicium functions in synthesis of both unsaturated fatty acids and saturated fatty acids. Expression of this protein in E. coli functionally replaced both the FabB and FabF proteins of the host in vivo and replaced E. coli FabB in a defined in vitro fatty acid synthesis system. In contrast the single C. acetobutylicium FabZ homologue, although able to functionally replace E. coli FabZ in vivo and in vitro, was unable to replace FabA, the key dehydratase-isomerase of E. coli unsaturated fatty acid biosynthesis in vivo and lacked isomerase activity in vitro.
Conclusion
Thus, C. acetobutylicium introduces the double of unsaturated fatty acids by use of a novel and unknown enzyme.
Keywords
Unsaturated Fatty AcidAcyl ChainFatty Acid SynthesisCyclopropane Fatty AcidRadioactive Fatty Acid
Background
Bacterial growth requires an appreciable fraction of the acyl chains of the membrane lipids to be in a disordered state[
1
,
2
]. Such disordered states are imparted by fatty acids that act to offset the closely packed ordered arrangement of the lipid bilayer acyl chains imparted by straight-chain saturated acyl chains. In most bacteria the role of introducing acyl chain disorder is fulfilled by unsaturated fatty acids (UFAs). Some bacteria synthesize UFA by desaturation, an oxygen-requiring reaction that introduces the double bond in a single concerted reaction [
2
]. However, as first recognized by Bloch and coworkers this is not an option for anaerobically grown bacteria [
3
]. These investigators originally proposed that introduction of the double bond involved a direct dehydration of the 3-hydroxydecanoyl intermediate of fatty acid synthesis to give a
cis
-3 double bond which would be conserved though subsequent cycles of addition of two carbon atoms to give the membrane lipid UFA moieties [
4
]. However, when tested in cell-free extracts of
E. coli
, the reaction proved to proceed by a more conservative dehydration to give the classical
trans
-2-decenoyl fatty acid synthetic intermediate followed by isomerization of the
trans
-2-double bond to the
cis
-3 species [
3
,
5
]. This
cis
double bond was then preserved through successive C
2
elongation cycles to form the double bond of the mature UFAs [
6
,
7
]. The dehydration and isomerization reactions were demonstrated by purification of the
E. coli
FabA enzyme (called the "Bloch dehydratase" to distinguish it from the
E. coli
FabZ dehydratase of the elongation cycle) that catalyzed both the dehydration and isomerization reactions(Fig.
1
) [
5
]. Ironically, although the pathway was originally proposed based on the patterns of incorporation of short chain radioactive fatty acids into UFAs by cultures of
Clostridium butyricum
(now
Clostridium beijerinckii
) [
4
], all of the extant Clostridial genomes lack a homologue of FabA, the
E. coli
dehydratase-isomerase studied by Bloch and coworkers. Indeed, many bacterial genomes do not encode a recognizable FabA. This is also true of FabB, the
E. coli
chain elongation enzyme that channels the metabolic intermediate produced by FabA into the mainstream fatty acid synthetic pathway. Indeed in the extant genome sequences FabA and FabB homologues are encoded only in the genomes of α- and γ-proteobacteria [
6
,
7
]. Thus far, two solutions that solve the problem of anaerobic UFA synthesis in the absence of FabA and FabB have been reported. The first solution was that of
Streptococcus pneumoniae
which introduces a
cis
double bond into the growing acyl chain using FabM, a
trans
-2 to
cis
-3-decenoyl-ACP isomerase (i.e., the second partial reaction of FabA) [
8
]. The second solution was that of
Enterococcus faecalis
which uses homologues of FabZ and FabF to perform the functions performed by FabA and FabB in
E. coli
[
9
].
E. faecalis
encodes two FabZ homologues and two FabF homologues (FabF is closely related to FabB). Wang and Cronan [
9
] showed that one of these proteins, now called FabN, functioned as a dehydratase/isomerase analogous to FabA, whereas the other FabZ homologue possessed only dehydratase activity. A similar picture was seen for the FabF proteins, one (now called FabO) performed the FabB function whereas the other functioned only as a FabF [
9
]. However, neither of these scenarios seemed applicable to the Clostridia.
C. acetobutylicium
lacks
fabM, fabA
and
fabB
and has only a single copy of
fabZ
, although its fatty acid composition is similar to that of
E. coli
. This bacterium contains three genes that encode putative FabFs, although only one of these seemed likely to be involved in fatty acid synthesis (see Discussion). The most likely FabF homologue candidate was that encoded within a large gene cluster (
fabH acpP fabK
,
fabD fabG fabF accB fabZ accC accD accA
) that encodes what appears to be a complete set of the genes required for saturated fatty acid synthesis. How does
C. acetobutylicium
make unsaturated fatty acids? One possibility was that the single FabZ and FabF homologues could somehow function in both the saturated and unsaturated branches of the fatty acid synthetic pathway. We report that the
C. acetobutylicium
FabZ cannot catalyze isomerization of its
trans
-2-decenoyl-ACP product to the
cis-
3 species either in
vitro
or when expressed in
E. coli
. However, the single FabF homologue active in fatty acid synthesis has the functions of both
E. coli
long chain 3-ketoacyl-ACP synthases, FabB and FabF.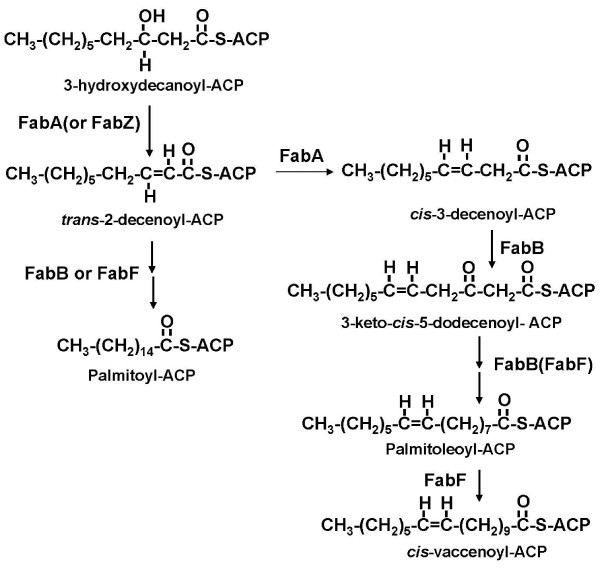 Discussion
Although C. acetobutylicium, C. beijerinckii and E. coli synthesize the same species of unsaturated fatty acids [21] and Clostridia are thought to follow the same synthetic mechanism as E. coli [22], the enzyme that introduces the cis double bond of the unsaturated fatty acids remains unknown. Like other Clostridia the C.acetobutylicium genome encodes none of the three known anaerobic unsaturated fatty acid synthesis pathways denoted by the presence of genes encoding FabM, FabA or FabN proteins. One possibility was that the single FabZ of this bacterium could somehow partition acyl chains between the saturated and unsaturated branches of the pathway. However, our in vivo and in vitro data show that C. acetobutylicium FabZ cannot synthesize the first intermediate in unsaturated fatty acid synthesis. Hence, Clostridia must contain a novel enzyme that introduces the cis double bond. Note that the proposed isomerase activity of the C. acetobutylicium FabZ was not unreasonable. C. acetobutylicium FabZ shares 51.4 and 59.3% identical residues with E. faecalis FabN and FabZ, respectively, and there is no sequence signature that denotes isomerase ability [9, 23, 24]. This is because the isomerase potential of 3-hydroxyacyl-ACP dehydratases is not determined by the catalytic machinery at the active site but rather by the β-sheets that dictate the orientation of the central α-helix and thus the shape of the substrate binding tunnel [23, 24]. We are currently seeking the gene(s) that encode the enzyme responsible for cis double bond introduction in C. acetobutylicium.
In contrast to FabZ, the single 3-ketoacyl-ACP synthase (FabF) of this bacterium performs the elongation functions required in both branches of the fatty acid synthetic pathway. This protein can both elongate palmitoleoyl-ACP to cis- vaccenoyl-ACP as does FabF in E. coli and also elongates the cis double bond containing product of FabA as does E. coli FabB. However, C. acetobutylicium FabF, was unable to perform the two tasks simultaneously and thus differs from Enterococcus faecalis FabO [9]. Although the C. acetobutylicium FabF and E. faecalis FabO proteins are 45–46% identical to E. coli FabF, they are only 55% identical to one another. Hence, each of the three proteins is distinct from the other two. The finding that C. acetobutylicium FabF was unable to perform the two tasks simultaneously could be due to the intrinsic temperature sensitivity of FabF1 and to the enzyme undergoing a type of kinetic confusion in this unnatural setting. Perhaps the intermediates of one branch of the pathway act (in effect) as inhibitors of the other branch. In this scenario the presence of the E. coli enzyme (either FabB or FabF) would result in the inhibitory intermediates being converted to long chain acyl chains, thereby freeing the C. acetobutylicium FabF to operate in the other branch. The complex task faced by FabF1 upon expression in an E. coli strain lacking both FabB and FabF is illustrated by the effects of overproduction of FabA and FabB in E. coli [25]. Overproduction of FabA results in increased production of saturated fatty acids rather than the increase in unsaturated fatty acid levels that might have been expected [25]. In contrast overproduction of FabB has the opposite result; unsaturated fatty acid levels are increased [25]. However, if the two enzymes are simultaneously overproduced, the fatty acid composition returns to normal [25]. These counter-intuitive results are due to the fact that FabA catalyzes reversible reactions whereas the FabB reaction is irreversible. Hence, when FabB activity is limiting, any excess cis-3-decenoyl-ACP produced by FabA can be isomerized back to trans-2-decenoyl-ACP and upon FabI action, this acyl chain can enter the saturated arm of the pathway. However, when FabB is in excess, it catalyzes the irreversible elongation of cis-3-decenoyl-ACP and thereby pulls the flow of carbon toward the unsaturated branch of the pathway. Thus, it would seem a surprising finding if the C. acetobutylicium FabF was able to accurately partition acyl chains between the two branches of the fatty acid synthetic pathway of a foreign organism.
It should be noted that it was not unexpected that the FabF homologue encoded within the fab gene cluster was the only FabF homologue that functioned in fatty acid synthesis. There are good arguments against the other two homologues having this function. The CAC2008 ORF in located within a cluster of genes that appear involved in synthesis of a glycosylated product of a hybrid polyketide-nonribosomal polypeptide pathway. If so, the CAC2008 ORF would be involved in synthesis of the polyketide moiety. The CAA0088 ORF is encoded on the C. acetobutylicium megaplasmid required for the late steps of solvent production by this organism. C. acetobutylicium survives loss of the megaplasmid [26] and therefore the CAA0088 ORF cannot encode an enzyme essential for fatty acid synthesis (although it could still provide FabF function). Note that it has been recently reported that the single FabF protein of the distantly related gram positive bacterium Lactococcus lactis can also perform the FabB reaction as well as that of FabF[27].
Conclusion
Unsaturated fatty acid synthesis in Clostridia cannot be explained by a plenipotent FabZ indicating that these bacteria encode a novel enzyme that introduces the cis double bond. In contrast the Clostridia FabF protein has the functions of both of the long chain 3-ketroacyl-ACP syntheases of E. coli. The diversity of bacterial enzymes used for synthesis of the cis double bond of unsaturated fatty acids is unexpected because the remainder of the fatty acid synthetic enzymes is well conserved among very diverse bacteria.
Declarations
Acknowledgements
This work was supported by the President Foundation of South China Agricultural University and NIH grant AI15650. We are grateful to Professor Hiroshi Kobayashi (Graduate School of Pharmaceutical Sciences, Chiba University Japan) for critical reading.
Authors' Affiliations
(1)
College of Life Science, South China Agricultural University, Guangzhou, China
(2)
Department of Biochemistry, University of Illinois at Urbana-Champaign, Urbana, USA
(3)
Department of Microbiology, University of Illinois at Urbana-Champaign, UrbanaIllinois, USA
Copyright
© Zhu et al; licensee BioMed Central Ltd. 2009
This article is published under license to BioMed Central Ltd. This is an Open Access article distributed under the terms of the Creative Commons Attribution License (http://creativecommons.org/licenses/by/2.0), which permits unrestricted use, distribution, and reproduction in any medium, provided the original work is properly cited.