Research article

Open Access
Global transcriptional responses of Pseudomonas syringae DC3000 to changes in iron bioavailability in vitro
BMC Microbiology
2008
8:209
Received: 17 September 2008
Accepted: 02 December 2008
Published: 02 December 2008
Abstract
Background
Pseudomonas syringae pv tomato DC3000 (DC3000) is a Gram-negative model plant pathogen that is found in a wide variety of environments. To survive in these diverse conditions it must sense and respond to various environmental cues. One micronutrient required for most forms of life is iron. Bioavailable iron has been shown to be an important global regulator for many bacteria where it not only regulates a wide variety of genes involved in general cell physiology but also virulence determinants. In this study we used microarrays to study differential gene regulation in DC3000 in response to changes in levels of cell-associated iron.
Results
DC3000 cultures were grown under highly controlled conditions and analyzed after the addition of iron citrate or sodium citrate to the media. In the cultures supplemented with iron, we found that cell-associated iron increased rapidly while culture densities were not significantly different over 4 hours when compared to cultures with sodium citrate added. Microarray analysis of samples taken from before and after the addition of either sodium citrate or iron citrate identified 386 differentially regulated genes with high statistical confidence. Differentially regulated genes were clustered based on expression patterns observed between comparison of samples taken at different time points and with different supplements. This analysis grouped genes associated with the same regulatory motifs and/or had similar putative or known function.
Conclusion
This study shows iron is rapidly taken up from the medium by iron-depleted DC3000 cultures and that bioavailable iron is a global cue for the expression of iron transport, storage, and known virulence factors in DC3000. Furthermore approximately 34% of the differentially regulated genes are associated with one of four regulatory motifs for Fur, PvdS, HrpL, or RpoD.
Keywords
Sigma Factor
Regulatory Motif
Hypothetical Gene
Bioavailable Iron
Tomato DC3000
Background
Pseudomonas syringae pv tomato DC3000 (DC3000), a pathogen of tomato and Arabidopsis, is a Gram-negative bacterium that is found in a wide variety of environmental niches. This bacterium must to be able to interpret environmental cues to determine if it is in the soil, in water drops, on a plant surface, or in the plant apoplast. The pathogen adapts to each local environment by altering its internal physiology, including changing mRNA, protein content, and internal metabolite stores. By altering its behavior DC3000 is better able to scavenge available nutrients, withstand various environmental stresses and, if necessary, coordinate expression and deployment of appropriate virulence factors. For growth within plants DC3000 can express two major virulence factors: the phytotoxin coronatine, which causes chlorosis in plants [1], and a type III secretion system (T3SS), whose main function is to help the bacteria to evade host defenses by interfering with intracellular signaling pathways of plant cells (for recent review [2]). Several regulatory proteins have been identified that control T3SS and coronatine production but the precise nature of the chemical and physical factors used as environmental cues involved in the expression of these pathways are unknown.
One environmental signal detected by many bacterial pathogens, including Pseudomonas aeruginosa, is iron. Iron homeostasis in P. aeruginosa has been investigated due to its essential role in opportunistic human disease, especially the expression of extracellular virulence determinants including an exotoxin and proteases [3, 4]. Many iron-responsive regulatory pathways have been studied in this species. One key regulator is the ferric uptake regulator, Fur [5, 6]. Fur forms a homodimer complex in the presence of Zn2+ and Fe2+ ions [7–9] enabling it to bind to specific DNA motifs, "Fur boxes". These motifs are overlapping inverted repeat sequences that often occur in close proximity to, or overlap with, promoters. Fur binds to DNA in iron-replete conditions leading to repression of downstream transcriptional units. The characteristic repressor behavior of Fur is clearly evident in microarray studies of patterns of expression of iron-responsive genes in P. aeruginosa PAO1 (PAO1) [10, 11]. Recently the Fur regulon has been studied using computational methods to identify putative Fur regulated genes that specifically contain cooperative upstream binding sites [12].
The regulatory networks that respond to iron are complex. For instance in PAO1 there are several extracytoplasmic function (ECF) sigma factors and small RNAs (sRNAs) that are associated with iron homeostasis [11, 13, 14]. Twelve sigma factor genes have confirmed or putative upstream Fur binding sites, and nine of these genes exhibit iron-responsive expression under one or more conditions [10, 11]. Sigma factors modulate transcription by recruiting core RNA polymerase to promoters, which in turn regulate many genes. A recent study in PAO1 characterized several ECF sigma factors that control TonB-dependent receptors and a variety of putative metal transport systems [14].
Previous studies in PAO1 have implicated more than 300 genes that are differentially expressed in response in iron [10, 11]. Many of the regulatory elements and downstream targets found in PAO1 have homologs in other pseudomonads. However, relatively little direct experimentation has been reported for P. syringae pathovars regarding iron homeostasis. The iron-dependent production of toxins in P. syringae pv syringae has been known for some time [15, 16]. Loper and Lindow, using P. syringae 31-derived strains showed limited iron bioavailability in colonized regions of leaf surfaces [17]. In addition, Joyner and Lindow found considerable variation in iron bioavailability on plant leaves [18]. Analysis of the DC3000 genome sequence revealed the existence of two extracellular siderophores, yersiniabactin and pyoverdin, along with multiple putative TonB-dependent siderophore receptors, putative iron uptake pathways, and proteins involved in iron storage [19]. Recent studies show that both yersiniabactin and pyoverdin are produced in DC3000 culture and that yersiniabactin is also produced in planta [20]. Our group has also recently characterized the PvdS regulon, which is the regulon of an ECF type sigma factor that controls genes responsible for the production of pyoverdin along with other iron responsive genes [21]. These studies imply that iron acquisition is important for growth in planta and that iron may be an important environmental signal sensed by DC3000. However, since a strain lacking in the production of yersiniabactin has no growth defect in the plant and an increased growth rate in low-iron media, the role of environmental iron signaling and acquisition is likely to be a complex phenomenon [20].
In this study we evaluated the effect of bioavailable iron on bacterial gene transcription using carefully controlled growth conditions to maximize differential cell associated iron levels and reduce confounding environmental and growth effects. We measured cell-associated iron concentrations in DC3000 at multiple time points after the addition of iron citrate or sodium citrate and evaluated the transcriptome to identify differentially regulated genes. RNA levels from each sample were analyzed using microarrays. We found that cell-associated iron levels are strongly associated with the differential expression of a variety of pathways in DC3000 including siderophore production, iron transport systems, sigma factors, T3SS and coronatine production. The differentially expressed genes were grouped by their patterns of regulation and we found that genes that clustered together had similar known or putative functions and shared bioinformatically derived regulatory motifs. Based on these results, we believe that many previously uncharacterized genes can be assigned putative functions and we present an initial systems view of iron-dependent regulation in DC3000.
Discussion
In this study we examined the association between bioavailable iron and gene transcription in the bacterial plant pathogen
Pseudomonas syringae
pv
tomato
DC3000. We developed a bioreactor-based protocol to obtain highly reproducible growth of DC3000 in a medium that allowed for the expression of known virulence factors. Conditions were selected to maximize cell-associated iron concentrations and minimize confounding effects of changes in growth states. By analyzing samples from different time points in two different conditions we were able to cluster genes based on their patterns of differential expression such that genes with similar proposed function and regulatory motifs were closely associated. The remainder of the discussion will highlight genes in several clusters of differentially expressed genes and the known or suspected pathways present within these clusters, both of which provide clues concerning how the bacterium is altering its physiology to respond to bioavailable iron. An overview model of proposed key regulatory events in response to iron is shown in Figure
7
.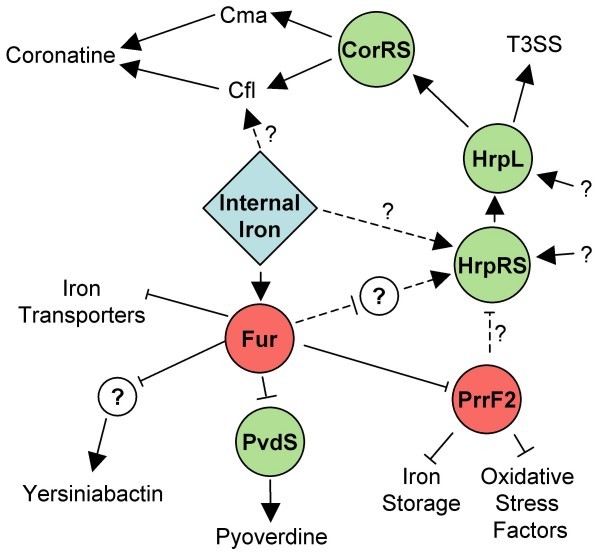 Conclusion
In order to be a successful pathogen, a bacterium must sense and respond to a diverse array of environmental signals. Many signals cause the differential regulation of hundreds of genes by primary and downstream regulatory events. In this study we have investigated the connection between multiple bacterial regulons and iron availability using a systems biology approach by integrating global expression analysis with computational biology. By analyzing samples taken from cultures with different cell associated iron concentrations at multiple time points, we have attempted to unravel complex regulatory pathways. We found that clustering differentially expressed genes based on their patterns of expression grouped of genes with like function together. We also used regulatory motifs derived from other data sets to show that many closely grouped genes also share common regulatory features. This global study has allowed us to hypothesize on functions for many previously uncharacterized genes base on clustering and has given us an initial systems level view of gene regulation in response to bioavailable iron of Pseudomonas syringae pv tomato DC3000.
Methods
Media preparation and Bacterial growth in bioreactors
A Sixfors bioreactor system (Infors, Sweden) was used for culturing bacteria for microarray experiments. Reactors were soaked overnight in 20% nitric acid to removed residual bound iron. The 500 ml reactors were thoroughly washed and 400 ml of defined minimal medium [Mannitol-Glutamate (MG) media (10 g/L of mannitol, 2 g/L of L-glutamic acid, 0.5 g/L of KH2PO4, 0.2 g/L of NaCl, 0.2 g/L of MgSO4, final pH of 7)] was added [22]. When available, Sigma Ultrapure components were used to minimize the amount of iron contamination in the media. Reactors were autoclaved and allowed to oxygenate for at least 4 hours prior to inoculation. Running conditions were as follows: 25°C, 1 L/min of air supplied via sparging, and a Rushton impeller spinning at 500 RPM for additional perturbation of the media. Vessels were inoculated to an OD600 of 0.01 with bacteria that had been grown to confluency on LM agar [49] and then resuspended in MG medium prior to inoculation.
Sample collection and Isolation of RNA
When cultures reached an OD600 of 0.3 (~16 hours after inoculation), samples were taken (t = 0 h) and iron citrate (Sigma, St Louis, MO) or sodium citrate (Sigma) was added to a final concentration of 50 μM. At each time point (t = 0 h, t = 0.5 h, and t = 4 h) 35 ml of culture was taken from each reactor via an aseptic method. Twenty-five ml of the cultures was centrifuged to separate bacteria from the supernatant and each fraction was frozen at -20°C for further analysis of iron levels. Five ml of culture was pelleted by centrifugation at room temperature for 5 min at 10,000 × g and the supernatant was removed. RNA was isolated using the RNeasy kit (Qiagen, Carlsbad, CA) following manufacture's instructions; with the exception that lyzozyme was used at a concentration of 5 mg/ml. RNA was treated with DNase I (Ambion, Austin, TX) to remove residual DNA and then cleaned and concentrated using the MinElute kit (Qiagen). Removal of DNA was verified by qRT-PCR [50]. Integrity of the RNA was assessed using the Agilent Bioanalyzer (Microarray Core Facility, Cornell University).
Measurement of iron concentrations
Bacterial pellets from 25 ml of culture were digested with 1.0 ml of concentrated nitric acid at 120°C until dry, then 1.0 ml of a 1:1 mixture of concentrated nitric acid and perchloric acid was added and heated at 220°C until dry. The ash was dissolved in 20.0 ml of 5% Nitric acid and analyzed on an axially viewed ICP trace analyzer emission spectrometer (model ICAP 61E trace analyzer, Thermo Electron, Waltham Ma). The transfer optics were replaced with a short depth of field transfer optics to reduce matrix effects, (2000) US Patent No. 6,122050. A specialized spray chamber and desolvation system (2005) US Patent No. 6859272 was also used.
Microarray processing
The microarrays used in this study were NimbleExpress Made-to-Order Prokaryotic Arrays for P. syringae pv tomato DC3000 (part# 530131) (NimbleGen Systems Inc., Madison, WI, USA) purchased through Affymetrix (Santa Clara, CA, USA). These microarrays consisted of 190,000 probes, with probe length of 24 nucleotides, representing 5,608 genes, as well as several intergenic regions, with a minimum of 17 probes/gene, including perfect match and mismatch probes. The NimbleExpress arrays are packaged in an Affymetrix GeneChip cartridge (49 format), and can be used with GeneChip reagents and processed on the GeneChip Instrument System. cDNA synthesis, labeling, and fragmentation were performed at the Microarray Core Facility at Cornell University using standard Affymetrix protocols. Hybridization, staining, washing, and chip scanning were also performed at the Microarray Core Facility using the Flexmidi_Euk2v3 fluidics protocol from Affymetrix with a modification in wash temperature B on a Fluidic station FS450. Microarray chips were scanned on a GeneChip scanner 3000-7G with 4-color upgrade and array autoloader.
Analysis of Microarray data
Microarray data were analyzed using Bioconductor [51]. Quality assessment of microarray data was performed as previously described [23]. Redundant and unwanted probes were removed from data sets prior to final statistical analysis. Samples were taken from 5 biological replicates for all time points. All data was normalized using gcrma and pair wise comparisons were made using genefilter requiring at least 3 chips where probe sets had intensity above 10. Subsequent FDR analysis was done using multtest at different p values (0.5, 0.1, 0.02, 0.004). Differentially expressed genes were clustered using the Bio.Cluster module in BioPython (version 1.44). The resulting dendograms were visualized using Java TreeView software [52].
Regulatory motifs
Our group previously published HrpL and PvdS motifs [21, 25]. The microarray data on iron-responsive genes in PAO1 from Ochsner et al. [11] and Palma et al. [10] was used to identify putative Fur binding motifs in all pseudomonads. The process of identifying putative Fur binding sites is a variant of computational methods used previously by our group [25, 50, 53]. Briefly, training sets were constructed from the manually annotated set from Ochsner et al. and by performing Gibbs sampling with various constraints on motif length and symmetry on regions upstream of iron-responsive genes in the microarray experiments of Ochsner et al. and Palma et al. The HMM was calibrated and used to scan each available pseudomonad genome sequence. The RpoD promoter model and putative regulatory targets were derived from unpublished proteomics data. From the set of proteins that were present in a preliminary proteomics survey, a list of candidate genes and upstream regulatory elements were assembled, based on operon predictions used and reported in [25]. Intergenic regions up to 90 bases upstream of identified operons were included in an input set, excluding regions identified in [25] to contain a HrpL promoter element (Hrp box) or that were upstream of an annotated transposase gene. Gibbs sampling using PhyloGibbs [54] was performed to identify promoter-size (approximately 30 nt), conserved motifs, and a motif was consistently found that resembled the known E. coli RpoD promoter motif [55]. The aligned sequences were extracted and used to training an HMM for scanning genomic sequences to identify candidate promoters.
For Figure 6 and the associated p-values quoted in the text, the following computations were performed. For every pair of genes within the set of 386 differentially expressed genes shown in Figure 5A, the uncentered correlation (c) of the expression pattern of the genes in that pair was computed, using the same metric with which clustering was performed. A histogram of these correlations forms the blue background distribution labeled "all" in Figure 6(A–D). For each regulatory factor, all possible pairs were formed from the subset of genes predicted to contain an upstream regulatory motif for that factor. The histogram of correlations within each subset is shown in red for each factor. In addition, p-values were computed to estimate the likelihood that the subset of genes predicted to be regulated by a given factor could have been drawn at random from the background distribution of all pair-wise distances. For each factor, 100,000 random subsets of genes of the same size as the predicted subset were drawn from the full set of 386 genes, and all pair-wise correlations were computed for each random subset, from which the mean pair-wise correlation was extracted. The number of random samples with a mean pair-wise correlation that exceeded the mean pair-wise correlation of the predicted gene set for each factor was used to estimate a p-value for that factor. Given the trimodal nature of the background distribution, the mean pair-wise correlation is not a particularly discriminating test statistic, and we therefore expect the quoted p-values to be somewhat conservative, i.e., more discriminating test statistics would be expected to give smaller p-values than those quoted here for the means.
Microarray data accession
The microarray data from this study is available on the GEO database at http://www.ncbi.nlm.nih.gov/geo with the accession number GES13500.
Declarations
Acknowledgements
We would like to thank Monica Moll for qRT-PCR analysis of selected targets, the Cornell University Life Sciences Core Laboratories Center/DNA microarray facility for processing our microarray chips, and Jenny Drnevich and Ariel Chernomoretz for portions of R scripts to modify probe sets for microarray analysis. The authors also thank Bryan Swingle for reviewing the manuscript prior to submission.
Authors' Affiliations
(1)
United States Department of Agriculture-Agricultural Research Service, Robert W Holley Center for Agriculture and Health, Ithaca, USA
(2)
Department of Plant Pathology and Plant-Microbe Biology, Cornell University, Ithaca, USA
(3)
Computational Biology Service Unit, Life Sciences Core Laboratories Center, Cornell University, Ithaca, USA
(4)
Department of Food Science, Cornell University, Ithaca, USA
Copyright
© Bronstein et al; licensee BioMed Central Ltd. 2008
This article is published under license to BioMed Central Ltd. This is an Open Access article distributed under the terms of the Creative Commons Attribution License (http://creativecommons.org/licenses/by/2.0), which permits unrestricted use, distribution, and reproduction in any medium, provided the original work is properly cited.