Research article
Open Access
Development and application of the active surveillance of pathogens microarray to monitor bacterial gene flux
BMC Microbiology
2008
8:177
Received: 25 June 2008
Accepted: 09 October 2008
Published: 09 October 2008
Abstract
Background
Human and animal health is constantly under threat by emerging pathogens that have recently acquired genetic determinants that enhance their survival, transmissibility and virulence. We describe the construction and development of an Active Surveillance of Pathogens (ASP) oligonucleotide microarray, designed to 'actively survey' the genome of a given bacterial pathogen for virulence-associated genes.
Results
The microarray consists of 4958 reporters from 151 bacterial species and include genes for the identification of individual bacterial species as well as mobile genetic elements (transposons, plasmid and phage), virulence genes and antibiotic resistance genes. The ASP microarray was validated with nineteen bacterial pathogens species, including Francisella tularensis, Clostridium difficile, Staphylococcus aureus, Enterococcus faecium and Stenotrophomonas maltophilia. The ASP microarray identified these bacteria, and provided information on potential antibiotic resistance (eg sufamethoxazole resistance and sulfonamide resistance) and virulence determinants including genes likely to be acquired by horizontal gene transfer (e.g. an alpha-haemolysin).
Conclusion
The ASP microarray has potential in the clinic as a diagnostic tool, as a research tool for both known and emerging pathogens, and as an early warning system for pathogenic bacteria that have been recently modified either naturally or deliberately.
Keywords
Horizontal Gene TransferVancomycin Resistant EnterococcusFrancisella TularensisSpecific ReporterMeticillin
Background
Despite advances in the treatment of infectious disease, pathogenic bacteria represent one of the most important threats to health worldwide. Many infectious disease agents have never been controlled or have re-emerged as global pathogens, while others pose a new threat. Recently emerged pathogens of heightened virulence include Vibrio cholerae O139 strains [1, 2], Escherichia coli 0157 [3, 4], Salmonella enteritidis phage type-4 [5] and the multidrug resistant phage type-DT104, all of which have emerged over the last decade as a global health problem in both human and animal disease [6]. There is now clear evidence that these pathogens have become more virulent by acquiring genome segments through lateral gene transfer that result in gain-of-function traits [7]. This is dramatically illustrated by the transfer of antimicrobial resistance determinant among pathogenic (and non-pathogenic) bacteria such as meticillin resistant Staphylococcus aureus (MRSA) and multidrug resistant enterococci. The identification of newly acquired potentially harmful genetic elements and antibiotic resistances could influence clinical practice and policy, resulting in more effective treatment. Additionally, this identification of new traits could prove vital in the identification of bioterrorism threats, where the deliberate release of highly virulent pathogens is a major concern, particularly if the genome of the infectious agent has been modified with virulence determinants for nefarious purposes.
In the last few years, research in microbial pathogenesis and molecular epidemiology has changed fundamentally, from a piecemeal approach of characterising individual determinants or point mutations to a global analysis of pathogen genomes, fuelled by the ability to determine the complete genome sequence of microorganisms. This enabled the development of high-throughput nucleic acid hybridisation technologies including macro- and microarrays involving amplified gene fragments and oligonucleotide arrays (e.g. Affymetrix GeneChips). Microarrays have the capacity to rapidly monitor the genome content of bacterial strains and identify horizontal gene transfer elements, using thousands of reporter elements in a given experiment. Horizontal gene transfer is a major evolutionary mechanism for bacteria [8, 9], methods that can demonstrate gene acquisition (and loss) are crucial in identifying emerging pathogens, and could act as an early warning of the emergence of a potentially more virulent strain. At present microarray technology is limited to mainly single species microarrays. Yet the continued expansion of available genome sequence data and our increased understanding of the genetic basis of microbial virulence, this has presented a unique opportunity to monitor the genome content of microorganisms and the emergence of more virulent pathogens. With this in mind we report the development and application of an Active Surveillance of Pathogens (ASP) microarray for monitoring gene flux in pathogens, antimicrobial resistance and virulence profile, along with potentially identifying gene acquisitions and new outbreak strains. The ASP array is unique in that it represents known virulence determinants, antibiotic resistance genes and pathogenicity traits from 151 bacteria species, covering a broad range of species and genera on a single microarray. This provides an unparalleled opportunity to study gene flux and identify novel traits. The ASP microarray was validated with 19 bacterial species, ranging from those who's fully curated genome sequences were available, to those that were unsequenced, with little or no background information; including a blind control of a sample from unknown origins. The ASP array identified both known and unknown samples, including; Francisella tularensis, Clostridium difficile, Staphylococcus aureus, Vancomycin resistant Enterococcus faecium (VRE) and Stenotrophomonas maltophilia and provided information on drug resistance and the presence of potential virulence determinants.
Methods
Selection of oligonucleotide gene reporters for microarray
Prior to the design of the oligonucleotides, a database of potential bacterial coding sequences (CDS) was established using published completed genome sequences; thus ensuring consistency in gene location and identity. A Perl script was used to extract CDS sequences from the sequence reference database (RefSeq) http://www.ncbi.nlm.nih.gov/projects/RefSeq/, which consists of curated completed and published genomes. Reporters for the ASP microarray were designed from CDS categorised by TIGR as either 'cell adhesion', 'detoxification', 'toxin production & resistance' or 'pathogenicity' http://cmr.tigr.org/tigr-scripts/CMR/shared/RoleList.cgi or TIGR Annotation search http://cmr.tigr.org/tigr-scripts/CMR/shared/MakeFrontPages.cgi?page=searches&crumbs=searches. Alongside these, additional reporters were designed based on ribosomal protein subunit genes, these were selected for their species, genus and family specificity. 16S/23S genes were not used due to their high degree of conservation.
The oligonucleotide reporters were designed using OligoArray2.1 software [10]. Irrespective of GC content of the target genome the following parameters were set; GC content 40–60%, Tm 85–90°C and runs of five homologous bases were prohibited. If OligoArray2.1 failed to design oligonucleotides for the majority of CDS, relaxed parameters were applied as follows; maximum GC-content was increased to 68% and maximum Tm increased to 94°C for high GC-content organisms. For low GC-content organisms the minimum GC-content was lowered to 35% and the minimum Tm decreased to 83°C. Oligonucleotides were checked by BLASTN [11] using default settings but with a seed word length of seven (due to short oligonucleotide sequence length) and an e-value cut-off of 0.0001, against all CDS from all available species within a genera. If any oligonucleotides, had a match with a bit score of greater than 72 (approximately >45/50 bp match) to CDS other than that on which it was designed, the oligonucleotides for these CDS were considered redundant and thus removed i.e. one oligonucleotide will produce signal from homologous CDS, this accounts for duplicated genes or gene families. Subsequently a self-self BLAST for all selected oligonucleotides was performed to check for redundancy within the oligonucleotides, again any two oligonucleotides which shared greater than 45/50 base pair identity were deemed to be a duplication and one was removed from the potential oligonucleotide list. This iterative approach allows for expansion of only novel reporter elements with the addition of each newly published genome sequence. The current ASP microarray (v5.3) consists of 4958 oligonucleotide reporters (additional file 1) designed from 99 bacterial genera (151 species, 205 genomes, plus at least 100 mobile genetic elements (MGE) additional file 3).
Construction of ASP microarrays
All oligonucleotides were synthesised by MWG Biotech (Ebersberg, Germany). Oligonucleotides were suspended in 50% DMSO at a final concentration of 50 μM. Microarrays were constructed as described previously [12] by robotic spotting of oligonucleotides in duplicate on UltraGaps amino-silane coated glass slides (Corning, USA). The microarrays were post-print processed according to the slide manufacturer's instructions.
DNA extractions
Where strains were provided, they were grown in the recommended media, at the recommended temperature. DNA isolations was performed using either the wizard DNA extraction kit (Promega) or the Puregene DNA isolations kit (Gentra Systems) in accordance with the manufacturer's protocols for extraction of either Gram positive or Gram negative bacteria as appropriate. For C. difficile, the Puregene Gram positive extraction method was utilised with the addition of 175 μg lysozyme to aid cell lysis, followed by snap freeze using a dry ice and ethanol bath. Samples were then heated to 80°C for 15 min, and the manufacturer's protocol was then resumed.
Hybridisation conditions & data acquisition
Test samples were labelled and hybridised as described previously [13] using 3–6 μg DNA with a formamide based hybridisation buffer solution (30% formamide, 3.75× Denhart's solution, 3.75 × SSC, 0.75 mM Na4P2O7, 37.5 mM Tris pH 7.4, 0.075% SDS, 0.056 mg/ml used tRNA, modified from [14]) in a final volume of 48 μl at 50°C for 16–20 hours. The microarrays were washed as described previously but with the initial wash at 50°C [13]. The microarrays were scanned using a 418 microarray Scanner (Affymetrix, USA) and intensity fluorescence data acquired using ImaGene 5.5 (BioDiscovery, USA). After scanning, a commercial SpotCheck kit (Invitrogen) consisting of Cy3 labelled random 9-mers was used to hybridize to the microarray, which binds to all the reporters on the microarray. The microarray was then washed and scanned as before but without preheating the initial wash. This step is essential due to the small number of reporters, which hybridise with specific samples and serves as a valuable control to confirm microarray reporter presence on the microarray.
Data analysis
Initially positive reporter identification was attempted using the proprietary algorithms of ImaGene and BlueFuse software however these lacked the specificity and defined cut-offs required. The method described by Cassone
et al
. [
15
] was used to identify positive reporters. Each reporter was present on the ASP microarray in duplicate, for each replicate the median of the background signal was deducted from the reporter spot median fluorescence using Excel to give hybridisation signal (figure
1
,
2
,
3
). The mean (m) and standard deviation (sd) of replicate hybridisation signals was calculated. Additionally the background corrected mean (M) and standard deviation (SD) for the whole microarray was calculated (figure
1
,
2
,
3
). The data analysis methodology utilised two main calculations to determine whether a particular reporter was present in any given strain. Firstly, for true positives the signal should be consistent between microarray replicates, therefore if the signal mean was greater than the standard deviation of the spot intensities for a particular reporter (m>sd) this was given a pass, whereas sd>m was given a fail. Secondly, most of the reporters on the microarray do not produce signal, therefore a true positive reporter must be significantly brighter than the background reporters, therefore if the reporter signal mean (m) was greater than the microarray mean M plus SD (m>M+SD) this was given a pass and m<M+SD a fail (figure
1
,
2
,
3
). Reporters were considered present if given a pass for both tests. The resultant gene lists were then entered into GeneSpring. Subsequently in GeneSpring the list of positive reporters was compared to a database of lists consisting of: BLAST predictions, results from previous hybridisations and lists of all the oligonucleotides from each species present in the design database. This identified similarities between gene lists and hybridisation results. For each reporter list, the hypergeometric probability (p-value) was calculated. This probability indicates the level of similarity between gene lists, whereby the p-value was the probability that two gene lists (n & m) share a subset of genes (k) if randomly selected from all ASP microarray genes (u). A low p-value indicates that the lists were not similar by chance.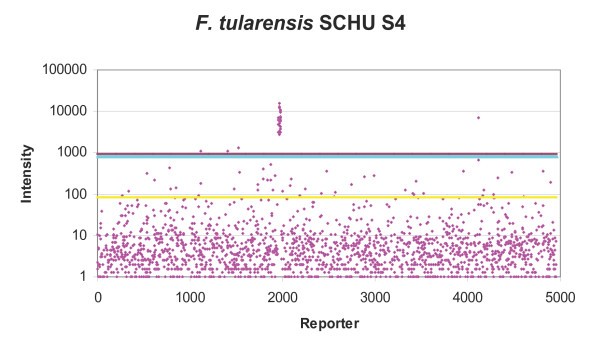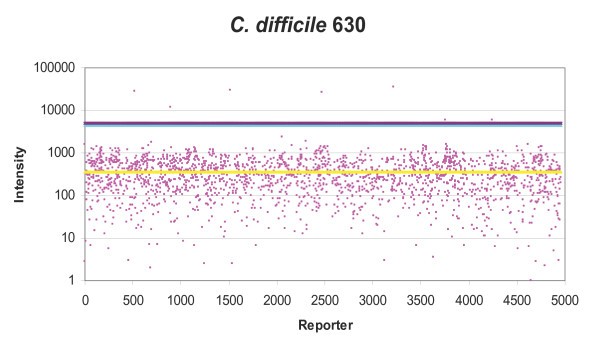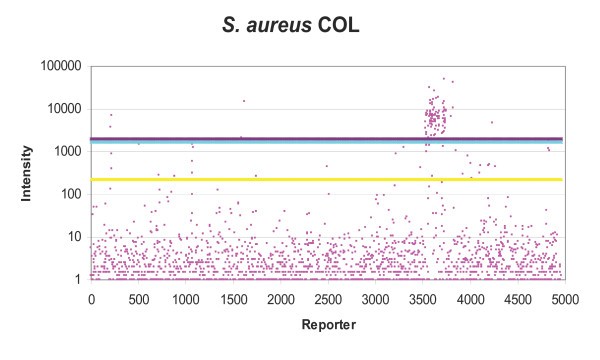 The test gene list was then added to the database. The continual addition to this database enables comparison to be made between the database and future samples to predict gene content and some degree of identification, for both known and unknown samples.
Vectorette PCR
Vectorette PCR [16] enables the amplification of specific DNA fragments where only one primer, in this case a 50 mer reporter, is known and was employed to validate the hybridisations. Genomic DNA was digested with either, Alu I (Promega), Eco RV (Promega), Pvu II (Promega) or Rsa I (NEB) and heat-inactivated where appropriate, in accordance with the manufacturer's protocol. The vectorette bubble unit was prepared by annealing the oligonucleotides LDF1F and LDF1R (additional file 2). The vectorette unit was then ligated to the individual digested DNA, using T4 ligase (Promega) in accordance with the manufacturer's protocol. Nested 30–32 mer oligonucleotides were designed from within the 50 mer microarray reporter (additional file 2), along with nested primers complimentary to the vectorette bubble (additional file 2). Primary PCR reactions were performed using the vectorette internal primer LDF2, and the gene specific primer (5 μM of each primer). The PCR reactions were performed using 2.5 units of Taq polymerase (Promega) in accordance with the manufacturer's protocol, 35 cycles of 92°C 30 sec, 38°C 1 min, 72°C 1 min and a final cycle 72°C 10 min. The secondary PCR was performed using the primary PCR reaction, with nested gene specific primer and nested vectorette primer. A total of 40 cycles of 92°C 30 sec, 55°C 1 min and 72°C 1 min with a final cycle 72°C 10 min. The secondary PCR products were separated on an agarose gel and gel extracted using the QiaQuick gel extraction protocol (Qiagen) in accordance with the manufacturer's protocol. The purified PCR products were then cloned into pGEM (Promega) in accordance with the manufacturer's protocol and sequenced, using M13 forward and reverse primers (additional file 2). The resultant sequences were run through BLAST to identify the cloned genes.
Abbreviations
ASP:

Active surveillance of pathogens
CDS:

Coding sequence
MGE:

Mobile genetic element
MRSA:

Meticillin resistant Staphylococcus aureus
PVL:

Panton-Valentine leukocidin
VRE:

Vancomycin resistant Enterococcus faecium.
Declarations
Acknowledgements
This work was funded by the MRC, DSTL and the Home Office, UK.
Authors' Affiliations
(1)
Department of Infectious and Tropical Diseases, London School of Hygiene and Tropical Medicine, London, UK
(2)
Biomedical Sciences, DSTL, Porton Down, Salisbury, UK
(3)
School of Biosciences, The University of Exeter, Devon, UK
(4)
King's College Hospital, London, UK
(5)
Bacterial microarray group, St. George's, University of London, London, UK
Copyright
© Stabler et al; licensee BioMed Central Ltd. 2008
This article is published under license to BioMed Central Ltd. This is an Open Access article distributed under the terms of the Creative Commons Attribution License (http://creativecommons.org/licenses/by/2.0), which permits unrestricted use, distribution, and reproduction in any medium, provided the original work is properly cited.