Research article

Open Access
Analysis of and function predictions for previously conserved hypothetical or putative proteins in Blochmannia floridanus
Received: 10 June 2005
Accepted: 09 January 2006
Published: 09 January 2006
Abstract
Background
There is an increasing interest to better understand endosymbiont capabilities in insects both from an ecological point of view and for pest control. Blochmannia floridanus provides important nutrients for its host, the ant Camponotus, while the bacterium in return is provided with a niche to proliferate. Blochmannia floridanus proteins and metabolites are difficult to study due to its endosymbiontic life style; however, its complete genome sequence became recently available.
Results
Improved sequence analysis algorithms, databanks and gene and pathway context methods allowed us to reveal new information on various enzyme and pathways from the Blochmannia floridanus genome sequence [EMBL-ID BX248583]. Furthermore, these predictions are supported and linked to experimental data for instance from structural genomics projects (e.g. Bfl341, Bfl 499) or available biochemical data on proteins from other species which we show here to be related. We were able to assign a confirmed or at least a putative molecular function for 21 from 27 previously conserved hypothetical proteins. For 48 proteins of 66 with a previous putative assignment the function was further clarified. Several of these proteins occur in many proteobacteria and are found to be conserved even in the compact genome of this endosymbiont. To extend and re-test predictions and links to experimentally verified protein functions, functional clusters and interactions were assembled. These included septum initiation and cell division (Bfl165, Bfl303, Bfl248 et al.); translation; transport; the ubiquinone (Bfl547 et al.), the inositol and nitrogen pathways.
Conclusion
Taken together, our data allow a better and more complete description of the pathway capabilities and life style of this typical endosymbiont.
Keywords
Homology Model
Hypothetical Protein
Colour Version
Functional Association
Structural Genomic Project
Background
Genome analysis is improved and becomes more meaningful when one considers genome context, pathway context and metabolic reconstruction. A focus on the prediction of encoded proteins and establishing links to experimentally characterized protein sequences from other organisms is particularly important in organisms where there has been characterized mainly the genome sequence. Examples are obligate intracellular endosymbionts where direct experimental identification of their proteins is very challenging. As a case in point we analyze the genome sequence from the endosymbiont Blochmannia floridanus, an obligate intracellular endosymbiont of ants of the genus Camponotus. Such symbioses between insects and bacteria are widespread in nature and the endosymbionts are of high importance for their hosts with implications for pest control. Blochmannia floridanus, Buchnera and Wigglesworthia bacteria provide important nutrients to their insect host [1] and live in intimate metabolic contact [2–6] with the host as intracellular organisms in specialised cells, bacteriocytes [7–9]. The diet of the ant is not as specialized as those of aphids and tsetse flies, the hosts of Buchnera and Wigglesworthia, respectively, implicating specific metabolic capabilities in Blochmannia [10]. However, endosymbiotic genomes are experiencing a steady reduction as the intracellular symbionts live in a constant intracellular environment. The recent genome sequence of Blochmannia floridanus [11] allowed first insights in its biochemistry and life style. However, important functions of the proteins encoded in the genome remained uncertain ("putative") or could not yet be recognized ("hypothetical proteins") and are the focus of this study.
The continuous growth of sequence data together with modern sequence alignment algorithms allow to detect homologies to well characterized proteins from other species which have been overlooked by previous efforts. Any pathway in
Blochmannia floridanus
has to be sufficiently complete to fulfil its biological function (in particular to produce a required end product). Furthermore, the full genome sequence of
Blochmannia floridanus
is known. All these factors help in genome-wide sequence comparisons to identify a missing enzyme activity for a
Blochmannia floridanus
pathway. Comparisons of the pathway completeness with other species and biochemical data further refine such a "pathway alignment" [
12
]. Two more complete pathways obtained here for
Blochmannia floridanus
are shown in the figures (Fig.
1
, Fig.
2
; colour versions see Additional files
3
and
4
).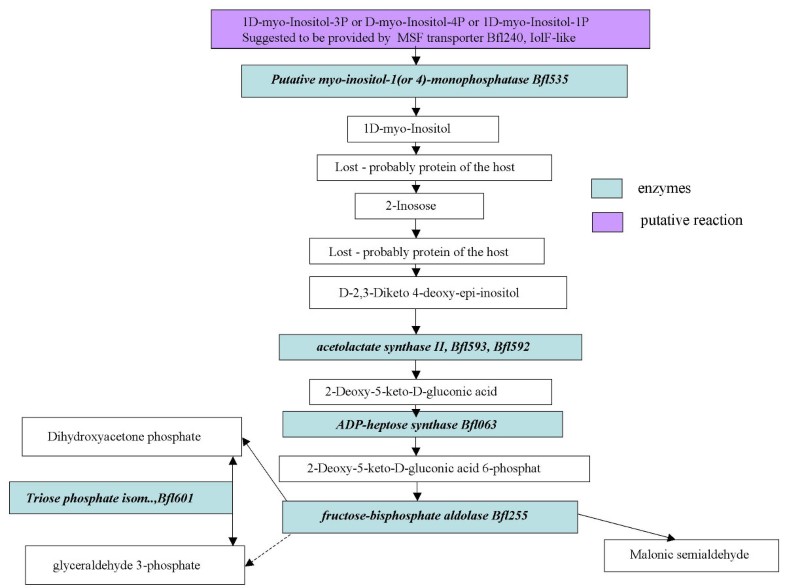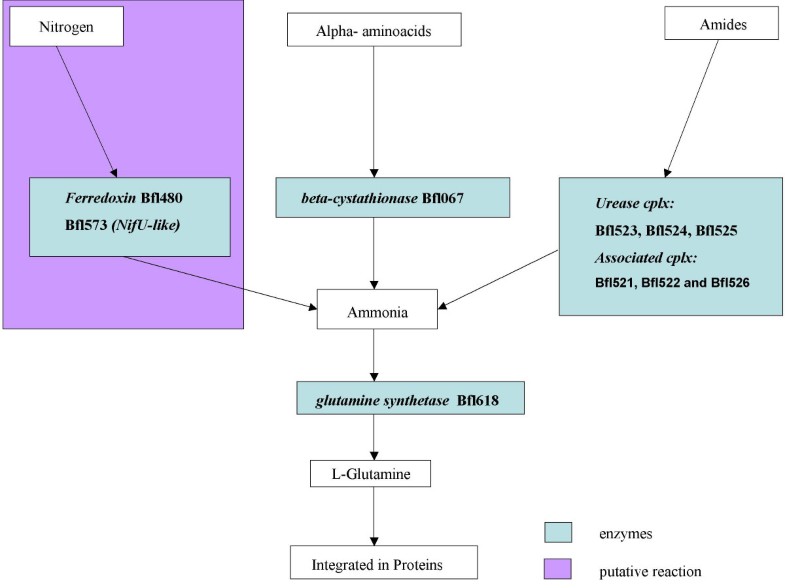 Genome context methods are a further independent method to deduce sequence function [13]. Clearly, genes which are together in an operon are linked by the common function of the operon. This helps to assign function to sequences in such operons. Comparing co-occurrence or common absence of gene sets in different genomes further enhances this: If an unknown gene is always present with a set of known genes its function is associated with this set of known genes. Furthermore, we could show that proteins found in several prokaryotic genomes to be encoded by neighbouring genes tend to interact with each other [14]. If in one genome such neighbouring reading frames are found to be fused, this is an even stronger indication that the encoded proteins interact (as these open reading frames are even translated into a single protein in this genome). When many genomes are compared in this way for the conservation and variation of genes, genome order and fusion, the method becomes quite powerful [15]. Thus we used for this type of predictions a recent version of the database STRING which compares more than 100 genomes for these various criteria and includes in addition experimental and text mining data on protein-protein interactions.
Combining these different methods allowed a number of new sequence assignments. Error thresholds and combination criteria are indicated in the Materials and Methods section.
Results
A total of 631 genes and of these 583protein-coding genes are present in the Blochmannia genome. According to the recently published complete genome sequence [11], 26 are conserved hypothetical proteins and in this way their assignment points to functions occurring in other species, either other endosymbionts or more general ones. Another protein encoded in the genome was considered hypothetical, presumably species specific and of unknown function but is now found to be present also in other genomes and to be involved in transcription (Bfl390, yqeI). Furthermore 66 proteins had only a putative function assignment. These different proteins and their encoding gene sequences were analyzed using various bioinformatical tools (see Materials and Methods).
Discussion
Reannotation of prokaryotic genomes
Our study combines a number of bioinformatics tools for function predictions of previously not assigned proteins in an endosymbiont genome where currently direct data on proteins are difficult to obtain. We have to stress that besides sequence analysis with latest sensitive alignment algorithms we combine here the latest versions of several protein family databases, protein motifs, intrinsic features from the amino acid sequence as well as pathway and genome context methods. All these methods compare the unknown reading frame to related sequences, genes or motifs in proteins where direct experimental information is available. For Blochmannia these involve primarily various gram negative species. Thus a direct link (by sequence similarity for example) or indirect link (for example via another species) to E.coli proteins with experimentally verified protein function allows reliable protein function predictions in Blochmannia.
Efficiency considerations
The growth in databases has resulted in a wealth of information on validated proteins and protein functions. This improves function prediction for previously not annotated (not well described) reading frames in proteobacteria. In an earlier study on the intracellular bacterium Mycoplasma pneumoniae [28], we estimated that five years after the original publication of the genome we could find a more accurate prediction for about a third of the reading frames. We still consider this value to be a good estimate of the benefits by database growth and algorithm development and demonstrate this here for the Blochmannia proteins classified as "unknown function" or "putative" in the original Blochmannia genome publication in 2003 [11]. For 72% of previously putative proteins a more solid function prediction could be given. This level of function reassignment would be similar for other genomes. Endosymbionts have the particular challenge that direct experimental data on expressed proteins are difficult to obtain. Conservation of a large part of their reading frames in other proteobacteria is partially helpful. On the other hand, it is well known that the conserved reading frames in E.coli with unclear function remain a challenge which can only be coped with by combining the most advanced techniques of sequence analysis and the additional knowledge from larger and larger data bases. Our new analysis profits from the larger database size two years later. However, this required reanalysis, all comparative sequence searches for the Blochmannia floridanus proteins had to be done again. Furthermore, it was important to collect and collate data from several databases as each stores other aspects of sequence function (for instance, protein families are stored in the PFAM database, clusters of orthologous groups are given in the COG database and the functional gene onthology classification is found in the GO database). We had to combine all of these different information sources to obtain the best information on the analyzed protein sequences.
Analysis strategy
In general, we would recommend a re-consideration of the published genome sequence annotation after 3 to 5 years with a focus on the previously unknown proteins. Further reannotation steps may then follow after longer time spans. A methodological routine to re-analyze a genome sequence of interest starts with sequence comparison and analysis first, querying and collating all major sequence databases. After this there is a detailed search for molecular function. This involves protein motif searches and a study of the intrinsic features of the sequences. For the proteins which remain badly characterized in their function, genome and pathway context methods are important to establish more reliable suggestions for their function.
Blochmannia protein predictions
The study illustrates that additional function assignments for proteins with previously unknown or only putative function encoded in the Blochmannia genome is possible combining the above techniques and ressources. In the light of the challenges to cultivate Blochmannia or express Blochmannia proteins in host cells such as E.coli, an analysis applying bioinformatics is an important first step to further investigate the genome and functional capabilities of this endosymbiont. Furthermore, we established links to experimentally well characterized proteins in other genomes (e.g. E.coli) using genome and metabolic context, the growth of databases, more powerful software and extensive sequence analysis. These analyses involved sequence similarities, however we included in addition also several other methods: Confirmation of the specific protein motifs and signatures needed for the molecular function predicted (according to experimental data from well characterized proteins of the protein family in question); functional predictions from a conserved genome context exploiting tools such as STRING [13]; the metabolic pathway context and including confirmed other proteins from the pathway to further validate the prediction; homology to structures available from structural genomics projects.
Implications for metabolism and regulation
Blochmannia could be shown to be more complete in several pathways including ubiquinone synthesis, inositol and nitrogen metabolism. Furthermore, functional clusters for important cellular functions such as initiation of septum formation, for cellular regulation and replication control could be further elucidated.
From the previously 66 putative proteins 48 (72%) could now be given a clearer functional assignment. This study combines knowledge from a number of databases as well as direct sequence analysis and phylogenetic comparisons including prediction techniques for genome context [13] and pathway context [29] to establish a more complete repertoire of the exact molecular and cellular function of these Blochmannia proteins (Fig. 1, Fig. 2, Additional file 1, Additional file 2).
The same is true for the proteins previously classified as conserved hypothetical. The exponential growth of data, notably in bacterial genomes, and further analysis allowed specific functional prediction in 21 out of 27 cases. The present paper concisely summarizes all these predictions including pathways and functional associations of protein clusters as a basis for further research and experimental tests.
Remaining unclear reading frames
Genes encoding proteins with unknown function conserved in several species (conserved hypothetical proteins) are currently a topic of interest, in particular regarding conserved functions contained in many bacteria, including the small endosymbiont or parasite genomes. Unfortunately, six of the conserved hypothetical proteins and, after re-examination one of the previous proteins with putative function assignment, remain unclear in their function. However, many of the Blochmannia proteins are conserved within proteobacteria (Table 1). This includes all just mentioned functionally unclear proteins. Among these, Bfl310 is so wide-spread that it occurs also in non-proteobacteria. The good conservation in several different genomes is an indicator that they present important and frequently used cellular functionalities. The putative molecular function assignments given for eleven previously conserved hypothetical proteins are confirmed by data from several databases (Additional file 2 and results). The specific molecular and cellular functions suggested for ten further proteins previously considered conserved hypothetical proteins were only made after extensive sequence analysis including comparative genomics.
Conclusion
The data provided here by detailed sequence analysis, links to experimental data on related protein sequences as well as genome and pathway context extend the described repertoire of Blochmannia capabilities. This includes molecular functions for many previously conserved hypothetical or putative proteins, the nitrogen and inositol metabolism, periplasmic proteins, cell division and DNA, RNA as well as ubiquinone synthesis including some structure predictions (Fig. 3, 4, 5, results). The predicted additional functions for the studied Blochmannia proteins can now be further tested and analyzed. Furthermore, this study adds to the comparative characterization of the proteins considered to be the inventory of a "minimal cell" [27] looking at a compact endosymbiont genome.
Methods
The original genome sequence and annotation [11] was reanalyzed for all conserved hypothetical or putative protein predictions. Genome context [13, 26] and metabolic context [12, 29] was considered and sequences and predicted pathways were extensively compared to available completely sequenced genomes to better assign and identify the encoded proteins therein. Furthermore, iterative sequence analysis compared sequences to other organisms and public databases (reviewed in [30]). The statistical expectancy value for reporting hits by chance was generally set at a conservative threshold of an expected value E of 10-6.
Specific sequence searches were done by applying HMMER [31]. Intrinsic sequence feature predictions were derived from the ExPASy suite of tools [32]. To independently check and test sequence analysis results, we applied not only other programs with similar function such as HMM or fasta searches, but also complementary tools and methods such as domain analysis, phylogenetic analysis, analysis of context and clusters of orthologous genes.
In addition, we applied the different tools for metabolic reconstruction and pathway alignment using extensive sequence analysis protocols as described previously [33]. Amongst other tests, this included verification of found similarities by reciprocal searches from identified sequences and determination of the exact region of sequence similarity. To delineate enzymatic capabilities, the multi-domain architecture of many proteins was taken into account: Individual parts of the protein sequence encode different domains with different functions. Sequence analysis analyzed these regions separately to identify these specific functions and the different domains in the protein. Function assignments were tested and confirmed including sequence searches from the sequence with experimentally determined function [34]. Significant links to experimentally determined function were established. Proteins classified with a high confidence (Blast e-value below 10-6) and informative assignment were categorized as "good" (right column; see Additional file 1). However, if there remained minor uncertainties in the function, this assignment was categorized as "fair". A protein function was classified as "putative" (15 cases; see Additional file 1), if its sequence had similarities to well characterized protein sequences or protein domains with an e-value less than or equal to 10-3 and there was only a first indication on the protein function. All other cases were classified as "unknown".
Phylogenetic analysis was applied to investigate the distribution of identified proteins at different taxonomic levels (specific for Blochmannia, in Enterobacteriacea, in Proteobacteriae, spread among all bacteria). Further, this helped to analyze gene duplication events and to better clarify the substrate specificity of the encoded enzymes.
Further information regarding the sequence and protein family classification involved comparative genomics, gene context methods and comparisons of domains and sequences [35] including iterative searches and multiple alignments exploiting the following databanks: Clusters of orthologous groups of proteins (COGs) [36], conserved domain server [37] as well as the different protein family databases PFAM, SMART and Interpro [38].
Duplicated genes were examined further to determine which of them was the real ortholog in gene sequence comparisons [39]. Replacement by unrelated sequences (non-orthologous displacement; [40]) hampers function identification by sensitive sequence alignment procedures. In such cases, gene neighbourhood and operon context helped to determine function of reading frames. Besides this, more elaborate genome context methods were used.
Genome context methods and searches for functional associations exploited the STRING database [13, 26]. Functional association as well as direct interaction on the protein level is predicted in the database by looking at the conservation of genome context in many different species. A first observation [14] was that reading frames which are conserved as neighbours in many genomes are a useful predictor for direct interaction of the encoded proteins. This was validated by considering proteins known to interact and the position of their reading frames. This approach allowed also to predict new interactions [14]. Subsequent studies refined genome context methods and include now also observation of gene fusion of the reading frames in one or several genomes as an even stronger predictor of interaction as well as common presence or common absence of reading frames which are functionally associated or in common pathways [26]. Furthermore, data mining (co-occurrence of genes in articles) and direct interaction data (yeast two hybrid, large scale tap-tag screens) were added as functional association indicators in the updated version of the database used for our predictions [13]. To compare and collate these different types of predictions, a prediction score is calculated, ranging from 1.0 (certain) to 0.0 (no functional association) and using Bayesian probabilities [13, 26]. Four categories are distinguished [15]: Highest (0.9) and high confidence (0.7), medium confidence (0.4) and low confidence (0.15). Only the high and medium categories were used for predictions here.
Pathway alignment [12] compared the reading frames found to be present for a pathway of interest and a specific organism to the version present in other organisms. Sequence searches established presence of reading frames with orthologous function in better experimentally characterized prokaryotics species such as E.coli. These predictions were retested using biochemical data (to test for enzymes with diverged sequences escaping detection)-and calculating metabolic fluxes by elementary mode analysis (in particular to test whether missing enzyme activities are compensated by detours or alternative paths). Thresholds in the pathway alignment for sequence searches against databases were set at an expected value e below 10-6 and accepted if passing the other two tests.
Homology modelling
For several of the Blochmannia sequences with previously unknown function we identified homologous sequences in other species with a solved three dimensional structure. For some of these solved structures the function was not yet known as structures were solved as part of a large scale structural genomics project in that species (e.g. E.coli, Aquifex aeolicus). If such homologous sequences with known three dimensional structure had been identified by us, then homology models were obtained using the SWISS-MODEL server [41]. The server selects a template, creates an alignment and builds a homology models including energy minimization and WhatCheck [42] reports. Specifically, the ProModII program was used for modelling; energy minimization used Gromos96 (parameter set ifp43B1) applying steepest descent with 200 cycles and conjugate gradient with 300 cycles. The template for Bfl316 (the full Blochmannia sequence had 153 residues) was pdb entry 1oz9 (protein 1354 from Aquifex aeolicus, resolution 1.89 A). The template allowed modelling the Blochmannia residues 33 till 130 in the homology model shown. The template for Bfl499 (303 residues) was pdb entry 1nv8 (transferase HemK from Methanococcus jannaschii, resolution 1.80 A). The template allowed prediction of the residues 77 till 242 in the homology model. The template for Bfl341 was pdb entry 1ri6 (putative isomerase from E.coli, resolution 2.00 A). The template and the homology model obtained covered the whole Bfl341 sequence (338 residues) except the three most N-terminal residues. The root-mean-square-deviation (RMSD) for each homology model to its template was calculated. All homology model coordinates are available on request from the authors.
Declarations
Acknowledgements
We thank Biju Joseph for stylistic corrections and DFG (grant Bo-1099/5-3; Germany), BMBF (AZ 03 130 74A; Germany), Government of Valencià (Grupos03/204; Spain) and MCyT (BFM2003-00305; Spain) for support.
Authors' Affiliations
(1)
dept of bioinformatics, biocenter university of Würzburg, Würzburg, Germany
(2)
dept of microbiology, biocenter university of Würzburg, Würzburg, Germany
(3)
Departament de Genètica, Institut Cavanilles de Biodiversitat i Biologia Evolutiva de Universitat de València, Valencia, Spain
Copyright
© Gaudermann et al; licensee BioMed Central Ltd. 2006
This article is published under license to BioMed Central Ltd. This is an Open Access article distributed under the terms of the Creative Commons Attribution License (http://creativecommons.org/licenses/by/2.0), which permits unrestricted use, distribution, and reproduction in any medium, provided the original work is properly cited.