Erratum to: Genetic analysis of the roles of agaA, agaI, and agaS genes in the N-acetyl-D-galactosamine and D-galactosamine catabolic pathways in Escherichia coli strains O157:H7 and C
BMC Microbiology
2014
14:127
Received: 6 May 2014
Accepted: 8 May 2014
Published: 30 May 2014
After the publication of this work [
1
], it was brought to our attention that in Figure
1
B it is erroneously shown that Gam is transported by EII
Aga
and Aga is transported by EII
Gam
. The correct depiction should be that Gam is transported by EII
Gam
and Aga is transported by EII
Aga
and the corrected figure is now shown in Figure
1
.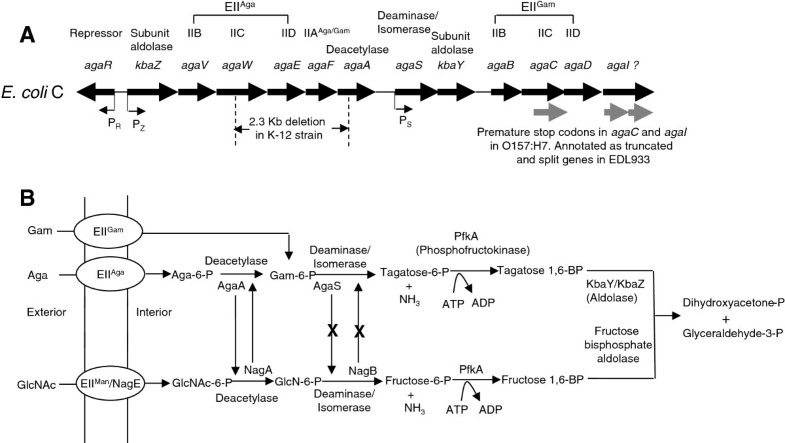 We regret any confusion caused by this error. We wish to thank Dr. Jacqueline Plumbridge for bringing this error to our attention.
(1)
Division of Molecular Biology, Office of Applied Research and Safety Assessment, Center for Food Safety and Applied Nutrition, U.S. Food and Drug Administration, Laurel, MD 20708, USA
Hu Z, Patel IR, Mukherjee A: Genetic analysis of the roles of agaA, agaI, and agaS genes in the N-acetyl-D-galactosamine and D-galactosamine catabolic pathways in Escherichia coli strains O157:H7 and C. BMC Microbiol. 2013, 13: 94-10.1186/1471-2180-13-94.PubMed CentralView ArticlePubMedGoogle Scholar
© Hu et al.; licensee BioMed Central Ltd. 2014
This article is published under license to BioMed Central Ltd. This is an Open Access article distributed under the terms of the Creative Commons Attribution License (http://creativecommons.org/licenses/by/4.0), which permits unrestricted use, distribution, and reproduction in any medium, provided the original work is properly credited. The Creative Commons Public Domain Dedication waiver (http://creativecommons.org/publicdomain/zero/1.0/) applies to the data made available in this article, unless otherwise stated.