Research article
Open Access
Short-term responses of unicellular planktonic eukaryotes to increases in temperature and UVB radiation
BMC Microbiology
2012
12:202
Received: 22 March 2012
Accepted: 27 August 2012
Published: 11 September 2012
Abstract
Background
Small size eukaryotes play a fundamental role in the functioning of coastal ecosystems, however, the way in which these micro-organisms respond to combined effects of water temperature, UVB radiations (UVBR) and nutrient availability is still poorly investigated.
Results
We coupled molecular tools (18S rRNA gene sequencing and fingerprinting) with microscope-based identification and counting to experimentally investigate the short-term responses of small eukaryotes (<6 μm; from a coastal Mediterranean lagoon) to a warming treatment (+3°C) and UVB radiation increases (+20%) at two different nutrient levels. Interestingly, the increase in temperature resulted in higher pigmented eukaryotes abundances and in community structure changes clearly illustrated by molecular analyses. For most of the phylogenetic groups, some rearrangements occurred at the OTUs level even when their relative proportion (microscope counting) did not change significantly. Temperature explained almost 20% of the total variance of the small eukaryote community structure (while UVB explained only 8.4%). However, complex cumulative effects were detected. Some antagonistic or non additive effects were detected between temperature and nutrients, especially for Dinophyceae and Cryptophyceae.
Conclusions
This multifactorial experiment highlights the potential impacts, over short time scales, of changing environmental factors on the structure of various functional groups like small primary producers, parasites and saprotrophs which, in response, can modify energy flow in the planktonic food webs.
Keywords
Small eukaryotesMolecular diversityTemperatureUVB radiationMicrocosms experimentMediterranean lagoon
Background
Small-sized plankton plays critical roles in aquatic systems, mostly as major contributors to production and biomass, and as key players driving carbon and nutrient cycles [1, 2]. The study of the gene coding for 18S rRNA has brought opportunities to investigate the eukaryotic composition in the smallest size fraction in various aquatic systems, independently of morphological identification and cultivation [3–7]. The molecular characterization of small (pico and/or nano) eukaryotic assemblages has highlighted an unexpected phylogenetic and functional diversity (e.g. [8–11]), and many important questions are now emerging about the in situ dynamics of diverse eukaryotic groups, and the regulatory factors that drive changes in their structure.
A few studies have investigated the effects of structuring factors on the molecular diversity of small eukaryotes, and shown that trophic status, predation by met zooplankton, and/or viral lytic activity are involved in the regulation of the eukaryotic microbial assemblage [5, 12–15]. However, combined effects of physical factors, such as water temperature and UVB radiation (UVBR: 280–320 nm) are still poorly investigated. It is recognized that either temperature or UVBR increases can modify microbial dynamics and structure at various levels (species, population, trophic network) (e.g. [16–20]). Nevertheless, previous investigations have generally focused on only one specific stressor and little is known about the combined effects of climatic and anthropogenic stressors on diversity and food web structure. Since these stressors are expected to exert complex interactive effects [21–23], multi-factorial studies are required to improve the understanding of the mechanistic basis underlying ecological responses of planktonic food webs to these regulatory factors. A series of enclosure experiments using natural microbial communities from the Mediterranean Thau lagoon were recently performed to assess the response of microbial communities to top-down and bottom-up control under various simulated climatic conditions (temperature and UVBR) [24]. This study showed a much larger effect of temperature than UVBR on bacterial dynamics. In addition to this study, in order to describe the composition of small eukaryotes and potentially to observe changes in their structure, we used a similar microcosm experiment to tease apart the effects of single and combined increase of temperature (+3°C) and UVBR (+20%), at two different nutrients levels. Here, we investigate short-term responses of both pigmented and non-pigmented small eukaryotes (size fraction <6 μm) to these simulated climatic conditions by using morphological and molecular methods (18S rRNA gene sequencing and a fingerprint technique: Capillary Electrophoresis Single Strand Conformation Polymorphism CE-SSCP).
The increases in temperature and UVBR tested in this study correspond to the mean temperature increase expected in the Mediterranean region by 2080–2099 (IPCC 2007) and the high-UVBR scenario for the European region during spring in future years [22]. This approach enables us to describe the short term responses of eukaryotic community assemblages when exposed to these drivers during the productive spring season. The changes induced by these regulatory factors could be detected at different taxonomic levels thanks to the coupling of morphological and molecular approaches.
Results
Initial conditions
Biological and chemical parameters
At T0, conditions were considered as homogeneous in all experimental bags. The statistical analysis showed no significant difference between experimental bags in terms of biological parameters (
i.e.
for bacterial, viral and small eukaryote abundances; mean values are presented in Table
2
).
Table 2
Initial conditions for chemical and biological parameters
Chemical and biological parameters in experimental bags at T0

No nutrient addition

+ Nutrient

PO4μM

0.07 (±0.01)

0.2 (±0.01)

NO3μM

0.24 (±0.04)

0.32 (±0.05)

NH4μM

0.48 (±0.04)

0.44 (±0.005)

NO2μM

0.04 (±0.004)

0.04 (±0.004)

Bacteria 106 cell mL -1*

7.6 (±0.19)

7.8 (±0.37)

Virus 108 cell mL-1*

1.5 (±0.3)

1.8 (±0.1)

Picocyanobacteria 103 cell mL-1*

1.4 (±0.09)

1.5 (±0.06)

Non-pigmented Euk. 102 cell mL -1

7.3 (±0.6)

7.2 (±0.6)

Pigmented Euk. 103 cell mL -1

4.3 (±0.6)

4.4 (±0.6)
Abundances and structure of the small eukaryotic community
The microscope counts showed that the eukaryotic community was largely dominated by pigmented cells (85.8% of total eukaryotes). Their mean abundance was 4.3 x10
3
cells mL
-1
and 13 of the 26 OTUs identified at T0 from sequencing results were affiliated to pigmented groups (Additional file
2
: Table S1). Mamiellophyceae was the dominant group (nearly 83.7% of all pigmented eukaryotes observed by microscopy) and they were represented by 3 OTUs affiliated to
Micromonas pusilla
and
Ostreococcus tauri
(Figure
2
Additional file
2
: Table S1). The microscope observations allowed detection of other Viridiplantae at low densities. In particular, some Pyramimonadales (genus
Cymbomonas
) were observed but were not recorded among sequences at T0. The mean relative abundance of Cryptophyceae (4 OTUs) was 10.9%, while very low relative abundances of Bacillariophyceae (1 OTU) and Prymnesiophyceae (represented by
Chrysochromulina-
like cells
,
and 2 OTUs) were found by microscopy (Figure
2
) and sequencing. Finally, Dinophyceae (cells larger than 6 μm) accounted for only 3% of total pigmented eukaryotes abundance, and was represented by 1 OTU (Figure
2
Additional file
2
: Table S1).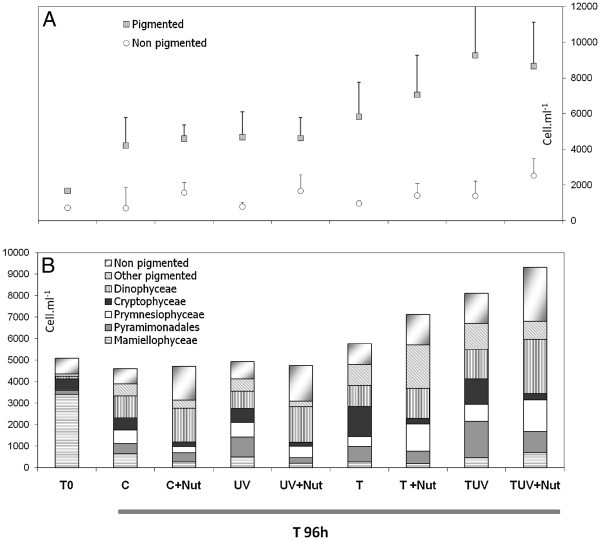 The mean abundance of non-pigmented eukaryotes was 776 cells mL-1 at T0, accounting for about 15% of total eukaryotes. In comparison to microscope counting, the proportion of typical non-pigmented eukaryotes was over-estimated in the clone library, accounting for 43.2% of total clones (such over-representation of non-pigmented groups in 18S rRNA gene clone libraries has been discussed previously e.g.[50–52]). The diversity of these non-pigmented groups cannot be discriminated by classical microscopy due to a lack of distinct morphological features and/or their small size. However, from cloning-sequencing results, 11 different OTUs could be attributed to non-pigmented groups: Cercozoa (2 OTUs), Stramenopiles affiliated to Hyphochytrids (1 OTU), Syndiniales affiliated to Amoebophrya (2 OTUs), uncultured alveolates (4 OTUs), and Choanoflagellida (2 OTUs) (Figure 2 Additional file 2: Table S1).
Changes in the small eukaryotes structure under UVBR, temperature and/or nutrient increase
Changes in abundances
At T96h, pigmented eukaryotes had abundances varying between 1.1 x10
3
cells mL
-1
(C) and 8.3 x10
3
cells mL
-1
(TUV) according to the treatment, and they still dominated small eukaryotes regardless of the treatment (Figure
2
). All treatments with increased temperature were characterised by a significant increase in the density of pigmented eukaryotes (p < 0.004; Table
3
; Figure
2
).
Table 3
Results of the three-way ANOVA performed from T96h abundance values
| Anova results (P) | Temp | UV | Nut | Temp x UV | Temp x Nut | Temp x UV | Temp x UV x Nut |
| --- | --- | --- | --- | --- | --- | --- | --- |
| Pigmented eukaryotes (total) cells mL -1 | 0.004 (+) | NS | NS | NS | NS | NS | NS |
| Mamiellophyceae | NS | NS | NS | NS | NS | NS | NS |
| Pyramimonadales | 0.059 (+) | 0.082 (+) | NS | NS | NS | NS | NS |
| Prymnesiophyceae | NS | NS | NS | NS | NS | NS | NS |
| Cryptophyceae | <0.001 (+) | NS | <0.001 (−) | NS | 0.002 | NS | NS |
| Bacillariophyceae | NS | NS | NS | NS | NS | NS | NS |
| Dinophyceae | NS | NS | 0.028 (+) | NS | NS | NS | NS |
| Non-pigmented eukaryotes cells mL -1 | NS | NS | NS | NS | NS | NS | NS |
| Bacteria cell mL -1 | <0.001 (+) | 0.013 (−) | NS | NS | NS | NS | NS |
| Virus particles mL -1 | 0.008(+) | <0.001 (−) | NS | 0.001 | NS | NS | NS |
| Picocyanobacteria cells mL -1 | NS | NS | <0.001 (+) | NS | NS | NS | 0.013 |
Some major changes were observed in the relative proportions of the main taxonomic groups. The abundance of pigmented Dinophyceae increased in all treatments, with the highest increases where nutrients were added. Indeed, the 3-way ANOVA showed a significant effect of nutrients (p = 0.028, Table 3). Inversely, for Cryptophyceae, a general negative impact of nutrient addition (p < 0.001) counteracted the positive impact of temperature increase (Table 3, Figure 2). The relative abundance of Mamiellophyceae (Micromonas and Ostreococcus) decreased from T0 to T96h in all treatments, and they represented only between 0.1 and 14.8% of pigmented eukaryotes at the end of the experiment (depending on the treatment). Pyramimonadales seemed to take advantage of the general reduction of Mamiellophyceae densities and developed strongly, especially in treatments with increased UVBR. The 3-way ANOVA showed a positive impact of UVBR on Pyramimonadales abundance.
Non-pigmented eukaryotes (mainly free flagellated forms) tended to increase in abundance in all conditions. The highest values were found in TUV + Nut treatments (mean abundance: 2.5 x103 cells mL-1), however, the 3-way ANOVA did not reveal any significant impact of the manipulated factors (Table 3).
Changes in small eukaryotes structure (CE SSCP)
A Multidimensional Scaling (MDS) plot generated from Bray-Curtis similarity indices based on the 18S rDNA CE-SSCP profiles, showed that all samples from temperature increase simulation (treatments T, T + Nut, TUV, TUV + Nut) grouped in a separate cluster (Figure
3
A). The small eukaryotic community structures of all other treatments (without temperature increase) had closer similarity to initial conditions. Overall, CE-SSCP profiles generated from all experimental bags showed good reproducibility within triplicate of each treatment (ANOSIM R < 0.2, p < 0.001), except for one replicate of the UVBR condition which had an atypical profile. MDS ordination plot stress value was low (0.1) which indicated good ordination without misleading interpretation [
53
]. The same trends were found with the UPGMA (Unweighted Pair Group Method using Arithmetic averages) analysis (data not shown).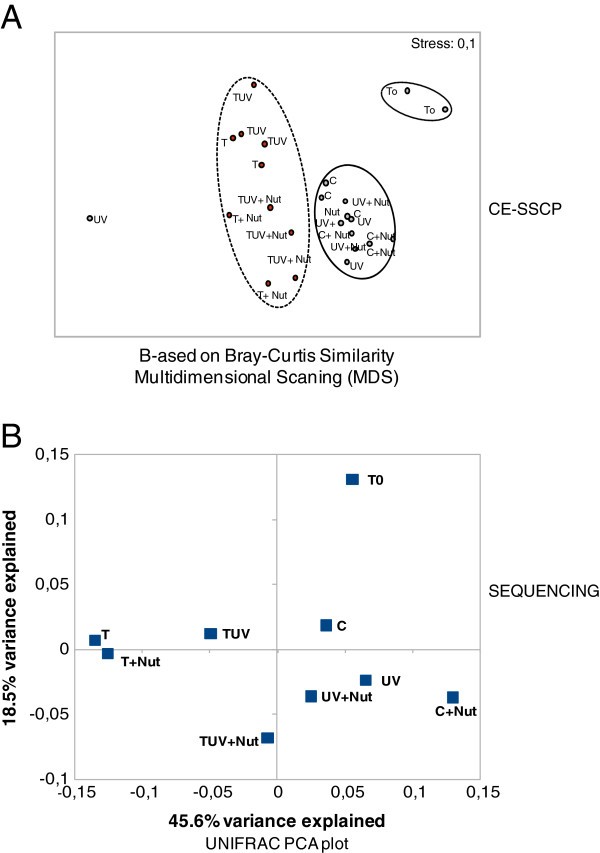 Changes in small eukaryotes phylogenetic composition (sequencing)
A total of 88 OTUs were identified (97% similarity) (Additional file
2
: Table S1; and phylogenetic tree in Additional file
1
: Figure S1)
.
During the incubation, the richness detected by molecular analyses showed a general decrease in 7 (out of the 8) treatments (Figure
4
). TUV + Nut was the only treatment characterised by a clear increase in the richness (SAce = 64), whereas the greatest decrease was recorded in the C + Nut treatment (SAce = 22). Even though no general trend was observed in the responses of small eukaryotes in terms of overall richness, the beta-diversity (phylogenetic composition) studied from UNIFRAC metrics revealed a clear association between all treatments with increased temperature (discrimination on axis 1). This highlights the significant structuring impact of increased temperature, while on axis 2, nutrient addition appeared as the second-most important factor in shaping the eukaryotic composition (Figure
3
B). These observations were confirmed by analyzing the correlations between coordinates on the PCA axis and environmental parameters: coordinates on axis 1 were indeed significantly correlated to temperature values (P = 0.006) while coordinates on axis 2 were significantly correlated to inorganic nutrients concentrations (P = 0.046 and P = 0.006, respectively for NO
2
and NO
3
). The P-values matrix that compares each sample to each other sample showed significant differences in the phylogenetic composition of eukaryotes between T, T + Nut, TUV on the one hand and C + Nut on the other (Additional file
2
: Table S2). Thus, CE-SSCP profiles and UNIFRAC analysis led to the same general pattern of changes in the small eukaryote structure.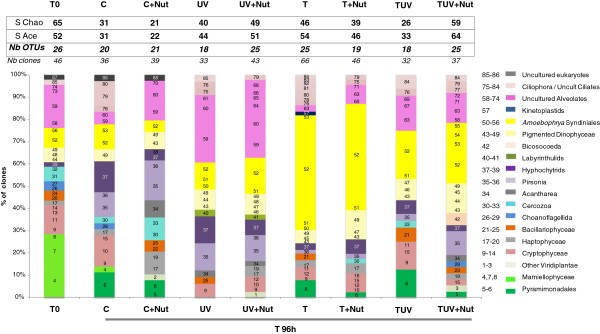 The OTUs affiliated to non-pigmented taxa generally dominated the clone libraries (from 67.6% in C + Nut to 85.3% in UV + Nut; Figure 4 and Additional file 2: Table S1). Among them, Ciliates and uncultured Alveolates were generally well represented (accounting from 14 to 32% of total OTUs, and from 13 to 37% of clones, according to the treatments). However, the increase of non-pigmented group proportions within most of the libraries (compared to T0) was mainly linked to the emergence of taxa affiliated to parasitic groups: Hyphochytrids and genus Pirsonia (Heterokonta), and Amoebophrya (Alveolata).
The proportion of these sequences clearly increased during the incubation in all types of treatment. Parasitic taxa related to
Amoebophrya
particularly emerged in treatments with the highest temperatures (T, T + Nut, TUV, and to a lesser extent TUV + Nut), while Hyphochytrids were strongly associated with all other treatments (C, C + Nut, UV, UV + Nut) (Figure
4
). The CCA plot illustrates the significant link between the increase in temperature and the presence of numerous sequences affiliated to
Amoebophrya
, while sequences affiliated to Hyphochytrides have an opposite position in the plot (Figure
5
). The potential hosts of
Amoebophrya
are primarily found within the class Dinophyceae, and it is noticeable that we observed a large number of pigmented Dinophyceae cells infected by parasites (multinucleated parasites in division in the cells) at T96 h in all types of treatment (data not shown). Pigmented Dinophyceae were indeed favored by the temperature increase but were also strongly positively affected by nutrient addition and UVBR increase (Figure
5
). Pigmented Dinophyceae and
Amoebophrya
were represented by 7 different OTUs each. Even though the presence/absence of these OTUs varied according to the treatments, no association between the abundance of host and parasite OTUs was observed.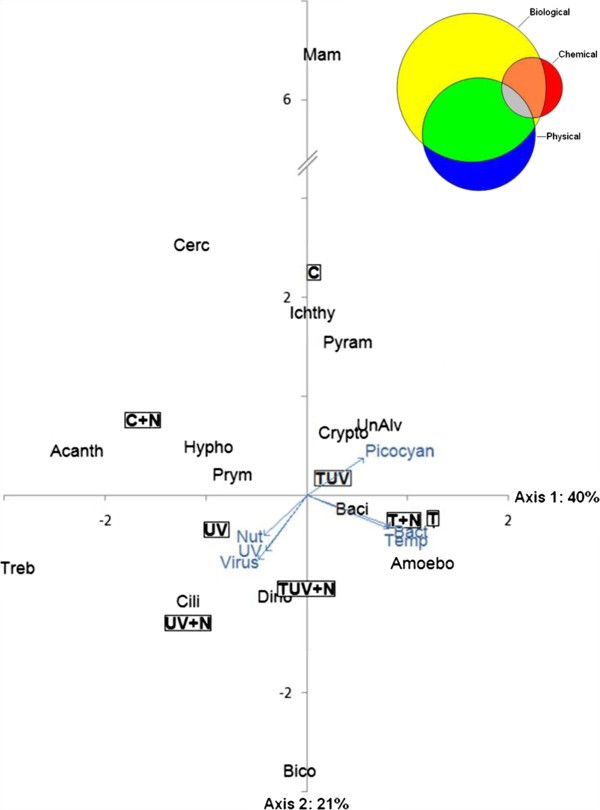 The CCA supported the conclusion obtained from the UNIFRAC analysis, clearly showing that all treatments with increased temperature grouped together. Furthermore, the highest abundances of bacteria, picocyanobacteria, and pigmented groups such as Cryptophyceae and Bacillariophyceae were tightly associated with treatments receiving an increased temperature (Figure 5).
The CCA plot also illustrates the strong negative impact of experimental conditions on Mamiellophyceae in general. Mamiellophyceae represented 28% of sequences in the clone library at T0, but were not detected at T96 h (except 1 OTU detected in the C treatments). In contrast, Pyramimonadales sequences (2 OTUs) appeared at T96 h in 6 out of the 8 types of treatment.
Overall, the analysis of the OTUs dynamics (either generally or for specific phylogenetic groups) showed that, even when the abundance of a given group did not change significantly from one treatment to another, some rearrangements could occur at the OTUs level (Additional file 2: Table S1). The CCA showed that 18.8% of the total variation in the eukaryotic structure was explained by temperature, whereas, UVBR and nutrients explained 11% and 8.4%, respectively.
Discussion
The Thau lagoon, characterised by a high abundance of small eukaryotes and by recent in situ changes in phytoplankton structure due to water temperature increase [27], is an interesting ecosystem to investigate the responses of small eukaryotes to climatic and anthropogenic regulatory factors. Our experimentation does not intend to predict the impact of long-term global change on the structure of small planktonic eukaryotes. Indeed, only a combination of approaches including laboratory studies on model microbes, microcosm and mesocosm experiments, and in situ comparative studies would help to provide realistic predictions of the effects of environmental changes [23, 54]. Our goal was to reveal the potential rapid responses of small eukaryote assemblage (using molecular and morphological methods) during the productive spring season when plankton may be particularly vulnerable to elevated temperature and UVBR [55].
Molecular analyses revealed the presence of various phylogenetic groups within the "black box" of small eukaryotes, especially non-pigmented eukaryotes (poorly discriminated by microscopy). Some limitations in the PCR-based methods are recognized, for instance, the over-representation of Alveolata (particularly Dinoflagellates and Ciliates) in 18S rRNA gene clone libraries due their high SSU rRNA gene copy number [50–52]. However, the molecular methods used here enabled the description of the diversity within dominant eukaryotic populations, and allowed examination of the effects of regulatory factors by considering both the dynamics of OTUs (using the sequencing and fingerprinting datasets) and the comparison of phylogenetic composition obtained for all treatments (using the sequencing data). The impact of temperature nutrients and UVBR explained 18.8%, 11.0% and 8.4% of the variance of the small eukaryotes structure respectively. While Bouvy et al. (2011) could not detect any significant responses of pico- or nano-eukaryotic plankton in the same experimental conditions, we demonstrated here, at a different taxonomic resolution, that small eukaryotes community structure was actually affected by this multi-factorial pressure.
The simultaneous use of molecular and morphological methods was therefore essential to provide evidence of rapid shifts that occur at various taxonomic levels (abundance of large groups or community composition at OTU level) under the influence of temperature, UVBR and nutrient treatments.
Among the 3 regulatory factors tested, both sequencing and CE-SSCP demonstrated that increased temperature had the greatest influence on the small eukaryote community structure and composition. The single effect of temperature (without any significant interaction with UVBR and nutrients) on total pigmented eukaryote abundance was observed by microscopy. Considering the different phylogenetic groups within pigmented eukaryotes, complex interaction effects were also suggested. For instance, our results showed that under multi-factorial environmental changes, the general impact on the molecular diversity and abundance of pigmented Dinophyceae resulted from complex interactive (non-additive) effects. Multi-factorial interactions were also apparent for Cryptophyceae which experienced antagonistic effects of nutrient addition (significantly negative impact) and temperature (positive impact on relative abundance).
In addition to the manipulated factors (temperature, UVBR and nutrients), some biotic interactions such as predation, viral lysis and competition, are involved in the responses observed in this experiment. For example, the general reduction of Mamiellophyceae (Micromonas and Ostreococcus) in all treatments might be linked to (i) manipulation effects since these fragile cells might have been affected by filtration steps, (ii) limitation by inorganic nutrients under the rather low orthophosphate concentrations at T96h (from 0.05 to 0.08 μM of PO4), (iii) the grazing impact of heterotrophic flagellates: these microorganisms are known to play a significant role in the regulation of Ostreococcus populations in the Thau lagoon [56] and were shown to exert a strong control of bacterioplankton during the study period [24]. We could not detect a link between the dynamics of Micromonas/Ostreococcus and viruses. Since biological descriptors can explain some of the variance of small eukaryote phylogenetic structure, the observations made here regarding the effect of temperature, UVBR, and nutrients have to be considered in view of possible biological effects. Predation by zooplankton and competition with larger phytoplanktonic species were not considered in our size fractionated approach and should be taken into account, especially if long-term extrapolation of in situ responses of small eukaryotes is considered.
Our data provide further illustration of the need to consider the taxonomic and functional diversity of heterotrophic flagellates. The lack of discrimination between heterotrophic bacterivores and parasitic/saprotrophic zoospores within the non-pigmented flagellates can lead to misinterpretation of the functioning and responses of planktonic food webs. Indeed, while microscope observations did not allow us to detect changes in the abundance and structure of non-pigmented eukaryotes, a structuring impact of manipulated factors (especially temperature) was observed through sequencing results on taxa affiliated to parasitic and saprotroph groups (particularly Syndiniales and Hyphochytrids). The existence of eukaryotic parasites among small-size plankton was recently re-discovered by molecular environmental surveys, and the ecological significance of these groups has been highlighted by several authors [57, 58]. The 'Fungi-like' Hyphochytrids possess many morphological and ecological similarities to chytrids [58, 59], and their role as saprotrophs and/or parasites is unclear [60, 61], whereas the Amoebophrya are well recognized as a widely distributed parasitic order within the Dinophyceae [62]. Amoebophrya and Hyphochytrids emerged in clone libraries at T96 h and were presumably present among the rare species at T0. The taxa found to be phylogenetically close to Amoebophrya particularly emerged in treatments with increased temperature (Figure 5), along with their hosts (pigmented Dinoflagellates). This observation supports Guillou et al.'s [57] suggestion that warming could promote rapid infection cycles of Amoebophrya. However, broad extrapolation would need to take into account various aspects of the host-parasite relationships, such as the mechanisms underlying the parasitic specificity. In contrast to the Amoebophrya, hyphochytrids were associated with all treatments except those with increased temperature (Figure 5). From our results, we hypothesized that not only parasite communities, but also saprotroph communities would be shaped by temperature and UVBR conditions, as already described in other ecosystems [63]. The responses of saprotrophs to these drivers may result from direct and/or indirect effects as demonstrated in soils [64]; further research is probably needed on the saprotrophs in aquatic systems since changes in their assemblages may influence organic matter decomposition and nutrient cycling.
Conclusion
Even though caution should be exercised when applying the results of small-scale experiments to larger-scale systems, these results can be treated as an insight into ecological interactions that may occur in larger natural systems with more complex planktonic assemblages. Our results indicate that these ecosystem drivers, which are associated with climate change, and their interactions may cause changes in small eukaryotic community abundance and structure involving various functional groups including the small primary producers, parasites and saprotrophs. Notably, temperature tends to have a much greater effect on the community composition of small eukaryotes compared to UVBR (at least at the level tested in our experiment). Due to their strong link with other communities within the food web, the small eukaryotes variability may have potential consequences in food webs structure and energy flow. Currently, our knowledge of the potential for plankton in general and small eukaryotes in particular to adapt genetically and phenotypically to multifactorial physico-chemical climate drivers is poor. To improve our understanding, additional experimental investigations in other types of ecosystems and over longer periods of warming and UVBR exposure are required before generalization may be confidently applied. Future investigations should be based on the coupling of methods such as microscopy, flow cytometry, molecular analyses targeting several gene markers or fluorescence in situ hybridization in order to analyse the responses of the microbial community structure to multiple stressors at various taxonomic levels.
Declarations
Acknowledgements
We gratefully acknowledge Jean Nouguier and Yvan Vergne for their technical help during the experiment. This study was supported by the French program PNEC (10301705 to TB) and the ANR AQUAPHAGE (ANR07 BIODIV 015–02 to TB). This work was also supported by the 'Groupement De Recherches (GDR) 2476 Réseaux Trophiques Pélagiques. The experimental platform for Mediterranean Ecosystem Research (MEDIMEER) was funded by UMR 5119 ECOLAG, CNRS-INEE, Institut Fédératif de Recherche 129 A. Sabatier, GDR 2476 Réseaux Trophiques Aquatiques, Région Languedoc Roussillon.
We thank Joseph Kirkman for improving the text.
Authors' Affiliations
(1)
INRA, UMR 42 CARRTEL, Thonon-les-bains, France
(2)
Clermont Université, Université Blaise Pascal, CNRS, UMR 6023, LMGE, Avenue des Landais, France
(3)
Université Montpellier 2, UMR 5119 ECOSYM, CNRS, IRD, Ifremer, France
(4)
CNRS, UMR 7621, LOMIC, Observatoire Océanologique, Banyuls/mer, France
(5)
LIttoral ENvironnement et Sociétés (LIENSs) - UMR 6250, Université de La Rochelle, Institut du Littoral et de l'Environnement (ILE), La Rochelle, France
Copyright
© Domaizon et al.; licensee BioMed Central Ltd. 2012
This article is published under license to BioMed Central Ltd. This is an Open Access article distributed under the terms of the Creative Commons Attribution License (http://creativecommons.org/licenses/by/2.0), which permits unrestricted use, distribution, and reproduction in any medium, provided the original work is properly cited.